Comprehensive solution to streamline your spending workflow
Everything you need for procurement and spend management in one platform. No more manual data entry. No maverick buying. No delayed approvals. Automated operations and centralized purchasing processes only.
7%
average budget saving per year
2.5x
faster approval process
90%
fewer duplicated payments
98%
Customer satisfaction
Designed to scale
Why Precoro
Flexibility

Add access to Precoro for the needed number of employees. Modify modules and fields for specific business needs anytime.

Complete solution

Resolve different issues within one tool. Connect Precoro to your favorite ERP or accounting software and eliminate manual work by 80%.

Ease of use

Implement Precoro in a couple of hours with the help of our CSM. Get procurement advisory and 24/5 support from our experts.
Automate. Integrate. Scale.
The all-in-one solution to procurement challenges
Precoro is a multipurpose tool to leverage your operational efficiency. You will always be aware of overall company spending with real-time reporting and integration to your favorite accounting systems.
Trusted by 1000+ companies
Favorite procurement tool of enterprises worldwide
Simplify purchasing for the whole company
Provide your employees with the ability to request whatever they want in a few easy steps. No complex and long-lasting operations. No workarounds. They only need to fill in the inquiry and send it for the manager's approval. Let your employees enjoy corporate purchasing with Precoro's user-friendly interface.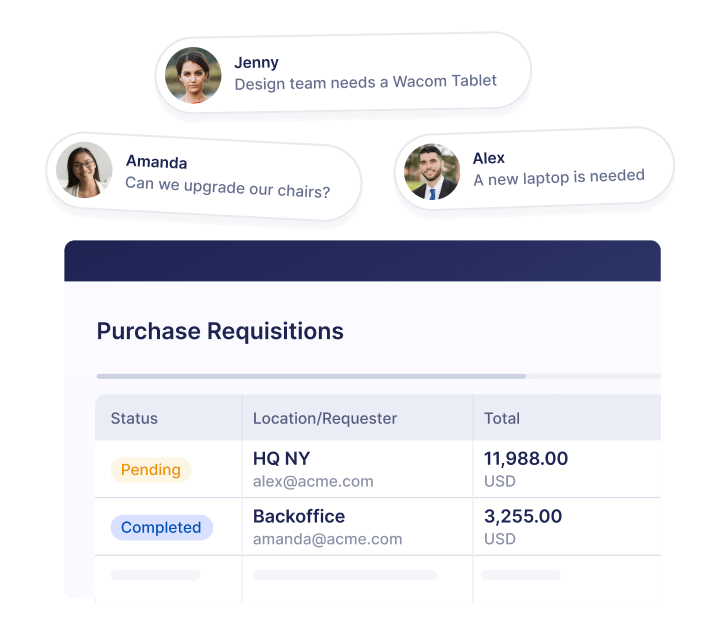 Set up a clear hierarchy for all departments
Add as many users in Precoro as you need. Set up specific roles for everyone. Restrict some actions for particular users by creating an appropriate approval workflow. View employees' requests in real-time with detailed information about who made the request, when, and for which department.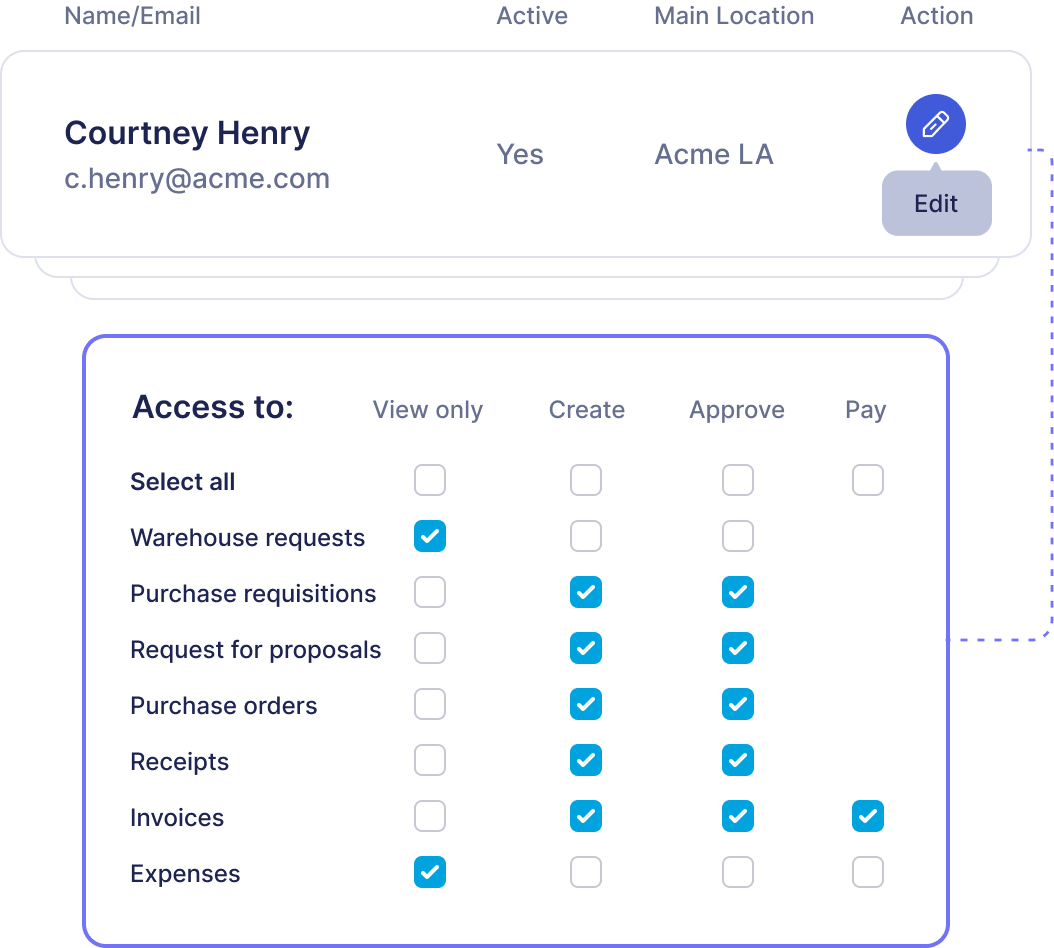 Sync procurement and accounting operations
Establish better communication between finance and accounting departments by integrating Precoro with your favorite third-party tools. Forget about error-prone manual data entry. No more redundancy; handle purchase orders and invoice creation with seamless integrations.
Improve forecasting and budgeting
Precoro provides you with full visibility of your spending pipeline. Along with the ability to set budget limits and get insightful expense reports, you can reduce wasted spending and maintain full control of the company budgets.
Make real-time, proactive decisions with 150+ reporting data points
Slice and dice the data whenever you need it. Always be in the know about your purchasing performance by locale, department, team, project, and more. Get clear analytics and insightful real-time reports to plan your procurement strategy more thoughtfully.
Award-winning solution
Enterprise-grade product quality and support
Automation made simple
Built to seamlessly enhance your workflow
Eliminate manual work and inefficient processes by connecting Precoro directly to your favourite accounting, ERP, and business tools.
As safe as it gets
Built to keep your data secure
Precoro is developed with a security-first approach in mind. Protecting your data, embracing the best security practices, and ensuring our system stays stable with 99.9% uptime commitment is our utmost priority.
Why our customers love Precoro
Book a Demo
Get a hands-on presentation of the software features tailored to your requirements.
Want to see Precoro in action? Easy. Here's how: