Optimize your cash control with the robust spend management solution
Ensure complete budget transparency and stay fully informed of each transaction. Empower your team with an easy-to-use solution for managing requests and approvals. Say goodbye to duplicate payments, stressful month-end close, and cash flow shortages.
Book a Demo
7%
average budget savings per year
2.5x
faster approval process
90%
fewer duplicated payments
98%
spend under management
Designed to scale
Why Precoro?
Collaborative solution

Enable seamless order placement and tracking for your entire company while giving executives control over purchases from the get-go.

Complete transparency

Gain spending insights with interactive dashboards and detailed reports. Keep the finance team updated with real-time transaction details.

Positive ROI

See the results of your investment in the first 6 months. Cut down on internal communication time by 80% with spend management automation.

Ease of use

Onboard your team in Precoro within just 2 weeks with the help of our CSM. Get procurement advisory and 24/5 support from our experts.
98% customer satisfaction
Precoro is used by leading companies from all over the world
Take full control of your company's spending
Ensure timely month-end closures with real-time updates on budgets and transactions. Set spending limits for projects, locations, and departments so that you never run out of money faster than expected. Receive immediate notifications when a purchase exceeds the budget to prevent overspending.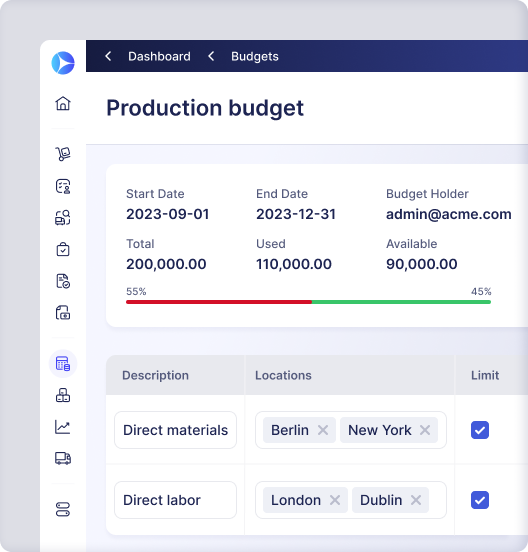 Speed up approval workflows for the whole company
Streamline request processing for team leads, providing them with timely information for informed decision-making and spend tracking before payment. Enhance the approval process by receiving notifications through Slack or email, ensuring requests are expedited and approved promptly.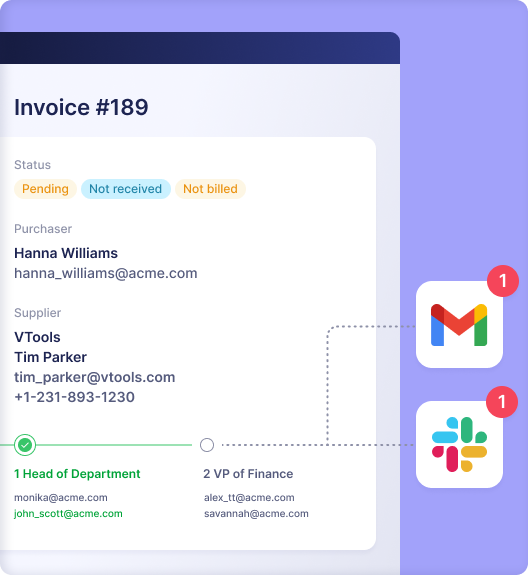 Simplify purchasing operations for your employees
Empower your team with an all-in-one spend management solution that streamlines purchasing from start to finish. With just a few clicks, your team can generate purchase orders and effortlessly monitor their progress. Elevate employee satisfaction by enabling them to receive their requested items 3x faster.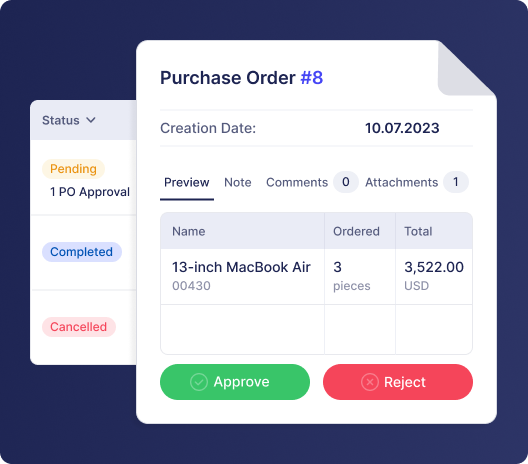 Save 90% of the finance team's time with AP automation
Minimize errors and your finance team's workload by providing them with a comprehensive tool for invoice handling. Eliminate duplicate payments and maverick spending with Precoro's 2-and 3-way matching. Save up to 65% of invoice processing costs due to spend management automation.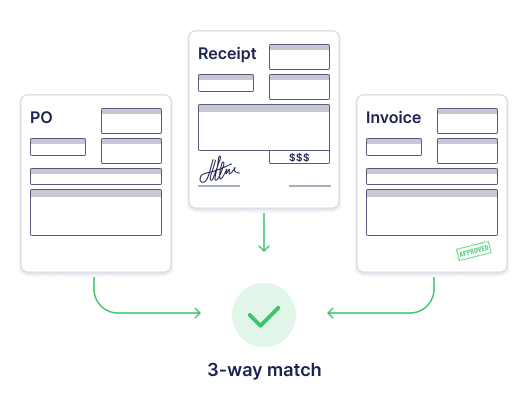 Transform your spend insights with enhanced reporting
Don't waste time chasing financial data. Enhance your decision-making and forecasting accuracy with our comprehensive reporting tools. Leverage over 20 filters and 120 custom fields to create tailored reports, and utilize interactive dashboards to deliver timely and insightful financial information to stakeholders.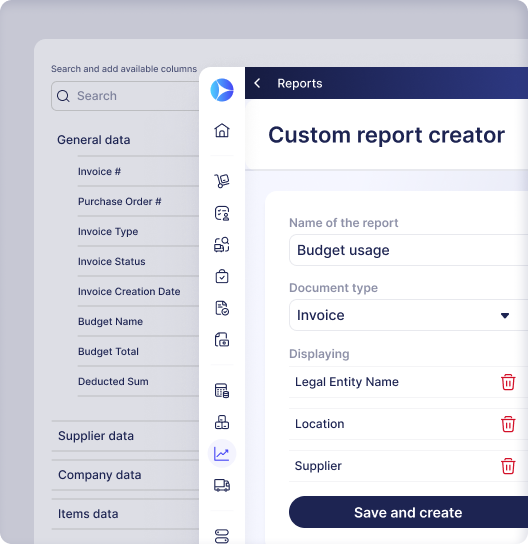 Improve and simplify supplier management
Send personalized registration forms to potential suppliers and set up a customizable process for approving new vendors. Store and manage suppliers' catalogs. With Precoro's historical purchase insights, you can negotiate better contracts and achieve yearly savings of up to 7% on commonly purchased goods and services.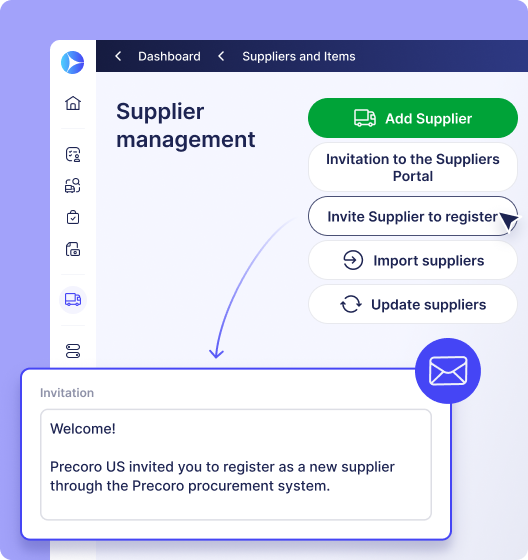 Customer experience
Results that speak louder: Finance leaders worldwide share their success stories
Key achievements:
Easier budget planning
Streamlined reporting
On-time approvals
Precoro is utilized for:
3-way matching

Approval workflows

Reports
1 of 4
Optimize spend management and drive growth with Precoro's powerful feature set
AP automation with OCR
Attach documents to generate pre-filled invoices.
2-way and 3-way matching
Match POs, invoices, and receipts anytime.
Budget control
Track expenditures and never spend more than planned.
Supplier management
Onboard suppliers, store their catalogs, and manage contracts.
Approval workflow
Assign approval roles, rules, and thresholds for colleagues.
Expenses
Monitor corporate expenses and hasten billing cycles.
Reporting
Create real-time reports with 20 filters and 120+ custom fields.
Integrations
Sync data between your favorite business tools.
Trusted by finance leaders: See what CFOs have to say about Precoro
Automation made simple
Built to seamlessly enhance your workflow
Eliminate manual work and inefficient processes by connecting Precoro directly to your favorite accounting, ERP, and business tools.
FAQ
All your questions answered
How much does Precoro cost? Are there any hidden fees or additional costs associated with using the product?
See more
Hide
At Precoro, we believe in flexibility and transparency when it comes to pricing. That's why we offer a range of options to suit different budgets and business needs, all without any hidden fees. Our

pricing plans

provide full access to the platform, including all features and new updates as they're released. For small teams, the price is $35/month per user. If you have a team with more than 20 users,

contact our consultants

to discuss a tailored pricing plan that fits your unique requirements.
How long does it take to set up Precoro?
See more
Hide
We understand that time is a valuable resource and have designed the implementation process to be as efficient as possible. With our intuitive system, learning and using Precoro is a seamless process. Due to these reasons, establishing Precoro in your workflow takes as little as one to two months. Our team of experts will work closely with you to ensure employees are completely on board as soon as possible.
When will we see a return on investment?
See more
Hide
It can vary depending on your organization's procurement needs and workflows. However, our customers typically see a positive ROI within the first three months of implementation. By automating the business spend management process, Precoro reduces the time and resources typically spent on manual operations, resulting in cost savings and increased efficiency.
What kind of training and support is provided while Precoro implementation?
See more
Hide
Precoro provides comprehensive training and support to help your team learn and use our product effectively. We offer a range of training options, including online tutorials, videos, live demos, and one-on-one training sessions. Our Customer Success team is available 24/5 to answer any questions and provide technical support.
What are the security and compliance measures in place to protect sensitive financial information?
See more
Hide
Data security

and regulatory compliance are our top priorities. We use DigitalOcean servers to run the platform, with 99.9999% uptime and SSL-secured connection. All customer data is encrypted with AES 256-bit encryption to protect sensitive financial information. Furthermore, our spend management platform is compliant with GDPR, and we also offer SSO integration so you can ensure a smooth and safe single sign-on experience for your team.
Want to see Precoro in action? Easy. Here's how: