Centralized procurement space for biotechnology teams
Drive innovation and allow Precoro to ensure your labs never run out of reagents and supplies. Organize requisitions and orders, set up agile approval workflows, and keep budgets under control in a centralized way.
98% customer satisfaction
Favorite procurement tool of biotech teams worldwide
Your labs' team space for requisitions, purchase orders, invoices, and more
No matter how many labs, projects, or locations you manage, Precoro is designed to keep track of all your team's requests and orders in one collaborative space. Stay efficient and use your precious resources smarter at every stage of your project.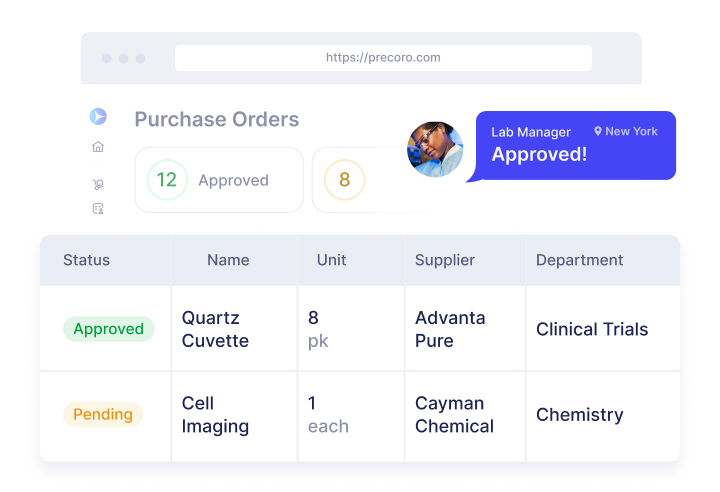 Lean workflows for faster approvals and total purchasing transparency
Make sure your scientists purchase quickly and get the supplies they need to do research or run trials. Meanwhile, accounting and purchasing teams are free from the headache of unmatched records or broken audit trails.
Make sense of the data with 150+ reporting data points
Reagents and consumables stocks run out like water during trials. With Precoro, you can easily set up budgets to monitor and control your R&D expenses in real time. Don't get rattled by your bank statements at the end of the reporting period ever again.
Case studies
See how Precoro can take the extras out of your research and trials
Key results:
0 duplicated invoices
10x quality increase in procurement operations
Precoro is utilized for:
Invoice approval workflow

Auto-generated reports

3-way match
1 of 2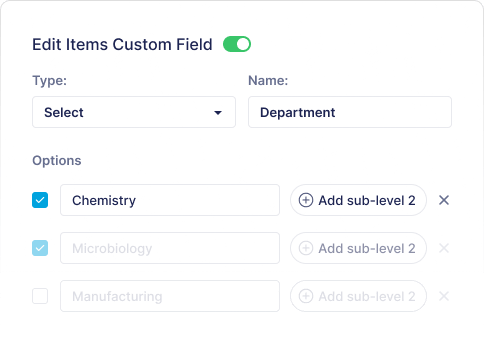 Unlimited customization options
Don't disrupt your process by adapting to system limitations. Make Precoro your own and configure any fields you need for your documents and products at no extra cost. Benefit from our Unit Management module to keep track of reagents and materials in your inventory across all documents and reports.
Flexible approval workflows to give you peace of mind
Approval workflows that easily adapt to your internal processes. Set up approvals by locations, departments, teams, projects, or custom fields. Set up thresholds and routing. And never miss out on new POs with smart notifications. Approve your team's orders from any place or device.
Superior integration capabilities
Integrate with your favorite ERP, accounting, project management software, and many other business tools via API and using Single Sign-On technology. You can even send data directly to QuickBooks or NetSuite. Our integrations are best-in-class, and you can sync any field, including bills, thanks to our unlimited custom fields.
It's not just about features
3 Reasons why biotech companies choose Precoro
Ease of use

Set up your account, invite users, and upload your data. All set! You can go live with Precoro at your own pace.

Value for money

Precoro has highly transparent, honest pricing with a free 14-day trial to boot. Take it for a spin at any time.

Customer support

Advice and support you can rely on for years. We aim to be your last stop in the search for a procurement solution.
Proven track record
Don't take our word for it
Loved by SMBs and enterprises alike
Want to see Precoro in action? Easy. Here's how: