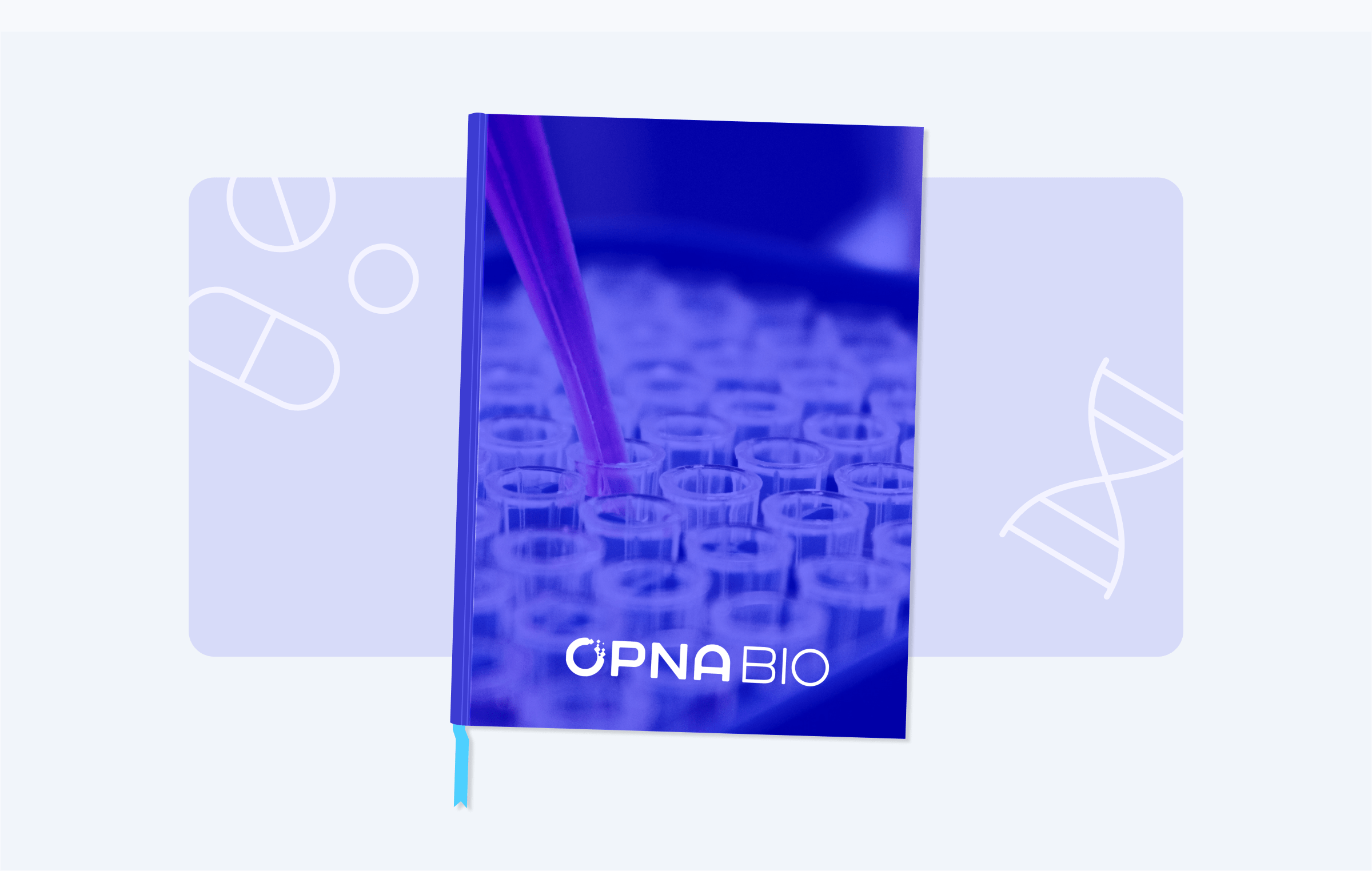 7 min read
How Opna Bio SA Built a Successful Procurement Process as a Biotech Startup
Learn why a biotech startup, Opna Bio, implemented purchasing software during the company setup and how that decision contributed to their efficient operations.
Company size: < 50 employees
Locations: Switzerland, the United States
Industry: Biotechnology
Website: https://www.opnabio.com/
Using Precoro since: December 2020
Users: 18
Client's rating of Precoro: 9/10
Featuring: Edna Odallo and Kathy Cervino, Accounting Consultants

Opna Bio SA: Working to improve the lives of cancer patients
Opna Bio SA is a clinical-stage biopharmaceutical startup established in 2020. It was co-founded by Dr. Gideon Bollag, Dr. Douglas Hanahan, and Dr. Joseph Schlessinger, who worked on multiple FDA-approved oncology drugs before creating the company.
Dr. Hanahan's lab at the Swiss Federal Institute of Lausanne made a novel discovery that revealed the fragile X mental retardation protein (FMRP), which plays a key role in helping tumors evade immune destruction. Thus, one of Opna Bio SA's primary objectives is the creation of drugs designed to disrupt FMRP;  the program is currently in the discovery stage.
Additionally, Opna Bio SA works on five programs licensed from the former Daiichi Sankyo, including two clinical-stage compounds. Opna is advancing its robust pipeline in multiple cancer indications, including myelofibrosis and multiple myeloma. In general, the company's mission is to discover and develop novel oncology therapeutics targeting the hallmarks of cancer (a set of traits commonly acquired by human cancer cells and crucial for the formation of malignant tumors).
At present, Opna Bio SA comprises two small Research and Development companies, one in Lausanne, Switzerland and one in South San Francisco, USA. Their dedicated teams are driven by four core values:
Commitment to patients
Scientific curiosity
Integrity
Teamwork
Opna Bio SA's team decided to implement purchasing software during the company formation to ensure smooth operations. We had the opportunity to discuss this decision with Edna Odallo and Kathy Cervino, external Accounting Consultants, who handle accounts payable, cash reconciliations, consolidated financials and work with external auditors in Switzerland. Ms. Odallo also processes all purchase orders and sets up new suppliers in the system. She and Ms. Cervino provided us with insights into how Opna Bio SA's team chose the right system and how it impacted their procurement process.
Recognizing the need for purchasing software
Opna Bio SA's team realized during the company setup that in order to have full control over their purchases and spending, they needed to implement a centralized system. They were worried that with a manual approach, data entry and creation of procurement documents would be time-consuming and prone to errors.
Another concern was having to manage PO and invoice approvals via email. The team realized that emails could get lost or go unnoticed, leading to unnecessary delays in the approval process. Additionally, tracking lab supply orders would have been a real challenge with managing multiple spreadsheets.
"We knew that without purchasing software, all approvals would remain in the email system, and we needed something that would give assurance to our auditors that the correct approval procedures were being applied."

Edna Odallo, Accounting Consultant at Opna Bio SA
Even though the requesters need supplies specifically for labs in Switzerland and the US, it was important for the company to establish compliance and be able to work in various jurisdictions.
The main benefits that Opna Bio SA hoped to achieve with procurement automation were:
Efficient approval process across various countries
Control over lab supply orders
Expense approval process
Implementing the right software solution
Recognizing the potential advantages of purchasing software, Ms. Cervino took the initiative to find the right solution through online research. She then focused on identifying the best option based on user ratings and reviews.
The tool was meant to be primarily used by the laboratories for supply requests and by the finance team for PO approvals, invoice management, and expense tracking. Thus, the finance team and the lab manager were also involved in the software evaluation process.
During the evaluation stage, Opna Bio SA assessed candidates based on three key criteria:
The simplicity of use for requesters and approvers
Reliable customer support
Cost for multiple users
According to Ms. Cervino, several compelling factors set Precoro apart from other software vendors. Positive user reviews consistently highlighted the system's user-friendliness and responsive customer support. Furthermore, Opna Bio SA also appreciated Precoro's visually appealing interface and reasonable pricing.
"The reviews Precoro had received and also the price were the most crucial factors in our selection process along with ease of use and excellent customer service."

Kathy Cervino, Accounting Consultant at Opna Bio SA
The company decided to book a demo with Precoro to gain firsthand insight into its functionality. While impressed with what they saw, Opna Bio SA also asked us to put them in contact with a current software user. After receiving positive feedback on the tool, Opna Bio SA made the confident decision to implement Precoro as their procurement software solution.
Thus, the onboarding process began. The Precoro team helped Opna Bio SA set up and train users. The process started with the Swiss department. When they learned to request and approve purchases in Precoro and saw how easy the process was, the American lab also implemented the tool.
According to Ms. Cervino, the implementation process was smooth. The teams said the training was "very useful," and the software proved to be "very user-friendly." When evaluating the onboarding process, Ms. Cervino confidently said it was 10 out of 10. She emphasizes the important role that the dedicated Customer Success Manager, Mary Kornieienko, played in successful implementation.
"Our implementation manager invested a lot of time in helping us get the system set up correctly. Mary Kornieienko is very knowledgeable about the Precoro product. She's super friendly and so helpful. She helped us resolve all our issues."

Kathy Cervino, Accounting Consultant at Opna Bio SA
Creating an efficient procurement process
During the system configuration stage, Opna Bio SA's team decided how exactly they envisioned their ideal procure-to-pay cycle. They established that the lab team would be responsible for submitting the purchase requisitions, and the finance team would approve them and send purchase orders to suppliers, track expenses, and analyze spending.
Their purchasing process starts when a lab team member creates a purchase requisition (PR) and sends it to the lab manager for approval. Once approved, the PR is converted into a purchase order (PO), which has to be approved by the Chief Administrative Officer to make sure it falls within the budget. Finally, the PO is either auto-sent to the supplier upon approval or the finance team sends the PO manually to the supplier.
According to Ms. Cervino, Precoro simplified processes across departments. The software sends prompt notifications to approvers through the system and emails them when a new document waits for their decision. Additionally, it informs requesters when their order has been approved. The system also lets stakeholders see the status of each order, which helps everyone stay on top of things.
"User setup is simple.  It's easy to import products, which makes Precoro a really good tool for our labs.  The setup of suppliers is also quite simple and nicely integrated with QuickBooks Online."

Kathy Cervino, Accounting Consultant at Opna Bio SA
According to Ms. Odallo, the PR and PO modules that let users quickly generate, approve, and track orders are some of the most useful software features. Equally important is the ability to process invoices and identify potential fraud, ensuring timely and authorized payments. Additionally, Opna Bio SA uses Precoro to do the following:
Create and store receipts upon order deliveries
Request reimbursements and control expenses
Monitor inventory levels to prevent overstocking and shortages
Manage supplier and item catalogs
Run reports to analyze spending patterns, supplier performance, and more
"It's hard to determine how much our metrics have improved with Precoro because we implemented the software as a startup. However, it certainly reduces the time spent on the approval process because we don't have to use multiple emails. And it prevents maverick spending across all departments due to the purchasing controls set in place by Precoro."

Edna Odallo, Accounting Consultant at Opna Bio SA
As expected, Opna Bio SA didn't face any significant issues with the system. Their ideal procurement process became a reality with Precoro. However, there's still room for improvement. They have some minor suggestions, like changing the "Issue Date" on invoices to "Invoice Date" and showing the supplier on the main purchase requisition screen. Opna Bio SA's team would also like to have even more advanced reporting capabilities and send expense and credit notes to QuickBooks Online.
Procurement automation is a game-changer
According to Ms. Odallo and Ms. Cervino, procurement automation with Precoro has been a great experience. They largely attribute the success to "excellent customer service and ease of use." Both the lab and finance teams enjoy full visibility over each order and procurement document.
The system also enables users to efficiently track inventory levels and monitor expenses. Furthermore, Precoro's integration with Opna Bio SA's accounting software, QuickBooks Online, eliminates unnecessary manual data entry and enhances overall operational efficiency.  Additionally, Precoro "integrates extremely well using various foreign currencies", which is critical to their international business.
"We see Precoro as an efficient, practical, and user-friendly software with very responsive support. Our goals were to be able to operate internationally and use a procurement system with an audit trail for our approval processes.  Precoro helped us achieve these goals."

Edna Odallo, Accounting Consultant at Opna Bio SA
Precoro helped Opna Bio SA effectively implement a centralized procurement policy. That means that all orders are authorized, and the requesting and approval processes are transparent for all employees. Moreover, visibility into spending and supplier collaboration leads to data-driven decision-making and smart resource allocation.
Managing procurement centrally can be especially challenging for companies operating across different countries. That's why Opna Bio SA's team highlights, "Precoro really helps the lab procure supplies and services and enables employees and contractors in various countries to work more easily together." As a final note, both Ms. Odallo and Ms. Cervino recommend Precoro to small, medium, and large-sized biotech companies as a comprehensive and reliable solution that simplifies procurement across departments.
Key Takeaways
Company concerns before Precoro
Manual data entry for each document
Long approvals via email
Maverick spending
Challenging order tracking
Limited expense control
A number of unstructured files or paper documents kept for audits
What the company achieved with Precoro
Centralized procurement process across multiple countries using multiple currencies
Access to templates for all procurement documents with drop-down menus and catalogs
Streamlined approvals
Payments only for authorized purchases
Clear order tracking
Repository of procurement documents for an audit trail
---