Precoro empowers businesses by connecting requesters, approvers, procurement managers, and accounting in one easily manageable space
Raw numbers
Precoro at a glance
100% growth
of revenue year over year
$16 Billion+
worth of POs yearly
Our mission
We're in business to bring structure and cost-efficiency to the way your company makes purchases
We started off in 2015 as a people-first, self-funded, distributed company dedicated to helping companies reduce administrative headaches, lower purchasing costs, and increase productivity. After seven great years (all of them profitable), we're proud to serve customers in 67+ countries and work with the best people worldwide: our global team of over 50 Precorians works on site from New York, Kyiv, and Vilnius and remotely throughout Europe and the Americas. No matter how fast your company grows, our technology follows in real-time.
Our customers
We work with great companies
What we do
We replace frustrating and confusing systems with an intelligent yet elegantly simple P2P software solution
These are not empty claims — see for yourself.
At Precoro, we challenge the traditional methods of procurement management: 1. Expensive, sluggish, and hard-to-implement ERP solutions; 2. Excel spreadsheets, paper, and emails. We built Precoro to complement your ERP as well as other business tools and give you the flexibility of unlimited requesters, customizable approval workflows, and the ability to manage orders from any device or location. But ultimately, Precoro is a powerful stand-alone P2P solution that can fully automate your indirect procurement process and easily integrate with accounting software.
How we work
We build a long-lasting, sustainable, and purposeful business with engaged team members at the core
All Precorians are passionate professionals with niche expertise in procurement and technology. We love what we do, and we have great fun working toward our goal — to be the go-to indirect procurement solution on the market. At Precoro, we focus on building long-lasting relationships with our clients. We develop our product with our customers' and prospects' needs in mind. We analyze all feedback wholeheartedly and prioritize it on our roadmap, based on the likelihood of value addition to our ever-expanding global community of users.
What makes us tick
Our Guiding Principles
01

Customers are at the heart of everything

Our top priority is delivering value to the people that rely on Precoro to solve their day-to-day operational challenges.

02

Be bold and move fast

We pursue ambitious goals by prioritizing what's important, making quick decisions, and delivering incremental change.

03

Always go the extra mile

We celebrate results, and we're always thinking about ways to grow, improve and bring extra value to our customers.

04

Build trust with transparency

We foster a culture of trust and integrity with our open, constructive, and timely communication.

05

Work with care and respect

We're honest, tolerant, and inclusive. We measure success not by profits alone but by contributions to all stakeholders.

06

Collaboration is the key

We understand that we're better together than apart — everyone on our team shares in our journey.
How we grow
Our journey
2015
80 companies onboarded
We assembled our core team and launched our US-based niche pilot project, a software for contract management and indirect purchasing of office supplies and services.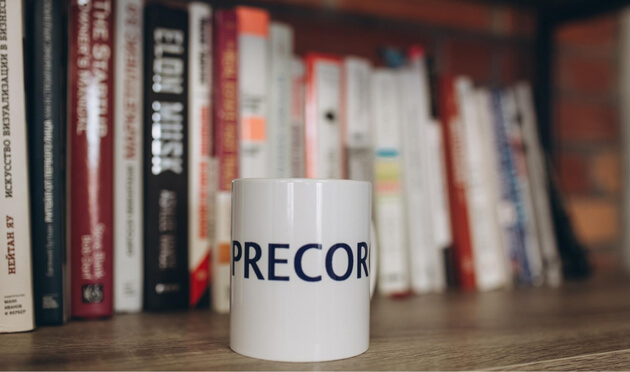 1 of 7
What we stand for
Our Commitments
Environmental Sustainability

Precoro is designed to reduce paper trail and drive substantial use of resources. We aim to give companies a solution that will not only reduce workload and save money but also support digital transformation and a paperless future.

Diversity & Inclusion

When hiring talent, we prioritize ethics and pledge to cultivate a culture that helps our employees thrive. Our goal is to create an inclusive environment for every Precorian to feel confident and be their best self at work.

Supporting Nonprofits

Since 2018, we've been helping nonprofits and educational organizations manage mission-critical resources smarter and maximize the impact of charitable activities worldwide by offering discounts and free consultations.
Working at Precoro
Powered by People
Precoro is only as good as its people. To be at their best, they need a positive and supportive work environment, and we know a thing or two about maintaining one.
Working at Precoro means flexible work hours, personal development, and a strong, community-focused culture, whether you're remote or in the office.
Think we might be a good fit?