Establish a strong process for supplier management
A full-fledged solution for seamless vendor collaboration. Onboard, evaluate, manage, and collaborate with all your vendors in one place.
Streamlined onboarding & approval
Automate vendor onboarding and approval to mitigate possible risks
Make your supplier validation process transparent, structured, and compliant. Ensure you work only with reliable vendors that fully meet your business requirements.
Create custom vendor onboarding forms for every type of supplier — direct, indirect, strategic, or occasional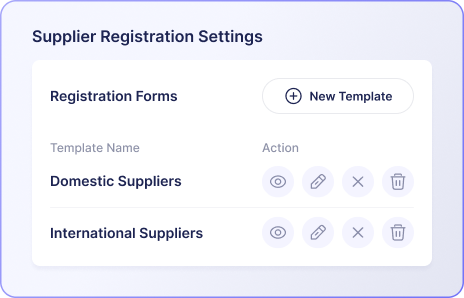 See data from supplier onboarding instantly within your organization's core systems

Set up an approval workflow for new vendors based on vendor categories

Automatically capture information from important docs like the W9s, SOC2 reports, tax certificates, etc.

Ensure compliance with your vendor approval policy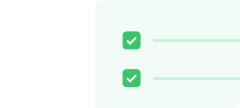 Simpler, more efficient management
Oversee your supply chain process and keep vendor information in one place
Get full visibility into all supplier-related operations. Control whether your vendors meet their commitments and prevent supply chain disruptions.
Store supplier catalogs and add pre-approved products to make sure purchasing policies are followed

Order items directly from within Precoro, generate POs automatically, and get full visibility into historical spending for each vendor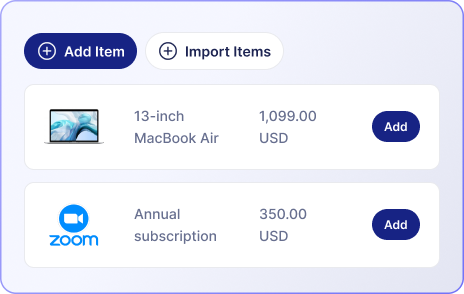 Control the status of each order to ensure on-time delivery so your business operations run smoothly

Make sure your agreements with suppliers are successfully executed and get proactive about contract renewals with a contract repository

Generate real-time reports on supplier data and track spending per vendor to identify cost-saving opportunities

Convenient cooperation
Take your communication with suppliers to the next level
Establish direct and real-time communication with your vendors using the Supplier Portal to purchase faster and smarter.
Prevent order discrepancies and shorten negotiations by helping suppliers create item catalogs and modify the details on their side

Manage all RFPs in a single platform and provide vendors with real-time updates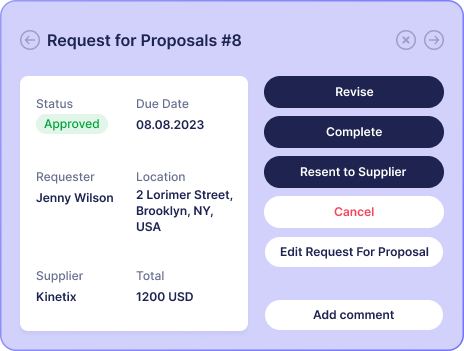 Get your orders faster thanks to POs automatically being sent to suppliers as soon as they're created in Precoro

Let vendors send invoices and track payment status via the portal to receive and store all financial documents in one place

Provide more transparency on order statuses and transactions for both parties and streamline communication with suppliers

Download our free Supplier Management guide to learn more about establishing long-term supplier partnerships
The guide contains:
How to differentiate between vendors and suppliers

Fundamentals of supplier management

Tips for identifying the most suitable suppliers

Effective methods for gathering and verifying supplier data

Comprehensive plan for supplier onboarding

Proposed strategy for analyzing and evaluating supplier performance
Download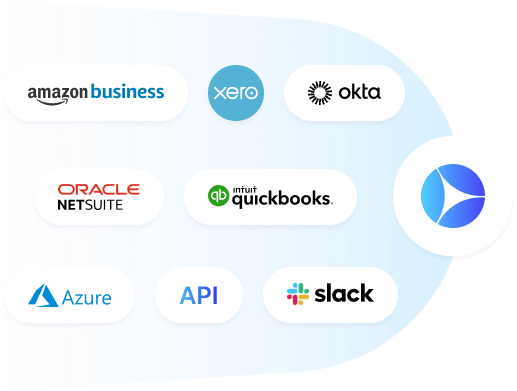 Superior integration capabilities
Integrate with business tools like Slack, your favorite accounting software, ERP, and more via API. Transfer vendor data automatically from Precoro and move approved POs or invoices to your accounting system.
Learn more
Win-win solution for both parties
Rely on Precoro to help you build long-term, transparent partnerships with suppliers
Centralized operations
Interact with suppliers in one system, store their catalogs, create orders in a few clicks, exchange purchasing documents, and track transaction statuses anytime.
Cost-saving opportunities
Negotiate favorable prices, optimize inventory levels, and find the best deals. Identify cost-saving opportunities by getting full visibility into your supply chain.
Automated processes
Take the "managing" part out of supplier management. Onboard new vendors in just a few clicks, automate approval workflows, and process documents faster.
Reduced risks
Check essential details and regulatory requirements while onboarding new vendors and mitigate risks like quality issues, delivery delays, or compliance violations.
Proven track record
Don't take our word for it
FAQ
All your questions answered
What is supplier management?
See more
Hide
Supplier management is the process of handling relationships and interactions with suppliers that provide companies with the products needed to operate. It consists of vendor onboarding, contract negotiation, supplier evaluation, and monitoring for compliance with the agreed-upon terms and conditions.
Is vendor management the same as supplier management?
See more
Hide
Vendor management and supplier management are related concepts, but they are a bit different. Vendor management typically refers to the process of managing relationships and interactions with vendors who provide goods or services to a company. Supplier management, on the other hand, has a broader scope and includes not only vendors who supply goods or services but also other types of suppliers, such as raw material suppliers or logistics providers. To learn more about the differences, check out this article.
What are the benefits of supplier management?
See more
Hide
With effective supplier management, companies can optimize their overall procurement processes, reduce costs, and mitigate such risks as order delays, quality issues, discrepancies, etc.
What supplier management features does Precoro have?
See more
Hide
Precoro provides users with a full-fledged Supplier Module for companies to manage their vendor-related operations. Apart from the ability to add an unlimited number of suppliers, store their catalogs, order items, exchange documents, and control budgets, Precoro offers supplier onboarding and approval capabilities, as well as a separate Supplier Portal.
Want to see Precoro in action? Easy. Here's how: