Precoro and Amazon Business Punch-in. Business integration that feels like home
Order. Approve. Keep books. When buying for business, those are no 'three simple steps.' But with Amazon Business Punch-in and Precoro - they are.
Seamless workflow
Improved shopping experience
Combine the familiar experience of shopping on Amazon Business with Precoro's interface and compliant purchasing process in one intuitive and easy-to-set-up workflow.
Automation made simple
Integration process as simple as 1, 2, 3. No technical skills needed
Get started with little to no training

Workflow straight from your day-to-day life.

Don't disrupt your processes

Product research and order management all in one.

Save significant time and effort

Compared to using standard item catalogs.
Integration demo
Integration is made easy with Precoro and Amazon Business
Go from adding items to your Amazon Business cart to confirming the order in Precoro — in the blink of an eye. Let us show you how it works.
Taking the work out of your workflow
Punch-in integration features that our customers love
Using Punch-in, your employees can shop directly on Amazon Business's familiar interface. Items they want to buy are seamlessly added to a purchase order in Precoro.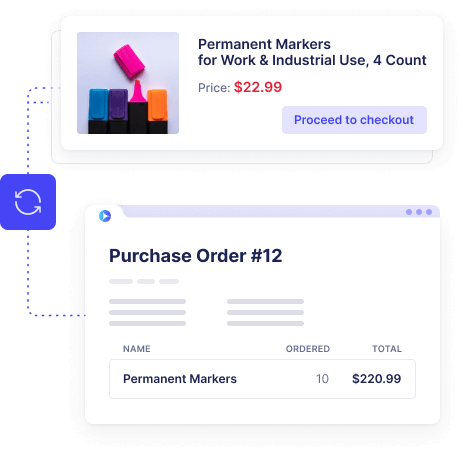 Easy for buyers
The requisitioners don't have to remember accessing Precoro first - they simply log into Amazon Business, and when they are ready to check out, they are redirected to the eProcurement system so the order won't bypass the approval process.
Personalized shopping experience
As employees use Amazon Business, they benefit from fast and relevant search results, reminders about previously viewed items, and customized messaging based on your organization's purchasing policies.
Automated data entry for your transactions
With Punch-in, document reconciliation is worry-free. Accountants no longer have to find, enter, or sort data by cost centers manually. Punch-in minimizes untraceable spending without disrupting analytics.
Compliant purchasing
With an Amazon Business account connected to Precoro, the order number in Amazon Business corresponds with the PO number in Precoro. Punch-in helps eliminate uncontrolled purchases and discrepancies in your documents.
Award-winning solution
Precoro has 98% customer satisfaction
Want to see Precoro in action? Easy. Here's how: