Transform your procurement experience. Automate. Integrate. Scale.
A fully-customizable platform to make procurement easier for your team. Automate manual purchasing, sync useful data, and improve team collaboration using intuitive tools. Empower your employees to enjoy procurement-related operations with Precoro.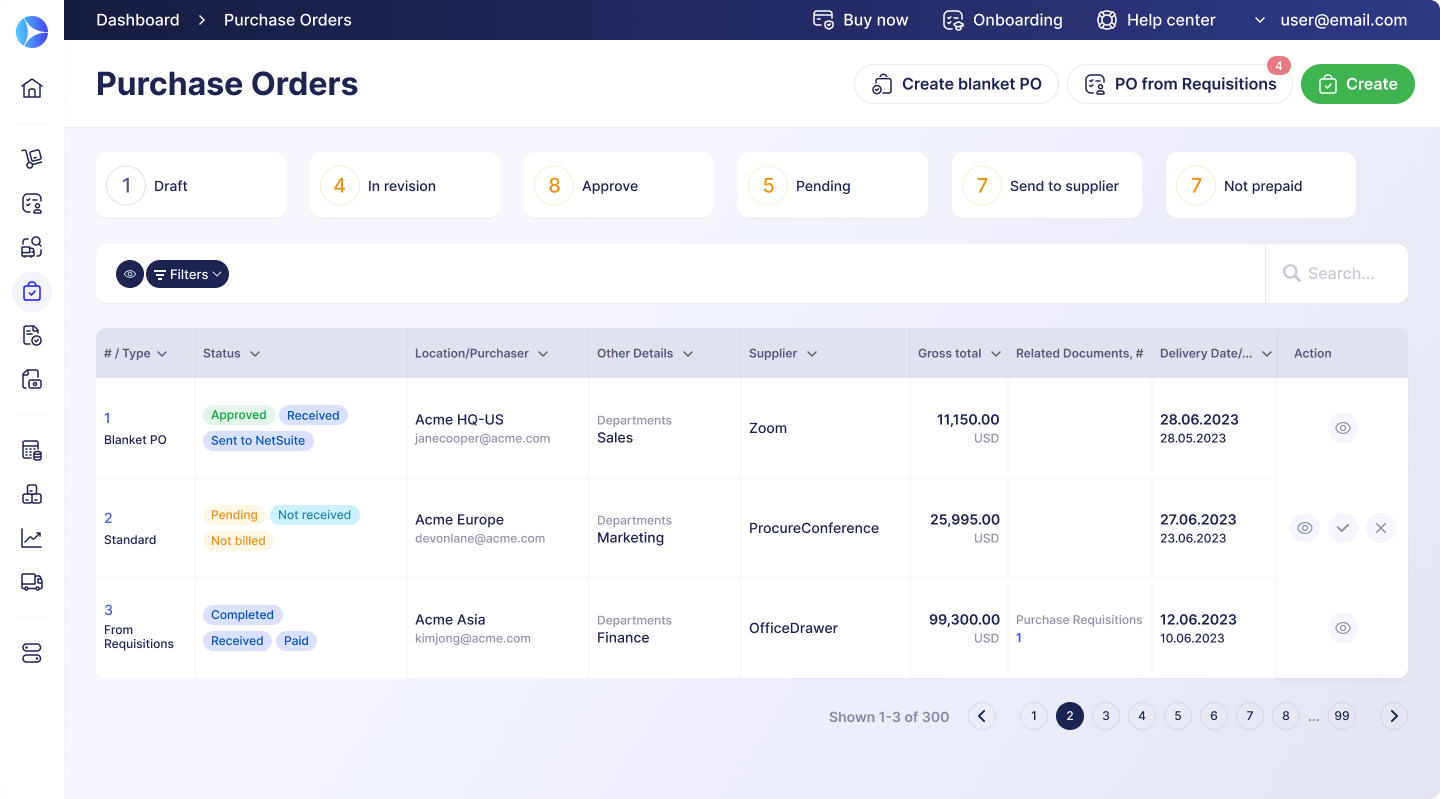 Request
80% less manual data entry
Easily create any request and track its progress in real-time. Precoro gives a voice to employees and peace of mind to approvers.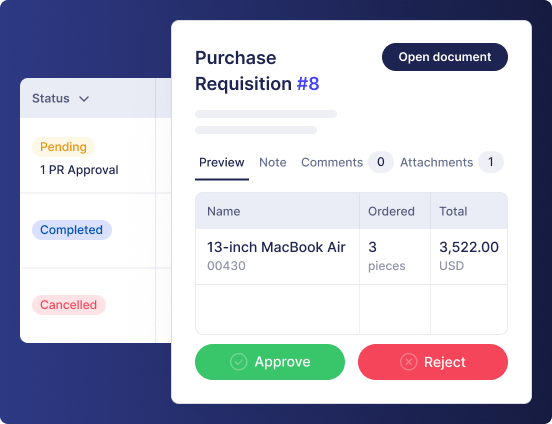 Purchase requisition
Standardized single-source order requests from scratch or from warehouse requests
Ecommerce experience with item catalog, in-bulk item import, or custom item lines
Ability to approve, revise, edit, repeat, cancel, delete, or manually complete a PR
Tracking of purchase requisitions by statuses and checking revision history
Attachments, notes, and comments with the option to tag colleagues
1 of 6
Approve
2.5x faster approval workflow
Spend smart by building your own approval process. Customize purchasing workflow with the required number of steps for the most precise routing. Ensure each financial document gets to the right person.
Approval workflow
Approvals by locations, departments, projects, custom fields
Ability to revise, reject, and send for re-approval
Revision history for compliance audit
Thresholds and policies for a precise routing
Mobile on-the-go approvals
1 of 4
Order
38% shorter purchase cycle time
Let Precoro do the work for you with automatic document creation and 3-way matching. Build strong relationships with suppliers and fulfill your employees' requirements in time.
Purchase order
PO creation from scratch or auto-generation from PRs and RFPs
All order data in one place: delivery, full item info, payment, supplier details, etc.
Separate internal attachments for the team and external ones for suppliers
Options to make a PO recurring, blanket, auto-send to the supplier, or revise it post-approval
Real-time order tracking from draft through the approval process and to payment
1 of 4
Control
Up to 7% budget savings annually
Improve cash flow transparency and control corporate expenses in real time. Say no to maverick spending and exceeded budget limits.
Suppliers and items
Supplier Database with an unlimited number of records
Suppliers Portal allows vendors to collaborate with buyers directly in the system
Specified payment terms like pre- and post-payment percentage, credit periods, etc.
Unlimited item catalog featuring item bundles, categories, and unit management
Contract repository with expiration notifications
1 of 5
Automation made simple
Built to seamlessly enhance your workflow
Eliminate manual work and inefficient processes by connecting Precoro directly to your favourite accounting, ERP, and business tools.
Customized experience
Don't see the integration you need? Create it
Our team will guide and support you throughout the development process and share everything you need from the Precoro standpoint, from API documentation and available end-points to the best practices based on our clients' experience.
As safe as it gets
Built to keep your data secure
Precoro is developed with a security-first approach in mind. Protecting your data, embracing the best security practices, and ensuring our system stays stable with 99.9% uptime commitment is our utmost priorities.
98% customer satisfaction
Developed for every type of business
We built Precoro to work for a wide range of companies by adapting it to your various workflows and requirements. Whether you need it for one user or thousands, Precoro is the system you can stick with for years. See how we help companies in different growth stages.
It's not just about features
3 reasons why 1000+ companies choose Precoro
Ease of use

Set up your account, invite users, upload your data. All set! You can go live with Precoro at your own pace.

Value for money

Precoro has highly transparent, honest pricing with a free 14-day trial to boot. Take it for a spin at any time.

Customer support

Advice and support you can rely on for years. We aim to be your last stop in the search for a procurement solution.
Proven track record
Don't take our word for it
Loved by SMBs and enterprises alike
We started using the system with only one department and then gradually added four more. Precoro helps us with managing the company's budgets and matching Invoices against Purchase Orders so we can focus on strategic tasks.
We use Precoro as an all-in-one solution to control and automate the entire procurement workflow, from creating POs to managing the supplier database. With the catalog, we've drastically reduced the time spent issuing purchase orders and requests and tracking their status. Plus, our managers easily approve on-the-go via phone.
With its budgets module, visual analytics and reports, Precoro helped us obtain complete control on all of our spends. Plus, it has the most User-friendly interface. With Precoro, we have our spend management and purchasing process smoothed out in one tool.
Precoro had the best price point on the purchasing systems market. Other systems that we looked at had either too many or not enough features. It is also significant that the system is easy to learn and use. Our dedicated manager got us onboard in less than 2 weeks.
1 of 4
Want to see Precoro in action? Easy. Here's how: