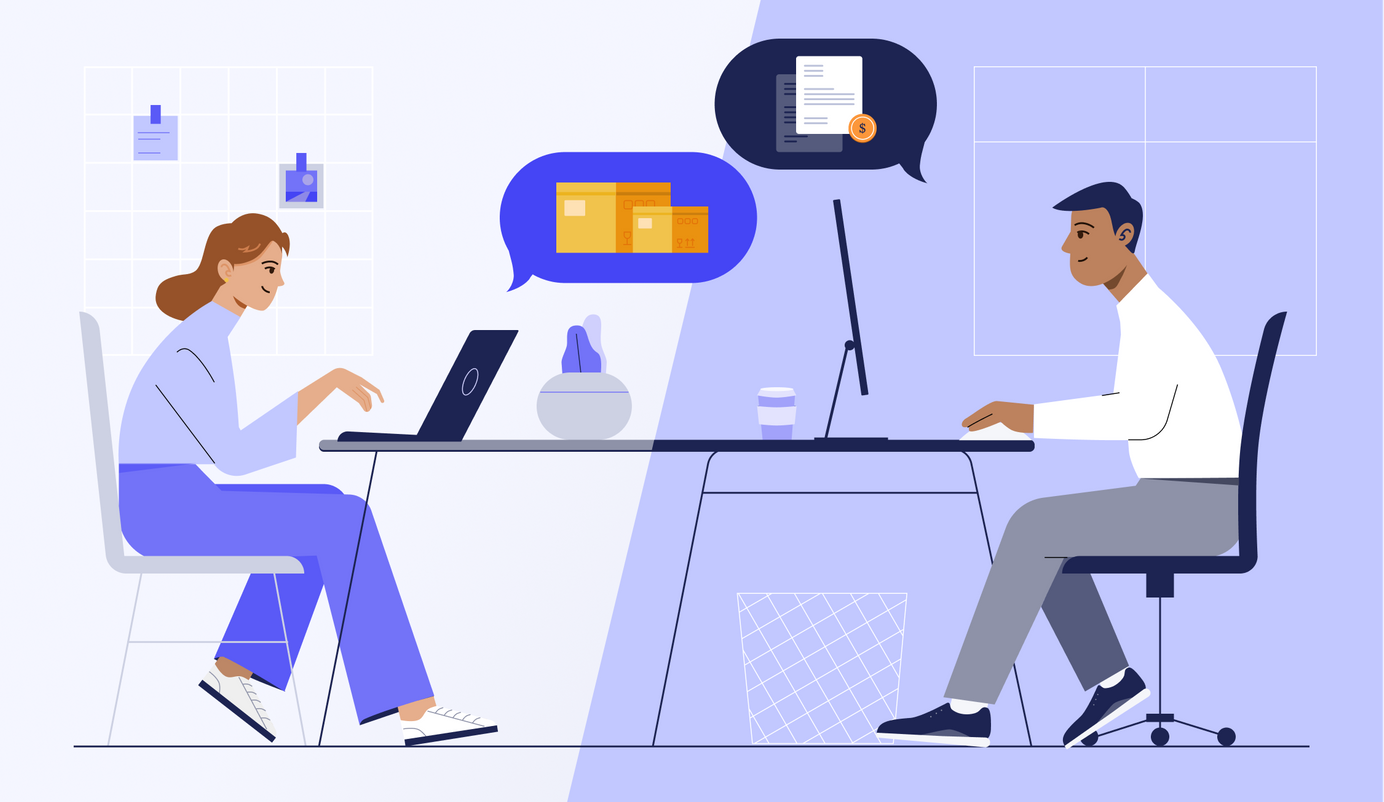 9 min read
Supplier Onboarding: Tips and Proven Methods
Learn the best practices of the supplier onboarding process to seamlessly integrate new vendors and form long-term partnerships.
Establishing resilient supply chains is one of the top priorities for modern businesses, particularly when operating amid geopolitical volatility like the post-Covid aftermath, global repercussions of Russia's invasion of Ukraine, or extreme weather events. The first milestone for ensuring such scenarios don't cause major hiccups for a company is establishing strong partnerships with vendors right from the start. And to do so, an excellent supplier onboarding process is needed.
This article will explore the advantages of having an established system for supplier onboarding, and in it, we offer practical guidance for a successful onboarding experience.
Note: We use the terms "supplier onboarding" and "vendor onboarding" interchangeably in this article as they both refer to the same set of procedures. However, it's worth noting that there are differences between the terms "supplier" and "vendor," which we covered in one of our previous articles.
What is supplier onboarding?
Supplier onboarding is the strategic process of integrating a new vendor into an organization's supply chain network. This practice involves several critical steps, including but not limited to gathering the prospective supplier's contact details and product information, evaluating their capabilities and credentials, sharing organizational policies and expectations, and setting the supplier up in the company's system.
The primary objective of supplier onboarding is to identify trustworthy and reliable suppliers for long-term cooperation and effectively guide them through the company's tools, processes, and workflows. Supplier onboarding is a fundamental step in supplier management that will save companies multiple headaches because it ensures that open communication is established early on and terms of cooperation are clear on both sides.
Benefits of supplier onboarding
The vendor onboarding process provides organizations with several strategic advantages, namely:
Minimizes risks
By verifying supplier credentials, requesting their certifications,  conducting background checks, and making sure early on that chosen suppliers comply with legal and ethical standards, many potential risks are mitigated. Some of these risks include:
Dishonest sellers
Legal and financial penalties
Reputational damage
Boosts a company's bottom line
Supplier onboarding with an established evaluation process allows companies to compare prospective suppliers and identify those that offer better pricing and contract terms for higher-quality goods and services. Plus, with a smooth onboarding process, less time, resources, and expenses are wasted on the part of the buyer (and the seller, too!). In the long run, this means reduced costs as well as better end products that satisfy customers and boost sales.
Reduces maverick spending
Maverick spending refers to off-contract purchases from non-preferred suppliers. It occurs when employees bypass the standard procurement process while making unauthorized purchases, and it often results in higher costs and reduced visibility into spending. The vendor onboarding process can help minimize maverick spending by establishing precise procurement requirements for suppliers and ensuring that all purchases are made exclusively through approved channels.
Provides transparency in supplier relationships
A well-designed vendor onboarding process helps establish mutual trust with suppliers by providing them with the necessary information and resources and setting clear expectations and requirements from the outset. Moreover, establishing open communication channels during onboarding builds trust and facilitates further collaboration between the organization and its suppliers.
Reduces time to approve and activate future suppliers
Establishing vendor onboarding procedures and creating useful materials such as a set of requirements, terms of cooperation, and supplier questionnaires help companies save time and effort in setting up new vendors. Instead of starting from scratch every time new suppliers are needed, defining a sequence of steps reduces the workload of the procurement and other departments so they are free for other crucial tasks.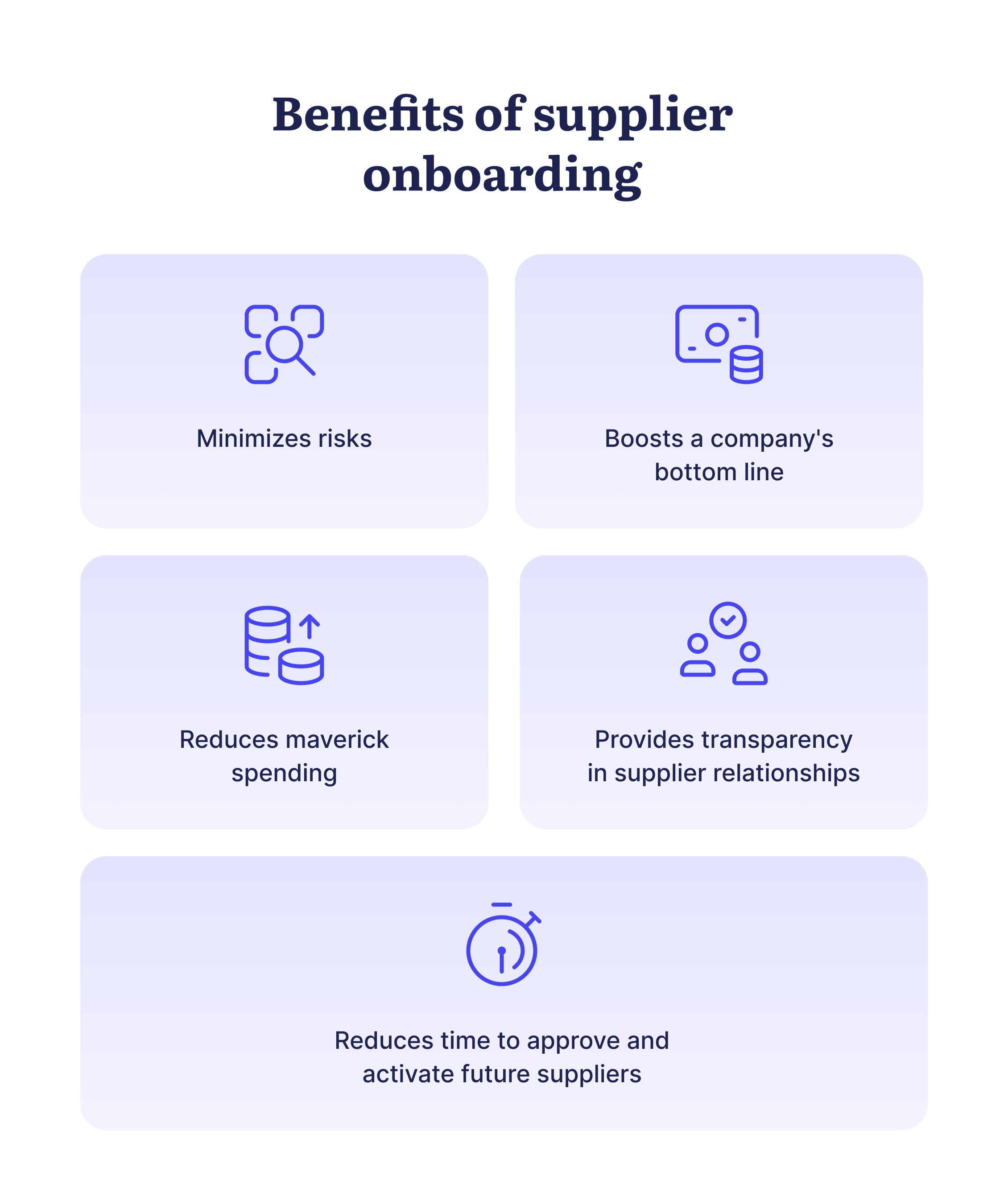 Best practices of supplier onboarding
Define the approval process
First of all, companies should determine who within their organization will be responsible for evaluating and approving new suppliers. Assigning roles helps to avoid confusion and reduce redundancy, ultimately leading to a smoother vendor onboarding process.
The decision of how many people or teams should be involved depends on the size of the organization and the complexity of its supply chain. In small organizations with a limited number of suppliers, one point person or a small team may be sufficient.
However, in larger companies with a more extensive supply chain, it may be necessary to have multiple teams or departments involved in the vendor onboarding process, such as:
Procurement (ensuring that a potential supplier has competitive pricing and high-quality goods)
Finance (assessing the supplier's financial stability and payment terms)
Legal (ensuring that the supplier meets legal or regulatory requirements and that the company's intellectual property is protected)
In addition, a company may also involve its IT department to handle the technical aspects of onboarding, such as setting up the supplier in the company's systems and providing access to necessary tools and resources.
Set and share specific requirements
Workers responsible must clearly understand what factors to consider when evaluating and approving new suppliers. To do so, first, the criteria for vendor evaluation must be determined. This practice helps avoid unnecessary risks and wasted time working with suppliers that can't really satisfy the company's needs. It will also bolster transparency when communicating with potential suppliers and help companies set expectations early on.
The set of requirements will depend on the company's goals and policies, industry, and the type of products or services being purchased. They may prioritize quality standards (such as ISO certifications or industry-specific standards), compliance with regulations and specific ethical and social responsibility standards (for example, fair labor practices and environmental sustainability), delivery and lead time, pricing and payment terms, confidentiality and data security, and/or other factors.
Undoubtedly, it will take some time to think of all the criteria, write them down, and create a clear-cut policy to share on the company's website and guidelines for people responsible for supplier onboarding. The good news is that once a company establishes a standardized set of requirements and evaluation processes, it won't need to reinvent the wheel with each new onboarding.
Establish a convenient channel of communication
Vendor onboarding involves sending and receiving a wide range of information in the form of policies, documents, questionnaires, and messages (email, phone, etc.). Establishing a single communication channel with potential suppliers allows companies to keep information centralized and resolve any issues timely. For this purpose, we would recommend incorporating a tool that provides a written record of the communication.
Many companies default to using email, and it makes sense: it's easy to use, allows attachments, and can be accessed anywhere. However, it's not the best option, as users can't appropriately organize the documentation and other data, and it may be complicated to quickly find the needed information later. The same problem also applies to instant messaging platforms like Slack or Microsoft Teams. They are convenient for straight-to-the-point communication but are not meant to structure and store documentation.
Instead, we recommend using specialized tools, such as procurement software with a supplier portal like Precoro. On such a platform, suppliers can fill in their own business details and attach the necessary documents, which will be stored and easily accessed in the system. One more benefit is that a procurement tool lets companies onboard suppliers through the platform, through which they can also conduct further communication. When it's time to create and approve POs, requests for proposals, receipts, invoices, and other relevant documents, all of this can be done directly in the system.
When choosing purchasing software, companies should make sure there is a supplier module with specific features like supplier registration and supplier approval. Ideally, the tool should enable users to:
Invite an unlimited number of suppliers.
Create an approval workflow for suppliers.
Send customized registration forms and adjust mandatory fields such as a legal address, account number, and more.
Review completed forms, attachments, and notes from suppliers.
Approve, reject, or send suppliers' forms for revision.
Automated addition of new vendors and their information to avoid human error and save valuable time.
An ideal platform will also allow you to message suppliers directly from within the tool. For example, in Precoro, companies can share their policy and list of supplier requirements via a customizable email sent with the initial invite or via the supplier registration form.
Gather and verify the supplier's data
The supplier data and documents a company strives to obtain from its potential suppliers depend on its policies and requirements (which they could determine during Step 2 of the supplier onboarding process). For instance, if an organization prioritizes sustainable procurement, among other things, it may be interested in supplier's sustainability reporting and certifications on environmentally friendly and ethical operations from third-party organizations (ISO, Energystar, and more).
The data that companies usually ask suppliers to provide is various in its nature and may include the following:
The supplier's business name and contact details of its point persons
Financial information (such as default currency, tax withholding information, and bank account details)
Category information (a description of the vendor's products and services.)
Product / Service delivery information
Security certifications
Non-disclosure agreements (NDA)
Insurance policies
Supplier diversity certifications
Sustainable sourcing reports
Regulatory compliance information
Required business licensing
Case study or other forms of customer success story documentation
The company has to conduct a risk assessment to ensure that the vendor information is complete and verify its accuracy by checking it against public records, government databases, and other sources of information. Independent research can also include conducting site visits, testing the products, and checking customer references.
Provide training sessions (if needed)
Supplier onboarding aims to establish a successful working relationship between the supplier and the company. That's why the process may include training sessions about the company's operations, workflows, and technology stack. However, this step is unnecessary if processes are already simple, if it has no complicated vendor management or procurement software, or if the supplier already uses and understands the needed platform. In these cases, providing clear documentation and guidelines may be sufficient for the supplier to work with the company effectively.
For big companies or those with unique workflows or demanding tools, it is advisable to conduct training or orientation sessions for new vendors. Neglecting this step may result in miscommunication, errors, and a breakdown in the supply chain. The guidance can take many forms, for instance, walkthroughs, videos, 1:1 conversations, webinars, and more. Usually, the company suggests the preferred format to the intended supplier.
Sign a contract
Once a company approves a new supplier, it should sign a contract outlining the terms and conditions of the working relationship. This might include details such as the pricing and payment terms, delivery schedules, quality standards, intellectual property rights, confidentiality, and data security. Using specialized software proves beneficial at this stage, too. For instance, Precoro has a contract management feature that lets users store and easily track their contracts.
The contract might be signed at different stages of the supplier onboarding process depending on a company's specific policies and procedures. Some companies may require the signing before the supplier can be officially onboarded, while others consider it a final step in the process.
In any case, contract signing is an essential part of supplier onboarding, as it helps to establish the responsibilities of both parties involved officially.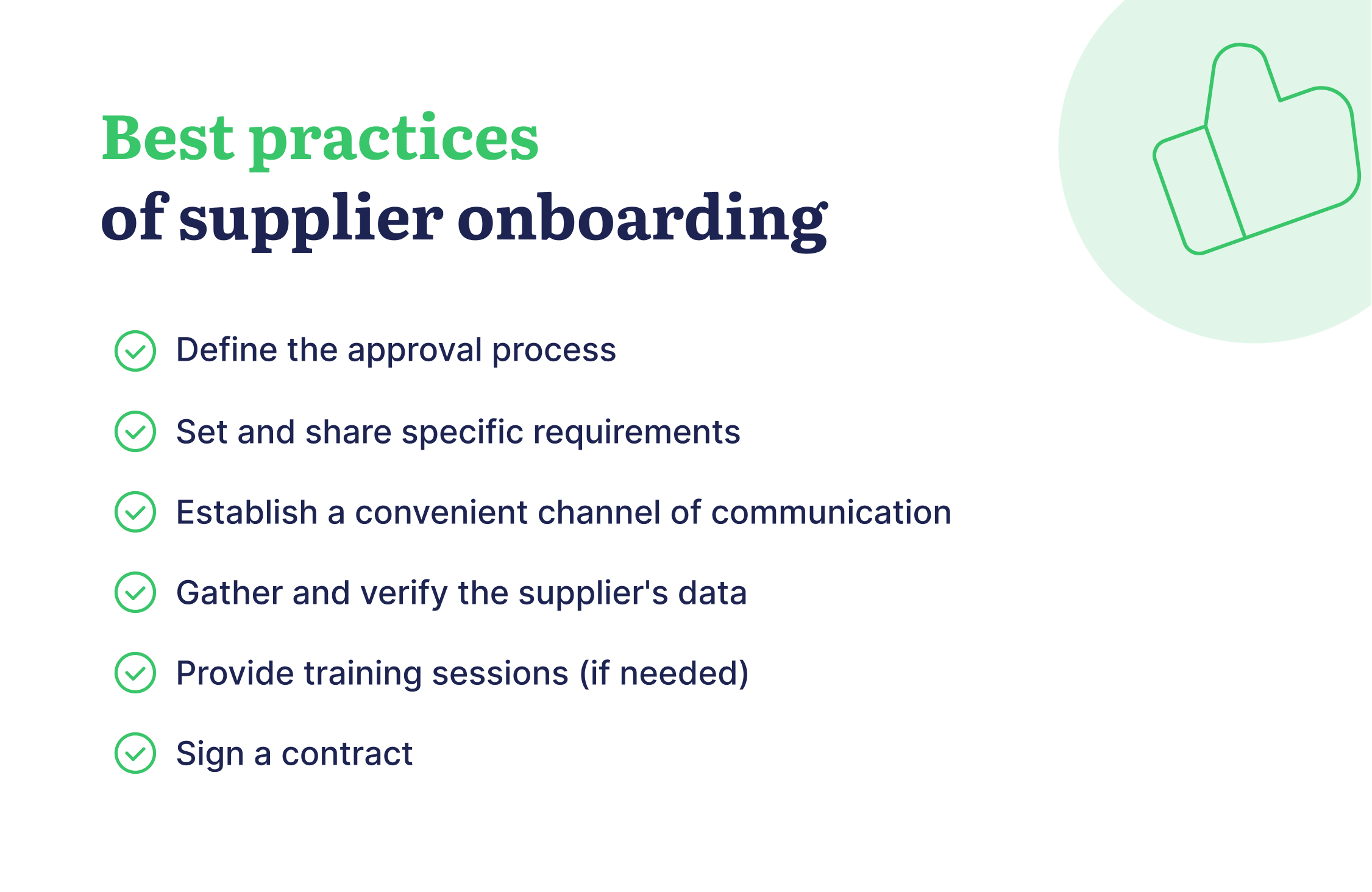 Frequently Asked Questions
What is the purpose of supplier onboarding?
The supplier onboarding process establishes a mutually beneficial relationship between a company and a supplier. It allows a company to gather information about the prospective supplier, verify their capabilities, and ensure compliance with industry and regulatory standards. It also helps the supplier understand the company's expectations, requirements, and processes in order to work with the company efficiently.
What requirements must a supplier meet in order to be approved?
To be approved, a supplier typically needs to meet specific requirements, such as providing proof of legal registration, tax compliance, insurance coverage, financial stability, and the ability to meet the company's quality and delivery standards. The requirements may vary depending on the industry and the company's policies and procedures.
How long does supplier onboarding take?
The time it takes to onboard a supplier can vary depending on factors such as the complexity of the goods or services being supplied, the level of completion of the prospective supplier's documentation, the efficiency of the approval process, and more. In general, onboarding can take anywhere from several weeks to a few months to complete.
Who handles the supplier onboarding process?
Сhoose a dedicated person or persons from the procurement team to be responsible for managing the onboarding process. Finance, legal, and IT teams may also get involved during some onboarding stages.
In brief
Supplier onboarding is a process that aims to carefully select and integrate new vendors into an organization's supply chain network. This practice is the foundation of long-term collaboration and reliable business relationships with vendors.
The supplier onboarding process offers organizations several strategic benefits, including:
minimizing risks by ensuring vendor compliance with legal and ethical standards;
increasing the company's revenue;
reducing maverick spending;
fostering transparency and mutual trust with suppliers;
reducing the required time to approve and activate new vendors.
Furthermore, the onboarding process fosters transparency and mutual trust with suppliers by sharing all the requirements and expectations right from the start. Finally, it reduces the required time to approve and activate new vendors after the company establishes a clear supplier evaluation and approval process.
We outline six onboarding best practices, namely:
defining the internal approval process;
establishing specific requirements;
selecting the main communication channel;
gathering and verifying supplier information;
providing training sessions; and
signing a contract.
We recommend communicating with vendors via a specialized tool: procurement software with a well-developed supplier module and a portal for suppliers to use for document uploading and communication. This will facilitate supplier registration and data collection. In addition, it will streamline all further collaboration with vendors, including processing POs, invoices, receipts, and more. If you want to check out how such software works and what benefits it can offer to your company, try out a free 14-day trial of Precoro.
---