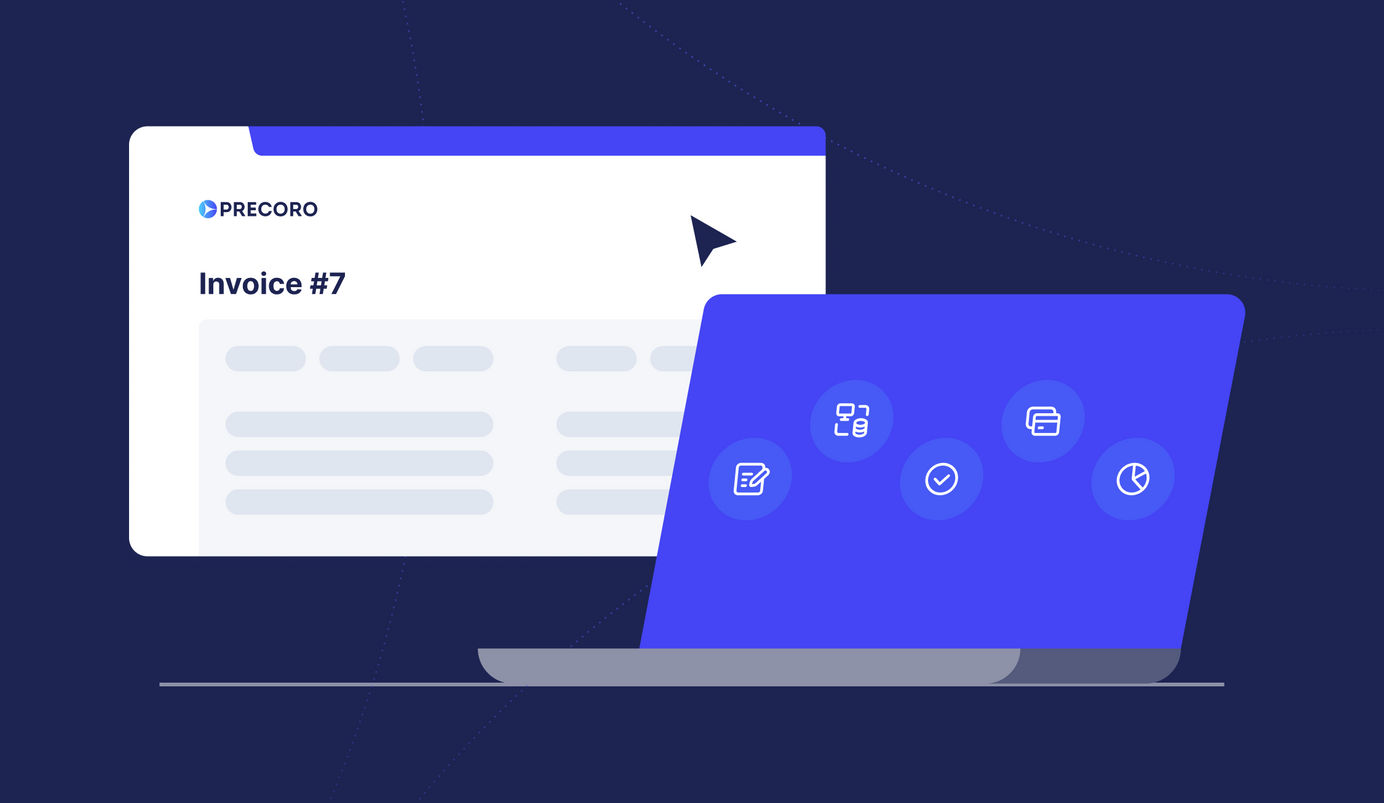 11 min read
The Ultimate Guide to Invoice Management
An ultimate guide to best invoice management practices, their benefits for your business, and ways to simplify the invoicing process.
Are you tired of the complicated and time-consuming process of invoice management?
Well, that's not surprising. 39% of Accounts Payable departments report high invoice processing costs and substantial errors as their biggest challenges.
The process of managing invoices can be a real burden for your business. Whether you work in the AP department or are a business leader, it's essential to understand invoice processing and best practices for invoice management.
Proper invoice management allows you to take a more "hands-off" approach to accounts payable management. And in this article, we'll show you how to do it.
What is Invoice Management?
Let's start with a quick definition of invoice management.
Invoice management is the method by which companies track and pay supplier invoices.
It's a back-office function within the procurement process that is performed by the accounts payable department and typically issued by accounting systems.
Simply put, this process involves getting an invoice, recording the data, validating and verifying the invoice, paying for services, and noting the transaction in company records.
With invoice management, you can regulate the company's payment process, making sure that invoices are approved appropriately to avoid penalties and take advantage of early payment discounts.
Proper invoice management brings companies such benefits as speeding up the billing and collection process, preventing human error, and saving time on data entry, which helps focus on more important projects that are the basis of business success.
How does Invoice Management Process Work?
Although invoices used to be processed exclusively on paper, now it's possible to automate the invoice management process.
No matter which invoice you're dealing with, the processing will typically include the following steps:
Receiving the invoice from a vendor;
Recording the invoice data;
Validating and verifying the invoice information;
Approving payments.
Step 1. Receiving the Invoice from a Vendor
Suppliers send invoices after completing their work, providing services, or delivering products.
Invoices are received by the person responsible at the relevant business department (usually accounts payable, finance, or accounting).
Invoice documents must include:
Date the supplier sent the invoice;
Contact information for both the supplier and the buyer;
Purchase details;
Payment details.
Invoices are usually sent as paper documents or email attachments.
Step 2. Recording the Invoice Data
Invoice details are checked and entered into the payment system, either manually by an AP employee or electronically using invoice management software.
In addition to storing the invoice, it's also important to make a copy or digital version of the invoice to provide a backup.
Copies of invoices will come in handy if suppliers find discrepancies or attempt to request extra payment.
Step 3. Validating and Verifying the Invoice
Once the invoice has been checked and logged, the AP sends the invoice for final approval before making a payment.
Depending on the business size, there may be two or three executives who have the authority to approve invoices.
With AP automation, software can automatically compare purchase orders, invoices, and goods receipts to make sure they match before approving an invoice for payment.
If all documents match, the supplier invoice will be approved for payment. 3-way matching helps you decide whether to pay an invoice partly, in full, or not at all.
Step 4. Approving Payments
The last step in invoicing is submitting a payment. This may involve sending it to the correct person or department to get it paid.
Depending on the recipient, the payment process can also take days or even weeks.
The payment system plays an important role in the duration of payment acceptance, as email confirmations can be lost or ignored.
Therefore, the AP should talk directly with the recipient to make sure they understand how and when they can expect to receive their payment.
It's also important to note that the methods of processing invoices may differ depending on the company.
If your business uses automated invoice management software, some or all of these steps will be automated for you.
Best Practices for Invoice Process Management
Cash flow is particularly crucial for small businesses because they need to save as much capital as necessary to maintain stability.
Slow invoice payments can significantly impact your budget and other monetary planning.
They may indicate to vendors and creditors that a company cannot meet its contractual obligations to provide payments within the previously agreed terms.
Late payments also affect a business's ability to grow as it becomes preoccupied with managing short-term cash problems, thus taking time and resources away from any long-term growth plans.
Therefore, companies need to set up efficient invoicing that ensures timely and accurate payment.
Each of the five practices below are the ones you should focus on to make sure that payments are accurate, timely, and free of fraud.
Keep reading to find out how to get a handle on invoices.
1. Prioritize Your Invoices
Keeping track of what needs to be paid and when is essential for managing cash flow, as late payment can negatively affect relationships with suppliers.
When setting priorities, invoices should be paid according to payment date and payment terms. In addition to prioritizing your bills by timing, you should also consider the bill type.
It would be helpful to sort the credit card bills by date and interest expense to ensure that you pay the cards with the highest interest first and work your way down. This will save you money in the long run.
2. Streamline the Workflow
The more complex the system, the more likely it is that errors or late payments will occur. Look at the existing workflows and identify where bottlenecks arise in the approval process.
Streamlining the invoice approvals also means centralizing and standardizing processing and reporting throughout the organization.
If you're still using a manual system, you can limit the number of check runs to two per month.
You should also consider the fact that paper invoices and manual processes tend to slow things down.
Automation can significantly reduce the invoice processing time by up to 70% ensuring accuracy and timeliness of payments.
3. Establish Reliable Fraud Detection
There's always the possibility of fraud when dealing with money. Suppliers, cybercriminals, and even your employees may be involved in fraudulent activities.
And when paper checks are the source of payment, the chance for fraud is even higher.
Accounts payable automation helps solve this problem with a more thorough approval tracking system and a precise audit trail.
A real-time display of the status of each invoice will reveal discrepancies and obvious errors and mark them for further investigation, thus giving you internal controls over the process.
4. Track Disputes and Resolutions
Failure to pay invoices will create cash flow problems for your business. By keeping track of any discrepancies in the invoices, you can:
Preserve good relationships with suppliers;
Maintain your cash flow at the proper level;
Keep your books in order.
If you were overcharged for something, or the promised discount wasn't applied, and you have approved the check without reviewing it, you're, in fact, throwing money out the window.
That's why dispute tracking is crucial for your business, as you need to keep track of your suppliers and check if everything was done correctly.
If it becomes clear that your vendor doesn't comply with the terms of the contract, it means that further cooperation should be carefully considered.
5. Use Automation to Cut Costs
Each of the practices on this list should be followed, whether you automate the accounts payable process or not.
However, paper invoices are a headache to manage. They're time-consuming and can easily get lost on your or your vendor's end.
On the other hand, an invoice management system eliminates many of the bottlenecks related to traditional invoice management processes:
Increases the transparency of the invoice route;
Improves relationships with suppliers;
Simplifies the procurement process;
Boosts employee productivity;
Saves time and money.
Automation removes the burden of tracking invoices from your employees and moves it to a system that will automatically process all steps.
If you have seasonal spikes in the number of invoices, an automated invoice management system allows you to increase the number of responses without having to hire additional staff.
Precoro as an Invoice Management Solution
Already tired of all the responsibilities that arise when you're dealing with the invoice process?
Try to solve your problems effectively and remove the burden from your company here and now with easy-to-use Precoro procurement software.
Why Precoro?
We're a fast-growing and highly profitable company trusted by hundreds of diverse customers, such as Prenetics, Canva, Bolloré, and more.
We've come a long way to make sure that our customers are satisfied with our services.
Our mission is to help our customers reduce administrative headaches, lower costs, and increase productivity.
What Are the Benefits?
With Precoro, you will finally be able to sigh with relief and get down to more important matters for your business.
Here are the benefits you will get once you start a free trial:
Reduce processing time

Manual invoices can take 20 to 21 days to process. Automation guarantees faster processing of invoices. You can also reduce the amount of time your accounts payable team spends working on invoices on a given day.

By using Precoro invoice management platform, you can cut this time to 3-4 days. The time saving is obvious.



Minimize invoice processing errors

As you know, people are prone to making mistakes and this can create a number of headaches for your business.

Manual invoice processing can cause paying the wrong amount, duplicate payments, or even loss of invoices.

You can increase accuracy with Precoro invoice management solution. It will help you reduce the time required to correct billing errors and even reduce the number of checks that need to be reissued.

There are also important features like approval workflows, which let managers approve or reject new bills much faster.



Increase productivity

With invoice management tool, you can also increase the productivity of your employees, meaning that they will spend less time managing the invoice.

Your AP team will be able to process invoices faster and more accurately than if you relied solely on data entry services.

Improving employee productivity helps reduce overhead and increase revenue. In short, invoicing software is an incentive for your profits.



Collect data and get better insights

Do you want to be fully aware of your current state of invoices without having to dig through paper piles? Information gathered can open up new ideas.

Thanks to new opportunities, you can start making more informed business decisions. If you often buy from one supplier, it makes sense to negotiate a discount.

You can try grouping payments or invoices to save on costs. You can also make changes to your process to pay vendors faster and easier.



Achieve full control and transparency

Precoro invoice management software makes it easy to keep track of invoices. This gives you control over the billing process, and you can decide about payment reminder notices or follow-ups in your system.
How Does it Work?
With Precoro you get all the features you need to manage invoices efficiently, so you can cut costs and let your AP team focus on more strategic tasks.
And here's how it works: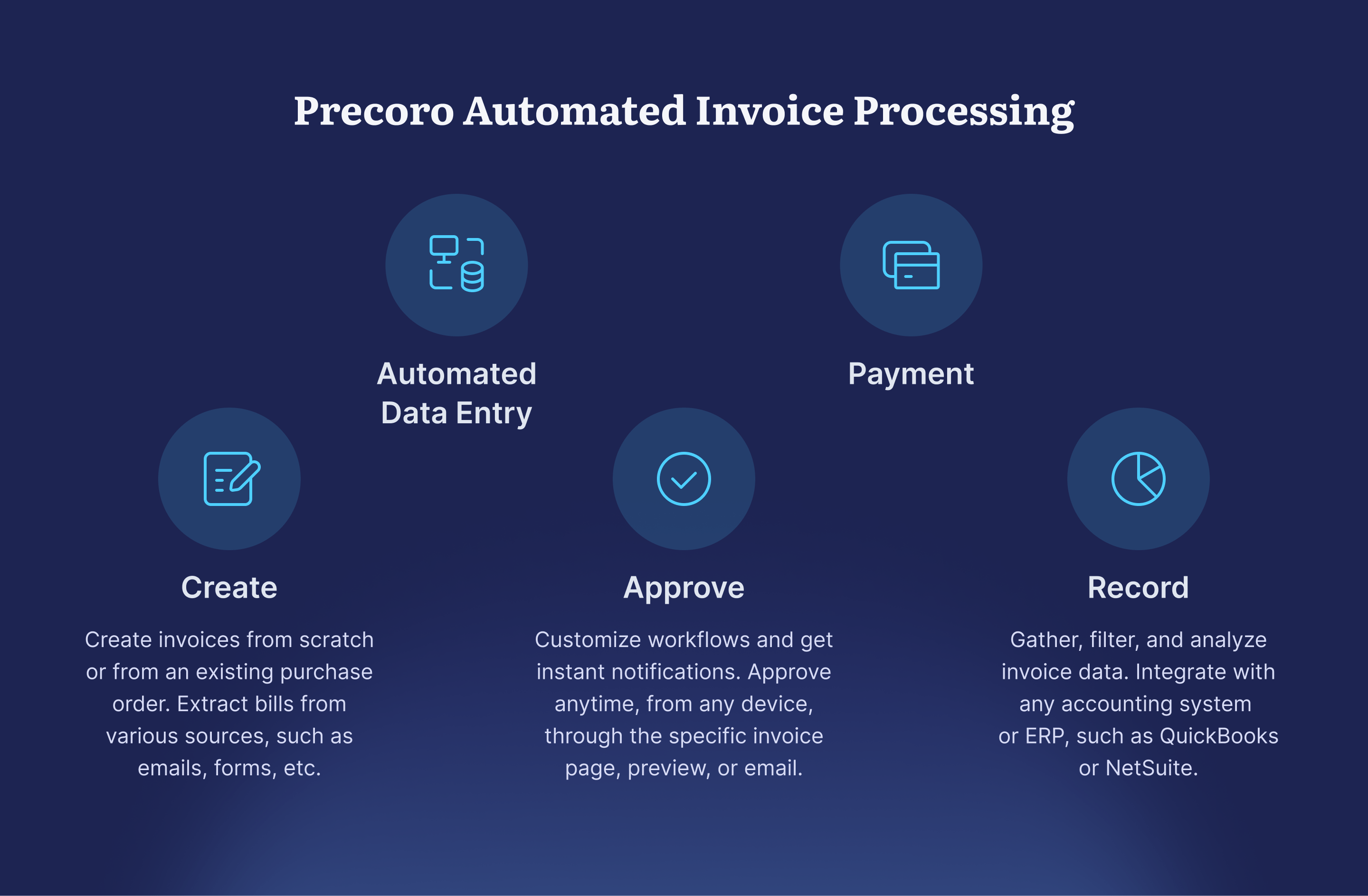 Creating an invoice

With Precoro software, you can create invoices from scratch or generate them from an existing Purchase order. You can also extract invoices from various sources, such as emails, forms, etc.

To resolve the problem of repeatedly sending invoices to your accountant every week, create Recurring Invoices and thus automate regular payments and forecast the spending pipeline.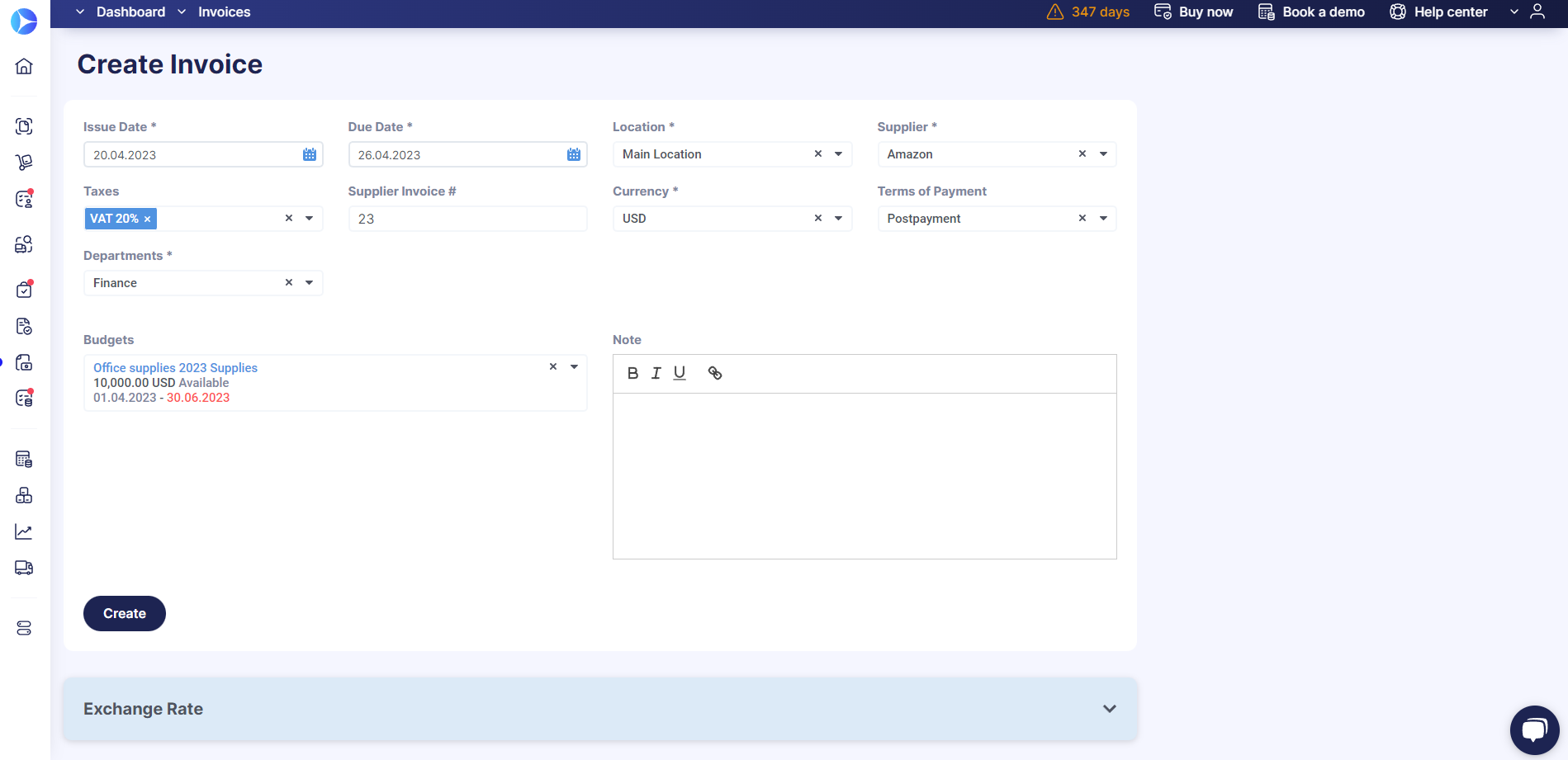 Approving an invoice

With Precoro invoice management system, you spend 95% less time on the invoice approval process.

Approvers can approve or reject invoices anytime and anywhere through the specific Invoice page, Preview, or email.

With a complete approval history and audit trail stored in the system, Precoro offers upgraded visibility and tracking of approval status, so you can easily identify and resolve process bottlenecks.

You can create as many steps as needed, get smart notifications and customize the approval workflow to your liking.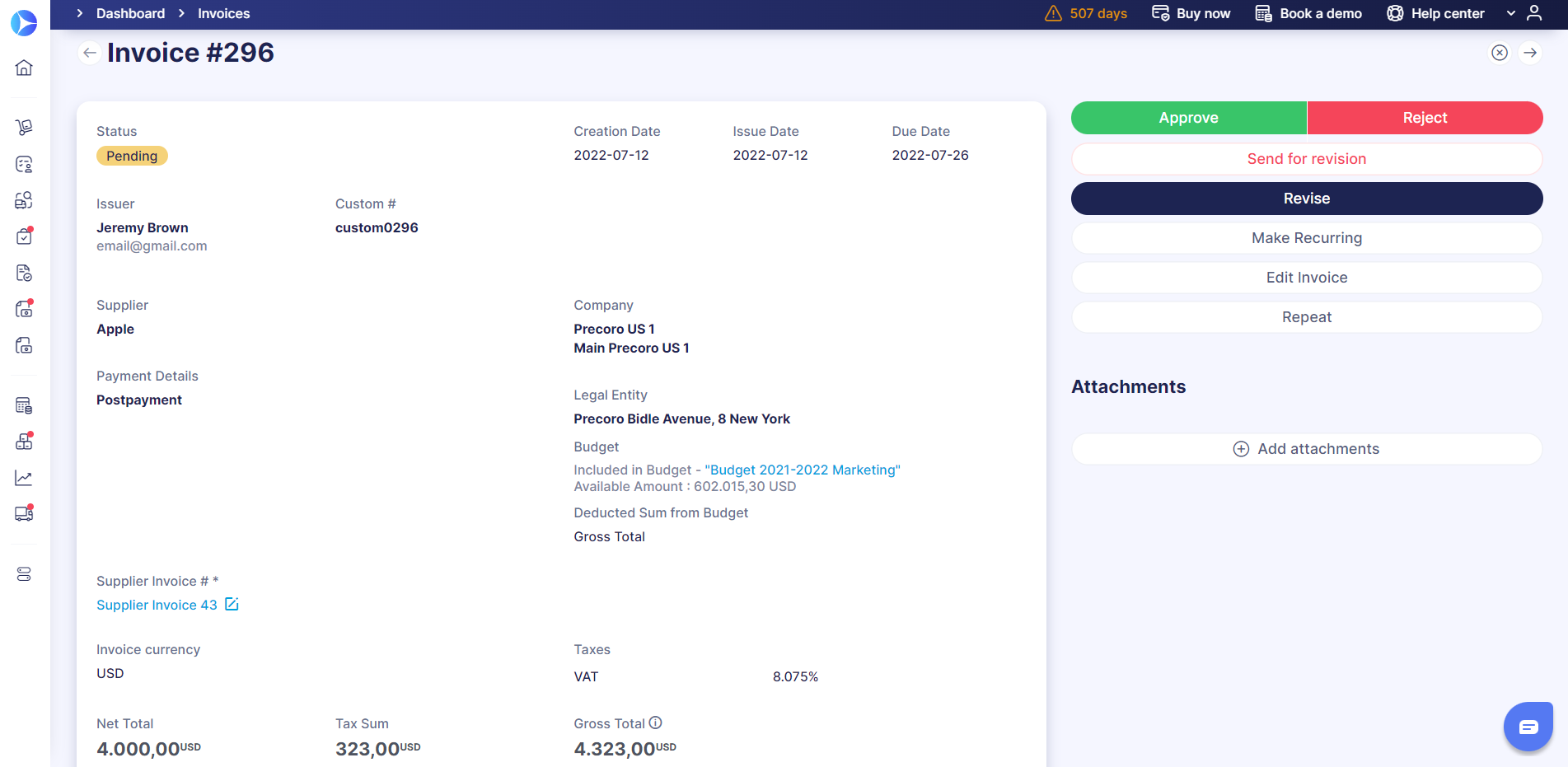 Reporting

The real-time invoice report gives you an insight into your current state of invoices, so you know exactly how much you spent and which suppliers you chose. You can also filter reports by status, date, requester, budget, and more.

In addition, you can use Precoro Invoice Custom Report where you can generate any data set describing all invoices you have access to.

After running, it could be downloaded in XLSX format. Thus, you can gather, filter, and analyze any information about invoices.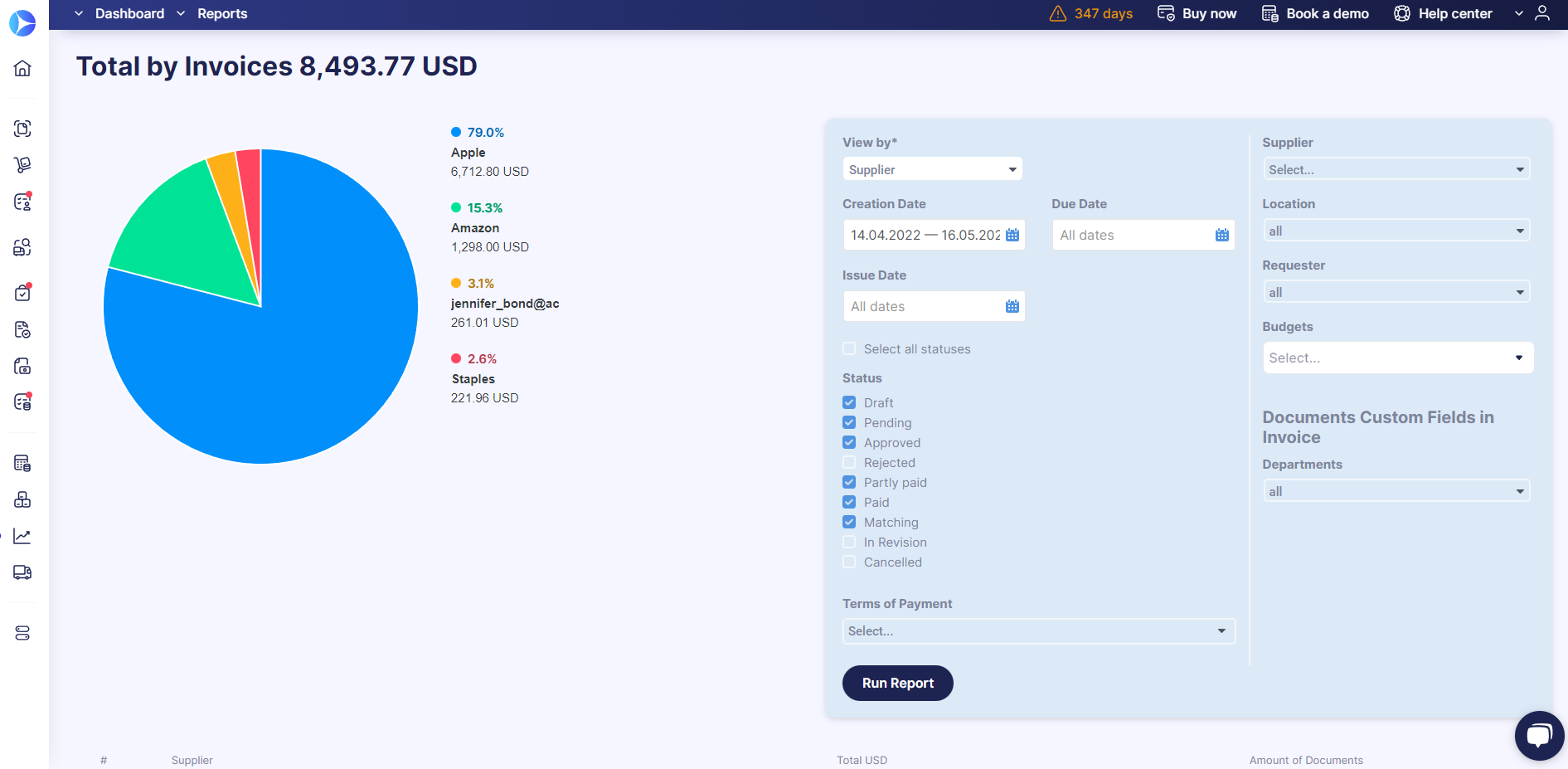 Integrations

The ability to integrate your documents with the accounting system is important for easier workflow and convenience. And Precoro provides such an opportunity.

With our API, you can integrate your procurement workflow with any accounting system or ERP, such as QuickBooks or NetSuite.

This will allow you to reduce manual entry of invoices, establish better communication between accounting and purchasing departments, and gain control over your spending pipeline.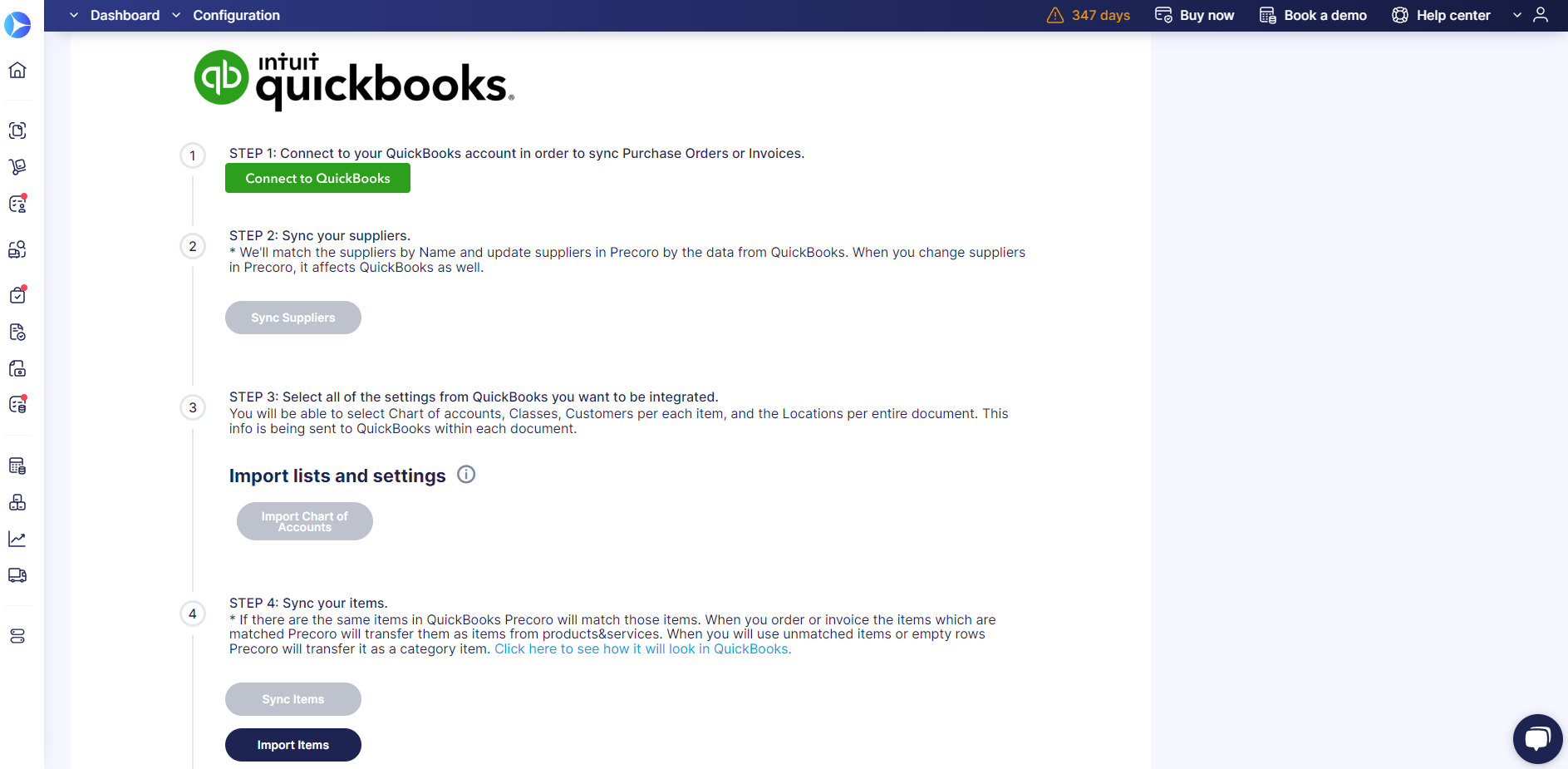 How to Start?
We offer a 14-day free trial, so don't hesitate to experience Precoro hands-on. Start your free trial now.
FAQ
What is 3-way match?
A 3-way match is a procedure of matching purchase orders, receipts, and suppliers' invoices to secure the payment process and maintain adequate records for the audit trail. Three-way matching is usually done before payment is issued to the supplier.
Although three-way matching may be labor-intensive and time-consuming, it's extremely important for your business as it eliminates discrepancies in the purchasing process.
With invoice automation, you can take benefit from the three-way matching procedure and avoid tedious work related to it.
What are the different types of invoices?
The three most common types of invoices are pro forma invoices, interim invoices, and final invoices.
A pro forma invoice is generally used for large projects, giving customers an idea of the scope of the project, a detailed list of costs, and the total amount to be paid upon completion of the project. This is more like estimating the cost of products or services after completion.
An interim invoice is an accounting method where instead of sending one final invoice after the project concludes, vendors send customers several small ones as the project progresses. This type of invoice is used to maintain a stable cash flow.
A final invoice is an official request for payment for a completed project, service, or product. It should contain all the information needed for customers to understand what they are paying for. This is a "standard invoice" for most companies.
What is the difference between a bill, an invoice, and a receipt?
An invoice is issued by the seller to detail the goods and services purchased by the customer and to request payment.
This invoice is then received by the customer (buyer) as a bill that they must pay.
Finally, after the customer makes the payment, the seller issues a receipt as proof of transaction.
To Sum Up
Invoice management is the method by which companies track and pay vendor invoices.
This process involves getting an invoice, recording the information, validating and verifying the invoice data, and paying for services.
Managing the invoice process is important for business success, so make sure to properly prioritize invoices according to payment date and payment terms.
Consider the existing workflows and identify where bottlenecks occur, establish reliable fraud detection while regularly tracking disputes and resolutions.
To avoid numerous issues related to the manual invoice management processes, it's best to use procurement software.
It'll ensure transparency, eliminate human errors, save you and your employees time and give you more control over the process.
Start your free trial now to see all the benefits of procurement automation software for yourself.
---