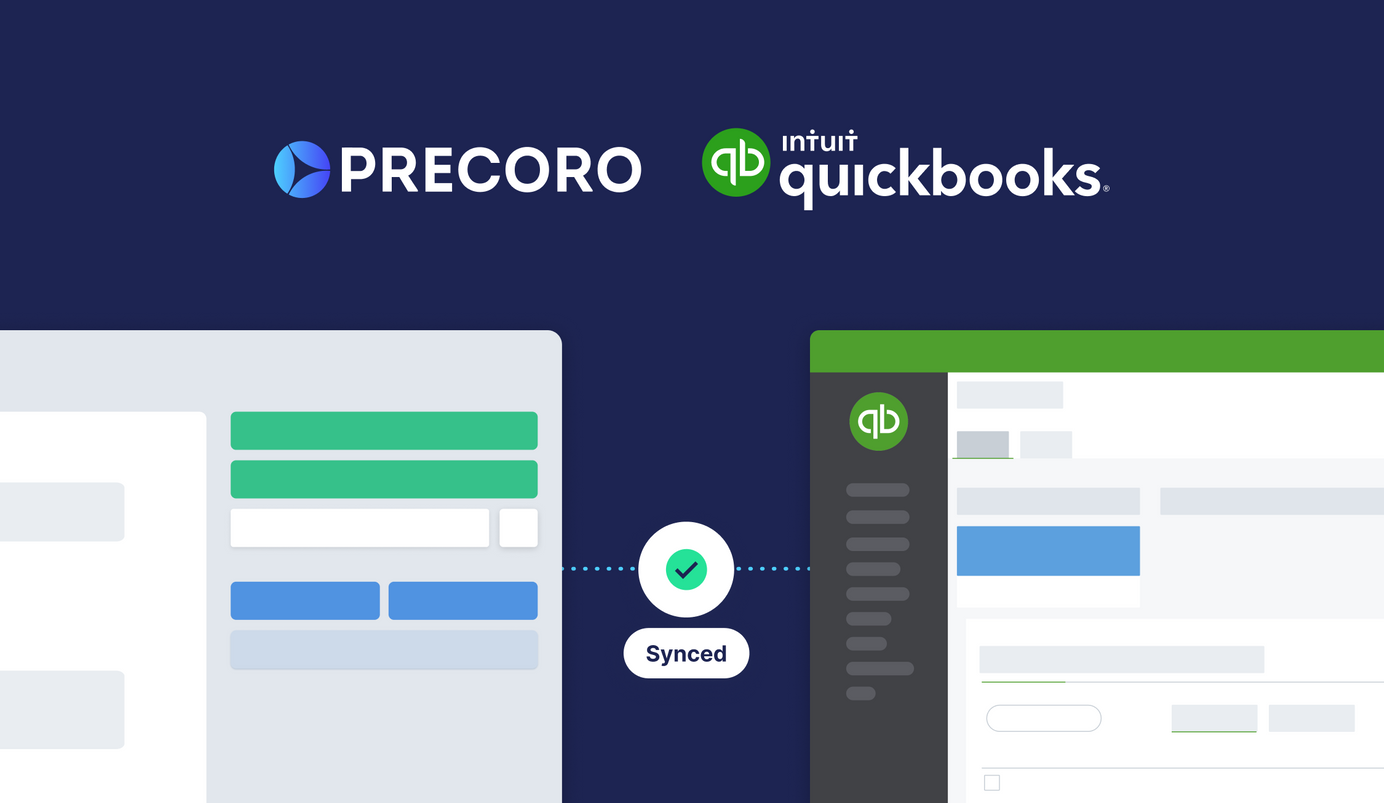 3 min read
Precoro to QuickBooks Online Integration

We are very excited to announce our new QuickBooks Online integration! Now you can automatically send the documents from Precoro directly to your accounting system.

Precoro integration with QuickBooks is designed to connect your accounting and procurement operations for a smoother collaboration.

With it, you can automate time-consuming purchasing processes, manage and pay bills just in a few clicks, and control budgets more thoroughly.
How Precoro and QuickBooks integrations works:
As soon as you connect your Precoro account to QuickBooks Online, all your suppliers and items sync automatically. Immediately after this, all your valid purchase orders and invoices will be sent to your QuickBooks account from Precoro as well.
Thus, you can forget about endless paperwork, spreadsheets, and tons of emails. All the needed data flows automatically and sync your Precoro and QuickBooks operations every time.
What You'll Get with Precoro and QuickBooks Integration:
Eliminating duplication of effort when creating Purchase Orders or Invoice
Synchronizing chart of accounts, products, taxes, multiple currencies, and suppliers' data
Streamlined approval workflow
Reducing errors caused by manual data entry and risks of losing essential financial documents
Better communication between purchasing and accounting departments
What you can do with Precoro and QuickBook Integration:
This connection helps to import the essential information from Precoro to QuickBooks account in a matter of minutes.

Additionally, it allows you to add attachments, manually synchronize payments, check suppliers' or items' information using filters, and track document history in logs.
What you can integrate:
Suppliers
Items
Purchase Orders
Invoices
Charts of accounts
Classes
Customers
Projects
Locations
Budgets

All of your suppliers and products will be connected to appropriate fields in QuickBooks Online. This will help you get the relevant details both in Precoro and QuickBooks. Please note that we can't update items in QuickBooks by Precoro.

Speaking about other aspects that can be integrated, you can import only selected charts of accounts, classes, departments, and customers from Quickbooks if there is no need to transfer the complete lists.

Besides, you can always deactivate or delete integrated fields unnecessary for your procurement process. You will be able to find inactive fields using filters anytime you need them.
Adding attachments
For better control over financial documents, you can transfer additional attachments from Precoro to QuickBooks along with PO and invoices. When you transfer the document from Precoro, you should specify the document ID in QuickBooks, in which the attachment should be added.

You can add files in the following formats: PDF, JPEG, PNG, DOC, XLSX, CSV, and XML. Please note that if you delete a particular attachment in Precoro, the same will happen in your QuickBooks account.
Manual payments' synchronization
If you want to transfer purchase orders or invoices from your QuickBooks account to Precoro manually, you can do it as well. You just need to select the "Invoice Issue Date" and press the "Import from QuickBooks" button.
How to Integrate Precoro with QuickBooks Online:
1) Find the Integration tab in Configurations.
2) Press Connect and log in to your QuickBooks Online account.

3) Press Sync Suppliers.
Precoro will get all the matches. If there are no matches found, you can map manually.
4) Select the default Account preferences.
Precoro will use it when transferring Purchase Orders to QuickBooks.

5) Press Sync Items.
Even if you have no products synced, you can integrate them with QuickBooks and transfer Purchase Orders.
6) Set the default Tax agency and match the tax rates, if it is available in your Precoro account.
Please note, that the tax rates should be equal.
Once done, your Purchase Orders will be transferring to QuickBooks:
when the Purchase Order becomes approved, it will be created at QuickBooks;
after revising the PO when it's become approved, it will be changed in QuickBooks too;
when canceling or rejecting the PO in Precoro, it will be canceled in QuickBooks.
What does Precoro and QuickBooks Online Integration look like?

Precoro and QuickBooks integration is a great way to save resources by optimizing time-consuming accounting and procurement operations. In a short video below, you can see how this integration can benefit your company.
Sign up for a 14-day Free Trial and try it out yourself!
---