Precoro and NetSuite come together to deliver a better Purchasing and Spend Management experience.
We are excited to announce that Precoro is now fully integrated with NetSuite — one of the leading integrated cloud business software suites for SMB. With Precoro direct integration, you can complement the accounting workflow and gain control over your spending pipeline.
What are the connection points between Precoro and Netsuite:
2-way sync between Precoro and NetSuite
Purchase Orders or Invoices (you can select one of the documents)
Vendors
Pull from NetSuite:
Products
Locations
Departments
Classes
Chart of Accounts
Payments
Taxes
What Precoro integration for Netsuite does:
PO's or Invoices are synced with Netsuite automatically.
Payments from NetSuite automatically complete the Invoice flow in Precoro.
Documents are automatically updated in NetSuite when revised in Precoro.
Synchronized vendors and catalogs between Precoro and NetSuite.
Companies from NetSuite can be copied and moved into Precoro and have the structure across two platforms: locations, departments, classes.
Import all Taxes from NetSuite into Precoro.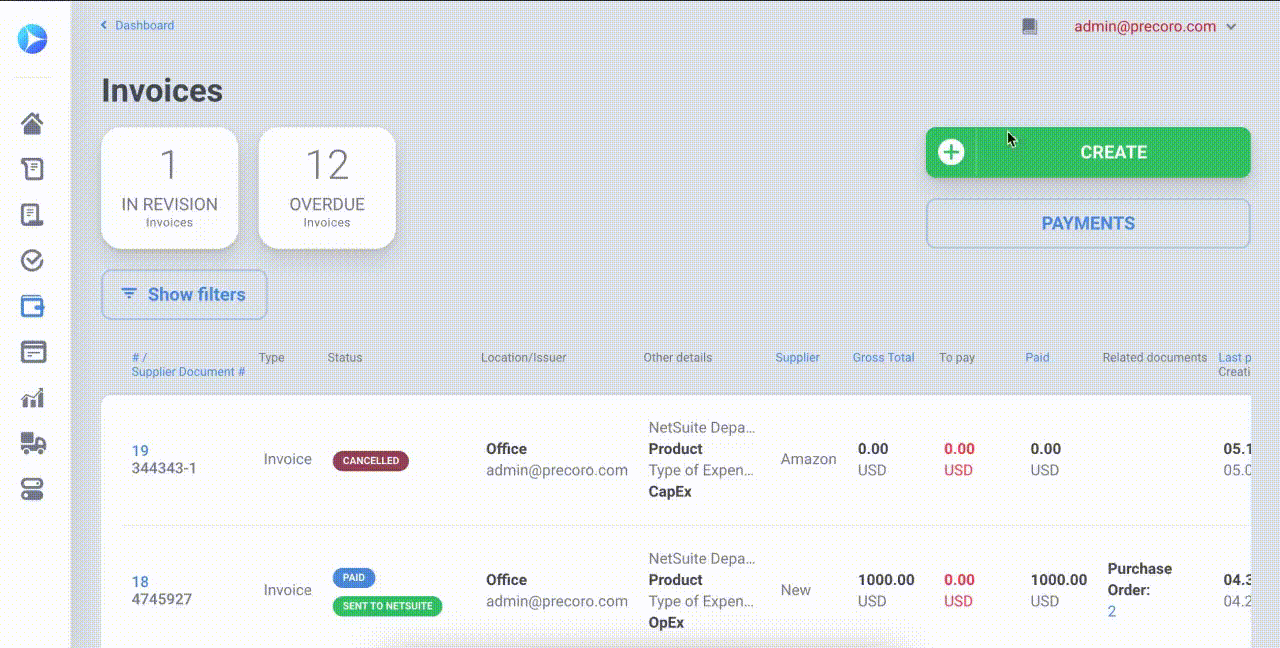 What can you achieve with this integration?
Reduce the workload for your Accounting department with the automatic push of invoices/POs approved in Precoro to NetSuite — no more manual data entry.
Remove the hassle of maintaining catalogs and vendors in multiple places. Precoro will push any changes in the vendor profile back and forth automatically. However, NetSuite remains the source of truth for products, so information goes one way from NetSuite to Precoro.
Keep Precoro users updated as payments from NetSuite automatically complete the Invoice flow in Precoro.
Connect your NetSuite subsidiaries with relevant companies in Precoro while keeping the key information — reporting currency, GL Accounts, Locations, Cost Centers, taxes, etc.
How do I integrate?
Precoro connects to NetSuite in a few easy steps with no coding efforts on your end. All you need is to provide the information outlined in our integration guide.
Already a Precoro user? Contact your Customer Success Manager to learn about how to activate the NetSuite integration today.
Are you not yet using Precoro? Learn more about how Precoro + NetSuite streamlines your purchasing and accounts payable process by scheduling a free demo.

Conclusion
Collaboration is the basis of effective teamwork. To ensure you have a smooth and effective purchase and expense management experience across all departments, we build Precoro to complement your workflow.
What integration should we work on in the future? Hit reply and let us know!