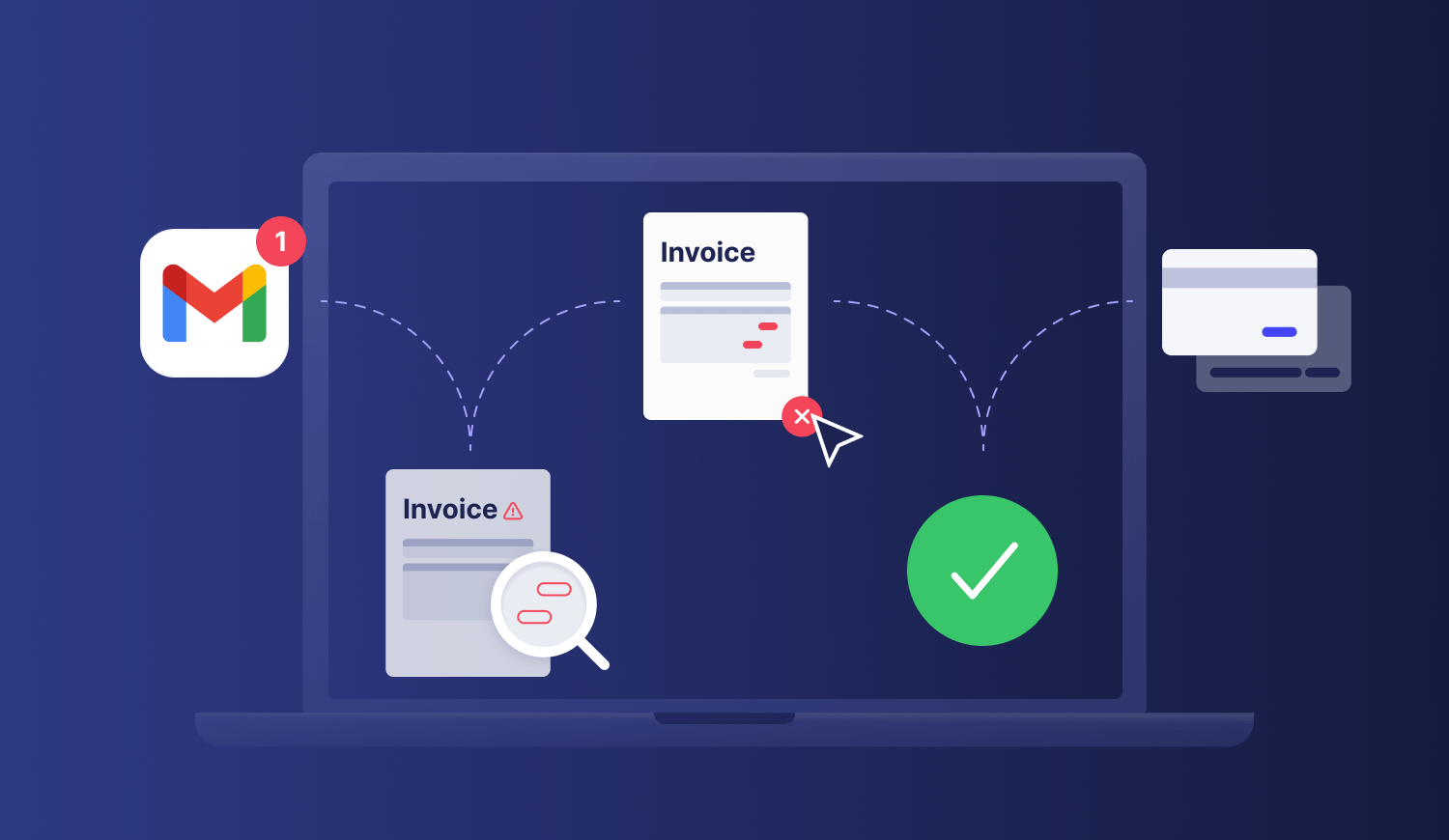 9 min read
How to Create an Invoice Approval Workflow: A Guide
Check out this complete guide on invoice approval workflow to learn more about the process, AP's best tips and tricks, and how manual workflow differs from automated.
According to Levvel Research, the top three invoice processing concerns for AP teams are missed discounts (44%), late payments (39%), and duplicate payments (29%).
The truth is that all these pain points can be easily avoided if there's a proper invoice approval workflow in place.
But how to create one? How to ensure that it's smooth and efficient?
We have answers.
In this article, we'll dive deep into the invoice approval process and discover AP best practices that save their business time, money, and reputation.
What Is the Invoice Approval Process?
The invoice approval workflow is a set of procedures and steps a company implements before submitting the invoice for payment.
The process includes:
Verifying the information.
Getting all the necessary approvals from stakeholders.
Matching the invoice against related documents, etc.
A well-planned procedure is critical to eliminate unauthorized payments and ensure that the invoice is legitimate and has no discrepancies with the original purchase documents.
As a result, the invoice should be cleared and paid in the most efficient and cost-effective manner.
What Are the Invoice Processing Steps?
Most businesses have a clear procedure in place to handle incoming invoices.
Although the processes differ from one organization to another, they can generally be divided into two categories:
Invoices with an associated purchase requisition or purchase order.
Invoices without purchase requisition or purchase order.
Let's see what a typical invoice approval workflow looks like depending on whether or not there are any related documents.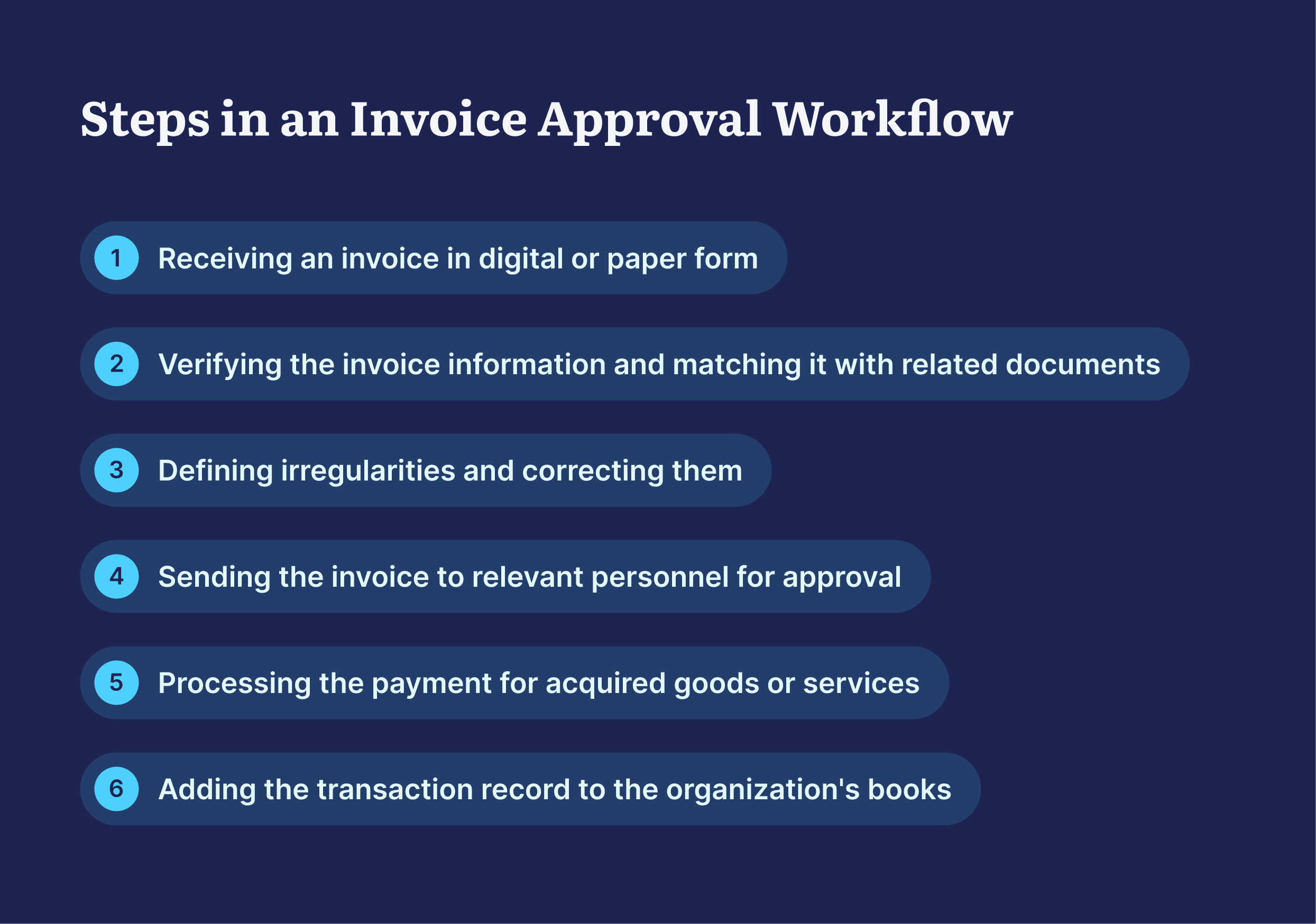 Receiving an Invoice
It starts with the relevant business department, such as accounts payable, finance, or accounting, receiving an invoice from a vendor or supplier.
Typically, invoices are sent as email attachments or paper documents and should contain all the necessary information about the transaction, e.g.:
The invoice date;
Payment details;
A unique invoice number;
Contact information for the supplier and the buyer;
A description of the products or services provided.
Verifying the Invoice
The employee responsible for the purchase of a specific type of product or service verifies the invoice.
The verification process usually involves matching the invoice to the corresponding documents, such as purchase orders, order receipts, purchase requests, etc.
This step applies only to non-original invoices, e.g., created from purchase orders.
Defining Irregularities
Invoice irregularities may include pricing errors, missing information, and goods quantity discrepancies.
After they're identified, the invoice is sent to the relevant parties for resolution/correction of the discrepancy.
Approving the Invoice
Once invoices are validated and cleared, they are sent to relevant personnel for approval based on the information mentioned in the purchasing documents (such as PO number, requester name, and department).
Who will approve the document also depends on the established monetary thresholds, e.g., purchases between $5,000 and $10,000 probably will require the CFO's approval.
Releasing Payment
The approved invoice is sent to the accounts payable department to process the payments for acquired goods/services.
Bookkeeping
After payment is processed, the transaction record is added to the organization's books, and the invoice approval process is completed.
Although the workflow may seem simple, add thousands of invoices here, and you quickly have a complex situation on your hands.
That's why more companies nowadays are switching to AP automation software.
Manual vs. Automated Invoice Approval Workflows
While the manual invoice approval process is an adequate solution for small businesses with minimal supply chains, larger organizations and businesses pursuing strategic growth definitely won't find it satisfying.
Let's take a closer look at three key stages of the invoice approval workflow to see how they differ when you operate with manual vs. automated workflows.
Entering the Invoice Data
Manual: After receiving an invoice from a supplier, the accounting team manually enters data into the accounting system.
The manual approach is often a source of human errors, as when you have dozens of invoices on your hands, it becomes hard to ensure that the information is adequately inputted.
As much as 38% of small business employees admit that data entry is their most time-consuming task, with 27.5% of companies inputting it incorrectly into their systems.
Automated: With the help of OCR technology, all the invoice data is automatically captured and entered into the accounting system or ERP platform.
The whole process is only a couple of minutes.
Verifying and Validating Information
Manual: When the validation is paper-based, the process turns into digging through piles of documents in the hope of finding the exact document you need to match with the invoice.
And even after that, the challenge doesn't stop, as matching the information without any tools at hand is tedious and can easily lead to missing some discrepancies.
According to the Levvel Research Payable Survey, 31% of respondents cited manual invoice matching as a top accounts payable challenge.
Automated: After data extraction and invoice coding, the invoice processing software validates the captured data and matches Purchase Orders, Receipts, and Invoices in real-time.
If the PO to invoice difference exceeds the set tolerance rate, documents are routed for manual verification.
Routing the Invoice for Approval
Manual: Piles of invoices routed for approval may be easily lost and forgotten, not to mention some companies wait weeks for the document to be reviewed in team meetings.
The invoice approval process may take up to 25 days, especially if multiple approvers are involved, and it isn't clear who is responsible for the approval or at which stage of the accounts payable workflow the invoice is currently in.
Automated: With an automated invoice approval workflow, you assign approval tasks, and the system takes the rest. The whole process is simple and clear for everyone involved.
Invoice approval software allows you to manage notifications and follow-ups and assign backup approvers, so you know that the task will be completed promptly.
You can read more about invoice automation, manual invoicing challenges, and their solutions in this article.
Best Practices for Efficient Invoice Approval Workflow
Now that we covered some basics about invoice approval workflow, it's time to find out some best accounts payable practices you can incorporate into your business processes.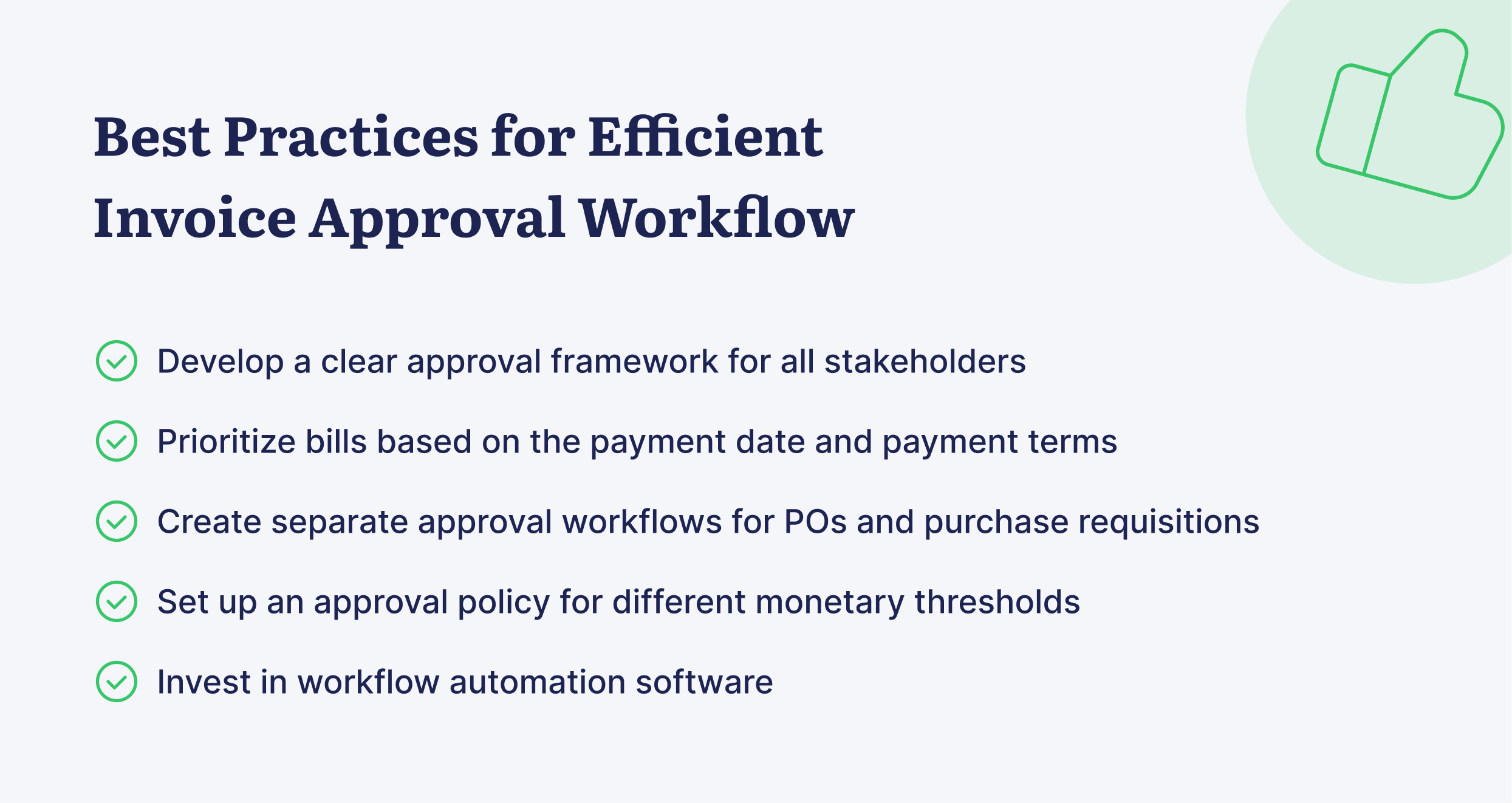 Develop the Approval Matrix
Document a formal approval framework before implementing it in accounts payable automation software.
This step is critical as it helps avoid employee mistakes and provides a single source of truth for questions or clarifications about processes.
The framework should clearly define:
The original approvers;
Who reviews the invoice in case of exceptions;
In what scenarios you'll need a unique approver;
Backup approvers;
Approvals timeframe.
Remember: avoid assigning all financial decisions to one person when appointing approvers.
When your accounts payable department has different people approving purchases, receiving ordered items, making payments, and reconciling invoices, it significantly reduces the possibility of fraud.
Prioritize Invoices
Avoid paying invoices early unless you have an agreement with the supplier that allows you to receive early payment discounts.
Prioritize bills based on the payment date and payment terms to maintain a strong cash flow and ensure that there are no unintended late payments on other invoices.
Complete the accounts payable process following defined service-level agreements or contract terms, such as processing bills within two days of receipt.
Create Separate Approval Workflows for POs and Purchase Requisitions
For the invoice approval process to go smoothly and quickly, all procurement operations that precede it must also be well regulated and thought out.
For example, in Precoro, you can set up separate approval workflows for purchase requisitions and purchase orders and match them in real-time with the invoice.
You can also set up monetary thresholds and smart notifications and assign backup approvers to ensure no document goes unnoticed while you're away.
Thus, you can rest assured that all documents will reach the right people on time, and the approval process will be seamless.
Establish Invoice Approval Policy
Set up an approval policy for different monetary thresholds, as you may not want to route smaller invoices through the same level of the approval process as larger ones.
For example, a manager can approve a request under $500, but if it's more than $5,000, you'll probably need multilevel approval steps and a CFO to close an invoice.
This way, you can bypass unnecessary approvals for smaller invoices and ensure that larger ones get appropriate attention.
More about setting organizational policy and approval workflows in our blog post.
Invest in an Ap Automation
When it comes to streamlining accounts payable workflows, manual processes are no match to AP automation systems.
Consider switching to one, but don't forget to prepare for the transition and plan the implementation beforehand, so you do not disturb your colleagues' usual workflow.
You can read more about how to choose the best solution for your business processes and overcome its adoption challenges in our blog post on SpendMatters.
Focus on What Matters: Let AP Automation Software Do the Hard Work for You
Paper-based processes are a source of human errors, damaged supplier relationships, and payment delays, not to mention that they're highly time-consuming.
But as mentioned before, there is a way to avoid these annoying pain points — by investing in invoice automation software.
Let's see why Precoro is the ultimate solution here.
Spend 95% Less Time on the Invoice Approval Process
You can configure an individual approval workflow with flexible templates and advanced customization options for all your documents, including invoices.
Add as many approval steps to all your invoices as needed, track their approval status, and customize smart notifications.
You can also reject or approve bills anytime and anywhere through the Invoice page, email, or even Slack.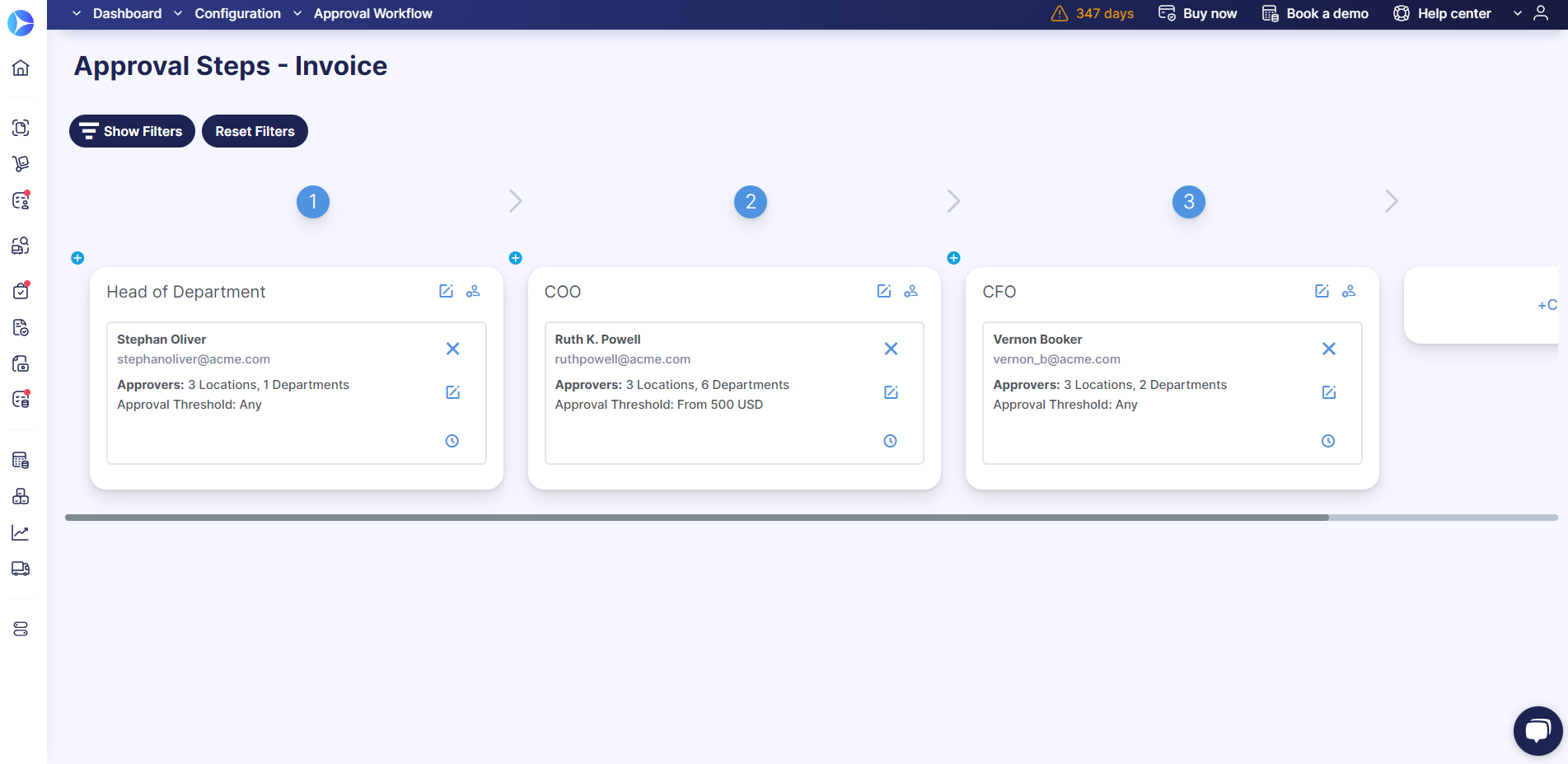 Be in Control With Approval Thresholds
Choose thresholds above or below which specific procurement procedures can be applied.
You can also create custom ones per Location or Department/Project.
For example, a user can approve all invoices in the Sales department and invoices up to $1000 in the IT department.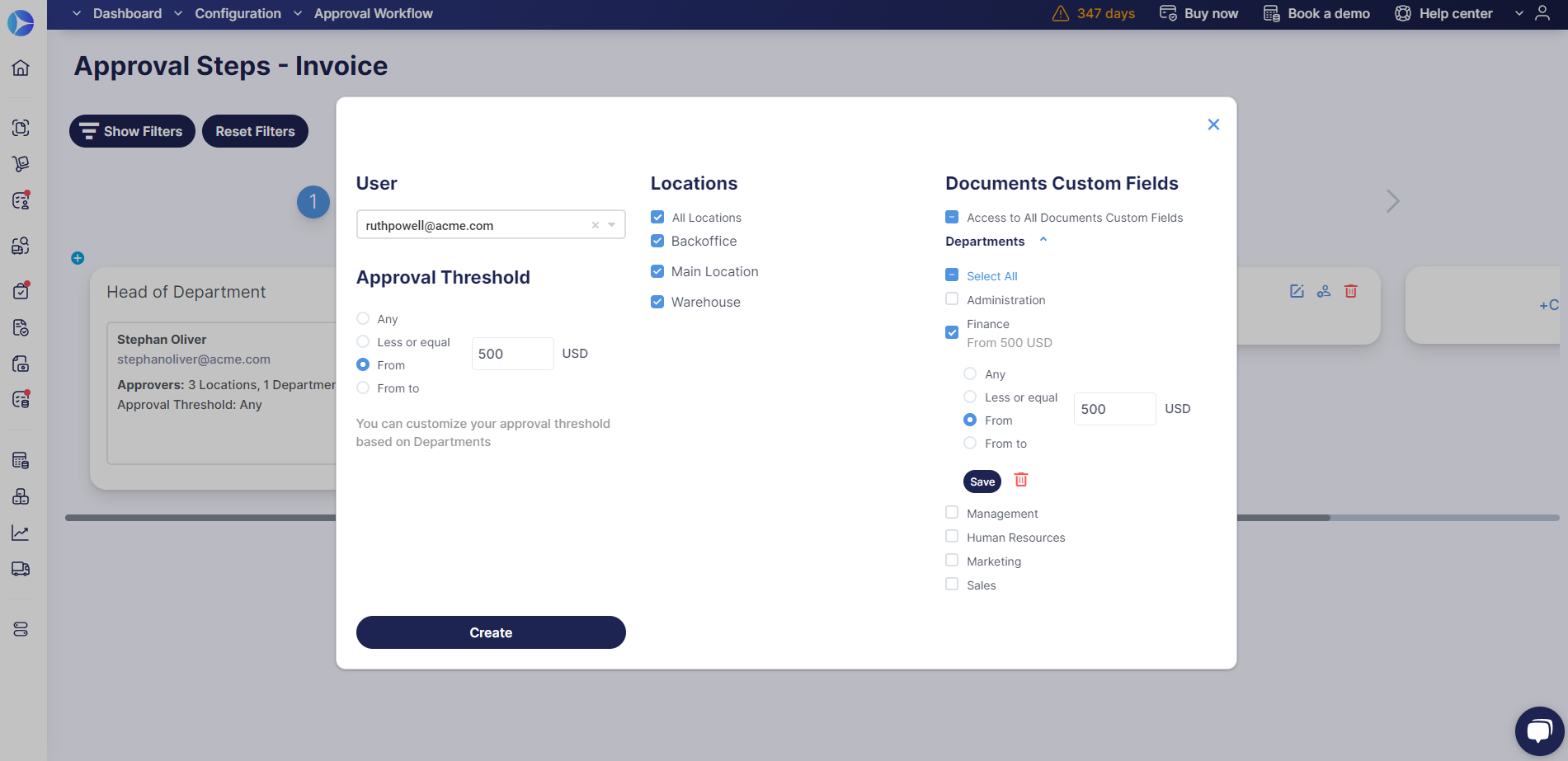 Going on Vacation? Assign a Backup Approver in a Few Clicks
Want to enjoy some free time without being bombarded with a bunch of new invoices to approve?
We hear you.
Just switch on the Vacation Mode, set dates when you're away, and assign a backup approver who will approve the documents while you're resting.
What's even more exciting:
You can select backup approvers for different types of documents you are the approver of.
No need to remake the approval workflow and reassign yourself as the approver after you're back to work. It happens automatically.
Once your vacation starts, your status will change to "away" on all documents you work with.
All notifications will be snoozed, so no one disturbs you. But you can switch them back on if you wish.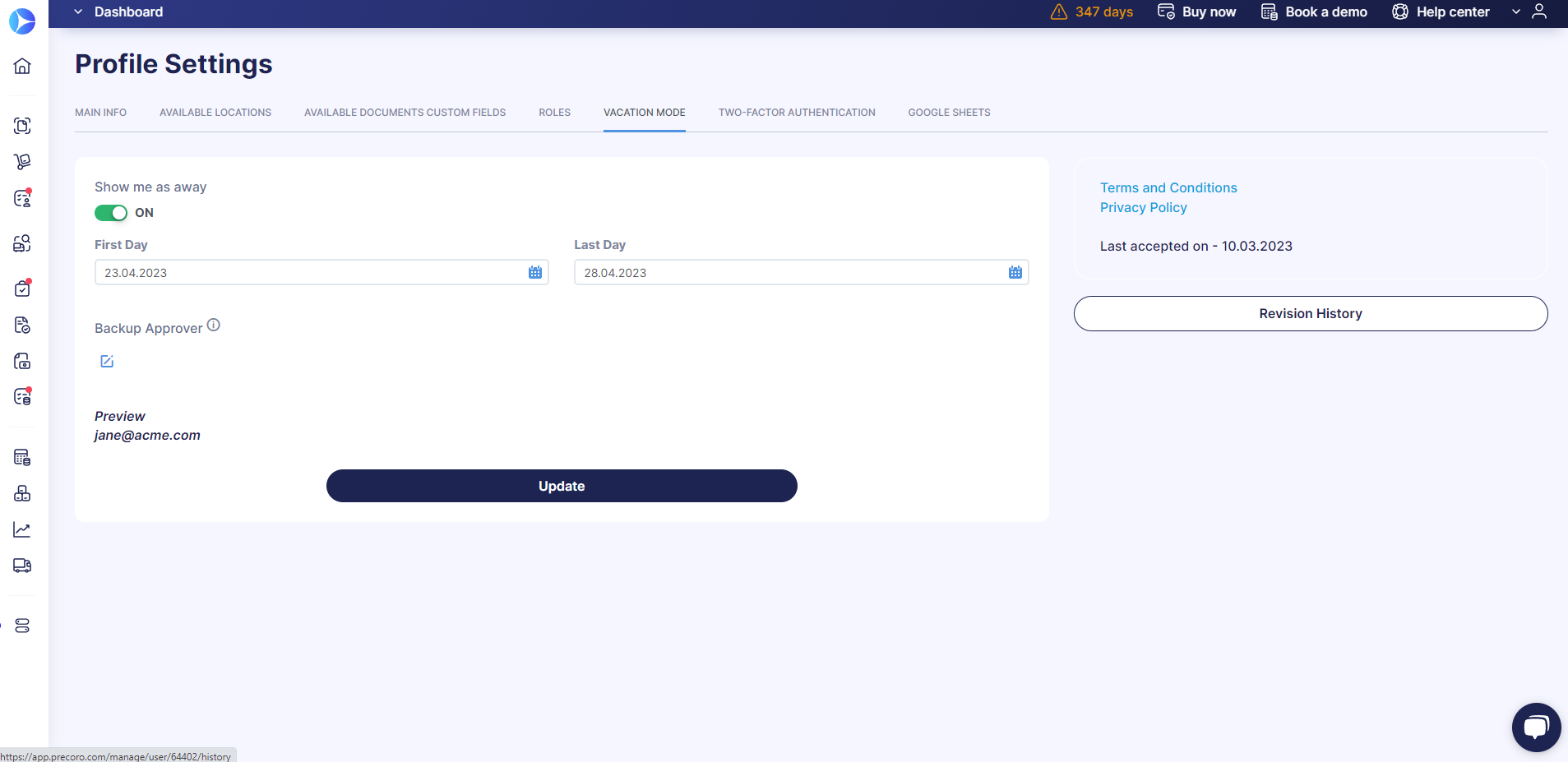 Leave 3-Way Match to the System
Performing a 3-way match manually is exhausting, but with Precoro, it's done automatically.
Once the Purchases Orders, Receipts, and Invoices are all matched in real-time, you can rest assured that if there're any discrepancies, the PO initiator will receive an email notification regarding the necessary approval change.
Connect Precoro With Any Accounting or ERP Solution
Manual data entry is no longer an option, as you can integrate your Precoro workflow with any accounting or ERP system, such as QuickBooks, Xero, or NetSuite, and have all documents and supplier data synchronized.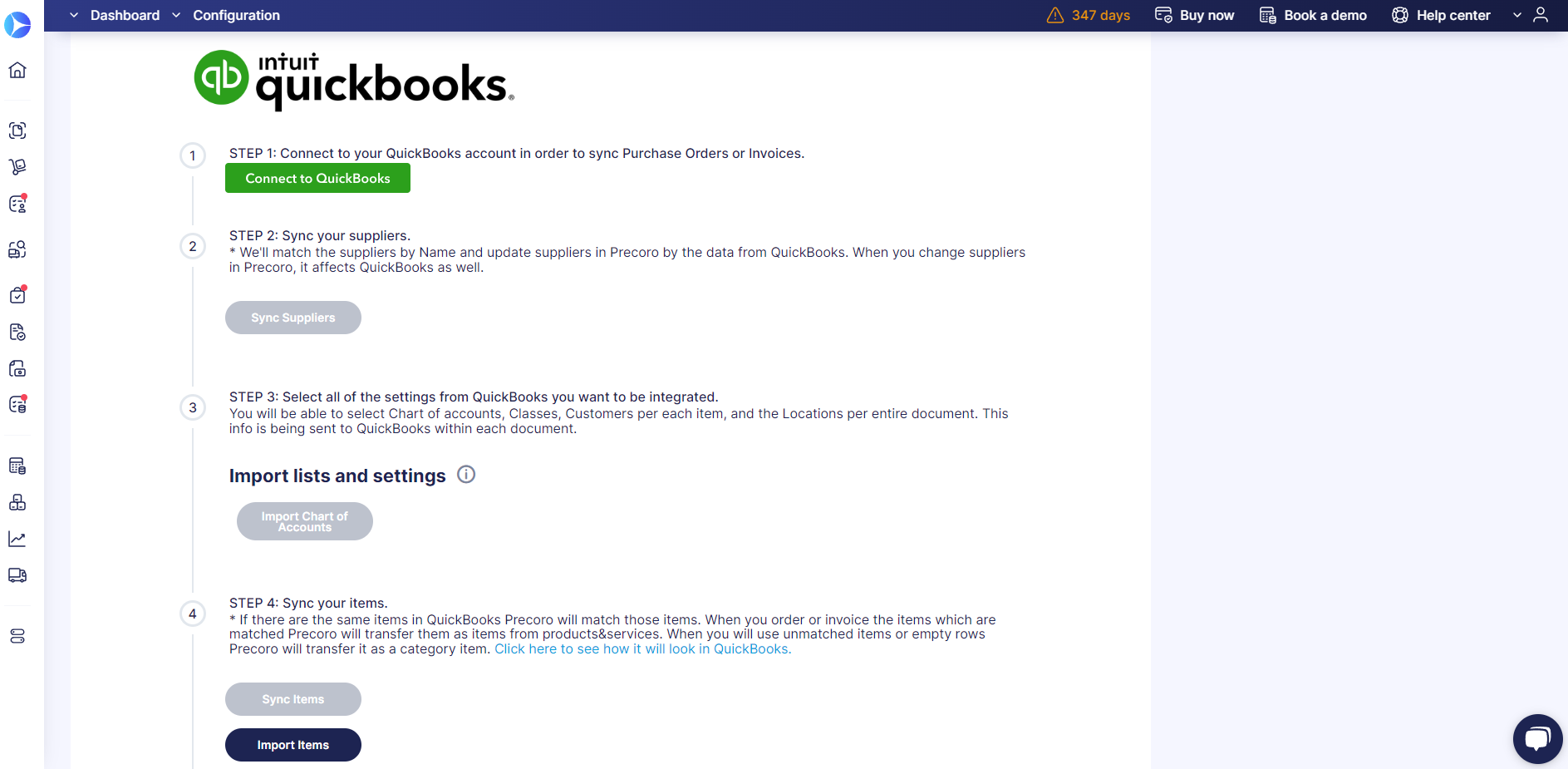 There's still a lot to discuss, but we'll leave it to our future articles.
Make sure to subscribe to our email notification and be among the first who'll learn fresh tips and tricks about procurement and spend management.
If you want to see for yourself how a proper P2P solution can streamline your purchasing and account payable processes, book Precoro's free demo and have:
Your needs determined;
Personalized product overview;
Pricing & onboarding details.
No commitment. We show what we can offer — you decide.
FAQ
Who is responsible for approving invoices?
Typically, larger businesses assign department heads or managers to make invoicing decisions specific to their departments.
On the other hand, smaller organizations may have their accountants or other team members assigned.
How long does it take to approve an invoice?
It depends on whether the approval chain is manual or automated.
A paper-based invoice approval process can take up to 25 days, while with the help of technology, AP teams can handle it in 3-4 working days.
What are the challenges of manual invoice approval workflows?
Manual invoice processing being extremely time-consuming and hard to handle, can easily lead to:
Stained supplier relationships;
Late payment penalties;
Duplicate payments;
Missing invoices;
Errors;
Fraud and more.
To Sum Up
The invoice approval workflow is a set of procedures and steps a company implements before issuing a payment to a vendor or supplier.
The typical process includes:
Receiving an invoice;
Verifying the information and defining irregularities;
Getting all the necessary approvals from stakeholders;
Releasing payment;
Bookkeeping.
A well-planned procedure protects businesses from fraud, late payments, and bad relations with suppliers.
To create one, you should:
Develop a clear approval framework for all stakeholders.
Prioritize bills based on the payment date and payment terms.
Think about improving approval workflows for POs and purchase requisitions as well.
Establish invoice approval policy.
Invest in workflow automation.
As a result, you'll have a transparent and efficient approval process on your hands.
---