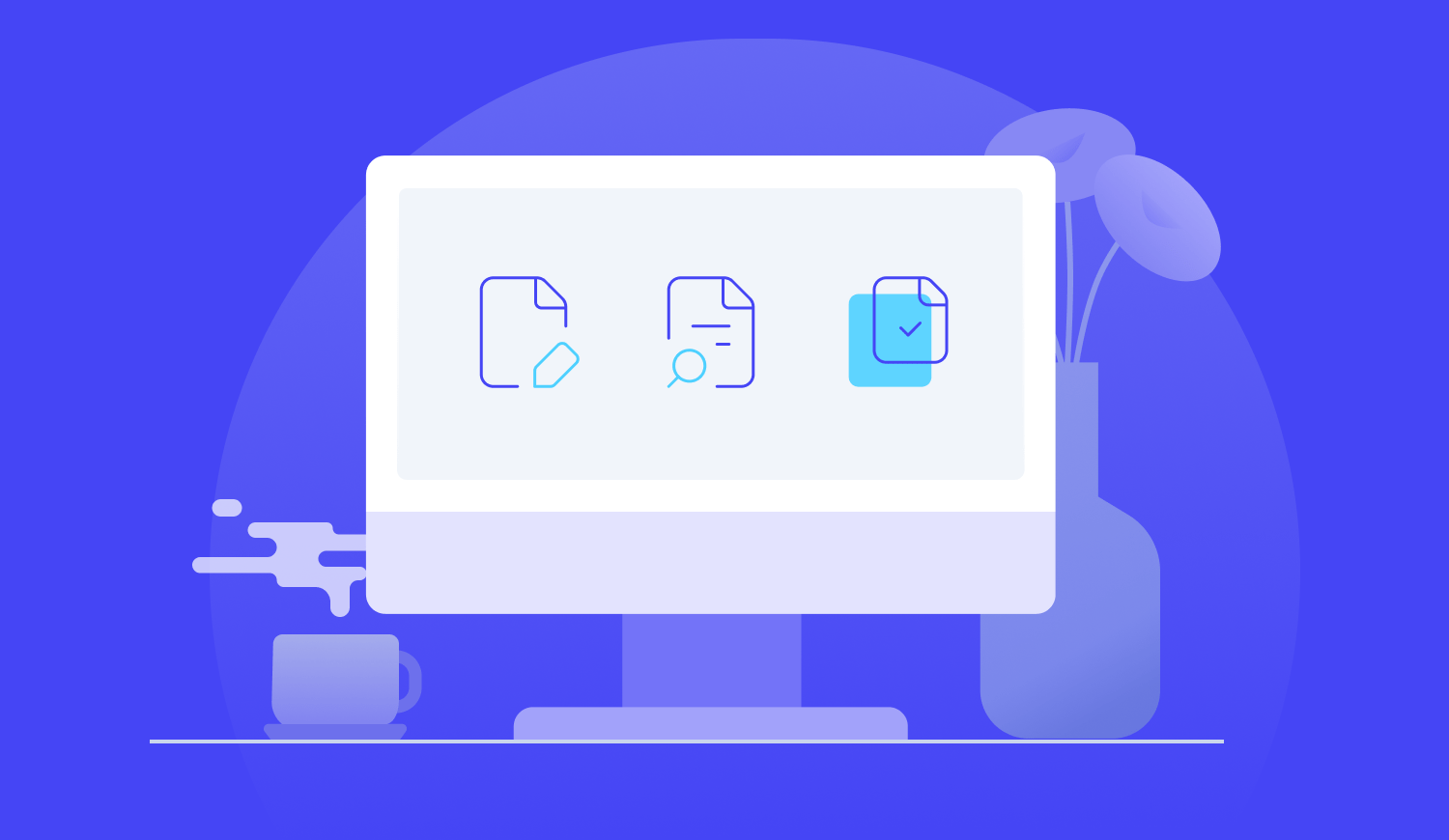 13 min read
Creating an Efficient Approval Workflow: Complete How-To Guide
Approval workflow definition, its elements, types, and steps for smooth implementation — learn everything you need to create efficient approval processes.
As much as 43% of organizations struggle with document approval in the USA.
Ask yourself: "Does my organization have an efficient approval process or are we a part of this statistic?"
If you're unsure or chose the second option, you're probably familiar with miscommunication, lost information, and ultimately mismanaged spending.
Piles of paperwork, back and forth emails, and numerous phone calls may also be the issues you have to deal with.
But don't worry, in this article, we will tell you exactly how to create an approval workflow that will work for you, all the steps you need to take to do so, and how to avoid common pain points that come with approval workflows.
What Is a Purchase Approval Workflow?
A purchase approval workflow is a logical set of actions required from various stakeholders to approve purchase requests made by team members.
Organizations need purchase approval workflows to set clear checks and balances for spend requests related to new equipment, new hires, new vendors, new budgets, and any other type of expense.
Well-designed approval workflow protects your organization from spending over budget and running out of cash.
It eliminates the miscommunication, time-wasting, and extra workload that comes with a manual approval workflow.
How Does the Approval Process Work?
Although approval processes are unique to the departments and spend categories involved, it's possible to highlight the key elements present in each approval workflow.
Let's look at some of them: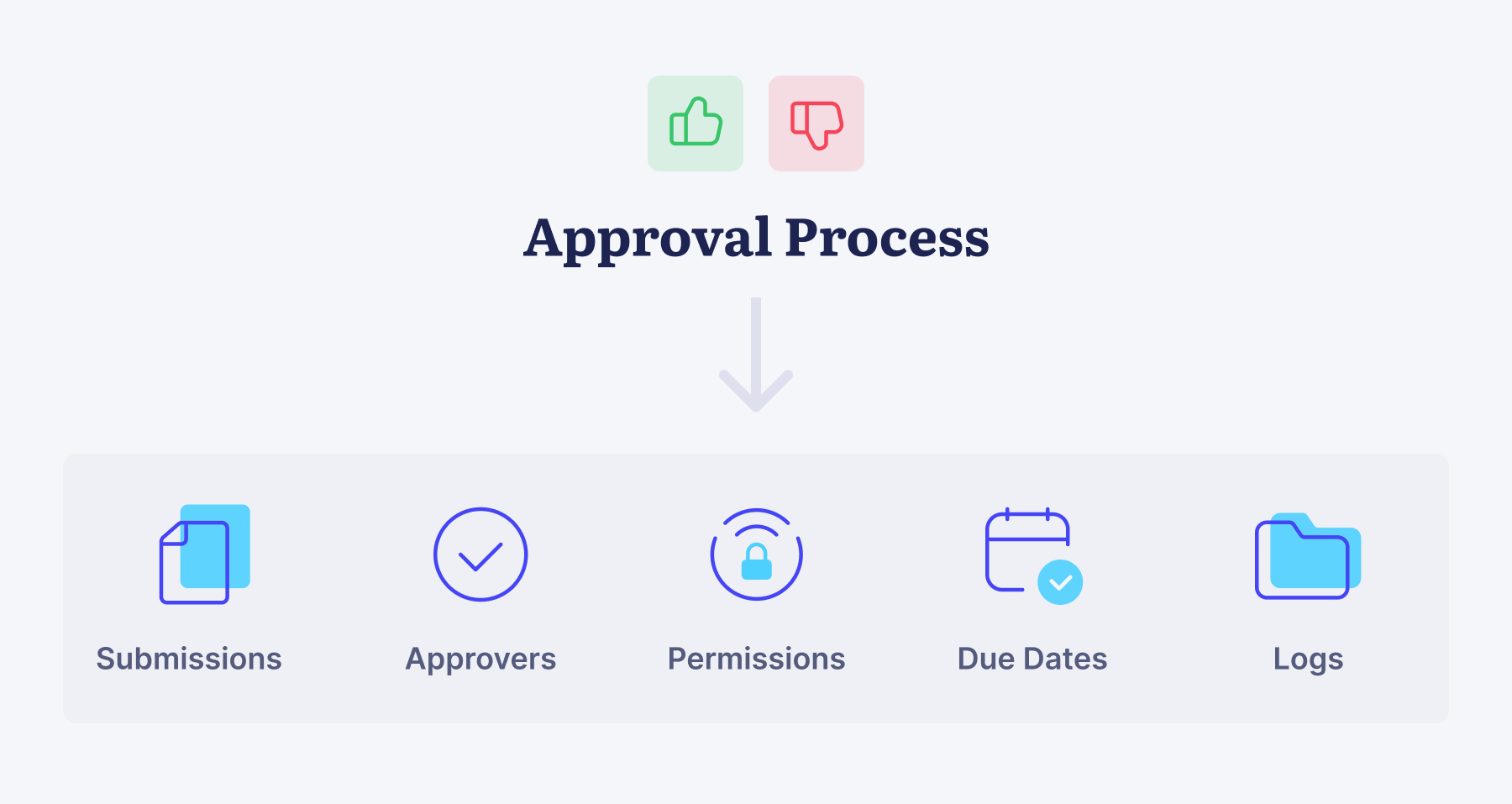 Submission documents
An approval process begins with the initial request or submission that prompts all subsequent actions. It may be an invoice, purchase order, etc.
Companies usually provide their employees with guidelines they should follow to submit a certain type of work.
Approvers
An approver is a person or group of people who approve requests submitted by a team member.
After an employee submits a request form, the team lead usually provides an initial review and sends it to another approver.
When the request is reviewed and approved, it's time for final clearance when the stakeholder decides whether the request is ready to be accepted or published.
The appointment of appropriate approvers helps ensure that the approval process is effective and provides the consistency and quality of the final product.
Permissions
Permission levels determine who can edit or approve requests.
As some documents may contain confidential information, it's essential to ensure that the data can only be seen and changed by the people responsible.
Most approval workflow software has features that allow management to grant individual permissions to viewers, editors, and administrators.
This way, you can dictate who has access to approve, reject, or review submissions, which helps eliminate the confusion that may arise with approval requests, as well as ensure data security and make the approval workflows more efficient.
Due Dates
Deadlines help to approve the submitted work on time.
To keep approval workflows moving, it's critical to set deadlines for approvers and give them enough time to carefully review the request before approving or rejecting it.
To set reasonable deadlines, you must first know the due date your company plans to pay the invoice, obtain goods, etc.
Then you can specify in detail how long each approver should review the document and submit it to the next step.
Logs
Recording each step of the approval process is critical for maintaining transparency throughout the organization, reviewing and tracking all actions in case of discrepancy, and having a clear understanding of your process efficiency.
As approval audit logs record every change event (submission, rejection, approval, etc.), dates, and users who make changes, they're also helpful in case of a compliance check, e.g., SOX audit.
Records let you see where bottlenecks might have occurred, so you can identify them and improve processes in the future.
3 Types of Purchase Approval Workflows
Since you are already familiar with the general structure of approval workflows, let's look at how their elements may change depending on the submission type.
Requisition Approval Workflow
A purchase requisition is a formal document created by an employee to request a purchase of goods or services.
While every organization has business processes unique to its operating style, there are a few basic steps that are relevant to all companies:
First, an employee makes a request with all necessary details about the product or service required, requester information, allotted budget, vendor details, etc.
Then the requisition is sent for approval. Most of the time, more than one stakeholder will be involved in the approval process, especially for costly goods and services.
If the purchase requisition is missing information, the form is sent back for correction and then resubmitted. If the reviewer disagrees with the contents (for example, there's not enough budget to satisfy the request), they can reject it.
When all relevant stakeholders agree with the purchase requisition contents, it's time to send the RFP or RFQ to a select group of vendors to decide which one offers the best value.
Once the decision is made, the person responsible submits a purchase order to the chosen supplier.
Purchase Order Approval Workflow
The PO is an official document sent by a buyer to a supplier that confirms the purchase and has all the necessary information about it.
Specific steps for PO approval workflow can vary depending on corporate structure, spend category, etc., but mostly, the process goes as follows:
If it isn't a recurring PO, typically, the process starts with a buyer creating a requisition.
Then a procurement team or another responsible person creates a purchase order based on the approved purchase requisition and sends it to the vendor to purchase goods or services.
The supplier acknowledges the PO and its associated terms.
Once the supplier accepts the PO, it becomes a legally binding contract.
Invoice Approval Process
An invoice is a formal document that records a transaction between a buyer and a seller and contains a list of goods or services provided.
The invoice approval process usually includes the following steps:
The company receives an invoice from a supplier.
Then the responsible staff member verifies the invoice, matching it with the appropriate purchase request, PO, and receipt.
If the invoice fails the verification process, it should be forwarded to the right person that can fix the errors and send the bill through the approval process again.
Once the invoice has been thoroughly verified, it proceeds to the next review step to the specific person or department responsible for accounts payable.
Finally, the finance and accounting department processes the payment and closes the invoice.
How to Implement Best Approval Workflow Practices?
Creating an approval workflow may not be an easy task, but you've probably noticed that there are several scenarios where its lack causes serious problems:
When it's the month-end close;
When you need to prepare reports;
When you are chasing information.
Attempting to complete the month-end close or prepare accurate reports without approval processes is a headache due to the lack of information and unreliable data sets.
Let's see how to avoid those pain points and take your approval workflows to the next level.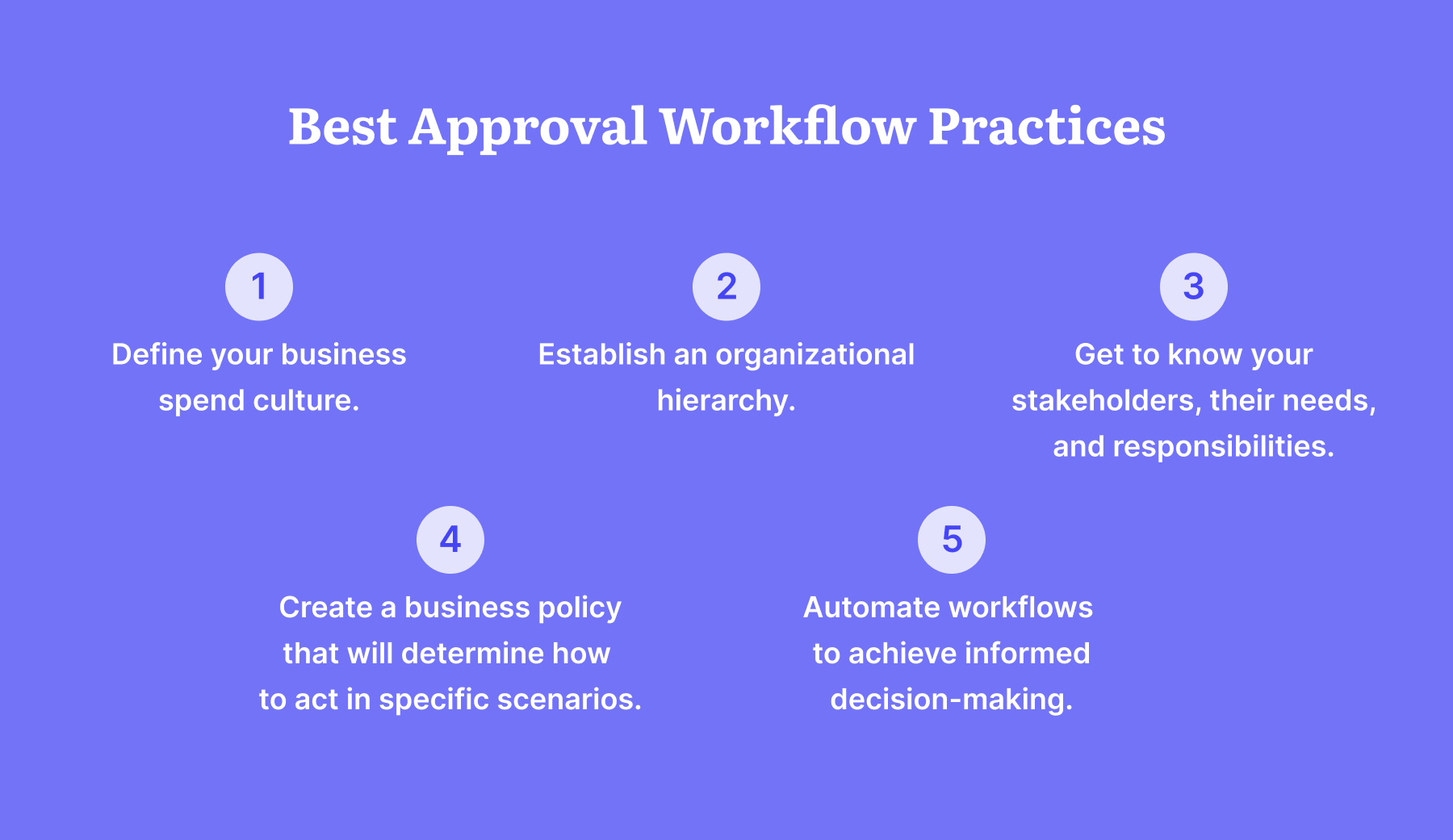 Step 1. Define Your Business Spend Culture
The basis of your approval processes lies in your company's spend culture.
How does your organization handle purchases now? What are the typical behaviors, practices, and values when it comes to making important cost decisions?
If you take a responsible approach to assessing your company's spend culture, it will be easier to create and manage approval workflows as you grow.
Step 2. Establish Organizational Hierarchy
The organizational hierarchy influences who will be appointed as an approver and at what stage of the approval process.
This structure is essential for organizations engaged in indirect procurement, as it involves the entire company, from the average applicant to the highest level of the professional approver.
To set the proper hierarchy, try to answer these questions:
Do you have a procurement team, or is the finance department responsible for purchasing?
How is your organization divided into teams and departments?
What level of authority is needed to make decisions?
Do you operate with a CFO or a VP of finance?
Since the organizational structure is often designated by its budget owners, consider involving the finance or procurement team and those with budget accountability to create a hierarchy of approvers that will oversee the entire approval flow.
Step 3. Identify your Stakeholders
Four stakeholder groups are involved in the approval process: requesters, approvers, controllers, and suppliers.
Requesters

A requester is an employee who submits a request for goods or services.

Create thresholds for different requesters and departments to ensure that you're not going to run out of cash and to save your approvers' time on reviewing unreasonable purchases.

Approvers

Approvers can be managers, supervisors, or budget owners who are responsible for approving or rejecting their employees' submissions.

Their job is to make informed judgments about those requests, as well as ensure compliance and data accuracy for reporting or forecasting purposes.

Ensure that each reviewer has a specific role in the approval chain and that this role corresponds to their expertise.

For example, a manager can approve a request under $500, but if it's more than $10,000, you'll probably need a CFO to have the final say.

Also, consider setting up backup approval routing for when a person responsible is unavailable, so the flow continues in their absence.

Controllers

A controller is a person responsible for keeping accurate books and records for a company.

In terms of approval workflows, controllers overview financial data and trace it all back to requesters and approvers if needed.

Optimized and standardized approval flow makes it much easier for them to ensure compliance and support all the financial data needs.

Suppliers

Suppliers are a crucial piece of the puzzle and important players whose role is to provide services or sell goods to buyers in the economic production chain.

When creating a purchase, ensure that your supplier brings your company the best value and that your approval processes aren't going to end up with slow or late payments, damaging the organizational reputation.
Step 4. Set Organizational Policy
Before proceeding with the purchase approval, it's essential to establish an organizational policy that will determine how to act in specific scenarios in accordance with:
Vendors;
Budget items;
Monetary thresholds;
Special types of purchases.
With that being said, here are some tips that will help you create the policy:
Assign approvers according to specific budget items;
Assign particular stakeholders who will approve a new vendor;
Identify scenarios and types of purchases that will require a unique approver;
Identify all managers, administrators, stakeholders, and departments that need to approve purchase requests;
Assign reviewers according to monetary thresholds (for example, purchase requests between $5,000 and $10,000 require the CFO to approve before moving to the next step in the approval process).
If new employees are onboarded or the structure of specific departments is altered, feel free to make some changes.
Step 5. Create a Workflow
Finally, having a background on workflows, you can create one on your own using newly acquired knowledge and this simple guideline:
Have a clear goal (for example, to pay the invoice);
Create approval steps required to complete it;
Decide who's responsible for each step;
Set proper deadlines;
Create a way to document the process for future reporting needs
Adjust the guideline accordingly, and don't forget to review your workflows from time to time for improvement purposes.
Why Is It Critical to Have Effective Approval Processes?
Without proper approval processes, your procurement department can face late payments, lack of transparency, delayed delivery of goods, etc.
But to avoid those pain points, you not only need to take a responsible approach towards creating approval workflows but also embrace technology to help you automate and improve them.
If you follow this advice, let's see what benefits you can expect for your business.
Improved Efficiency
Can you imagine if all the people who need to say "yes" before making a payment did not know why and who made the purchase?
The approval purchase workflow establishes a hierarchy, clarifies steps, improves data quality, and formalizes processes. It helps everyone focus on their tasks.
The best part? There will never be a question of what to do, how to do it, or what will happen when something is completed. You'll have all the information described in detail in the approval workflow.
Approval Pipeline
If the approval workflow is well designed, tasks continue moving through a pipeline. In this way, organizations can multitask and handle more complex projects.
You no longer need to spend time figuring out what has already been done, what still needs to be done, and how far the overall project is.
Compliance
The approval workflow process prevents mistakes and standardizes processes. It ensures all stakeholders involved can see the project entirely and provide feedback.
It also helps understand the criteria for a "yes" or "no," avoiding big mistakes in the long run; for example, if a request is missing important information, it can be sent through the approvals again.
From the first to the final reviewer, everyone is contextually guided upfront on the rules to follow, making the process more compliant.
Transparency
Another benefit of an approval workflow is that there's always evidence when something's approved, such as an email or a task marked "complete."
If something goes wrong, everything will be documented so stakeholders can improve the process.
Consistency
When the approval workflow is formalized, it creates universal rules, clarifying each step of the process for all involved.
It also helps those unfamiliar with giving approvals to step into the gatekeeping role without interrupting the process.
If you have an efficient approval workflow process, you can take time off and not worry about getting bombarded by questions from people seeking approvals.
Want an Even Better Purchasing Experience? Automate!
Approval workflow software is a key tool for optimizing the procurement process.
It helps you quickly track from simple to complex multi-level approval structures with improved transparency and informed decision-making at each stage.
Automated approval workflows eliminate bottlenecks in the purchasing process, boost efficiency and improve productivity.
Such approval software as Precoro has all the features you need to easily manage multiple workflows and streamline the entire purchasing process, allowing you to focus on more important tasks.
With Precoro, you can avoid the following challenges of manual approvals:
Lack of control at various stages of the purchasing process;
Slow turnaround times that cost money each quarter;
Lack of understanding of the procurement process;
Process bottlenecks that cause late payments;
Unauthorized or maverick spending;
Slow PO or invoice approvals.
Impressive, isn't it? Let's look at some of the Precoro functionality that helps avoid these common pain points and set up effective purchasing approval processes:
Customized Approval Workflow
Precoro offers upgraded customization options and flexible templates to configure an individual approval workflow for all documents, such as POs, purchase requests, invoices, and receipts.
Create as many approval steps as you need to ensure a flawless and easy purchasing process for your team.
You can define projects, departments, locations, and thresholds to impact your approval workflow or create custom approval processes.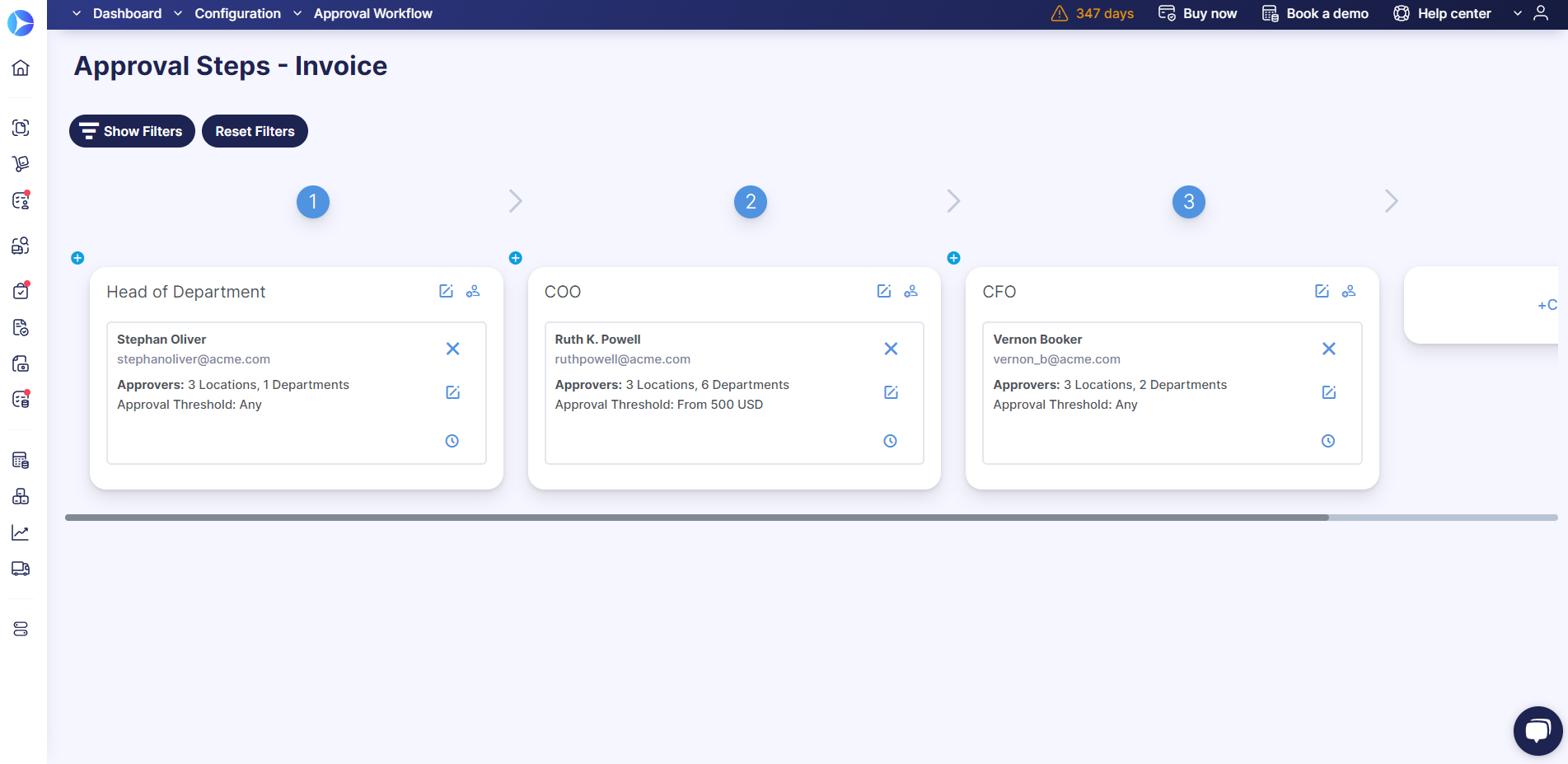 Approval Thresholds
Precoro approval management software allows users to set special thresholds above or below which certain procurement procedures can be applied.
Requests can be sent through different levels of approval, which correspond to the structure of your company, so you can effectively manage costs.
To create custom thresholds for different departments and approvers, just hit the Customize Threshold tab.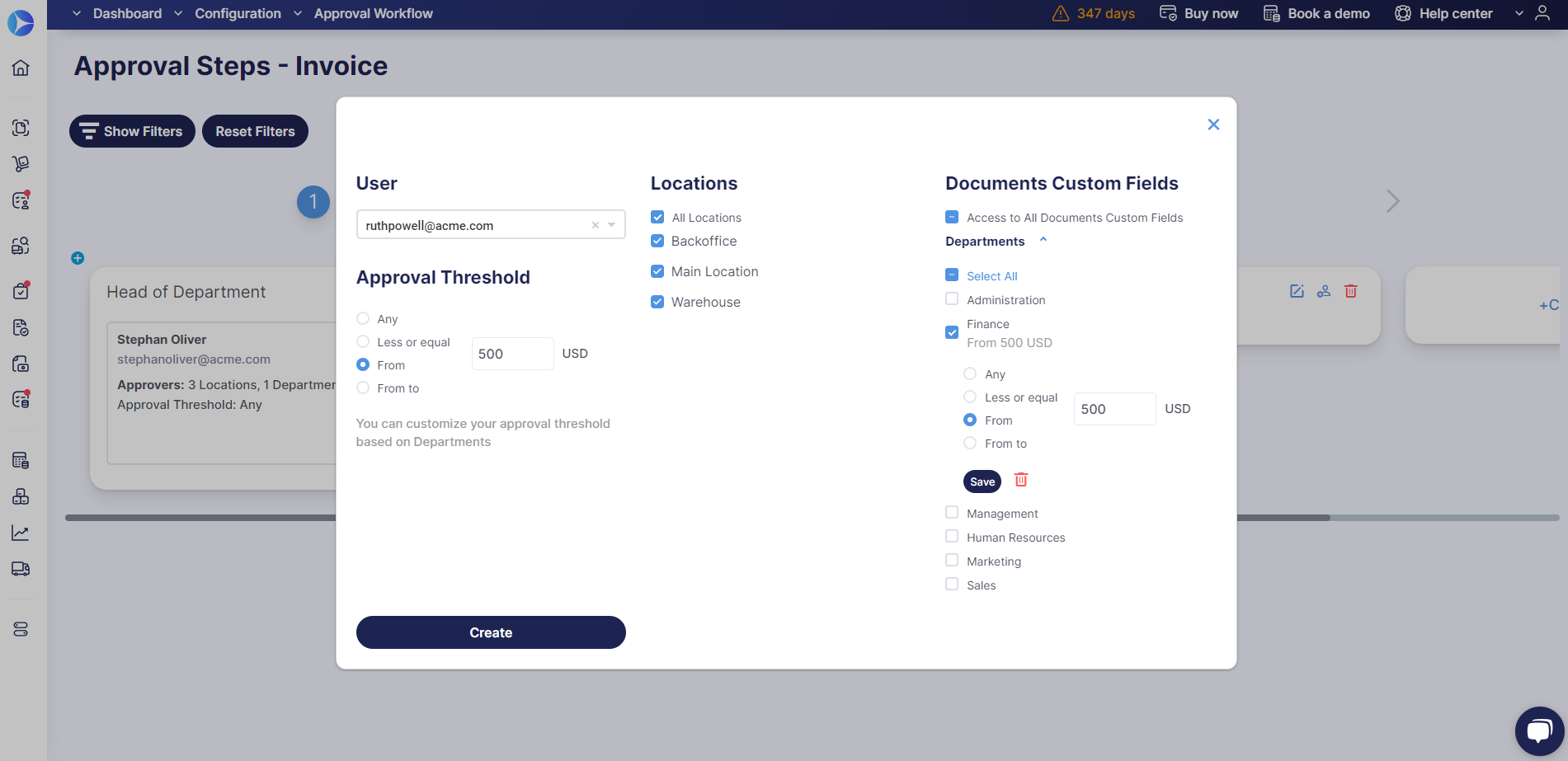 Vacation Mode
Want to go on vacation without worrying that the documents will not be approved by anyone? Precoro has a solution!
The Vacation Mode offers you to set up a backup approver for each document you are responsible for.
Both your and your backup approver's status will change accordingly, as will the notifications.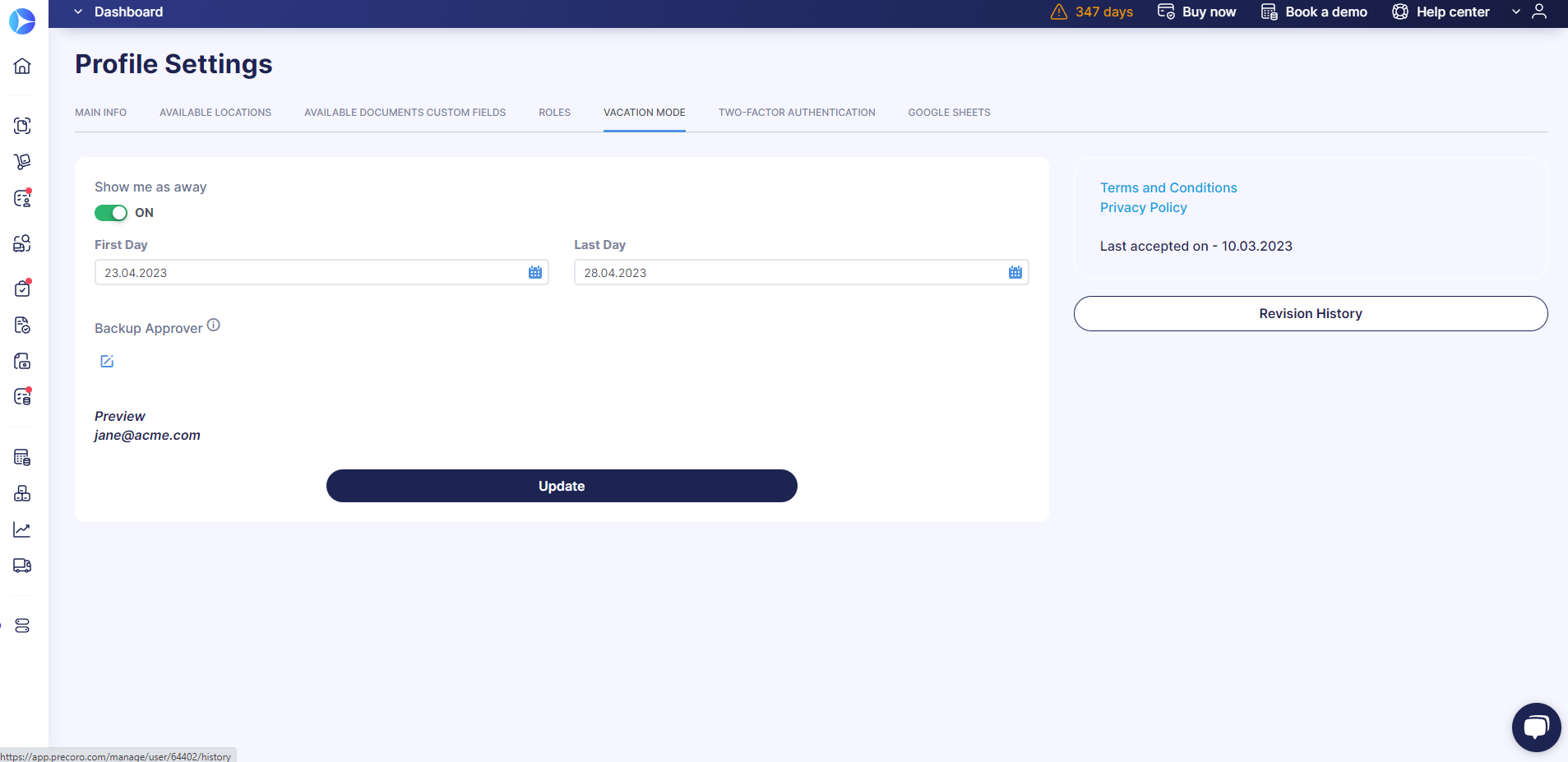 Smart Notifications
Precoro approval software sends automatic reminders to reviewers to ensure that the right person doesn't miss the time for the document's approval.
And what's even more exciting, you can now view, approve and reject documents straight from Slack.
Users are instantly notified by an email and push notification of new approval requests, changes in the status, if somebody left feedback, and many more.
Get email notification when:
You need to approve a document;
The document has been sent for revision;
The form has been approved, rejected, or canceled.
You can also set up your own preferences for email notifications and their frequency.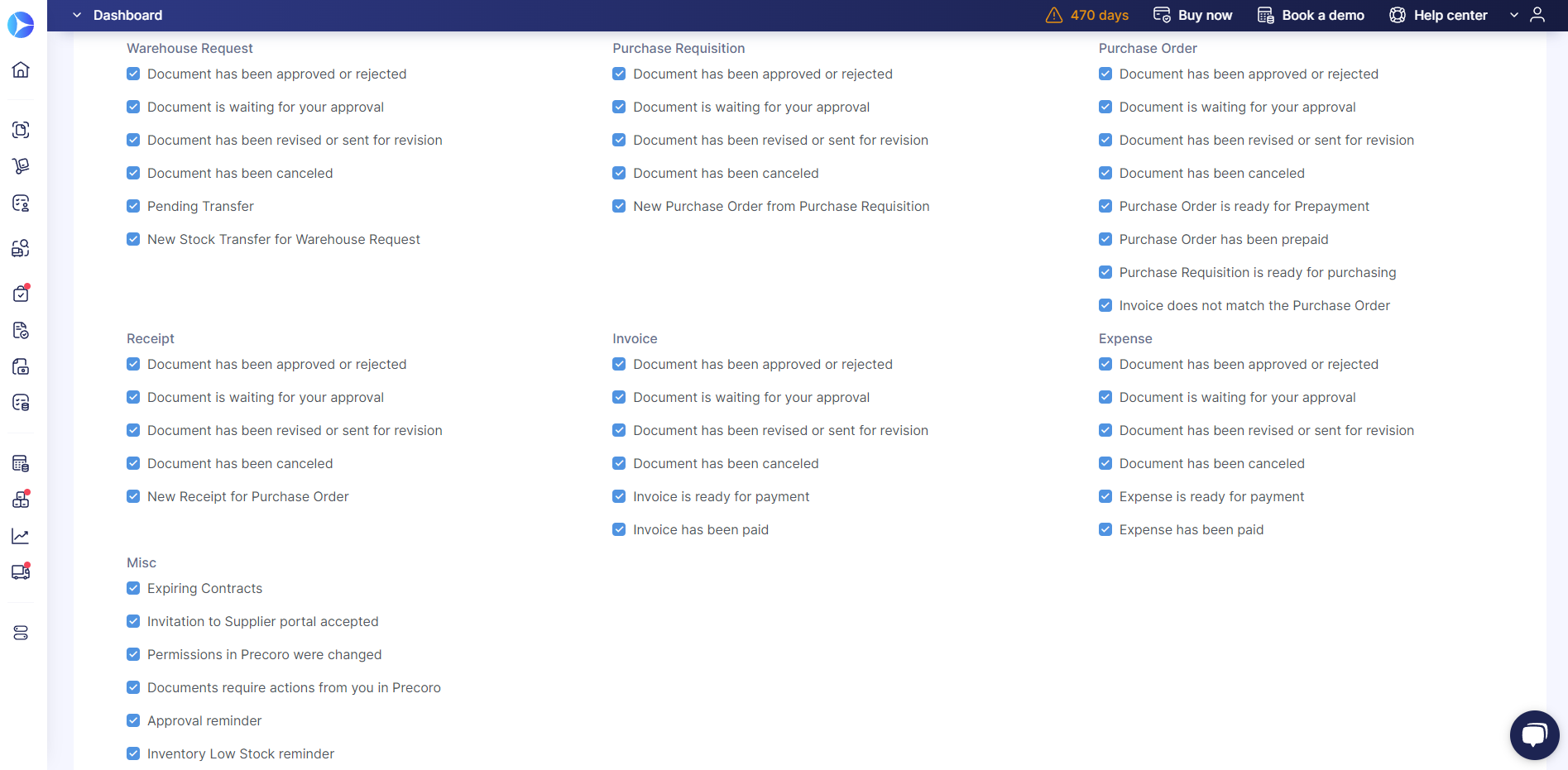 Spend Visibility
With a complete approval history and audit trail stored in the system, Precoro approval workflow software offers upgraded visibility and tracking of approval status, so you can easily identify and resolve process bottlenecks.
With all your teams' purchasing needs stored in a single place, users can effectively analyze the data and allocate resources.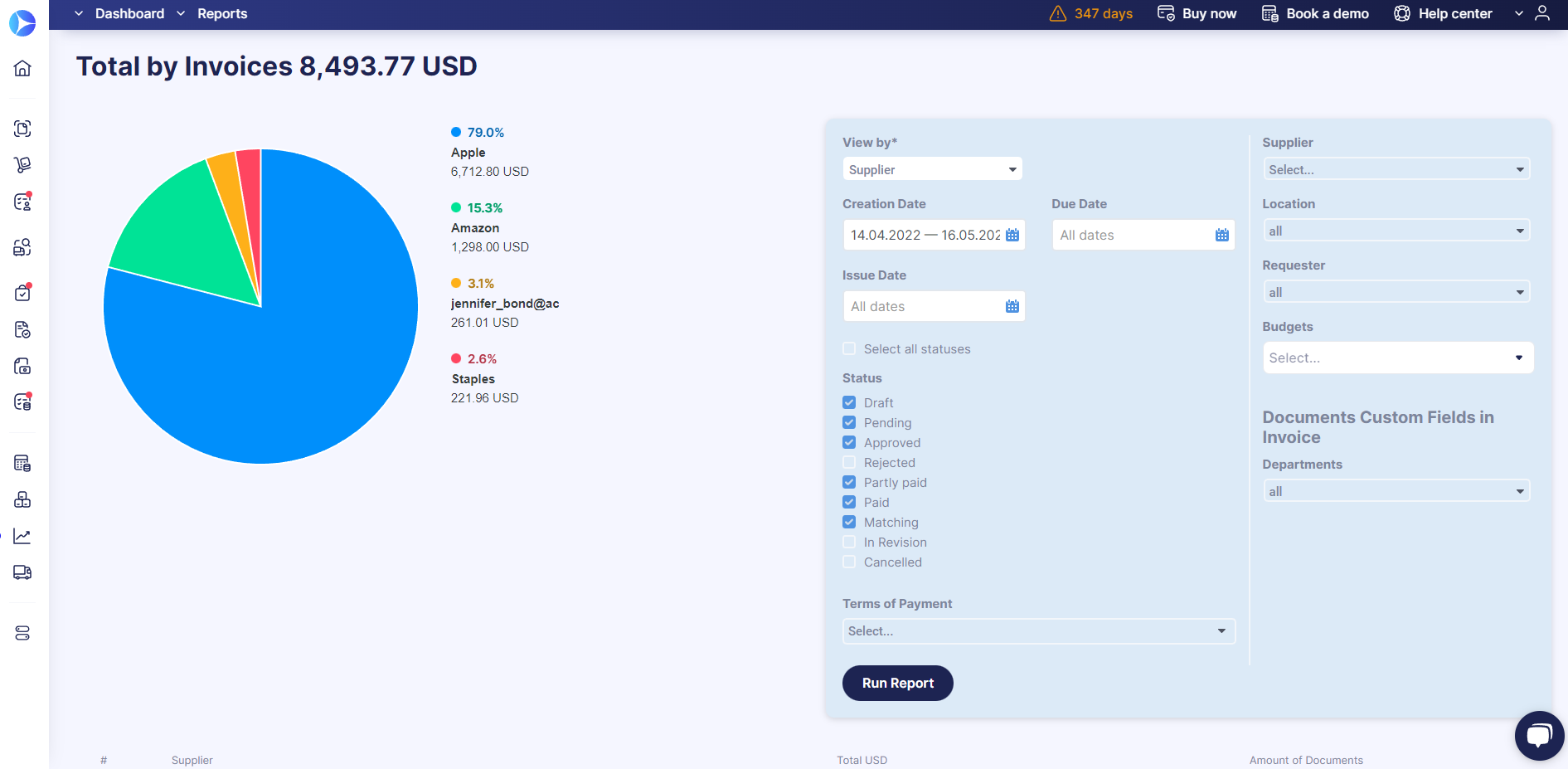 Transparency
Precoro allows managers to track the departmental performance of approval workflows and record all approval steps and confirmations.
So you have a complete understanding of who, what, when, and why approved certain requests.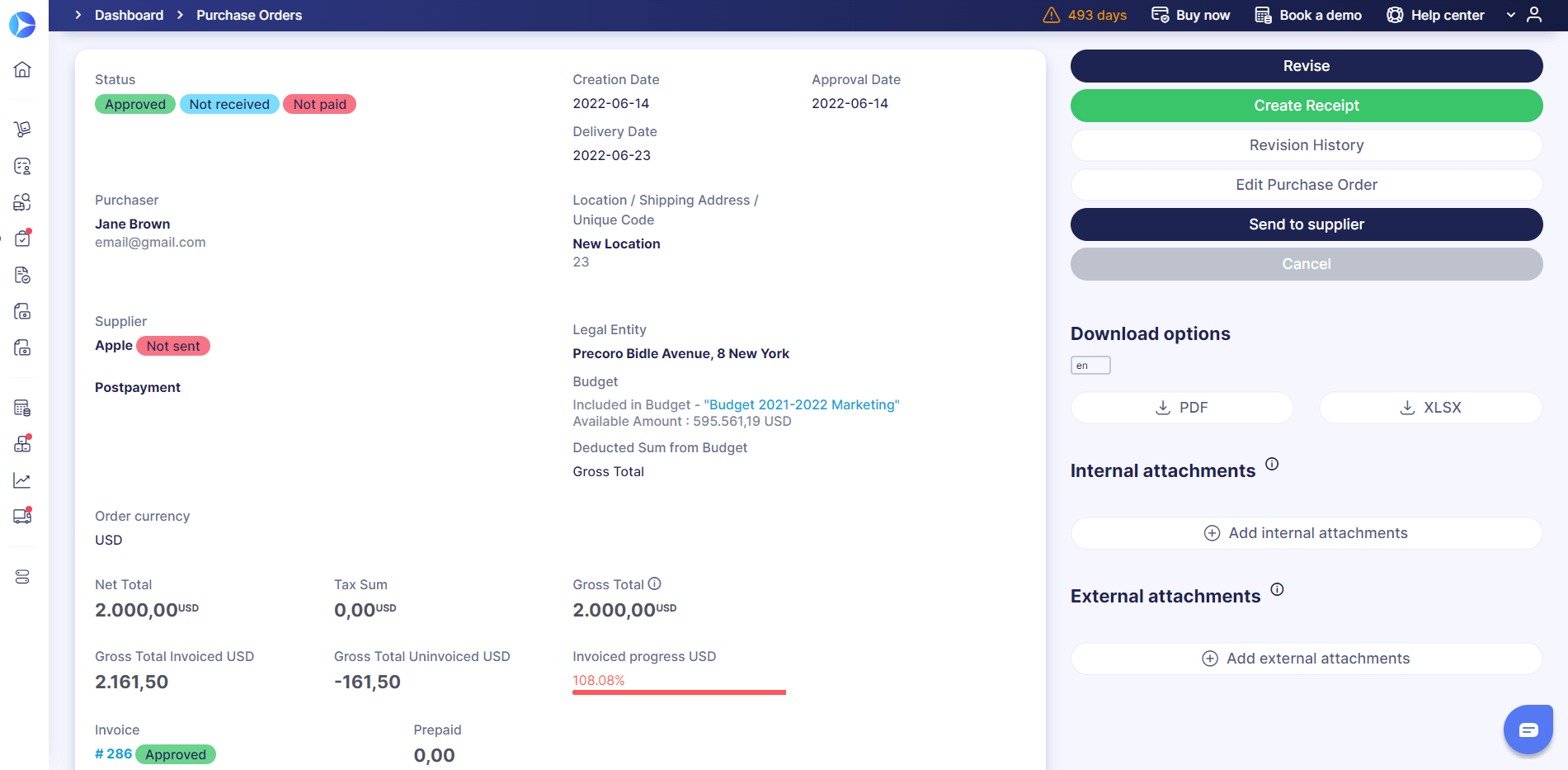 Ease of Use
Managers can accept or reject forms anytime and anywhere via mobile devices or tablets.
Automated approval routing allows users to execute repetitive tasks in the background, saving them time and energy.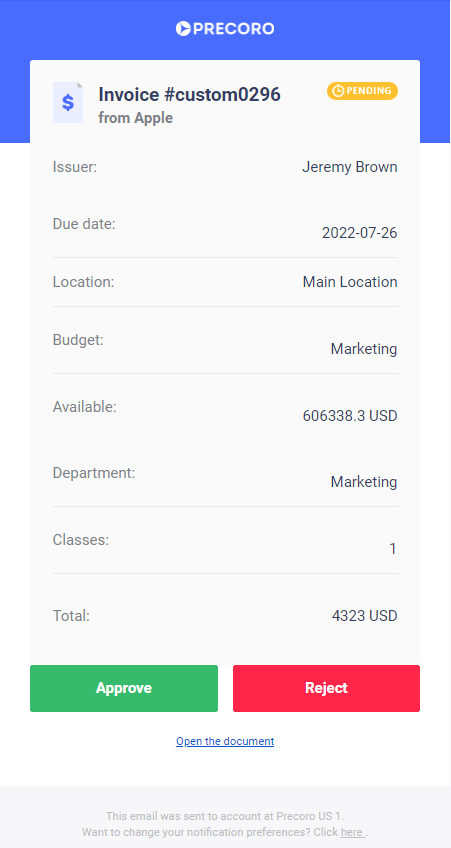 FAQ
What is the ap approval workflow?
The accounts payable approval process is a series of steps required to pay an invoice.
It includes invoice data capture, approving invoices, matching invoices to purchase orders, and making a payment.
What is a document approval workflow?
The document approval workflow is a strategic sequence of steps and tasks a team must perform to review internal and external results.
Typically, it will include the following steps:
The form is sent for review;
It's either approved or rejected;
If rejected, the document returns for revision;
Revised forms are then resubmitted for review.
Conclusion
A purchase approval workflow is a logical set of actions required from various stakeholders to approve purchase forms made by team members.
Every approval workflow has some basic process elements, such as submissions, approvers, permissions, deadlines, and logs.
The workflow approval process is essential for easy communication between procurement and accounts payable departments.
It helps track purchasing progress, improves data quality, streamlines the entire process from making a purchase requisition to payment, and protects your organization from spending over budget.
To make approval workflows work for you, you need to:
Identify your stakeholders;
Define your company's spend culture;
Establish an organizational hierarchy of stakeholders who will oversee the approval process;
Establish an organizational policy according to vendors, budget items, monetary thresholds, and special types of purchases;
Automate workflows to achieve informed decision-making at each approval stage.
Approval workflow software eliminates bottlenecks in the purchasing process, boosts efficiency, and improves productivity, allowing you to focus on more important tasks.
Invoice, requisition, or purchase order approvals  — are all easy to manage in automated workflows.
Start Precoro's 14-day free trial to see all the benefits for yourself.
---