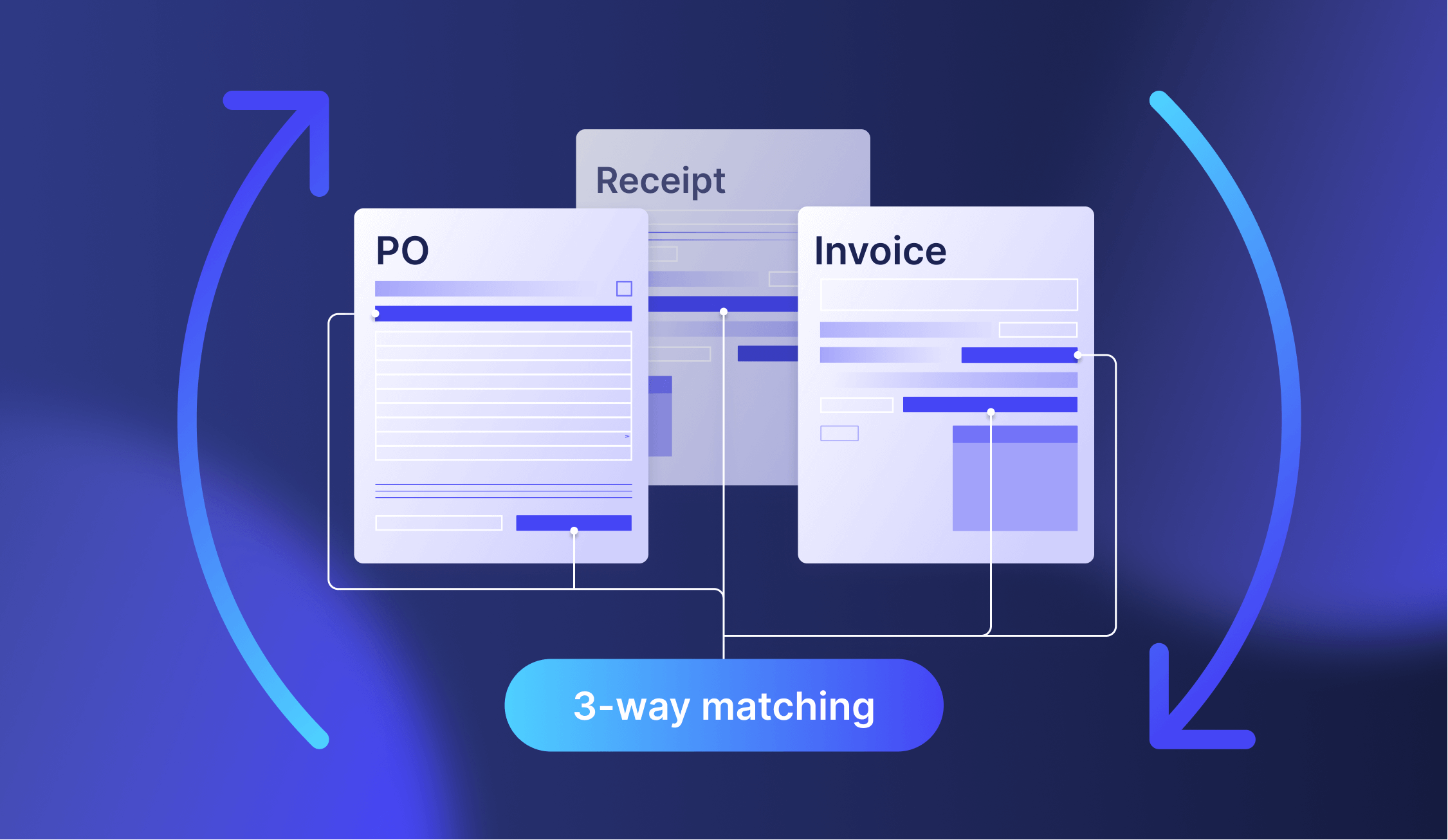 11 min read
Why Implementing 3-Way Matching is Important
58% of AFP Payments Fraud and Control Survey respondents report that email scams have at some point targeted their accounts payable departments. What can businesses do to protect themselves from paying money for fraudulent invoices? They can introduce three-way matching to the purchasing flow.
What Is Three-Way Matching?
Three-way matching is an essential step in the procurement flow process that involves cross-referencing three critical documents – purchase order, receipt, and vendor invoice – to determine whether an invoice should be paid.
As a part of the invoice approval process, a three-way match is typically conducted by the accounts payable department. They want to see if there are discrepancies between the goods ordered, received, and to be paid for.
Accounts payable specialists compare corresponding order details to confirm that they match. In a way, they are answering the following questions:
What did we order?
What has been delivered?
What are we expected to pay for?
The goal is to look for any discrepancies in the purchase order, receipt, and invoice and, if found, deal with them on time. This stage saves organizations from overpaying and from paying for things they never received or perhaps never even ordered.
Keep reading to find out:
How the three-way matching process looks
Who are the stakeholders during this process here
Other matching options
Common discrepancies found during the matching process
Benefits of three-way matching
Possible challenges of 3-way matching
Tips to make the most out of matching
How automation can streamline it
3-Way Matching: What does it look like?
After an invoice for delivered goods has been received, the accounts payable department reviews documents to make sure the invoice matches the PO and goods receipt. Let's go over the specifics of this process.
Order verification
First, the corresponding purchase order is located. It's a legally binding document sent from the buyer to the vendor specifying the details of the intended purchase. Each PO typically has a unique number assigned to it for easier filing.
It generally includes the following information:
The buyer's and the seller's information and contact details
Date of issue
Contract information (if relevant)
Item description, quantity, and price
Payment details and delivery terms
The AP department goes through the document to check whether all the above details are recorded and accurate. They primarily look at: what was ordered, in what quantity, and for how much.
Delivery verification
Next, the AP team reviews the corresponding delivery receipt or packing slip to double check that the delivery contained the correct items and quantity.
This receipt, which might also be called a delivery receipt, receiving report, order receipt, or goods received note, is a document issued by the receiving department to confirm the order's delivery. It contains the details of the shipped items or provided services.
The question here is: does the amount ordered match the amount delivered?
Payment verification
Accounts payable staff checks invoice details to confirm what they are expected to pay. An invoice is the seller's request for full or partial payment for the goods or services. It must contain information similar to the purchase order:
Buyer and vendor contact information
Date of issue
Short description of items, their quantity, and the price for each
Total amount due
Payment terms
Any discounts, if applicable
The questions that should be answered here are:
Do the amount due and items in the invoice match what's in the corresponding purchase order?
Are the quantity and price of invoiced items the same as on the delivery receipt?
If the order is partially received, is the seller requesting partial payment?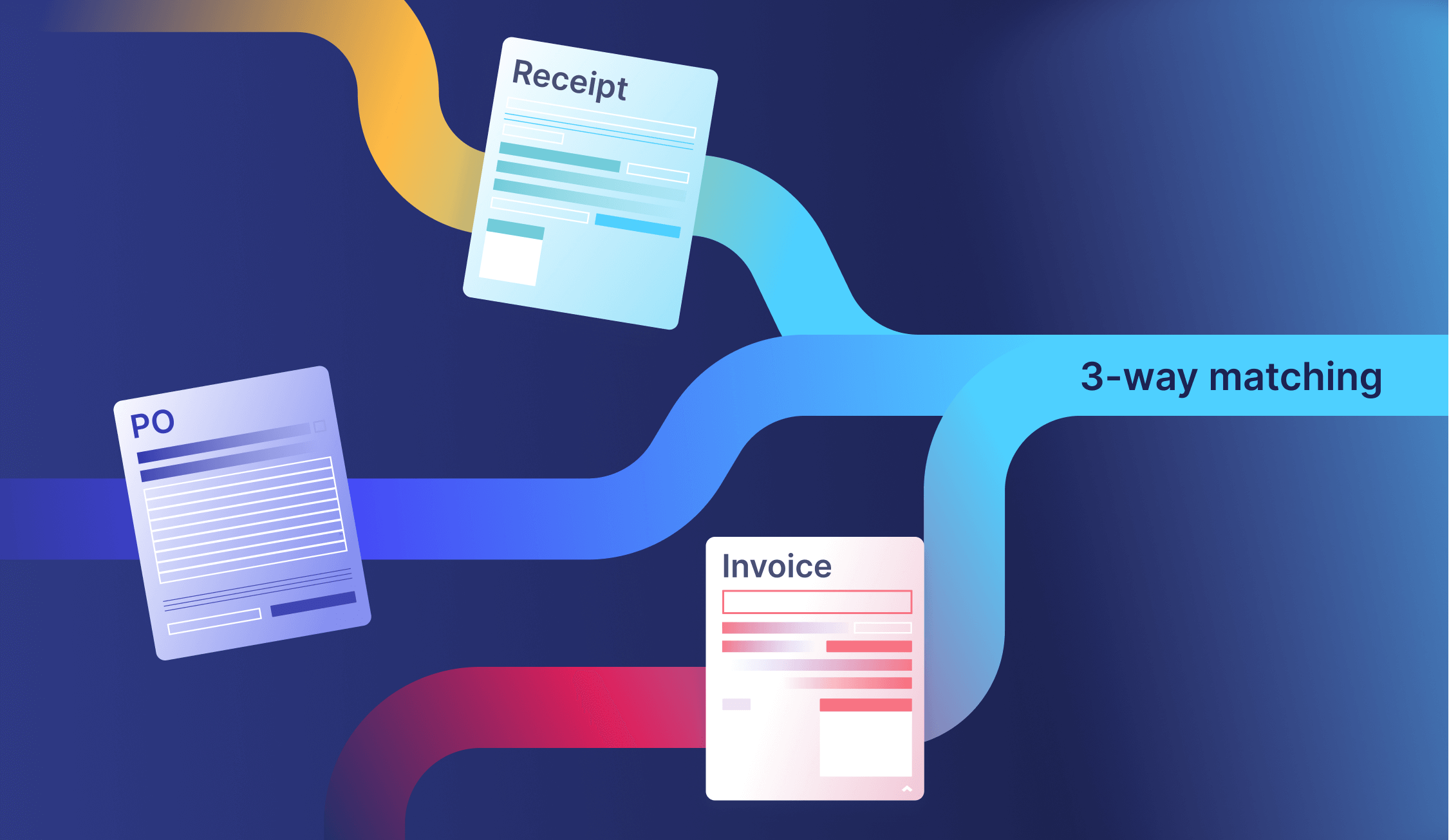 3-Way Matching is a Team Endeavor
The matching process involves several departments and sellers, so there are many stakeholders:
Purchasing department, which buys in the company's name;
Inventory department, where specialists receive and control goods and then issue and track the receipts;
The accounting department, which pays the invoices;
Vendors and suppliers who have a reputation at stake and also expect to be paid.
If any issues are found during the three-way match, payment isn't issued and the involved parties play their role in rectifying the issue(s). After an invoice is validated during the three-way match processing, payment can be sent.
Several Options for Matching
Not every organization follows the same procedure for document matching. While 3-way matching is considered the industry standard, some AP teams go for 2-way or 4-way matching. The main difference lies in the documents requiring confirmation before payment approval.
Two-way matching is a more basic process in which only purchase orders and invoices are compared. It's used when order receipts aren't issued or in situations with recurring payments. Payment for a software subscription is an example of a situation when 2-way matching is enough.
On the other hand, four-way matching is a stricter option that includes additional confirmation by someone who was physically there to witness the delivery (or the rendering of a service). The verification can be physical – for example, looking through each item to confirm satisfactory condition; or verbal – stating that the training has been finished successfully.
All three matching types are used across different markets, and each organization determines which better suits its needs. Matching processes can also vary depending on the suppliers and contracts associated with the PO.
For example, the accounts payable team might skip delivery receipts for recurring purchases from their long-term partner vendor. Alternatively, it makes sense to add an extra step of personal inspection for a newly contracted vendor that's not well known on the market.
However, three-way matching is considered the golden standard, as it offers security by comparing essential order information while keeping things simple and quick.
Common Discrepancies Found During Three-Way Matching
Naturally, everyone involved in the buying process wishes to find no discrepancies. When misalignments are found, it only means one thing – the three-way match process is efficient. Let's look at some of the issues that can arise during matching.
Incorrect prices or total
Incorrectly reflected cost might be caused by a simple data entry error or a mistakenly chosen item ID while searching for the price. However, inaccurate pricing can also indicate that someone on the supplier side is attempting fraud. If something looks off, double checking it against internal records can help clarify the situation.
Wrong tax amount
Let's face it – taxes are an inherently confusing part of business. International transactions are particularly susceptible to tax miscalculations because a vendor in another country might incorrectly calculate tax according to the wrong regulations.
Additionally, tax issues arise with any other cost discrepancies, since tax is determined based on the price of goods.
Inaccurate shipping volume
Whether the wrong amount of goods was shipped in the first place or something happened during transportation, it's important for the finance team to react promptly. If the amount of goods delivered is wrong, it could mean that the vendor invoice is also wrong.
Damaged items
Anything can happen during transportation – this means that goods can arrive damaged. Such a situation would result in an altered invoice or repeat shipment request. In this case, delivery receipts wouldn't pass the three-way matching process.
Missing receipt
Another issue to be found during matching is that the shipment confirmation might be missing. Whether it wasn't issued when expected, misplaced, or lost, a missing receipt complicates delivery control.
Duplicated documents
It's not uncommon for purchase orders to be sent several times, or for invoices to be issued twice – especially when the purchasing process is managed manually via emails. A duplicated invoice is most likely an honest mistake. Nevertheless, it's worth checking to make sure an invoice hasn't been falsified.
Item repetition across multiple invoices
While issuing several invoices for the same company, vendors might accidentally repeat an item in more than one invoice – when it's just a one-time purchase. This results in an imbalance between what they are requested to pay and what they should actually pay, and it complicates invoice matching.
Benefits of Three-Way Matching
The matching process might seem tedious and complex, especially when done manually. Some companies might choose to refrain from using a 3-way match for small or recurring purchases, or when purchasing from trusted vendors. But with new vendors or large purchases, the matching process shouldn't be ignored.
Three-way matching might require a little extra time to complete, but it protects the organization from possible troubles, helps keep books in order, and saves money.
Improve profitability
Three-way matching can boost a company's bottom-line by preventing financial losses due to duplicate payments, fraudulent invoices, or human errors.
Fake invoices are often made well to resemble the real ones, which makes it difficult to distinguish them at first glance. Still, if there's no related purchase order or receipt, it's easy to recognize fraud.
Three-way matching also highlights discrepancies or human errors, making it possible to quickly fix them and avoid late-payment penalties. Organizations can ensure error-proof and secure payments by matching the three documents – order, receipt, and invoice.
Keep companies' finances prepared for an audit
Auditors are actively looking for financial discrepancies, so having all the documents matched and prepared in advance for the review will be favorable for the company's credibility. Three-way matching is a sign of a financially responsible company.
Improve supplier relationships
When three-way matching is done regularly and quickly, it's easier to build trusting relationships with vendors and suppliers. Confirming documents on time and paying invoices promptly makes business partners feel valued.
If discrepancies are found during three-way matching, it's important to communicate them openly and cooperate on solving the issues. Organizations will improve vendor relationships and build long-term trustworthy partnerships by recognizing the problem, acting on it, and learning how to improve.
On the contrary, when there are frequent mistakes on the supplier's side, and it doesn't seem to get better, maybe it's time to consider searching for other partners who can provide more quality and certainty.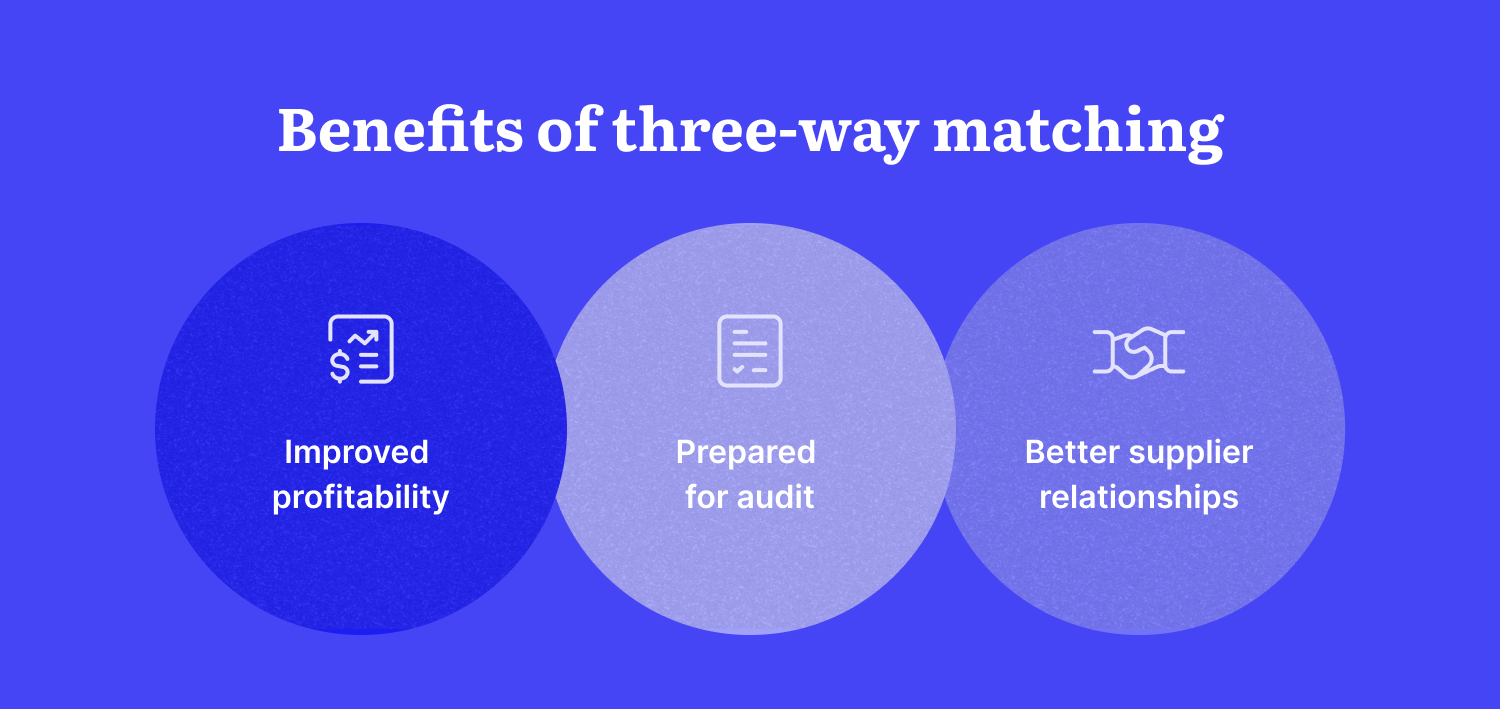 Challenges of Three-Way Matching
Three-way matching brings undeniable benefits to the company's procurement, but it also has its challenges and problems – especially when done manually.
It's time-consuming and labor-intensive
Checking documents is quite time-consuming and requires considerable effort. Each of the three documents includes a substantial amount of data to analyze, especially if it's a larger order.
The manual matching process is a serious challenge. When many invoices are piling up – for example, during peak season for production – staff might not have time to process them. Reading through each line of every document is exhausting.
Then, it becomes even more challenging when discrepancies are found. Finding and fixing the problems one by one requires numerous emails, calls, or even visits to the warehouse.
This can result in delayed payments and subsequent fines.
It's a complex process
While three-way matching is a straightforward process, it might be complicated by departmental specifics. Financial specialists might have to spend extra time figuring out more about the requester's needs and purchase order details before they can match the documents.
Fraud possibilities
While three-way matching helps to detect fake invoices and prevent accidentally paying them, it can't guarantee total elimination of fraud. If there are too many documents for too few procurement officers, three-way matching is done in a hurry – and mistakes are bound to happen.
Risk of lower accuracy
When done manually, three-way matching is at risk from human error. From misinterpreting contracted terms and miscalculating numbers to simply misplacing the documents – there are chances that overwhelmed or distracted employees in accounts payable will have matching mishaps.
Make the Most out of Three-Way Matching
As with any process, three-way matching will go smoothly if it's set up and executed efficiently. Let's see some tips that help you make the most out of the process without getting stuck in the details.
Set approval threshold
Establish a purchase value beyond which three-way matching will be required. This way, invoices lower than this value will be approved for payment automatically, leaving more time to match more expensive purchases.
Define tolerance limit
Define tolerated deviance limit. It can be measured in percentages from the purchase order total or set to a specific amount of money. When an invoice has a discrepancy that falls within the tolerance limit, it can still be approved for payment without further investigation.
Evaluate vendors
Keep track of vendors and suppliers that always issue correct invoices and see whether you can prioritize purchasing from them. Leaving vendor reviews available to the teammates also helps to ensure that all procurement officers select the most trustworthy partners.
In the future, AP teams might note that invoices from specific suppliers can be trusted and maybe only require a quick scan.
Automate
With a software solution, three-way matching happens automatically, guaranteeing faster checking and better accuracy.
Reasons to Automate Three-Way Matching
Manual 3-way matching can be highly time-consuming, so many companies turn to automation. Here are some other reasons they might prefer the latter.
Centralization
Automation is based on the centralization of all data: purchase orders, receipts, and invoices are safely stored in the same place and are accessible instantly. All business data, such as company and item information, is organized in the centralized database.
This makes three-way matching easy and straightforward, as all required information is available anytime it's needed.
Minimum human intervention
An incoming invoice can be automatically compared and matched with corresponding documents.
Instead of manual matching, during which an employee has to go through each line of the document, automation software reads and matches records automatically using optical character recognition (OCR) and artificial intelligence (AI). This way, discrepancies and other issues are brought to light as soon as documents are registered in the procurement system.
Such software helps minimize human errors and inefficiencies. It's especially important for growing businesses, as manual processes simply can't be effectively scaled. But with an automation solution, a higher quantity of invoices won't incapacitate teams.
Customization
Managers create guidelines for three-way matching and configure the workflows to ensure that everyone involved is acting within their competencies. Responsibilities are clearly distributed and everyone knows what role they play in the matching and payment processes.
Whatever can be done automatically – should be. With approval happening automatically and in accordance with the customized workflows, the accounts payable team can invest time into investigating other invoices' unmatched details.
Credibility and good deals
Automation streamlines and speeds up the three-way matching, making it possible to authorize payments promptly and take advantage of early payment discounts. By quickly matching and paying on (or ahead of) time, buyers can also expect to negotiate better prices and credit terms with the suppliers.
Efficient integrations
Different companies choose to use various automation solutions in their day-to-day work. Depending on their size, structure, and needs, they might go with complex ERPs, specialized comprehensive procurement software, or a combination of several solutions for different processes.
Modern automation solutions support integrations for seamless information import and synchronization. By avoiding manual document input, companies avoid typos and reduce the risk of omitting information; they meanwhile save hours of work that can be reinvested into more valuable tasks.
For example, the accounts payable team can harness integration to conduct three-way matching in the procurement software and then seamlessly send the invoice to the accounting system to be paid and filed for auditing.
Comprehensive analytics
Automation is also irreplaceable when it comes to purchasing analysis. Software can analyze the automated 3-way matching activities to determine the most frequent issues and evaluate vendor performance.
With analytics at hand, AP professionals can get insights into the quality of current documents and partnerships, and they can also offer their input on how to develop the procurement.
Procurement analytics and accounts payable automation in general are both vital for a business to operate efficiently. Automated three-way matching saves companies time and money, minimizes reputational threats by preventing wrongful funds allocation and late payments, and helps catch fraud attempts.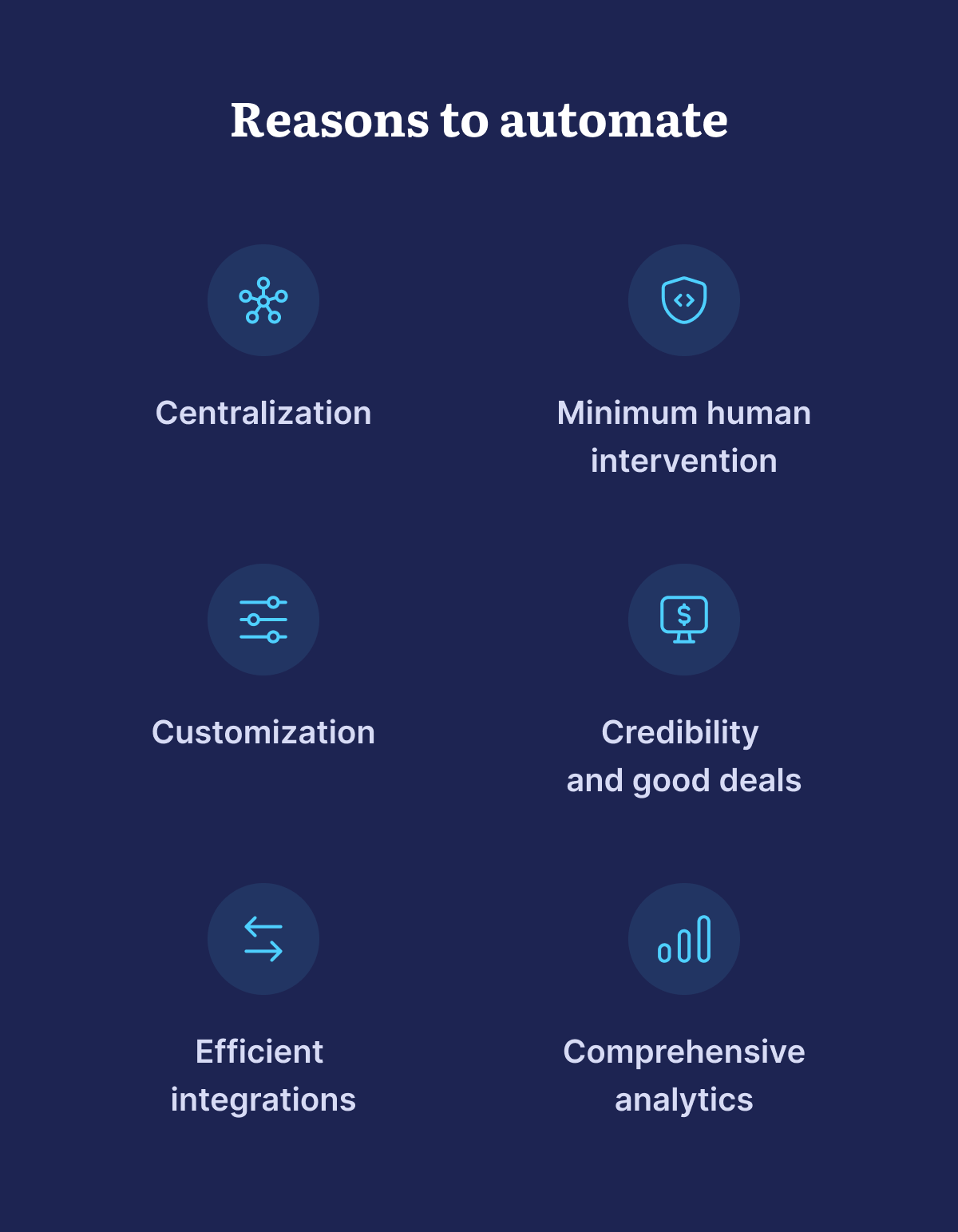 Conclusion
Three-way matching is a process carried out by the accounts payable team to confirm whether an invoice should be paid. It's a process that involves cross-referencing three documents – purchase order, receipt, and invoice – to see if there are discrepancies between what has been ordered, delivered, and billed.
Fundamental data is matched across the documents. It includes the buyer's and seller's information, delivery and payment terms, and the item description, quantity, and price. If there are any discrepancies, they are discovered and dealt with promptly.
This way, companies that include three-way matching in their procurement process ensure they pay only legitimate invoices for goods delivered or services rendered.
Three-way matching saves companies time and money by allowing them to confirm and pay correct invoices quickly. It also improves the chances of qualifying for an early payment discount and helps to avoid late-payment penalties.
The process of three-way matching can be pretty demanding and time-consuming, especially when done manually. After all, we're only human – and sifting through the details of numerous documents eventually results in missed, misinterpreted, or misplaced documents.
Three-way matching is best handled through an automated software that completes initial matching, leaving more time for users to deal with any discovered discrepancies quickly and efficiently.
Book a demo to see how automation can streamline three-way matching for your business.
---