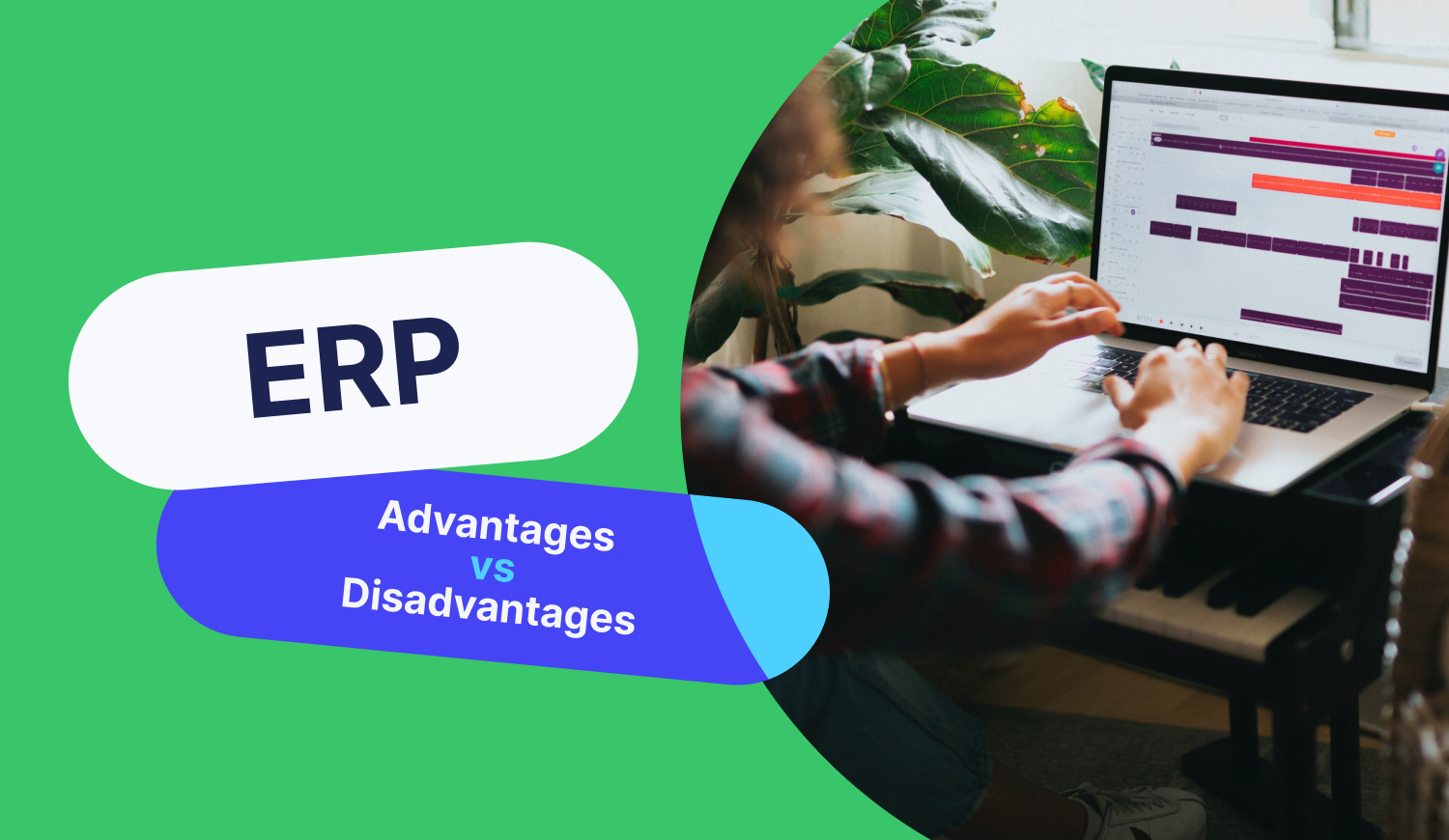 9 min read
ERP Advantages and Disadvantages: How To Decide
Learn all you need to know about ERP systems: definition, types, advantages and disadvantages, and whether an ERP system is enough for procurement.
Today, managing an effective enterprise requires experience, skills, and business acumen, but above all, intelligent management of business processes and the help of technology.
That's why the ERP market remains in a phase of rapid expansion, with the total market size expected to exceed $49.5 billion by 2025.
But is an ERP solution worth the investment for your business?
What biggest challenges and benefits can you expect, and how to avoid common mistakes when switching to ERP systems?
Keep reading to find the answers to these questions and more.
What Is ERP, and How Does It Work?
ERP or enterprise resource planning is software companies use to automate core business processes and integrate their functions, such as accounting, project management, procurement, and supply chain operations, into a single system.
Enterprise resource planning systems are essential to companies because they help them efficiently track business resources — cash, raw materials, or production capacity, and the status of business commitments: orders, purchase orders, and payroll.
They also facilitate information flow among all business functions and manage communications with external stakeholders.
Enterprise software integrates different organizational systems and facilitates error-free transactions and production, increasing organizational efficiency.
What Are the Three Main Types of ERP Systems?
There are three main types of enterprise resource planning software that function with different deployment model options: on-premise ERP, cloud ERP, and hybrid ERP.
Let's take a look at them:
On-premises ERP Software
On-Premise ERP software is installed and maintained on the company's computers and servers.
Typically, this type of ERP is used by large corporations who want complete control over the system and customize every module and aspect of it according to business requirements.
To do so, the company hires IT specialists to maintain the software, ensure security, provide regular updates and backups, etc.
The price of on-premises ERP systems varies based on the company's size and the number of users.
The company pays the full cost of the one-time perpetual license upfront and also pays for periodic training, support, and updates.
Cloud-based ERP Software
Unlike on-premise ERP, cloud-based ERP software, also known as Software as a Service (SaaS), is hosted on a vendor's servers and can be accessed over the internet.
You don't have to hire IT specialists to maintain the system, but you can't control and customize it as much as in on-premise ERPs.
The cloud solution is the most suited for small and medium-sized businesses that want to have:
Continual customer support;
Regular updates and backups provided by the vendor;
The system protected by a team of cloud security professionals;
Easy access to all the business information anytime and anywhere.
The up-front cost for cloud ERP is much lower than for on-premise one, but you have to pay a regular subscription fee for access.
Hybrid ERP Software
As the name implies, hybrid ERP software is a blend of cloud and on-premise ERP system solutions.
It may be suitable for those who want to migrate between delivery models or integrate functionality not available in the existing implementation.
Why the hybrid ERP approach has become popular over the years:
It better supports such specific functions as CRM and provides the ability to access ERP functions from mobile devices.
It's cheaper to buy a different cloud ERP system for business groups than to extend a single ERP system across all business units.
It's easier and faster to find the specific features business require in hybrid ERP than to wait for corporate IT to adopt a large, comprehensive company-wide ERP system.
What Are the Benefits of ERP?
Now that we explored what is ERP, its types, and how it works, let's look at what ERP advantages your business can expect after implementation: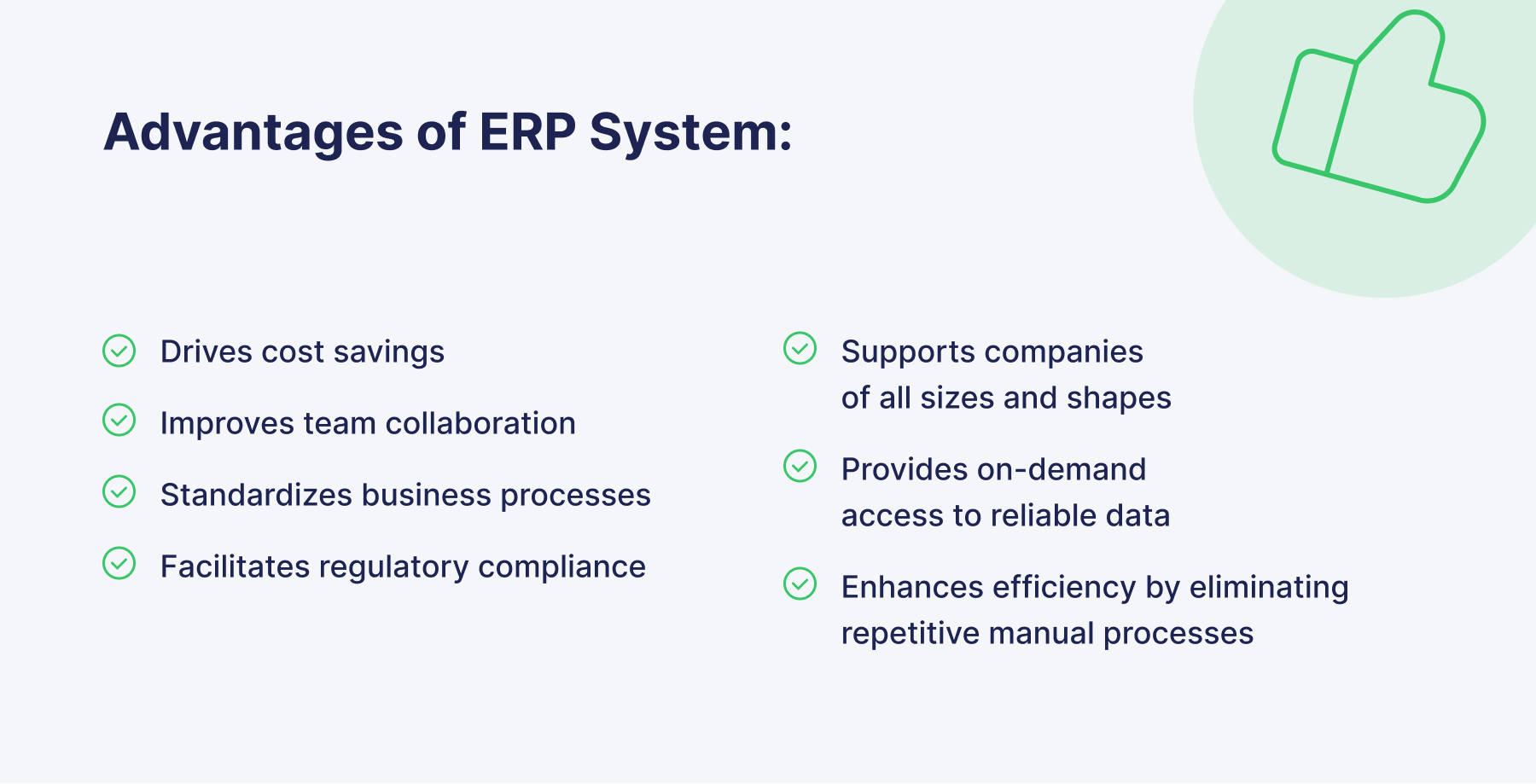 Cost Savings
One of the most significant values of ERP software solutions is that they can save your organization money in several ways:
By automating repetitive tasks and optimizing daily routines, ERP systems minimize errors and the need to hire additional employees at the same rate as business growth.
Cross-company visibility makes it easier to spot inefficiencies that drive up costs and leads to better deployment of all resources, from labor to inventory to equipment.
Prevent disruptions and delays caused by a lack of accurate or available information, keeping projects on track and on time.
Data Reliability and Greater Visibility
Enterprise resource planning software makes data from every department easily accessible to you and your senior management and provides total access to every vital process in your business.
For example, you can track inventory levels daily, including future shipments yet to be received and inventory in transit.
Having all your data in one centralized location enables a business to access real-time information and generate more valuable reports.
All of this allows you to make quick decisions and act more strategically, as you can be confident that you are seeing the big picture at any given moment.
Improved Collaboration
ERP solutions connect teams in one single source of truth, improving communication and streamlining the completion of tasks.
With an ERP system, every employee has on-demand access to operational data, which makes understanding the company's moving parts and their role much easier.
Thus, users can make more informed decisions by having full visibility over business processes, departments' performance, and project status.
Collaboration capabilities extend outside an organization to connect with key trading partners and further progress business benefits.
Flexibility & Scalability
ERP platforms are created to work for companies of all sizes and shapes, allowing users to tailor the system to their specific requirements, such as unique processes or unusual metrics.
No matter how big or small your business is, ERP systems allow you to add new users and data packages when your business is ready to expand.
You just need to ensure that your chosen enterprise solution can facilitate your organization's growth.
Cloud-based ERP software solutions also enable workers to access the system remotely anywhere and anytime as long as there's an internet connection, allowing employees to take quick actions.
Increased Efficiency
Along with lower IT and training costs, an enterprise resource planning system can reduce the time and effort required by employees to carry out their daily activities.
If properly implemented, an ERP solution eliminates repetitive manual processes, thus freeing up team members to focus on more critical and revenue-affecting tasks.
ERP functionality helps manage business activities such as purchase order creation and product tracking from manufacturing to delivery.
The increased efficiency leads to shorter lead times, a more transparent supply chain, improved demand forecasting, and business growth.
Regulatory Compliance
Having up-to-date records that are accurate and easy to find and customizable reporting tools make it much easier to track compliance and adjust it as necessary.
ERP solutions are also beneficial for auditors, who have all the information they might need to review easily accessible in the system.
Additionally, many ERP vendors support specific financial standards like GAAP or regulations like the Sarbanes-Oxley Act (SOX) or Federal Information Security Modernization Act (FISMA).
What Are the ERP Disadvantages?
Nothing is perfect, and before you start comparing systems, it's essential also to pay attention to the disadvantages of ERP.
Here are the most common challenges you may encounter after implementing a new ERP system: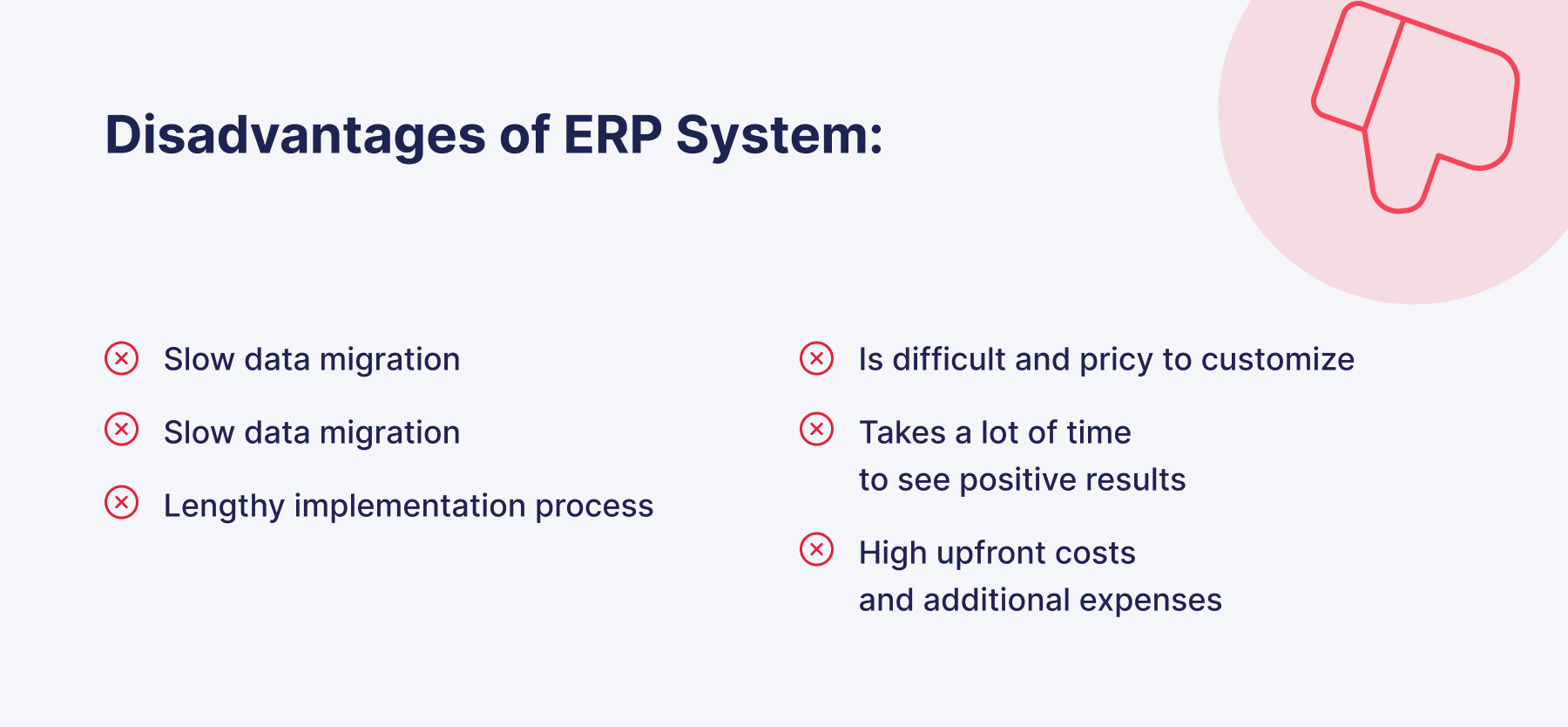 The Cost of ERP
Building an ERP solution is a long, complex, and pricy process.
Traditional ERP systems can easily cost you five figures for a single license.
The only way to avoid high upfront costs is to invest in cloud-based software that provides monthly subscription fees.
Even more, platform maintenance and implementation also require extra expenditures and sometimes hiring additional tech staff.
The same applies to regular updates in some ready-made solutions, which may involve additional expenses.
Complexity
With so much functionality and capabilities that ERP systems provide comes their substantial complexity, which some users find hard to deal with.
It's now uncommon for organizations to consider it necessary to properly plan and prepare for ERP implementation, which leads to wasted money and time.
Your organization will need considerable time and effort to master all the ERP solution functionality.
Also, when experienced users of the ERP system leave the company, the newcomers who fill their positions must spend a lot of time learning it from scratch instead of getting started immediately.
Slow Implementation
Implementing a new enterprise resource planning system is a complex and lengthy process that can take up to two years.
This is one of the main reasons why you need to prepare well and plan the transition process to avoid disruptions and save yourself from failure.
Allocate time to learn the new ERP platform post-implementation, as even the tech experts need time to understand the system thoroughly.
Slow Data Migration
When you first use an ERP system, you will have to enter existing data into a new format.
Depending on your industry, the data migration process can take a long time to complete, especially if done manually.
Even digitized data isn't an exception here.
You'll need to double-check that data is not duplicated or lost during the migration.
Fortunately, many ERP systems are compatible with existing data storage software for easy uploading and organization.
It Takes Time To See Results
As the previous disadvantages show, using EPR systems with maximum efficiency and ROI will take a long time.
The lengthy implementation process, system customization, data input, and staff training are all time-consuming and require patience.
You'll also need time just to get accustomed to new features and processes and learn how best to use what the system offers.
Is the ERP System Enough?
We've discussed many ERP benefits that, along with its successful implementation, can bring significant value to your company.
So you may be wondering if ERP solutions are so great, can they cover all my business processes alone, including procurement?
ERP is an excellent software solution for collecting and compiling data across different functions and streamlining business processes in a growing organization.
However, it's not enough for niche functions that need a tailored solution to solve a specific problem, such as procurement and purchasing.
And here's why:
ERP procurement modules do not allow teams to easily configure approval flows, which is critical for procurement operations that involve multiple stakeholders, processes, and documents.
ERP systems, most of which belong to the finance group, limit the number of users, preventing optimized collaboration between employees and between the company and external stakeholders.
These systems are hard to use, which makes the procurement process overcomplicated and inefficient.
Many ERPs do not have the best real-time reporting function, which generally only allows access to an overview or an aggregated data collection. It's also poorly customizable, leading to finance professionals spending hours cleaning up the data in a better-organized way.
Since data often needs to be manually entered into the system or uploaded via a spreadsheet, this increases the potential for human error and data inconsistencies.
A P2P solution such as Precoro quickly solves all these issues.
It takes document creation, approvals, invoicing, and reporting on itself, leaving to the ERP solution those processes in which it best shows itself — collecting and compiling data.
Precoro seamlessly integrates with any accounting system, such as NetSuite, and makes the data exchanging process streamlined and seamless.
You can synchronize your POs, invoices, budgets, and vendor data in the two systems and eliminate duplicate and manual data entry.
Precoro to NetSuite Integration
Let's take Precoro to NetSuite integration as an example to see how synchronizing two systems provide a competitive advantage:
Documents are automatically updated in NetSuite when revised in Precoro.
No need to maintain catalogs and vendors in multiple places. Precoro will automatically make the necessary changes in the vendor profile if it is what was done in NetSuite.
Have your POs or Invoices approved in Precoro and then automatically sent to NetSuite.
If the payment is made in NetSuite, it'll complete the invoice flow in Precoro.
Connect your NetSuite subsidiaries with relevant companies in Precoro while keeping the key information — reporting currency, GL Accounts, Locations, Cost Centers, taxes, etc.
As you can see, the ability to integrate a P2P solution with an ERP system is a must-have in today's business world.
If you want to experience how it works, start Precoro's 14-day free trial or book a demo on our website, and you can forget about all inefficient processes in your procurement process.
FAQ
What types of businesses benefit the most from ERP software?
ERPs were initially designed for manufacturing organizations, but now any business that needs a system that centralizes and integrates business processes will benefit from ERP software.
ERP systems can be used in almost any industry, including small and medium businesses.
Here are some examples:
Retail;
Telecom;
Education;
Healthcare;
Distribution;
Construction;
Manufacturing;
Transport & Logistics.
What is an example of an ERP?
Some of the most popular enterprise resource planning systems are Oracle NetSuite, Odoo, and Sage Intacct.
They all have similar robust and share common features expected of top solutions, particularly in accounting and finance.
What are the features of an ERP system?
The top features that are most commonly found in an ERP software system are the following:
Ability to integrate with other systems;
Customer Relationship Management;
Supply Chain Management;
Data Analysis;
Reporting;
Accounting.
Conclusion
ERP software optimizes business processes and integrates their functions, such as accounting, project management, procurement, and supply chain operations, into a single system.
There are three main types of ERP solutions: on-premise ERP, cloud ERP, and hybrid ERP.
Some of the advantages of ERP software are:
Cost savings;
Greater Visibility;
Increased Efficiency;
Improved Collaboration;
Flexibility & Scalability;
Regulatory Compliance.
Key disadvantages include the high costs of ERP software, its complexity, slow implementation, and data migration.
If you want your procurement process to be as efficient as possible, it's best to invest in a P2P solution that provides integration with an ERP system.
Feel free to start Precoro's 14-day free trial or book a demo to see how it works.
---