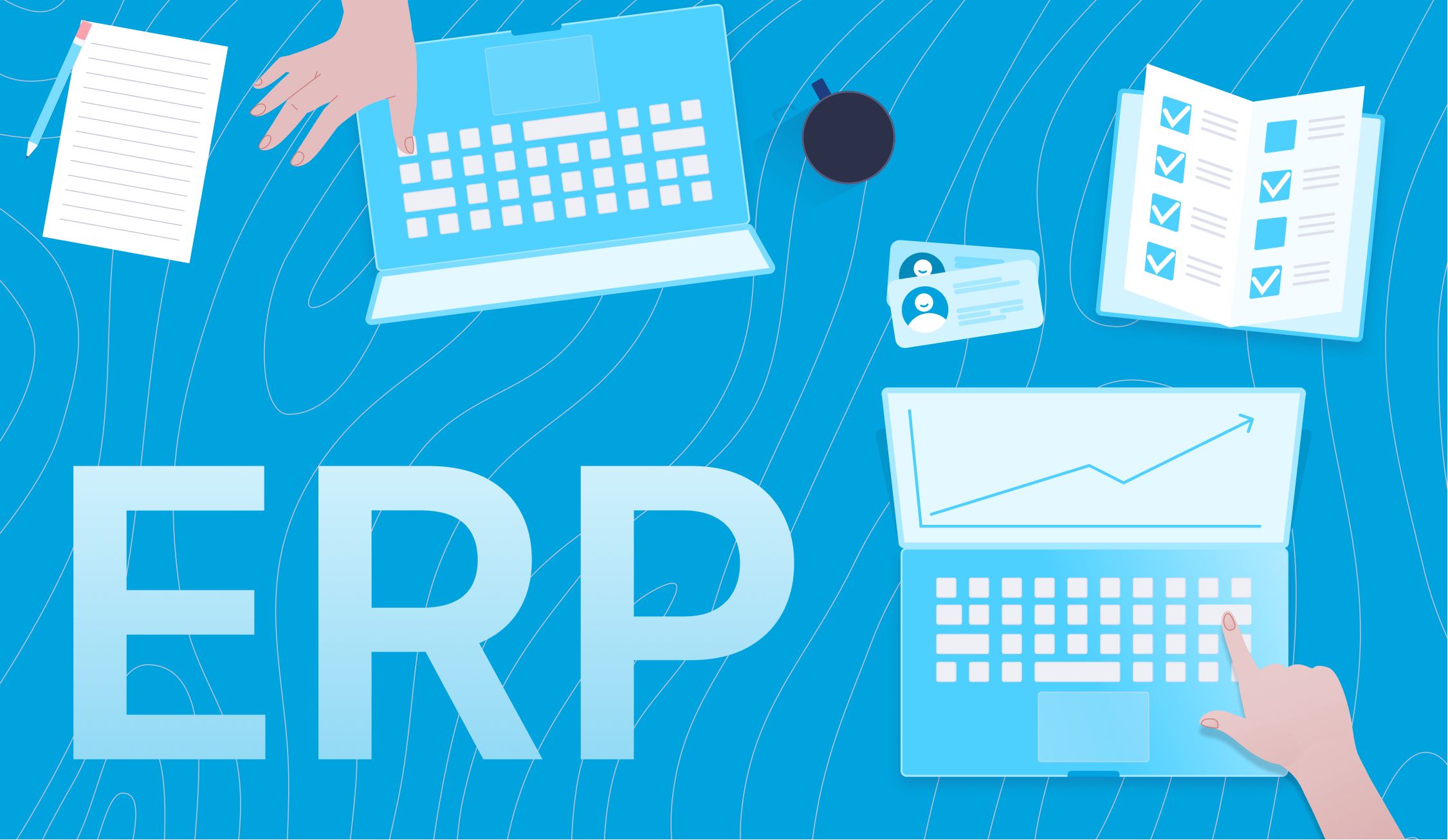 9 min read
Best Practices for ERP Implementation: 8 Tips for a Successful Rollout
Discover the most important steps of ERP implementation, how to select a project team, prepare for data migration, evaluate project success, pitfalls to avoid, and more.
Are you planning to implement enterprise resource planning software but have some concerns about budget overruns, project delays, and disruption of business processes?
We have all heard horror stories about poorly implemented ERP solutions that take forever to see a return on investment or, even worse, never actually come to fruition.
The question here is: what can be done to avoid these risks?
Continue reading to find out the common reasons why about 75% of ERP projects fail and 8 time-tested practices for successful ERP implementation.
Why Does ERP Implementation So Often Fail?
First, let's go over what not to do when it comes to ERP implementation. There are several common mistakes companies make when adopting new ERP software.
According to Deloitte, anywhere from 55% to 75% of ERP projects fail, and that's a shocking number considering what consequences a failed ERP rollout can bring to an organization, e.g., lost revenue, shareholder lawsuit, disruptions of business operations, etc.
To ensure that your company won't fall into this unfortunate majority of cases, learn from other implementation mistakes and avoid repeating them.
Here are some of the reasons that an ERP implementation project might fail: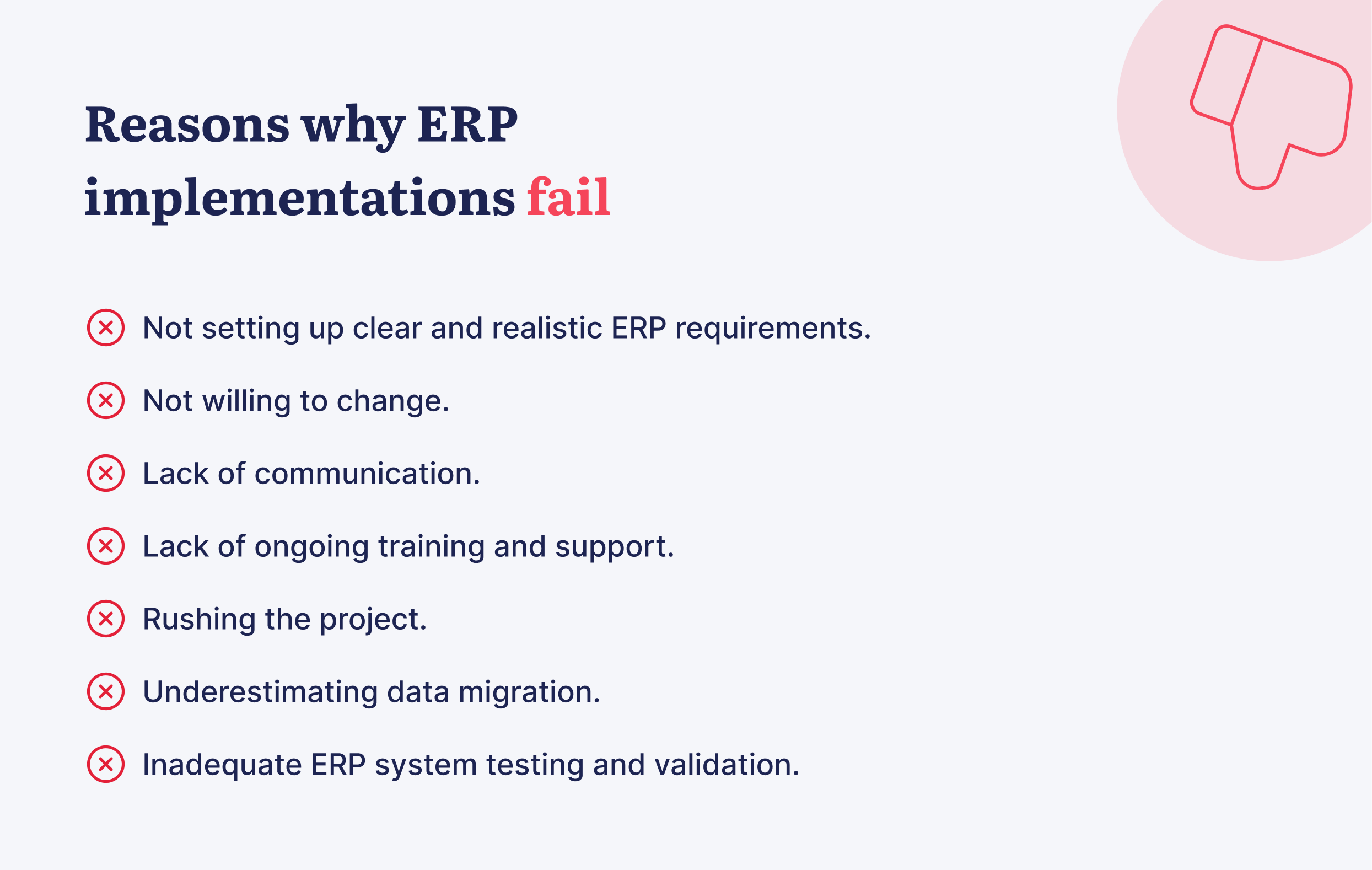 Not setting up clear and realistic ERP requirements. If you don't know your goals, you simply won't achieve them.
Not willing to change. New system adoption will shift your employees' habitual work routines, and either you will educate and convince them why these changes are needed, or you will face resistance, noncooperation, and end up with implementation failure.
Lack of communication. When employee questions and concerns go unanswered, feedback isn't provided or taken into consideration, and no one knows what's going on — you clearly have a communication problem to fix.
Lack of ongoing training and support. Like with any other project, implementing ERP requires people with the right knowledge to get the ball rolling – and to keep it going. Without proper training, employees won't know how to make the most of the new functionality and optimize processes.
Rushing the project. ERP software typically takes about six months to two years to implement. Rushed adoption will result in poor planning and staff training, highly disrupted workflows, and, consequently, more obstacles in the process.
Underestimating data migration. An ERP solution won't automatically increase the quality of poor – or poorly maintained – data. Companies should first clean everything up in order to have a fresh and efficient start to ERP.
Inadequate ERP system testing and validation. Without proper testing, it's hard to tell if an ERP system is effective and doing what it should – or whether something needs to be fixed.
8 Key ERP Implementation Best Practices
Next, let's look at some tips for addressing the above pitfalls during the ERP migration process to ensure the greatest chance of success.
Implement With a Dedicated Team
The success of ERP implementation is highly dependent on the experience and quality of the project team.
When assembling a team, take the time to consider whether the right people are there internally or the process should be outsourced to a third party – or a combination of the two.
Whichever you decide, your team should include an executive sponsor, a project manager, and representatives of key business groups who understand business processes clearly, are respected by executive management, and work well with others.
The implementation team will help establish top-level goals, requirements, and KPIs and conduct day-to-day project management, ensuring that the project stays on time and within budget.
Here're some tips for you to keep in mind when choosing people for the implementation project:
Choose project members by their skills and capability and not job titles. Senior executives may know the business inside out but are often too busy with their day-to-day work to devote the time needed for an ERP project.
Team members must be able to communicate with various stakeholders and be bold enough to bring up controversial questions, such as requesting solutions from the ERP vendor or requesting management to rethink certain configurations or processes.
An ERP project manager should be disciplined enough to follow the implementation plan while remaining open to suggestions for process improvement or change requests. Keep in mind that your organization may need to make some changes to the ERP onboarding strategy based on user feedback and input.
Ensure that team members have the time for the implementation project. Since it will take up a significant chunk of their workday for a while, some of their duties may need to be reassigned.
Confer with cross-functional and end users throughout the implementation process to ensure that each department's concerns are addressed early on.
Define Key Requirements and KPIs
Your team should have an excellent understanding of the goals you plan to achieve by implementing ERP software. These goals may include improving data analysis across the business, pursuing better cost tracking, or simply automating processes to save time and reduce costs.
To make sure you select and pursue the most relevant objectives for your organization, start by analyzing current workflows and key business processes, such as accounting, human resources, supply chain management, customer relationship management (CRM), and inventory management.
An ERP system may help you optimize procurement processes in different ways, e.g., automate payments, improve sourcing and supplier relationship management, and will give you insights into inventory and business expenditures, which are beneficial for future purchase planning.
Once you've determined what goals you want to meet by using ERP software, generate a list of KPIs to help measure the success of the tool's implementation
This article contains a detailed guide on choosing the right KPIs for your business and tracking them.
Develop a Project Management Plan
Well-planned project management is needed in order to achieve business objectives, quick and effective resolution of issues, and overall implementation success.
Before initiating the project, the project manager and implementation team should have access to a good foundation of company objectives and best practices, which might be established by upper management or other involved departments.
Project management best practices include:
Getting to know the needs and concerns of key stakeholders and giving them opportunities for input.
Developing an ERP implementation plan that details the project's scope, budget, and timeline.
Conducting risk assessments and preparing for contingencies.
Scheduling regular update meetings to inform people of the project status and resolve issues.
Creating an environment for learning during the training period.
Adapting business processes to take advantage of the capabilities of the ERP system.
Identifying whether to add more functionality as a project progresses or wait until later in order not to cause confusion and disturb workflows.
Prepare for Data Migration
Data migration is always a risky and time-consuming process, especially if you're consolidating data from various applications to a new ERP system.
In order to prevent loss or corruption of critical information, it is necessary to develop a robust, methodical approach toward data transfer.
Here's what you should do:
Create a migration team responsible for deciding which data needs to be moved, in what way, and how to clean it up. The team should include representatives from the company's different departments who can provide insights into how data is used.
Start testing the new system with a small representative subset of customers and orders as early as possible and then gradually expand to cover all business data, applications, and uses.
Check for potential problems by running tests where users go through their entire day-to-day processes on the new ERP system.
Assign a person responsible for checking compliance with any regulations that affect your business, such as CCPA and GDPR.
Examine source systems for outdated information, redundancies, and inconsistencies, and decide what you want to migrate. Don't import every historical data item, as it will only make it harder for users to find the information they really need. If nobody on your team can give a compelling reason for transferring certain data into the ERP software, you can decide to store it offline or in a separate system.
Collaborate and Communicate
For successful implementation of the new software, everyone involved – from the CEO to the end users – must clearly understand why the system is needed, what it will do, what advantages it will bring, and what to expect during the onboarding process.
In order to achieve this understanding, you need to build trust and support active communication within your entire organization.
Notify all stakeholders beforehand that you're planning to migrate, and describe the importance of the project using presentations, charts, and graphs.
Don't forget about external stakeholders, as ERP implementation may also affect them.
Keep your business partners informed during the process and explain how the changes may affect them.
Ensure Ongoing Training
Quality and quantity of user training can be a real game changer in your ERP implementation process. Some companies expect users to master the new system immediately, but this is not realistic.
In order to get the maximum benefit from ERP software adoption, it's critical to ensure that employees understand new processes and procedures that come with it, how the system works, and how it can help them improve processes.
In addition, training helps to alleviate the fear of change and removes resistance to the new system and workflow changes.
There should be solid training programs for employees based on their roles, e.g., project team training, IT team training, business user training, etc.
A good practice is to deliver training in stages by selecting some users for early intensive training and letting them mentor others by sharing their experience and skills.
This training should be provided by a product and process expert and performed using your company's real-life scenarios.
Don't forget that the training should be ongoing, meaning you have to make sure employees refresh the information at least once a year and that there's a program in place for new workers.
It would also be beneficial to train people with each meaningful upgrade so that you can make the most of new functionality.
Provide Support
After the software solution goes live, most likely, problems will start to arise, and users will start asking questions and requesting assistance. The project team should be ready for such a scenario and able to identify issues as well as provide solutions.
If employees experience the same errors or hurdles, it's often a sign that there's a problem that needs to be addressed by additional training or a system fix.
In order to reduce potential problems, it's good practice to provide employees with support beforehand, such as a knowledge base, help desk support, and forums to help people get up to speed.
Gather End-User Feedback
Start gathering feedback from end-users early on to ensure that the whole implementation process is running smoothly.
In the earlier stages, feedback will help you gain valuable insights into the obstacles employees face so that you can address them in a timely manner before "going live." It will also show how people within your organization work and interact with customers and how you can improve those interactions.
Collecting feedback will also help guide the ERP implementation so that the system can meet real user needs.
FAQ
Who is the head of the ERP implementation team?
The team is led by a project manager responsible for successful ERP implementation.
Their task is to find key players within the organization that will help them develop ERP requirements, business goals, budget for the project, etc.
What are the steps of ERP implementation?
Key ERP implementation phases include:
Planning and collecting ERP requirements.
Analyzing business processes and deciding on ERP customization.
Configuring the software, preparing documentation and training materials, and starting to import data.
Testing ERP system functions.
Going live.
Providing support and fixing problems.
How long does it take to implement ERP software?
The ERP implementation life cycle significantly depends on company size, ERP solution complexity, number of potential users, etc.
But generally, it takes six months to two years to fully adopt an ERP system.
Conclusion
Choosing the right ERP software and properly implementing it remains one of the most challenging tasks for organizations, as it requires precise planning and the utmost dedication from all stakeholders.
Whichever ERP system you choose, some of the best practices for its implementation include:
Determining how each business process can be improved and defining KPIs.
Creating a project team that will curate the implementation process.
Developing a robust, systematic approach for transferring data to a new ERP system.
Creating a trusting work environment for easy collaboration and feedback.
Ensuring ongoing employee training and support.
Gathering feedback and adjusting implementation strategy according to it.
Establishing a project management plan to ensure that the ERP system covers business needs.
ERP systems are great for collecting and compiling data across the organization.
But if your organization struggles with such issues as late payments, missing invoices, high PO processing costs, and lack of spending transparency, then it's definitely time to find a separate solution for your procurement and spend management needs.
Start Precoro's 14-day free trial or book a demo to see how more than 1000 of our customers achieved 2.5x faster approvals, carried out 80% less manual data entry, saved 50% of PO processing costs, and more.
---