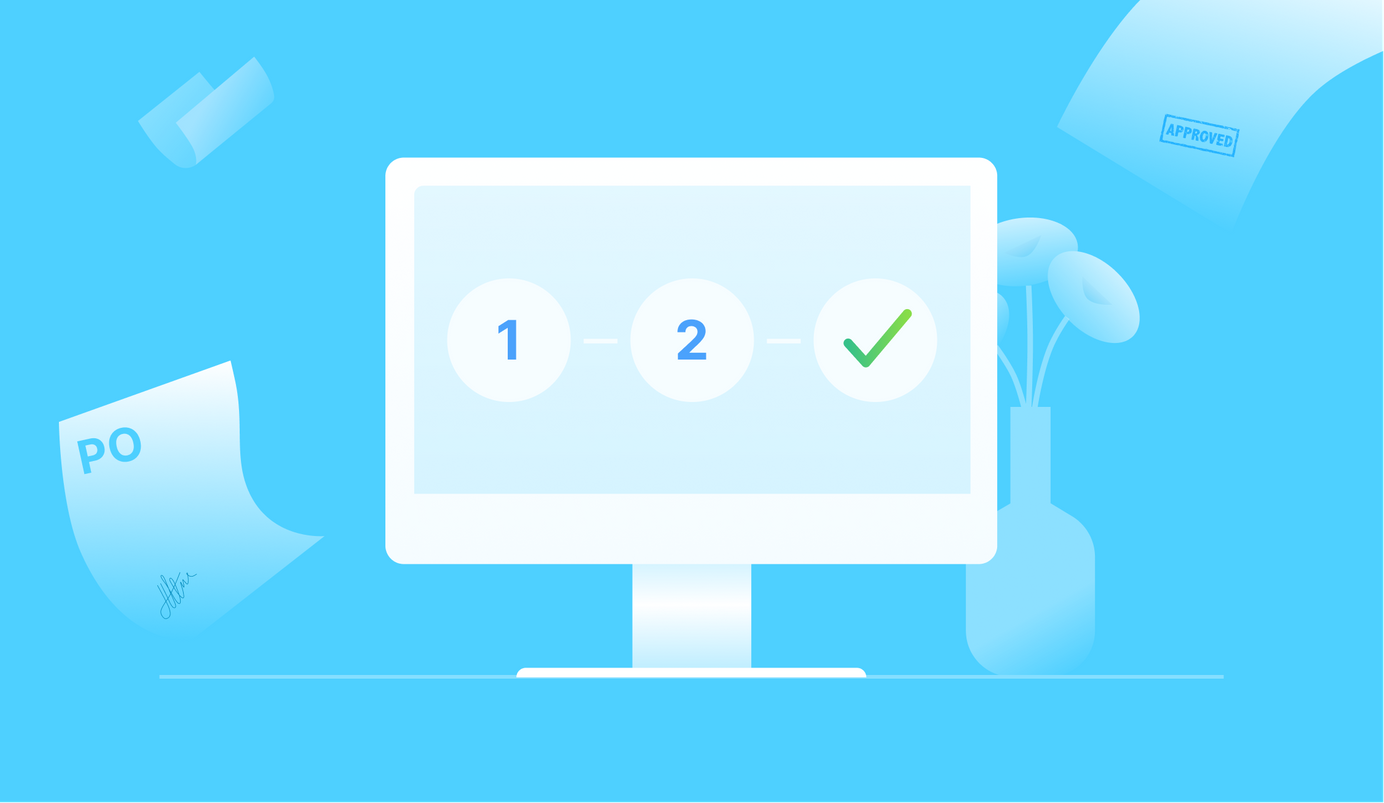 9 min read
Purchase Order Management: a Key to Efficient Business
Ways to make sure your company's purchase orders are managed smoothly, cost- and time-efficiently, with the best procurement practices brought to life.
The world is speeding up and changing rapidly. Has your company found a way to keep up with it?
When it comes to business development, one wants to focus on the major strategic goals and optimize processes across all departments.
Efficient purchase order management helps to have essential business needs covered while engaging as few resources as possible.
Let's dive deeper. If you are familiar with the subject, feel free to skip to what interests you most.
·      Purchase orders in a procurement lifecycle
·      What is purchase order management, and why is it important
·      How does purchase order management work
·      Best practices to optimize purchase order management process
·      Pros of using purchase order management software and where to start
·      How you can benefit from PO management
·      FAQ
Purchase Orders in a Procurement Lifecycle
A purchase order (or PO) is an official document sent by a business (buyer) to an external supplier (vendor) that confirms the intention of purchasing specific goods or services and contains all the necessary information about it.
Once a supplier approves the purchase order, it becomes a legally binding document. Purchase order process is an integral part of a procurement cycle as a whole.
What is Purchase Order Management, and why is it Important
Purchase order management is a set of established principles and practices that ensure availability of complete, up-to-date information on specific or multiple purchase order(s).
Purchase order management is important for meeting procurement goals while maintaining budget wisely.
It involves defining specific actions and privileges for all participants of the supply chain and acting upon them using specialized tools and means of communication.
Customary ways to manage purchase orders include spreadsheets and e-mails, often followed by phone calls. In this case, minor changes of information lead to unnecessary complications.
Communicating repeatedly regarding the same purchase order might make sense for a small project but becomes extremely unsustainable while scaling.
Efficiency-oriented procurement managers can enhance performance using automated digital solutions customized with regard to the organization's specific needs.
Software allows for a general overview and in-depth detailed information on purchase orders – all in one place.
How does Purchase Order Management Work
While every organization has a unique PO process in place and management practices are tailor-made, these are the most common steps.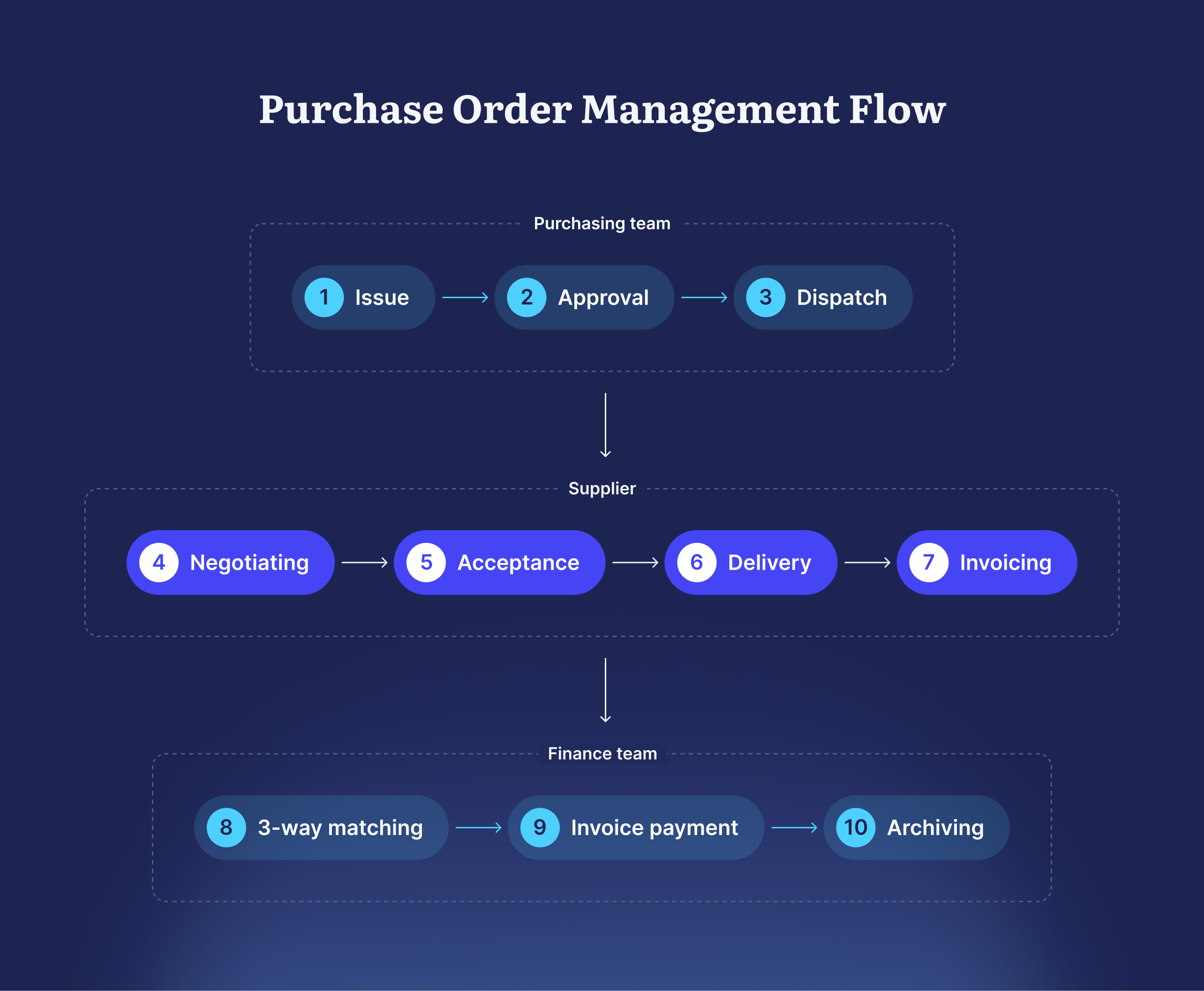 Issue of a PO. A relevant department issues a purchase order containing PO number, companies' details, information about goods or services that ought to be bought, and delivery. It can be created from a scratch or from purchase requisition.
Approval. PO goes through the approval workflow established in the company. There can be none, one, or several stages. If not approved, PO is returned for review.
PO dispatch. A purchase order is sent to a vendor via predefined channel of communication.  
Negotiating PO details. Upon receiving a purchase order, the vendor goes through it to confirm whether it is possible to meet all the requirements such as prices, amount, delivery terms, etc. If necessary, adjustments are negotiated.
Acceptance of PO. When the vendor confirms accepting PO, it becomes legally binding.
Delivery. Required goods or services are delivered to the buyer in accordance with the accepted purchase order.
Invoicing. The supplier then issues an invoice for purchased goods or services.
Three-way matching. Buyer conducts control and matching of the purchase order, goods received note, and invoice.
Invoice payment. Upon successful matching, an accounting department is notified, and the invoice is paid in due time.
Archiving. Purchase order, goods received note and invoice are archived in compliance with legal requirements and internal company guidelines.
Best Practices to Optimize Purchase Order Management Process
Defining and implementing effective purchase order management practices benefits and optimizes purchasing process. It helps minimize counter-effective actions and boost productivity. Following are several suggestions to optimize purchase order management.
Analyze and customize each workflow
Workflows might differ based on the company size and type and even vary internally across departments. It is important to evaluate current inventory management practices and to analyze systematic issues.
Find bottlenecks in the current process and consult them with competent decision-makers and stakeholders. This will allow you to design a solution that meets the specific needs of the department in question.
Provide written guidelines to processing purchase orders
It's always a good idea to design specific instructions and describe each role. It can be an actual printed handbook or a virtual knowledge base – as long as it is easily accessible for everyone across the supply chain.
Making sure that everyone involved in the procurement process follows the same procedures is vital for ensuring smooth collaboration and avoiding misunderstandings.
For instance, it is necessary to specify an inventory threshold, which calls for a purchase request. It should be clear which employees have the authority to request a purchase, who can then issue a PO, and whether it must be verified.
Simplify
Only address relevant questions to responsible people. Do not bother everyone on the team with issues that can and should be resolved by specific members.
For example, it is pointless to send PO to every procurement agent for confirmation when only one approval is required.
Also, the person who issues purchase orders usually has no business dealing with invoices – that is a domain of the financial department.
While designing a workflow, remember – each employee plays a specific role. Simplify to avoid any unnecessary movements.
Analyze suppliers' KPIs
Using procurement management software, gather trustworthy insights on supplier performance.
Set specific markers for each vendor and have statistics available at any time. Having data at hand, select the best vendor for each transaction.
Implement modern solutions: digitalize, automate, integrate
Leave paper-based procurement models in the past and avoid unnecessary complications stemming from unreliable manual processes and extra documentation.
Choose a software solution that will allow you to go digital, automate work processes, and considerably improve the purchasing process.
Human error is inevitable when working with dozens of POs in multiple spreadsheets or trying to track the progress via e-mails or calls.
Automation helps minimize the chance of making a mistake or missing essential information.
The functionality of procurement software allows painless and predictable scaling without substantial expansion of procurement team.
Pros of Using Purchase Order Management Software and Where to Start with it
Automated solutions bring multiple benefits across the whole supply chain. Procurement software like Precoro addresses complex issues faced by procurement managers, while staying easy and intuitive to use.
Don't be busy, be productive: Optimize creating POs
Purchase order creation should be smooth and straightforward. With a purchase order management system in place, you can create POs in a few clicks.
Precoro's flexible system configurations allow tailoring PO templates to your needs. There is no need to start from the blank page.
Even better — if you ever need to repeat any purchase, no need to create new PO. Repeat a previous one, review, submit.
With purchase order software it is possible to eliminate numerous time-consuming activities and reuse much of the information.
A minute of planning saves hours of doing: Use blanket POs
If your procurement process involves recurring purchases over an extended period of time, creating POs one by one might not be sustainable. To streamline the process, use Blanket POs.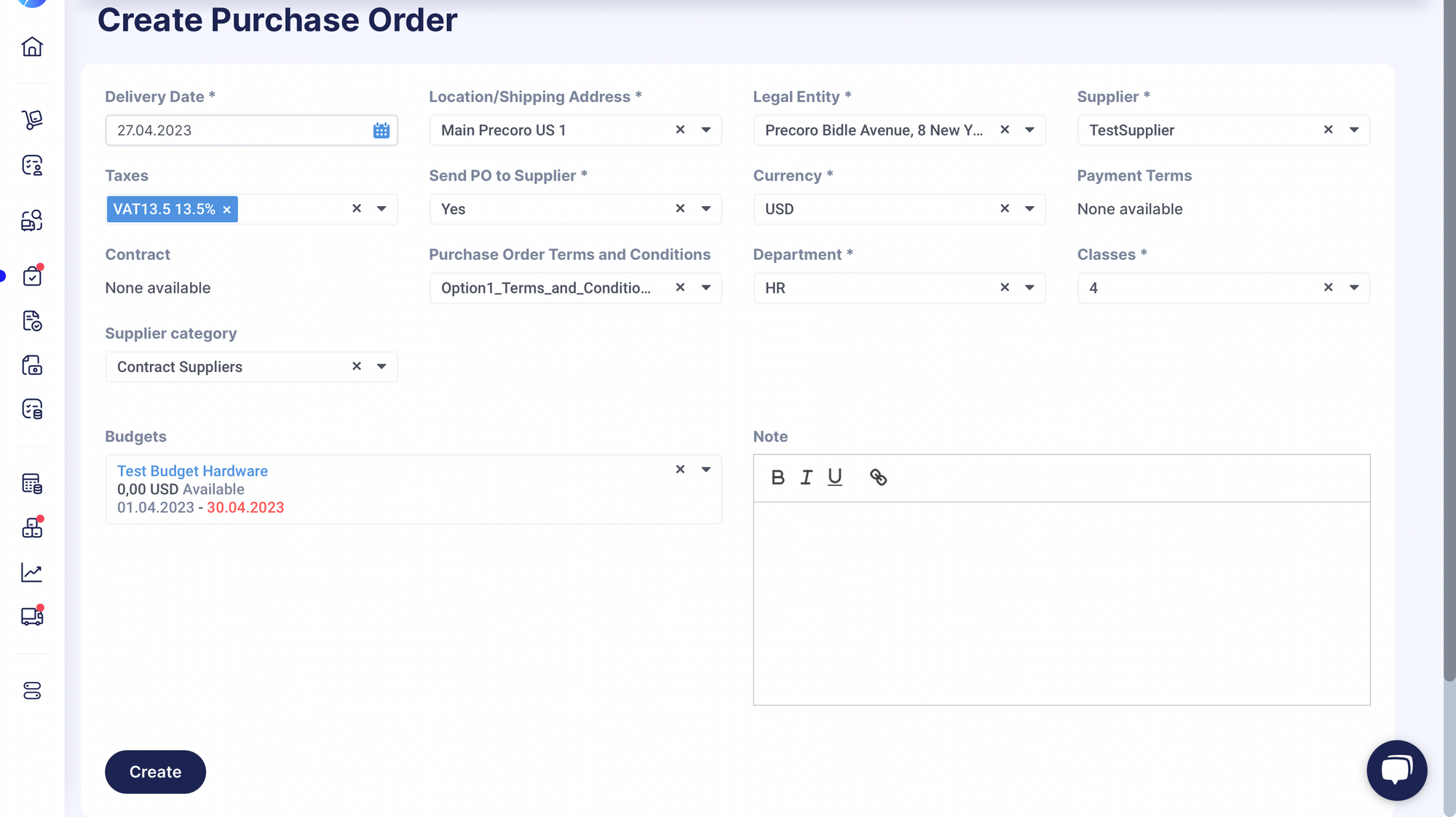 A blanket purchase order is a custom agreement between vendor and buyer that defines purchasing specific products or services repeatedly for a fixed price for a specific period of time.
Blanket POs in Precoro are created either per specific Items to order or per Total amount to spend.
Using BPOs eliminates repetitive efforts and allows for accurate planning. Striking a deal with a vendor and committing to it by initiating a blanket PO leads to a predictable tomorrow regardless of potential market fluctuations.
No one knows your business as you do: Create a custom approval workflow
Procurement manager designs a clear approval workflow based on company size, number of issued POs and available budget, and implements it by defining users' permissions.
PO approval process should be neither too rigid nor too lenient. Overly complicated procedures will lead to a decline in efficiency due to the constant bureaucratic agenda.
On the other hand, keeping approval strategies too flexible, the company risks losing money by excessive or suboptimal ordering. Precoro allows customizing approval workflow as much as your organization requires it.
Define a cost threshold or span that needs approval, assign approvers based on locations or departments, or create your own criteria. Set subsequent approval steps to automate the whole process.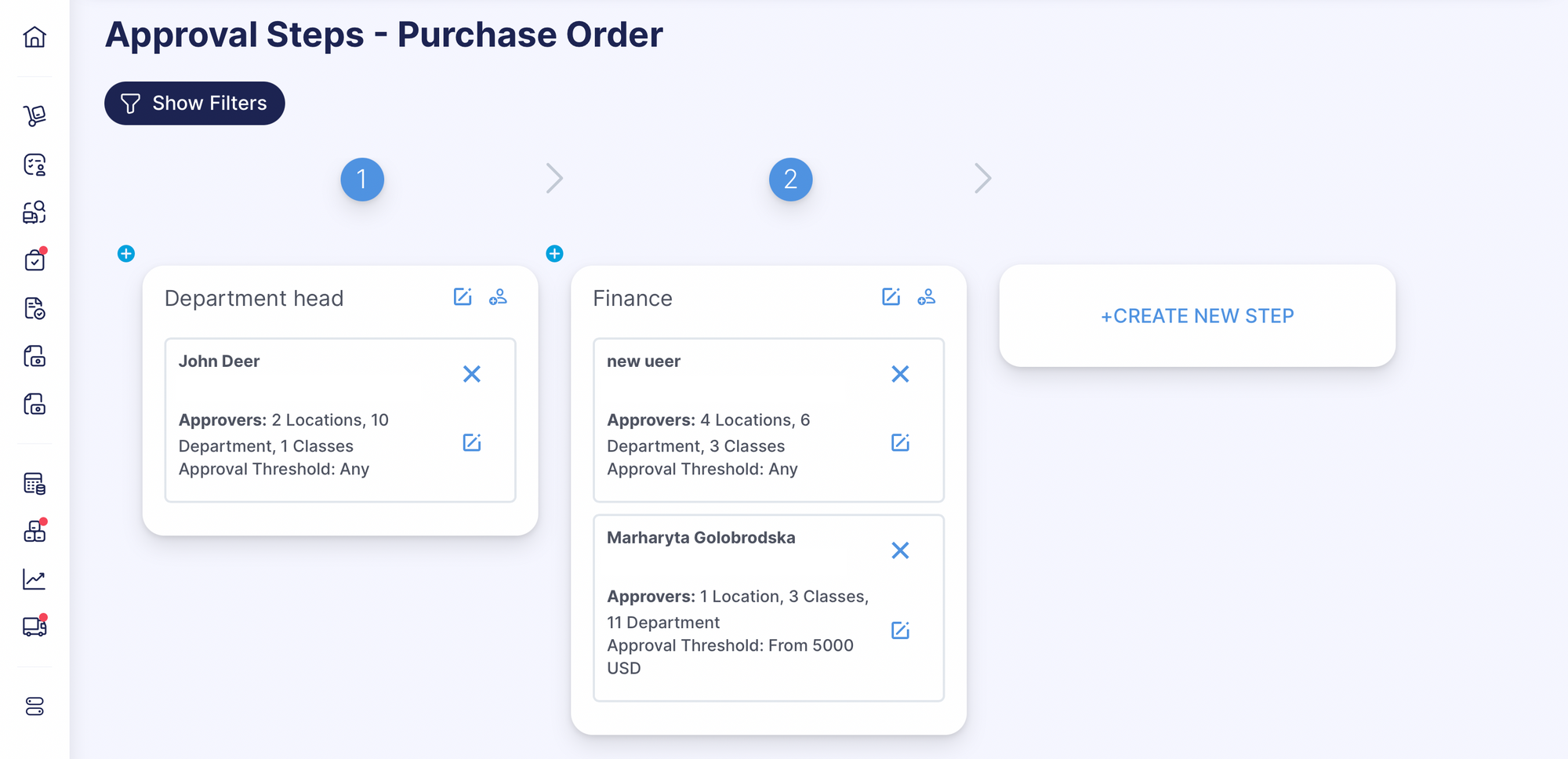 Stay on track: Real-time PO tracking
For everyone involved in the procurement process, it is important to have information available at any given moment. With digital solutions, there is always up-to-date information on each PO.
Instant notifications on PO status updates make tracking progress easy and allow for cutting back on unnecessary inquiries.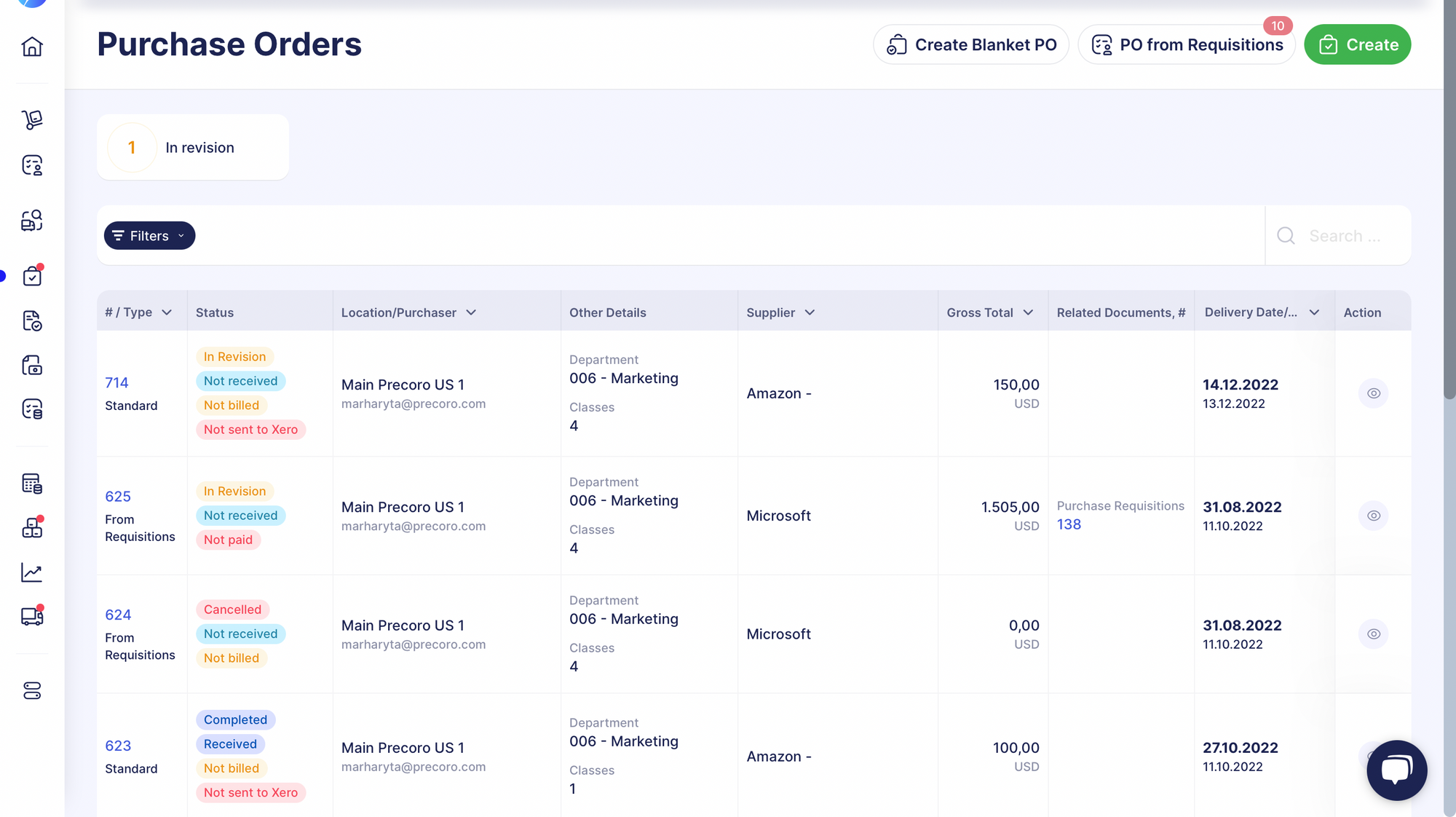 The whole is more than the sum of its parts: Build synergy with integrations
An efficient PO management tool should complement the current accounting system of the company.
Precoro has partnered and developed integrations with QuickBooks and NetSuite to introduce real-time data sync and enhance purchasing and accounting processes.
Integrated software solutions replace time-consuming manual entry of information in multiple places.
Through the whole process of obtaining goods, from issuing a purchase requisition through PO dispatch to invoice approvals, purchasing and accounting should be synchronized.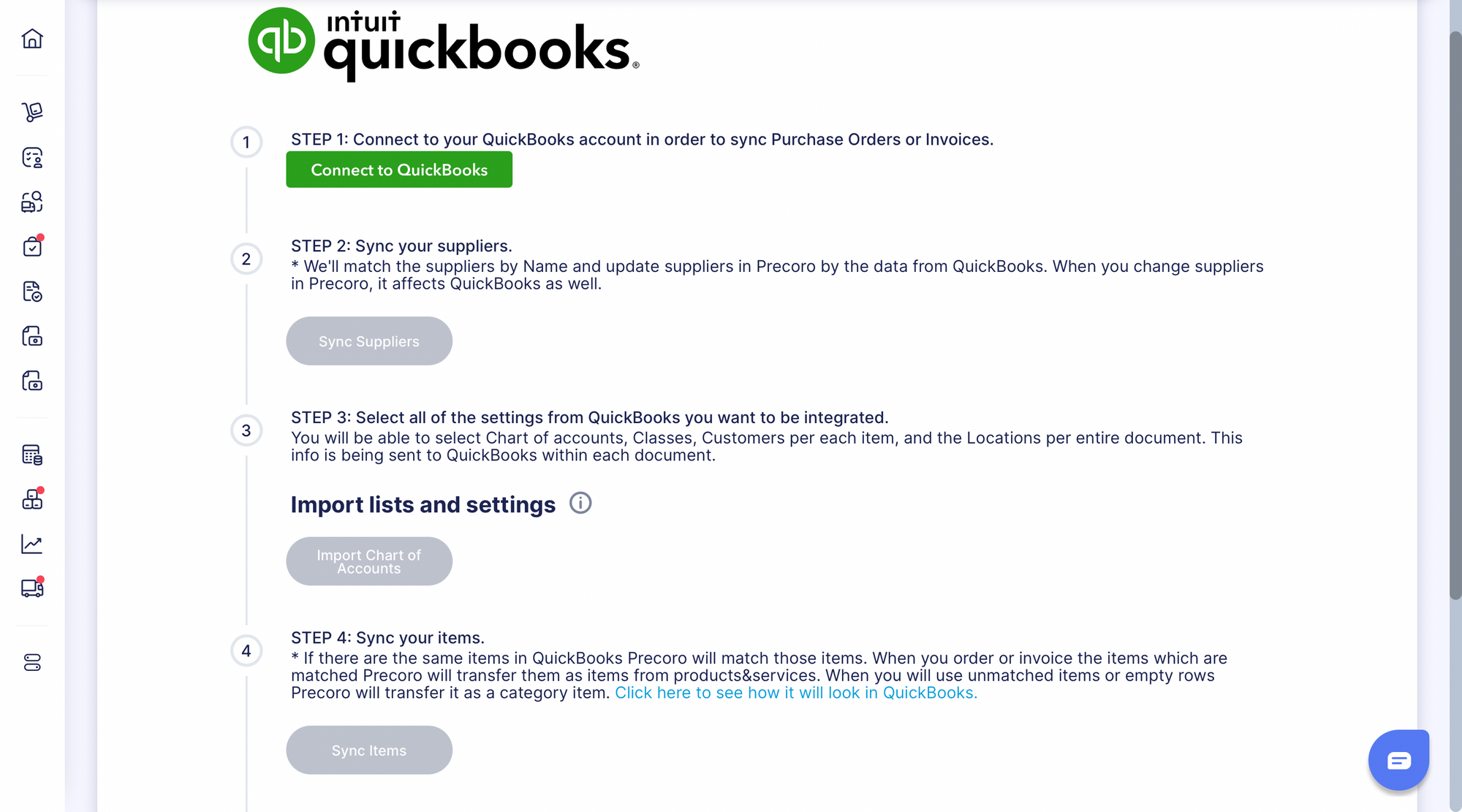 Effective collaboration across departments helps not only streamline processing POs and gain better control over the spending pipeline but also substantially reduce the workload of teams and decrease operational costs.
Being organized is being in control: Optimize vendor management
Managing POs is better with an efficient Supplier management system. It's a go-to practice to create and maintain a centralized database of suppliers' verified information.
Then have items from each vendor uploaded to the system, available instantly. Also in Precoro, we take collaboration with procurement partners to the next level.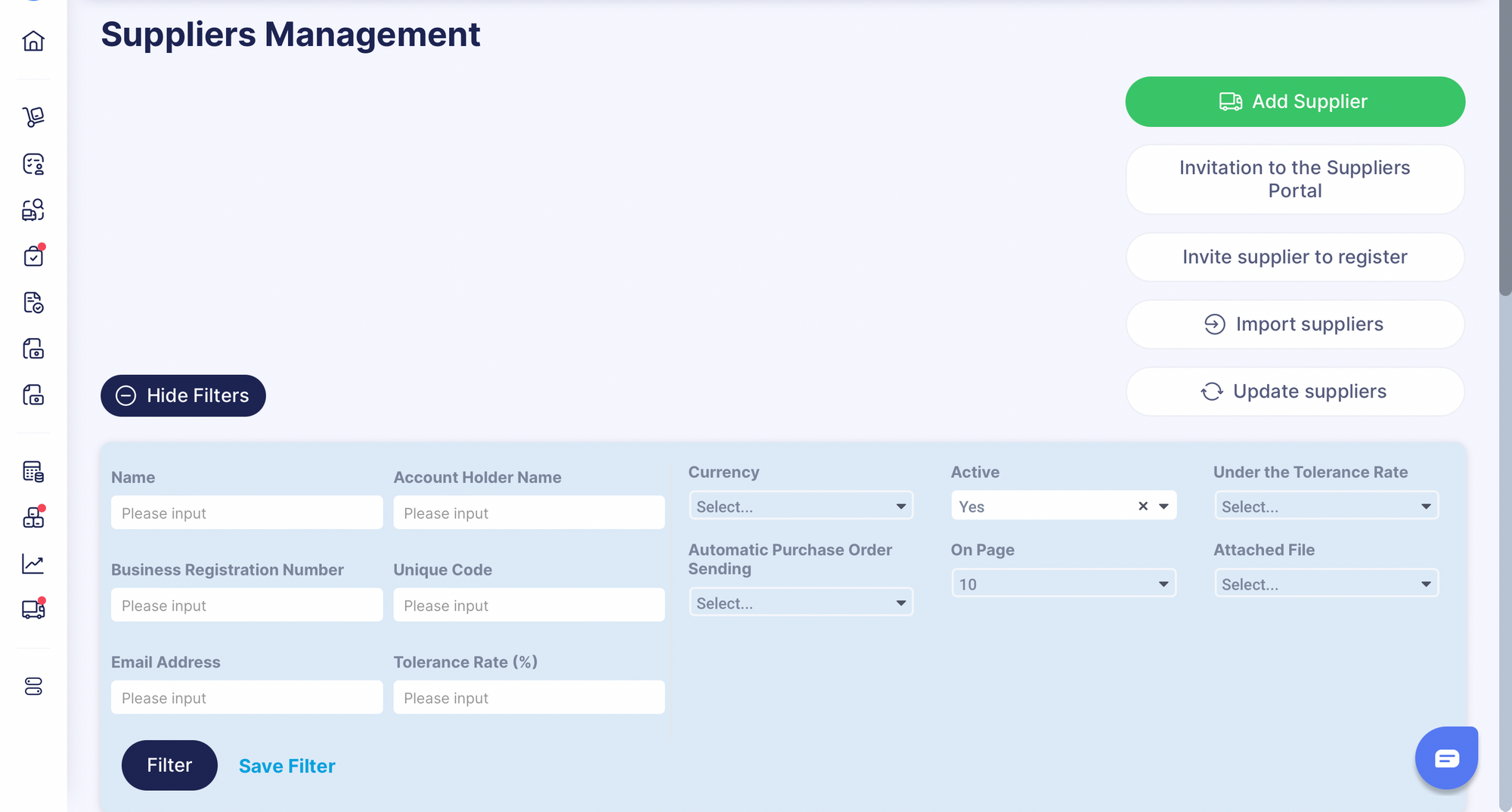 Organizations can set up the Supplier Portal and allow them to get purchase orders instantly, communicate directly in the system, create invoices on the spot, etc. — fewer emails, calls, miscommunications.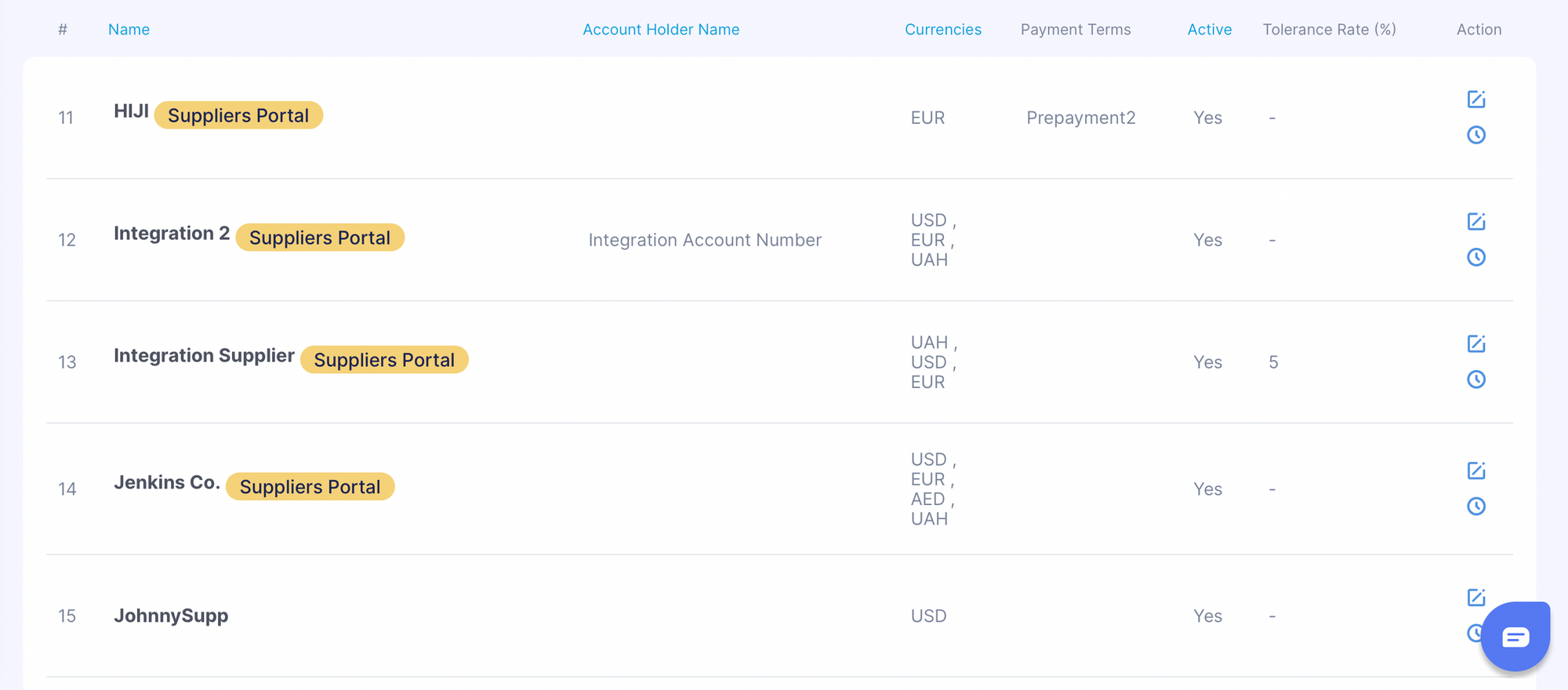 Keep your information safe
It is important to have information archived safely and available for inspection at any given moment, without having to go through countless spreadsheets or actual folders with printed documents.
Precoro is cloud-based, as it is the safest up-to-date choice, which is constantly upgrading.
How You Can Benefit from PO Management
Purchase orders management proves to be a valuable component of any successful business, especially for those aspiring to grow.
Every business has limited resources available at any given moment, and it's important to use them wisely, keep track of expenses and optimize workflows.
Lack of structure and uniformity in how purchase orders are created and submitted is still a widespread issue.
There's now a mix of paper forms and spreadsheets, e-mails, and even phone calls, which prevents stakeholders from having up-to-date information on purchasing.
PO management helps avoid mistakes as well as fraud and minimize unnecessary layers of manual administrative work.
Managing purchase orders means getting a better understanding of spending and making informed purchasing decisions.
FAQ
Which companies should invest in improving purchase order management?
The agenda of managing POs should definitely be on the table in medium-sized and large organizations.
It's possible to process all the information ad hoc and intuitively when it comes to micro and small enterprises.
However, when planning to grow and scale up business operations, every business should plan the procurement cycle and strategize on managing POs.
Is there a universal scenario for effective PO management?
No. Each company has different structure and objectives, and therefore needs a unique approach. While there are general principles of what makes efficient PO management, specific steps differ from case to case.
You should analyze current flow of procurement, recognize weak spots and define a desired outcome. Based on that, management strategy and implementation tools can be selected. Precoro consultants will be glad to help you with that.
Is implementing PO management software worth the trouble?
Absolutely. Procurement software like Precoro is easy to implement and support. It's intuitive in use and therefore onboarding process should be smooth and fast, taking 2 weeks on average.
Also, with possibility to use only selected modules that your organization needs, you can prevent overpaying. Precoro's pricing models are flexible and designed to meet budget requirements of all types of clients.
To Sum Up
A purchase order is an official document issued by a business for an external supplier and contains necessary information about buying goods or services.  
To ensure that every purchase is relevant, well-timed, and cost-efficient, companies adopt and customize practices of purchase order management.
It is crucial to ensure that employees follow a standard set of guidelines and use the best available technical solutions.
Automation allows for the efficient processing of purchase orders. It provides managers and everyone involved in the procurement process with an up-to-date progress overview, minimizes mistakes, makes the whole process time-efficient, and has every payment justified.
Managing purchase orders in specialized procurement software like Precoro allows businesses to meet their objectives while maintaining spending in the most optimal way.
---