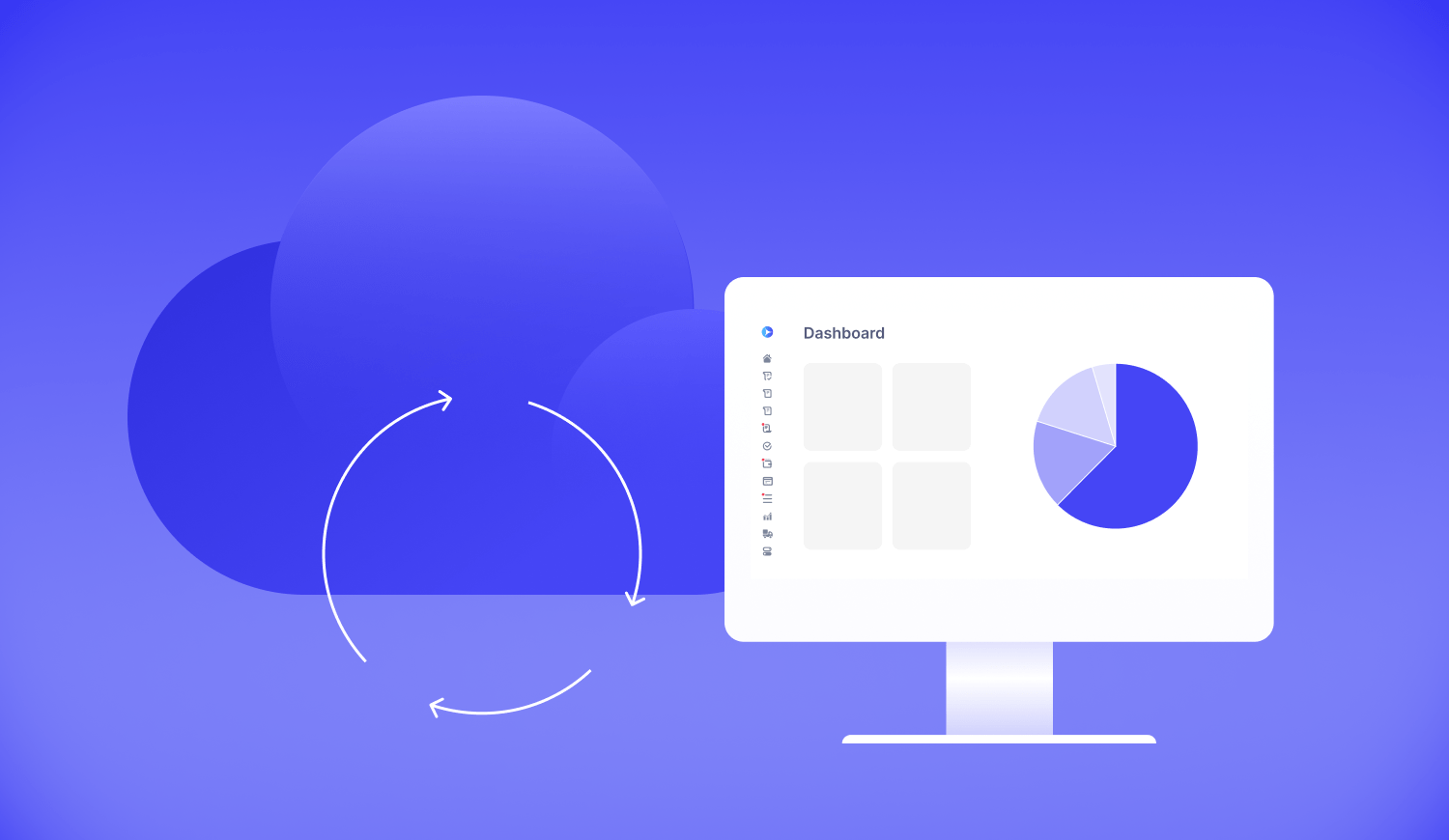 10 min read
Cloud Procurement: All You Need to Know
All you want to know about cloud procurement and its categories. Tips for smooth implementation, best strategies, and benefits for your business included.
If you're reading this now, then you've probably noticed how outdated traditional procurement systems recede into the past and are replaced by new modern solutions.
Digital transformation has already revolutionized the business world, and it's showing no signs of slowing down.
According to Techjury, 67% of enterprise infrastructure is cloud-based, and 81% of all enterprises have a multi-cloud strategy already laid out.
Keep reading to find out how your business can benefit from using cloud procurement software and what steps you need to take to implement the best strategies into your procure-to-pay cycle.
What is Cloud-Based Procurement?
Since cloud procurement is based on cloud computing services, it's important to understand how this technology works, its types, and its features.
So let's start with a quick definition of cloud computing.
In short, cloud computing allows accessing different IT resources via the Internet with pay-as-you-use pricing, rather than downloading them to your computer's hard drive.
These services include:
Software;
Analytics;
Networking;
Data storage;
Servers and more.
Thus, the cloud provides the ability to store and access data via the Internet, while cloud procurement systems automate such processes as data entry, cost analysis, vendor selection, and project tracking.
All this functionality helps save costs, choose the best vendors, ensure compliance, appraise supplier risk, and streamline procure-to-pay cycle.
Three Categories of Cloud Procurement
Cloud procurement can be built on different models that cloud service providers offer.
Let's take a look at them:
Software-as-a-Service (SaaS)
In short, SaaS allows using cloud procurement applications over the Internet, freeing you from complex hardware and software management.
You don't need to install and maintain software, all you need is a stable Internet to access end-user solutions.
SaaS providers handle program scaling, for example, by adding more database space or more computing power as usage increases.
The provider also ensures data encryption, regular backups, updates, and patches.
Most out-of-the-box procurement systems are based on the SaaS model.
One such procurement software solution is Precoro, which helps companies automate the purchasing process, get better insights, and focus on more critical tasks for their business.
With Precoro, you have all the necessary features for the procurement process to run smoothly:
All the PRs are in one place with clear statuses and request analytics;
Instant PO generation from request or from scratch and their automatic submission to suppliers;
Approval workflow with smart notifications for each approver in line;
Real-time Reporting with customizable fields for custom reports;
Integration with QuickBooks Online, Xero, NetSuite, etc.;
Catalogs for quick and easy item selection;
PO, Receipt, and Invoice 3-way match to prevent incorrect payments from happening;
Budget Management dashboard with real-time insights and clear reports.
All these functionalities help the procurement process to be fast, accurate, and profitable for the business.
And here is how this process goes in cloud software:
After initiating the purchase, the software compares the requests with the company's workflow rules.
The system then sends the application through the approval chain, notifying each approver.
After approving the request, the system creates a corresponding PO.
When an invoice arrives, the software matches it with the PO, receipt, and contract terms.
The payment for a procurement solution is typically based on such factors as the number of users, usage time, amount of data stored, and the number of transactions processed.
SaaS allows your organization to quickly get started with minimal start-up expenses.
Platform-as-a-Service (PaaS)
This model provides customers with a platform to develop, run, and manage applications without creating and maintaining cloud systems.
The PaaS provider hosts servers, storage, networks, operating system software, development tools, and databases.
Typically, customers can pay a flat fee to provide a certain amount of services to a certain number of users or choose a pay-as-you-go model.
PaaS can be delivered through public, private, and hybrid clouds to provide application hosting and Java development services.
So, this cloud model is for software developers that can create and adjust procurement software to their liking.
Unlike in SaaS, in PaaS you develop and update the procurement program and manage databases by yourself.
This model is most popular in the following cases:
If there are a large number of internal tools that need to be integrated with the procurement process.
A company has non-standard procurement processes and thus special needs that most SaaS providers cannot meet.
When a company has changing procurement flows that require different functionality at different stages of development.
Infrastructure-as-a-Service (IaaS)
IaaS is a cloud computing service in which businesses rent servers for computing and cloud storage.
It provides memory, storage, networking, and related software, such as operating systems and databases.
This solution gives the end user flexibility when it comes to hosting custom programs or standard software, as well as providing a shared data center for storage.
Thus, IaaS can be used to deploy and run regular software and business applications, such as procurement software.
This model is most often used by companies that want to have full control over their procurement platform, as well as growing organizations that are not yet sure about the application and expect that it will develop over time.
Let's recap. Think of the above-mentioned models as a pyramid:
SaaS is at the top of the pyramid. It offers ready-to-use solutions for your procurement needs. Most modern SaaS platforms are built on IaaS or PaaS platforms.
The next component of the pyramid is PaaS. It's most often built on the IaaS platform to reduce the need for system administration. This allows you to focus on developing procurement applications instead of infrastructure management.
The base of the pyramid is IaaS. This model gives you maximum flexibility when it comes to hosting custom procurement applications and providing a common center for data storage.
Cloud Procurement Strategy
If you want the transition to cloud-based procurement to be smooth, it's essential to follow a time-tested strategy.
The following tips will help you minimize mistakes, identify savings opportunities, eliminate maverick spending, and enforce policies.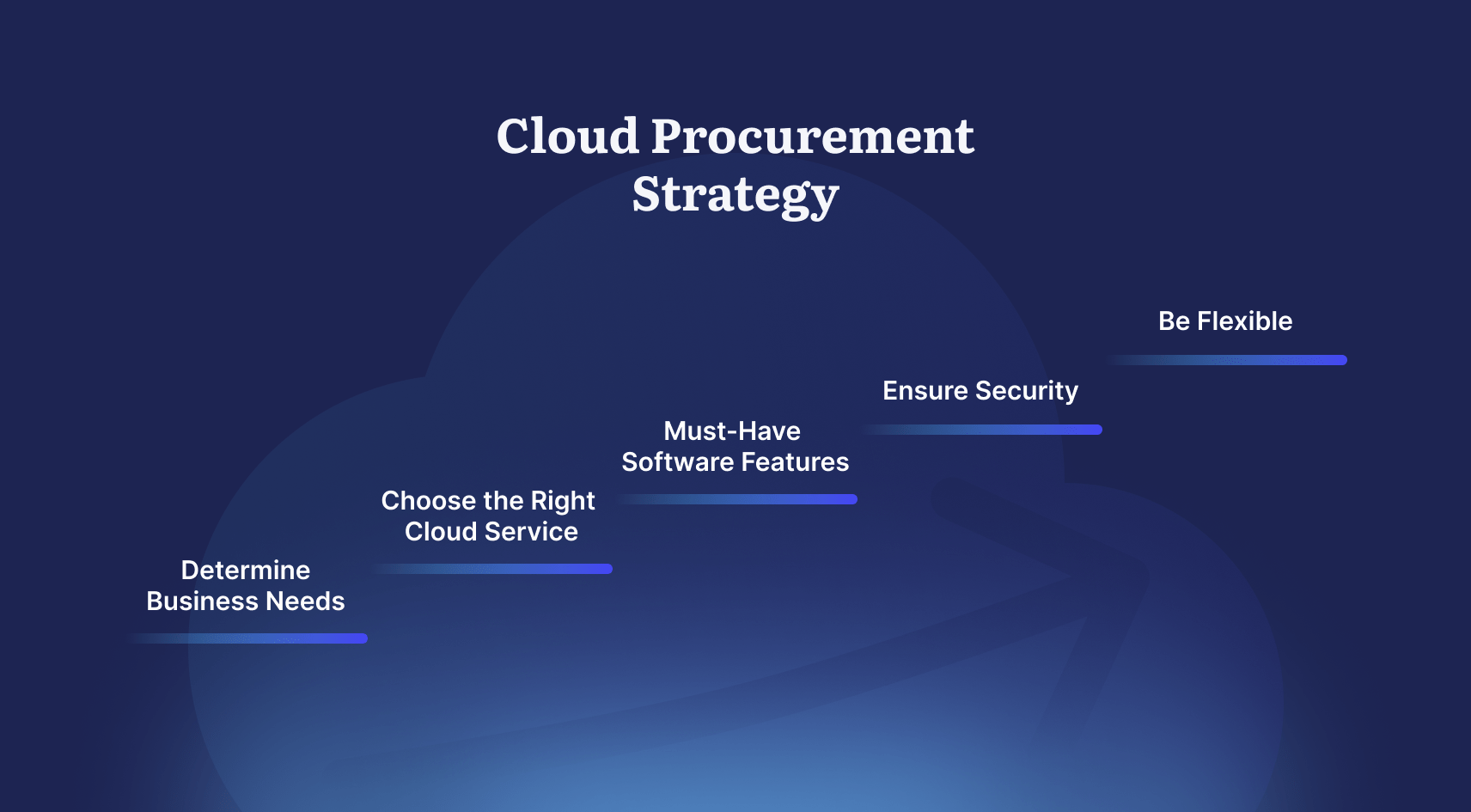 Step 1. Determine Business Needs
To align your procurement strategy with your business goals and set priorities correctly, you need to understand your organization's needs clearly.
The CIO and other decision-makers must involve key stakeholders in the process from the outset so that they have a clear understanding of both the goals and the desired business outcomes for their company.
Try to write down each potential business problem, goal, or scenario and the corresponding specific steps to be taken in the chosen direction.
Step 2. Choose the Right Cloud Service
Once you define your organizational needs, it's time to find a cloud solution that best meets them.
Suppose your company needs special functionality that you can't find in SaaS solutions, but you don't want to mess with server building and database management.
In that case, the PaaS model is an excellent fit for you.
On the other hand, if you have specific security concerns that require a private cloud or isolated databases, or your company needs higher customization and the ability to scale resources quickly and regularly, explore IaaS options.
Regardless of which of these two service models you choose, before deciding on a vendor, pay attention to the following:
Check if the platform is easy to navigate and access.
Read through the provider's SLAs to determine uptime guarantee and support.
Check that your potential vendor has fault-tolerant techniques or disaster recovery to ensure the constant availability of their services.
Review the provider's performance, including their business history, customer satisfaction, product reviews, and whether the vendor has a history of legal issues.
Make sure that the provider caters to what you need, as some will focus on larger corporations while others focus more on small and midsize businesses.
In case your company has standard procurement processes and you don't have time and resources to build your own software, it's best to stick with SaaS.
Step 3. Must-Have Software Features
If you've decided that complex hardware and software management isn't for you, then let's see what to look for when deciding on a SaaS platform.
When choosing a cloud service provider, give preference to those who offer a free trial.
The trial period will help you ensure that the cloud service meets your business requirements.
Here are some must-have features to look out for:
Customer support;
Budget management;
Three-way matching;
Seamless integrations;
Spend insights and reports;
Customized as per your needs;
Vendor management capabilities;
Simple and easy-to-use interface.
Keep in mind that the amount of functionality should correspond to the size of your business.
Tip: If you're a small business, avoid procurement solutions with a lot of extra functionality. This will save both money and time.
Step 4. Ensure Security
Governance in a cloud environment differs from the traditional one.
Carefully read the user agreement and use a cloud service that encrypts your files both in the cloud and on your computer.
Encryption ensures that third parties do not have access to your personal information.
In order to secure cloud hosting, the company providing service should be ICO- and SOC-certified.
Compliance with GDPR is also a decisive factor when choosing a service provider.
Step 5. Be Flexible
One of the key benefits of cloud computing is its flexibility, and CIOs mustn't be burdened by the procurement process that is inflexible and constrained.
Having the right business environment and the proper governance is undoubtedly important, but at the same time, flexibility is needed for both current and future growth. Otherwise, the benefits will be lost before the transformation begins.
The Advantages of Cloud-Based Procurement
With procurement in the cloud, businesses can handle requisitioning, sourcing, and purchasing with ease.
Cloud solutions allow you to create purchase orders, ensure that prices and terms negotiated in the contract are fulfilled, manage revisions to documents, and streamline the procurement process.
In addition, automation leaves no room for error in critical tasks, such as purchase orders, delivery schedules, and approved budgets.
The visibility and availability of spending analytics provided by procurement cloud software help relieve the burden on the procurement team and have a clear vision of business expenditure.
They're also beneficial for all decision-makers in the company.
If you're still in doubt, let's take a closer look at the benefits that cloud services can offer:
Cost-Effectiveness
According to The Hackett Group, procurement automation reduces staff costs by as much as 21%.
Cloud procurement systems provide quick access to spending history and help managers make better decisions on purchases.
They allow you to conduct cost analysis that helps identify and eliminate maverick spending.
In addition, automation will help you reduce labor costs, as fewer people are involved in the process.
Ease of Use
Cloud procurement solutions are easy to use and do not require long-term user training.
As a result, businesses can use cloud-based procurement software to meet evolving market demands rapidly without the need for expensive upgrades.
The ease of use eliminates maverick spending as the software entirely automates purchasing from an authorized supplier.
You can customize the platform to suit your needs and get support from professionals on any issue related to the program.
Ease of use is also due to the fact that you no longer need to perform complex manual work.
The program facilitates everything from a purchase request to the collection of business expenditure information.
Spend Visibility and Control
Cloud-based procurement software analyzes spend information and provides product-level visibility throughout the organization.
This way, you have all the necessary control over the company's spending, which helps determine saving opportunities, streamlines the supply chain, and maximizes the value of each contract.
Precoro offers clear reports that are easy to interpret and help improve decision-making and strategic planning.
Seamless Integration
Cloud services provide visibility between departments and excellent inter-department communication.
With Precoro, any accounting systems or ERPs, such as QuickBooks, Xero, or NetSuite, are easily integrated with your procurement workflow.
This end-to-end integration capability offered by cloud procurement platform eliminates room for error, data redundancy, and manual intervention, ensuring the best procurement process experience.
Power of E-Invoicing
Thanks to an efficient three-way matching process offered by cloud procurement solutions, payments to the vendor are processed on time.
You can compare an electronic invoice with a receipt and purchase order in a couple of clicks.
Accounts payable teams can use electronic invoicing to automate the verification of invoices before sending them for approval. These checks ensure that all figures are accurate.
In a video below, you can learn why cloud-based procurement is essential to efficient business strategy:
FAQ
What savings should I expect after the implementation of a SaaS procurement solution?
With cloud software, you can expect 8% to more than 20% savings in all procurement activities.
The difference mostly depends on how efficiently your team managed costs before the software implementation.
Organizations don't need large initial investments or significant maintenance costs to use SaaS solutions.
Cost-saving opportunity is also due to minimizing costly human errors, eliminating maverick spending, and avoiding duplicate invoices.
What are the future insights of cloud computing and its advancements?
Experts predict almost unanimous reports that over the next 18 months, more than 50% of all business communications and network infrastructure will be stored and managed through cloud systems.
This change will affect how companies use procurement to both buy and sell products around the world.
As advanced automation evolves, businesses will spend less on complex systems, access more options, and improve supply chain communication.
Conclusion
Cloud services allow storing and accessing data via the Internet, while cloud-based procurement automates the process from purchase to payment.
There are three types of cloud computing: Infrastructure as a Service, Platform as a Service, and Software as a Service. The main difference between them lies in cost and the level of control of resources in the cloud.
To successfully move to cloud-based procurement, involve key stakeholders in the process from the outset so that they have a clear understanding of both the goals and the desired outcomes for their company.
Make sure the platform you choose contains all the essential features for a simple and efficient procurement process.
Carefully read the user agreement and use a cloud service that encrypts your files both in the cloud and on your computer.
The company providing service should be ICO- and SOC-certified as well as GDPR-compliant.
If you follow the above-mentioned tips and choose the right cloud-based procurement platform, you will soon see how cloud solutions provide cost savings, offer seamless integration capabilities, streamline supply chain interactions and companies' spend culture.
Cloud technology has already helped thousands of organizations improve their procurement processes.
Want to experience it for yourself? Just start Precoro's free trial and let the best procurement platform do the job for you.
---