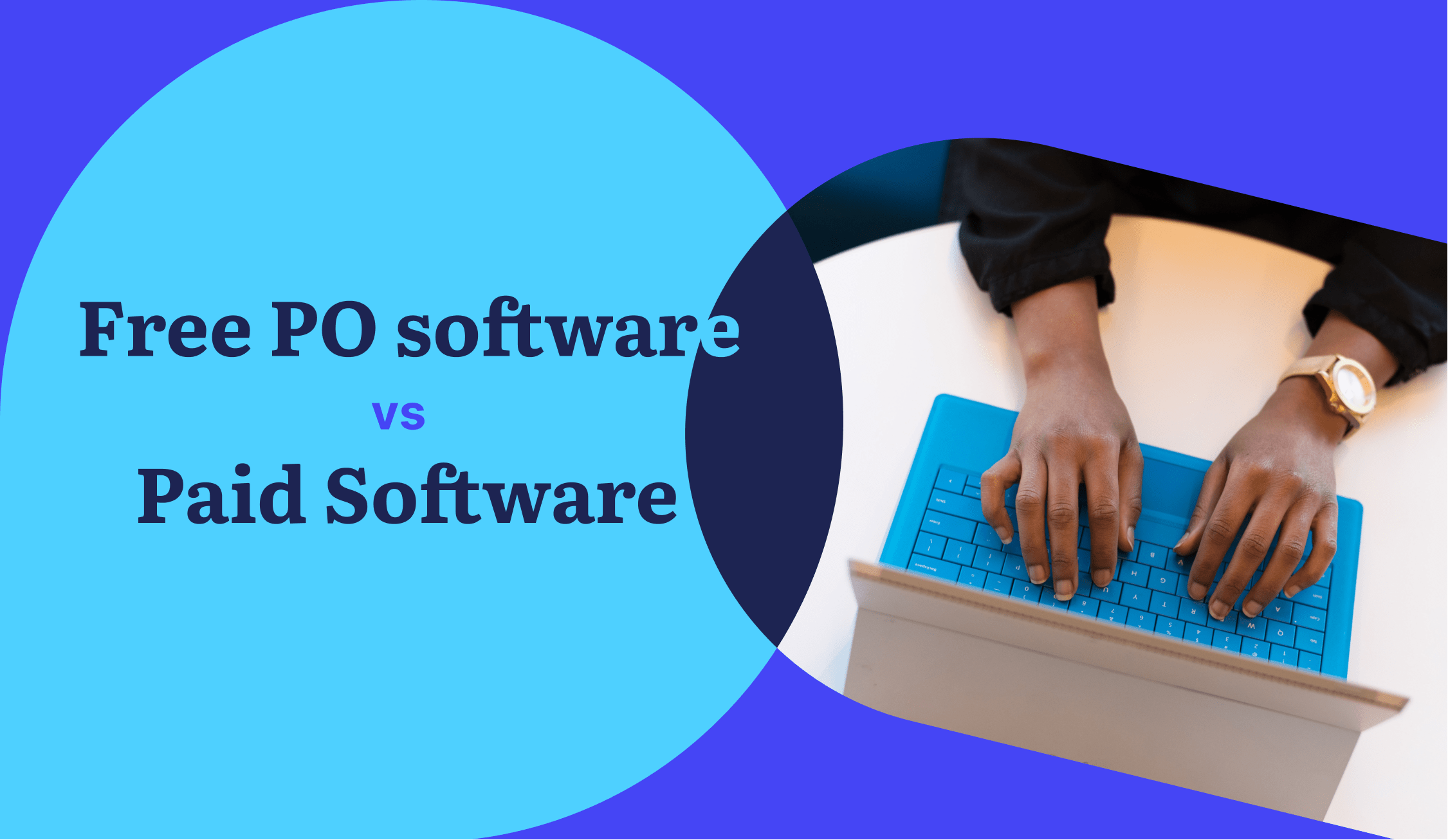 9 min read
Free PO Software vs. Paid Software
Learn how to improve your business process by implementing purchasing order software and discover the differences between free and paid programs!
From raw materials (wood for a furniture factory or vegetables for a restaurant) and finished goods (office or lab supplies) to services (software subscriptions), buyer-vendor relationships are at the core of every business.
As a company slowly grows, purchase management becomes more and more complicated. The need to manually create, store, manage, and analyze the ever-growing purchase orders and all associated documents can be pretty cumbersome.
Fortunately, nowadays there is a range of software solutions for this problem. Read on to learn what PO software is and its benefits, must-have features, and examples. Plus, find a comparison table of some free purchase order software and paid programs.
What is Purchase Order Software?
Purchase order (PO) software is a tool that enables you to generate and track purchase orders quickly. Some solutions can also help you securely manage documents associated with POs.
Such software can streamline the ordering process with ready-made PO templates. After entering the names and numbers of items, you can clarify price information, download and print your purchase order, or send it directly to your supplier via email.
In addition, it lets you store purchase orders in one place and access them at any time, which is crucial when it comes to analyzing orders and supplier performance.
Moreover, some systems include additional tools to establish and monitor budgets.
Relying on a PO system to automate the purchasing journey will simplify your processes and reduce dependence on time-consuming and unreliable manual tasks. Let's look at the specific benefits of purchase order tracking software.
How a PO System Can Improve the Procurement Process
Eliminates Human Error
Manual document processing can lead to mistakes at any moment, from misplacing or losing a purchase order to forgetting to send it for approval or to the vendor. Automation eliminates the chances for manual errors and, at the same time, scales down time-consuming paperwork.
Accelerates Purchase Order Approvals
PO software usually includes a function for approval workflow automation; in other words, once a purchase order is generated, it can be sent to the appointed users for approval.
Saves Time Spent on Procurement
Purchasing software can minimize employee workloads and let teams focus on high-value projects instead of manually creating documents and inputting the same information over and over again.
Some programs can even automatically perform 3-way matching (comparing invoice and receipt to their PO to ensure legitimacy), which would otherwise be quite time-consuming, especially when tracking multiple orders.
Stores Documents for an Audit Trail
A digital PO system will centralize and manage all the purchase orders and associated documents. This means information about purchased items, vendor details, issued payments, and purchase approval history can be recovered or approved quickly.
Allows for Stock Control
Purchasing software centralizes information about goods and services, thus helping to eliminate shortages or redundant orders. It can also send notifications when your business runs out of some of them, and new purchases are needed.
Improves budgeting and forecasting capabilities
With a centralized and updated system for purchase orders, invoices, and receipts, it becomes much easier to understand business expenses. Having data easily visible and compiled thoroughly can reveal unnecessary spending and help establish accurate budgeting in the future.
Some purchase order software even lets users create and monitor budgets directly in the system.
As you can see, implementing purchase order software can significantly boost business efficiency and seamlessly optimize the purchasing process. At the same time, it's important to remember that the result you get depends on the type of software you choose.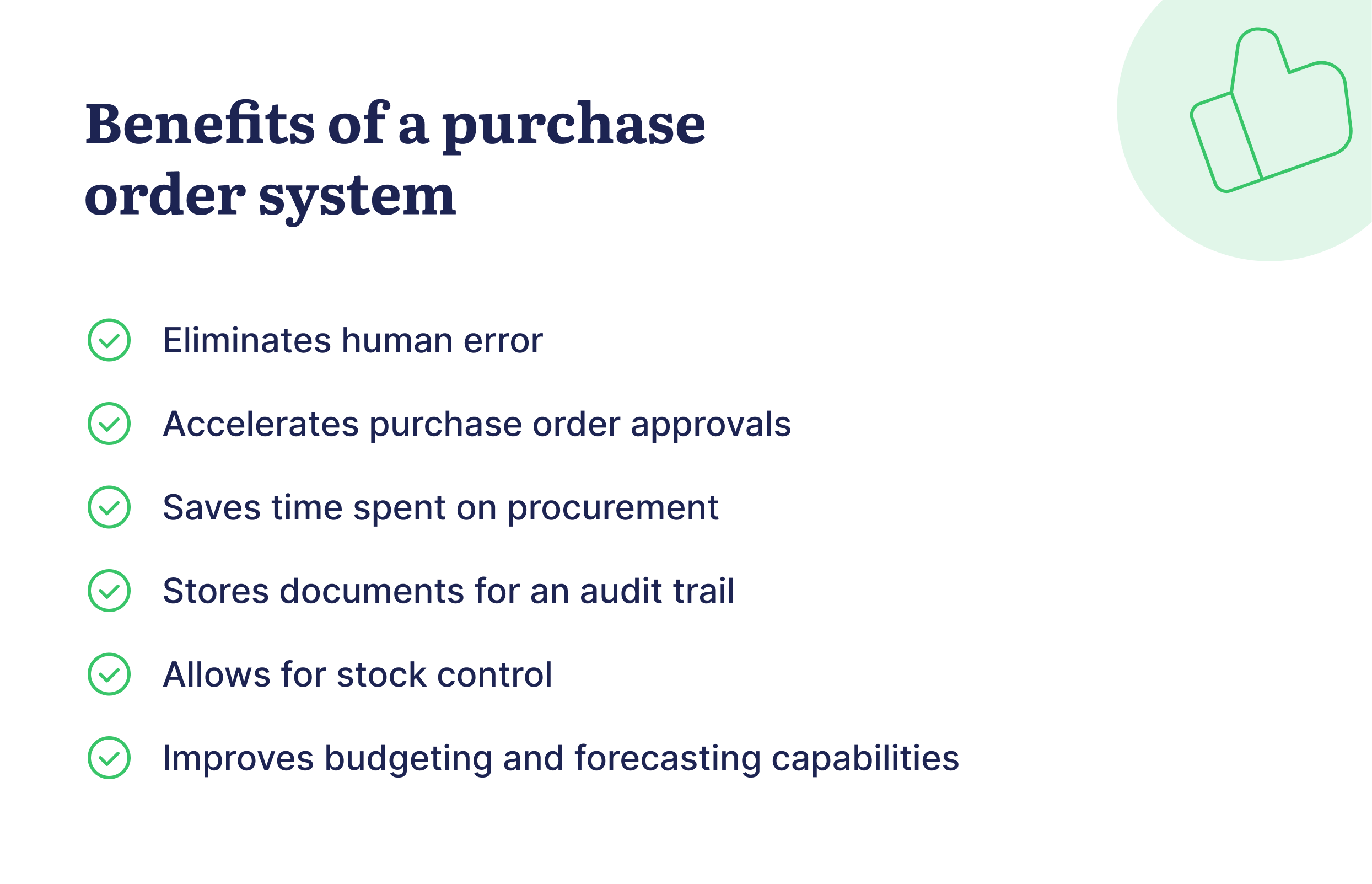 Must-have Features of Purchase Order Software
Requisition management with the ability to generate purchase requests, track their statuses, and quickly convert them into purchase orders.
PO management, preferably with automatic creation and sending of POs to suppliers, as well as file attachments, internal notes, and PO export.
Invoice management, ideally with automatic invoice creation from purchase orders and from scratch, plus the ability to add attachments and monitor PO statuses.
Multi-level approval workflow for POs and preferably related documents as well.
3-way match that is automated for purchase orders, invoices, and delivery receipts in order to track discrepancies and ensure only valid invoices are paid.
Budget management, ideally with the ability to set up budgets for different locations, departments, and projects.
Inventory management, including warehouse management and store tracking.
Vendor management that includes a list of vendors and their contacts, contract management, and reports on vendor performance.
Item management with the ability to create and edit your catalog of items to facilitate filling in documents.
Reliable customer support that can assist with software implementation by answering your questions and quickly solving problems.
Integrations with the most popular accounting software such as QuickBooks, Xero, and Netsuite to make a business run more smoothly.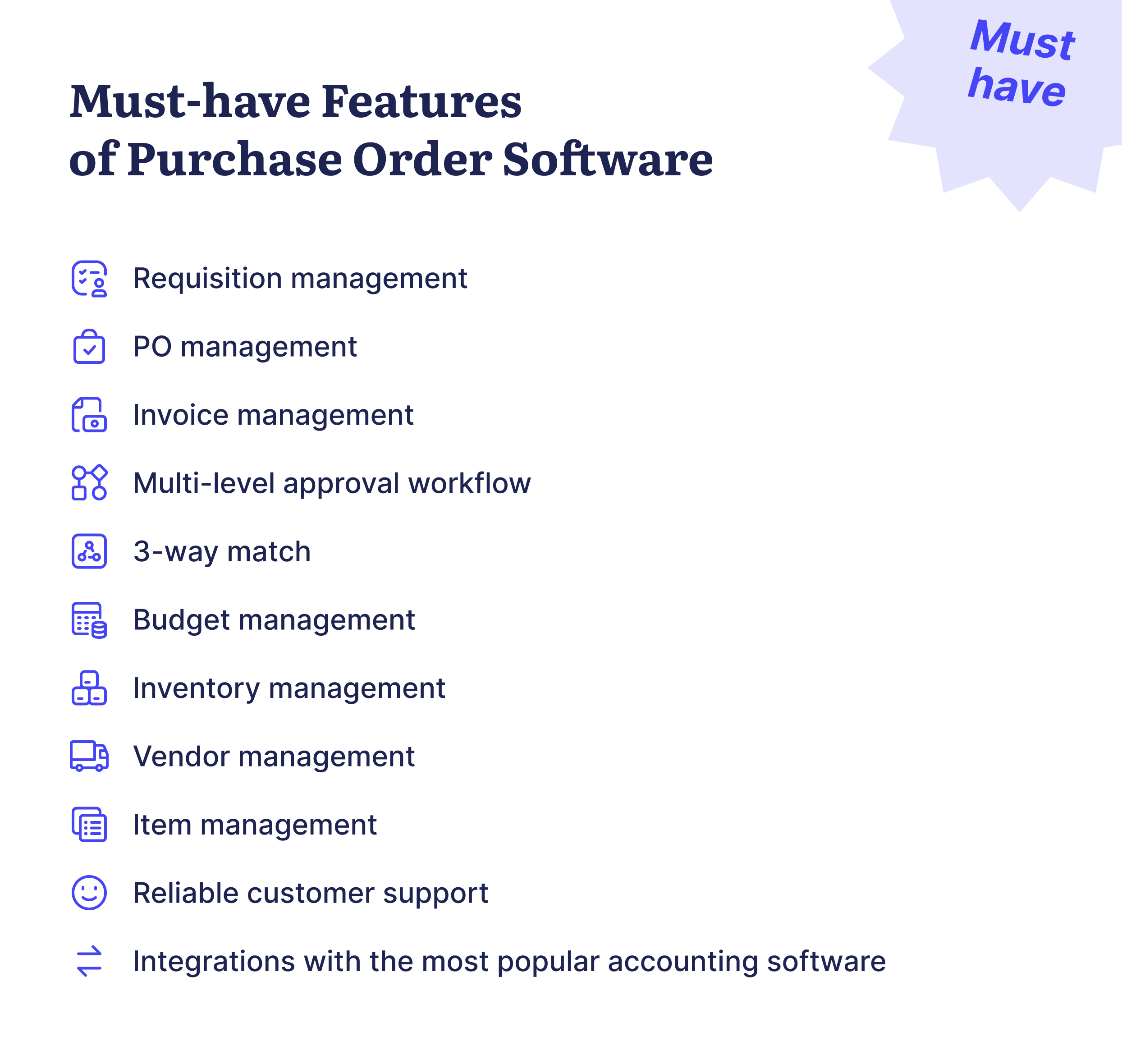 Good purchase order software has to be highly customizable and provide a wide range of custom fields for your documents, budgets, and reports. Otherwise, you'll be stuck in a limited circle of basic options that often overlook the peculiarities of different business processes.
In addition, it's important to note that one of the driving reasons to implement a PO system is to fasten and facilitate your business journey by taking the load off managers and employees.
That's why automation of the entire procurement process is vital, or you'll end up using dozens of programs for different purchasing stages.
Let's examine several examples of free purchase order software solutions and learn their functionalities and limitations.
Free Purchase Order Software: Typical features and examples
The Free-Procurement Project is SpenMap's free purchase order software. Its features include purchase requisition approvals, PO templates, spend management, and stock control.
There are on-premise/desktop and Cloud solutions available. Customer support is also provided if you have questions or need help.
Limitations
Complicated and time-consuming setup
No invoice approval
No inventory management
Challenging to modify or search for information
No ability to edit your request
No quick way to reorder previously ordered items
Non-customizable solution
Desktop and on-premise deployment exclusively for Windows
Catalystk is a cloud-based CRM system with a purchasing module and an Excel-like interface. It presents the user with ready-made templates for purchase orders, inquiries, supplier identification, sales order, goods received notes (GRN), and invoices.
A paid version with more features is also available, but the price is provided only in Indian rupees, and training costs almost 4 times more than the software itself.
Limitations
You need to input all the information for documents manually
No Support and no free training
1 organization and 1 user only
No approval workflow
No requisition, invoice, budget, inventory, vendor, or item management
Frequent bugs and lags
Jotform Approvals is an approval management software that offers several packages, including a free plan.
It helps teams to build purchase orders and immediately assign them to approvers and vendors requesting e-signatures. In addition, it establishes a hire approval process and travel expense reimbursement.
Limitations
There is a list of usage limits for a free version. Here are some of them:
1 user per team
5 active forms
100 monthly submissions
100 MB upload storage
10 monthly payment submissions and signed documents
In addition, there are no vendor or item catalogs to facilitate the document creation process and no inventory management or automatic 3-way matching. Integrations are also unavailable with the free plan.
Now that you're familiar with some of the main options for free purchase order software, let's look at several examples of paid tools and what they can offer.
Paid Purchase Order Solutions: Features and Benefits
Spendesk is a cloud-based spend management software that provides invoice automation and approval workflows, as well as modules for managing purchase history, budget management, and expense reports.
To simplify employee reimbursement, companies can issue virtual and physical cards for employees with set-up individual spending limits and use a mileage tracking app that simplifies work travel.
Spendesk integrates with Slack, Xero, Datev, NetSuite, and more. Paid software needs to have a free trial or a free demo so users can make sure that it's the right tool for them. Luckily, Spendesk has both options available.
Limitations
Some features are limited or unavailable depending on what pricing plan you choose
No requisition management
No inventory and item management
Spendesk cards are only accepted in some places
Fishbowl is a manufacturing and warehouse inventory management software that offers automated purchase order management with an approval workflow and enhances the supply chain process.
The tool is especially beneficial for companies with multiple locations, which need material requirements planning (MRP), work order and raw materials management, barcoding, shop floor control, manufacturer orders, and bills of materials (BOM).
In addition, Fishbowl is integrated with QuickBooks, Amazon, eBay, Adobe, Shopify, Salesforce, ShipRush, and more. You can also try out a 14-day free copy.
Limitations
No free setup
Lacks accounting and financial software
No requisition management
No automated 3-way matching
No included custom reports (you must purchase them separately)
Customer service is open only 10 hours a day
Precoro is a cloud-based purchasing software with a user-friendly interface covering the whole purchase order management process. From quick request generation to automatic 3-way matching for PO-Receipt-Invoice with a customizable approval workflow.
It stores all related documents, vendor and item catalogs; meanwhile, it allows managers to create budgets for different locations and departments, set up automatic budget limits, and provides visual analytics and in-detail reporting on documents, budgets, vendors, and other data, including a wide range of custom reports. All of this is kept secure with SSO and reliable 2-factor authentication.
Precoro offers integration with the most popular accounting software (QuickBooks Online, NetSuite, and more) and incorporates free API. Other significant advantages of Precoro include weekly updates and 24/7 support.
Precoro offers a 14-day free trial, or you can book a free demo to see it in action.
There are two pricing plans, and all features are available under both of them – the only difference is in the number of users. You can find more information here.
Limitations
Does not offer on-premise solutions
Free PO Software vs. Paid Solution: Complete Comparison Table
Here we've prepared a convenient visual comparison of the above-mentioned free purchase order software and paid programs and the features they provide.
*Note that some Spendesk and Fishbowl features with a checkmark depend on the pricing tier you choose.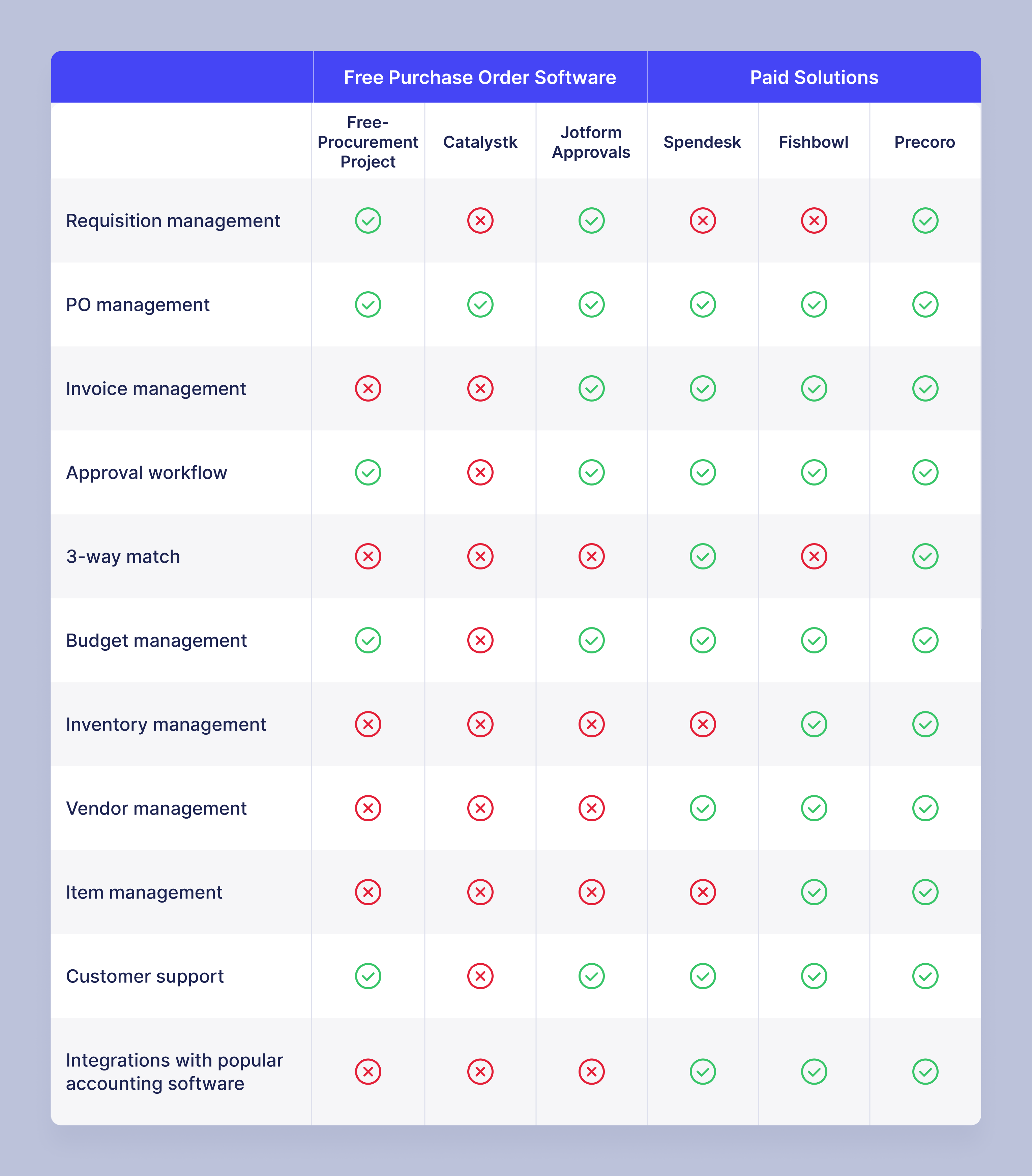 Frequently Asked Questions
What is PO software?
Purchase order (PO) software is a tool that automates and manages the procurement process. It enables businesses to create, store, and manage purchase orders and associated documents.
What are the benefits of a purchase order system?
Eliminates human error
Streamlines purchase order approvals
Accelerates time-consuming processes
Stores documents for an audit trail
Increases transparency in inventory management
Enhances cost control
How should companies choose a purchase order software?
Look for a highly customizable solution with a user-friendly interface that will allow you to automate every procurement stage according to your business process. It should provide you with high security and reliable customer support. Also, make sure that system is often updated, and you can get a free trial or a demo before committing to paid software implementation.
Which is better – a free PO system or paid software?
If you want to eliminate paperwork and manual processing while increasing cost control and order history transparency, it's better to choose paid PO software. Although free purchase order software doesn't take a penny from you, it takes a tremendous amount of time to grapple with the inconvenient programs, bugs, and lags while providing a minimal range of operations.
In Conclusion
Purchase order software is a tool that helps companies manage POs and related documents effectively and gain more control over spending. It automates some or all steps of the purchasing process, thus accelerating document processing, minimizing human errors, and establishing transparency in expenditure and inventory management.
When choosing purchase order software, make sure that it provides your company with features that maximize the benefits of PO system implementation.
What to look for in purchasing software depends on your company's specific needs. However, we recommend considering the following features for procurement process flow: purchase requisition, purchase order and invoice management, approval workflow, 3-way matching, budget and stock control, vendor and item management, customer support, and integrations with popular accounting systems.
Though free purchase order software might be tempting, they are limited in features and capabilities. Among their drawbacks are inconvenient interfaces, occasional lags, minimal customization, and the need to input information in documents manually.
Free PO may be suitable for companies just starting out and looking to save costs, but it may not be the option for companies on a growth path. When the time comes to scale operations, save more, and improve efficiency, companies typically end up turning to paid solutions with more modules and services.
---