11 min read
Invoice Automation: How It Works
What is invoice automation and how it works, manual invoicing challenges and their solution, as well as useful tips included.
Do you know that 39% of invoices are paid late in the United States, and 61% of late payments result from invoicing errors?
Even more, 82% of finance departments report being overwhelmed by the number of invoices they have to process daily and are further exhausted by the variety of formats these invoices are received in.
One thing is for sure from these facts, dealing with invoices can be pretty frustrating, and you're definitely not alone in your struggle.
But the question is, what's to be done?
We have the answer for you! Keep reading to find out how you can avoid invoice processing pain points and, most importantly, what simple steps you need to take to get hard work done with ease.
What is Automated Invoice Processing?
Automated invoice processing involves scanning, extracting, matching, and validating relevant invoice data and inputting it into your ERP or accounts payable system.
Invoice automation software eliminates manual intervention, except in those special cases where a human touch is required, greatly reducing the burden on accounts payable and finance teams.
It improves cash flow, drives additional savings, and helps procurement organizations make the most of dynamic discounting opportunities.
Here is an example of automated invoice processing steps:
Extracting an invoice, generating it from an existing purchase order, or creating it from scratch;
Automated 3-way matching against the purchase order and receipt;
Resolving any irregularities (e.g., mismatched PO numbers, incorrect line items, etc.);
Routing the invoice to a manager or senior executive for approval;
Invoice approval through software or email;
Issuing payments to vendors;
The software updates invoice information for reporting purposes and integrates it into the ERP system.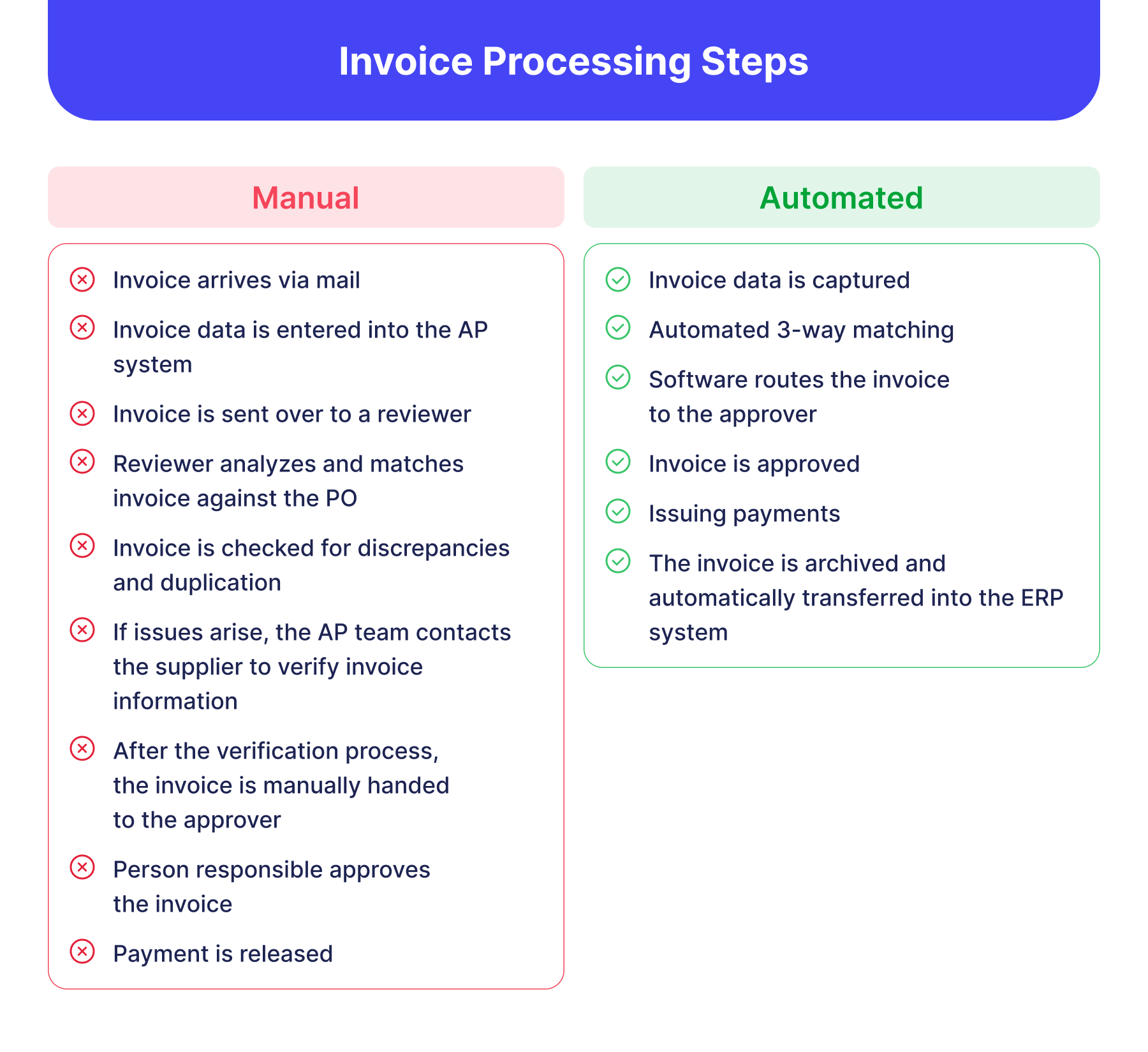 These steps may vary a little depending on yes/no response options.
However, regardless of changes in the flow, e-procurement software users save more than 50% of their time on invoicing.
Manual Invoice Processing Challenges and How Automation Solves Them
Without the proper accounts payable technology, it's difficult for organizations to maintain an efficient invoicing process.
According to Levvel Research, manual AP processes' biggest pain points are manual data entry and approval workflow, lost or missing bills, duplicate invoices, etc.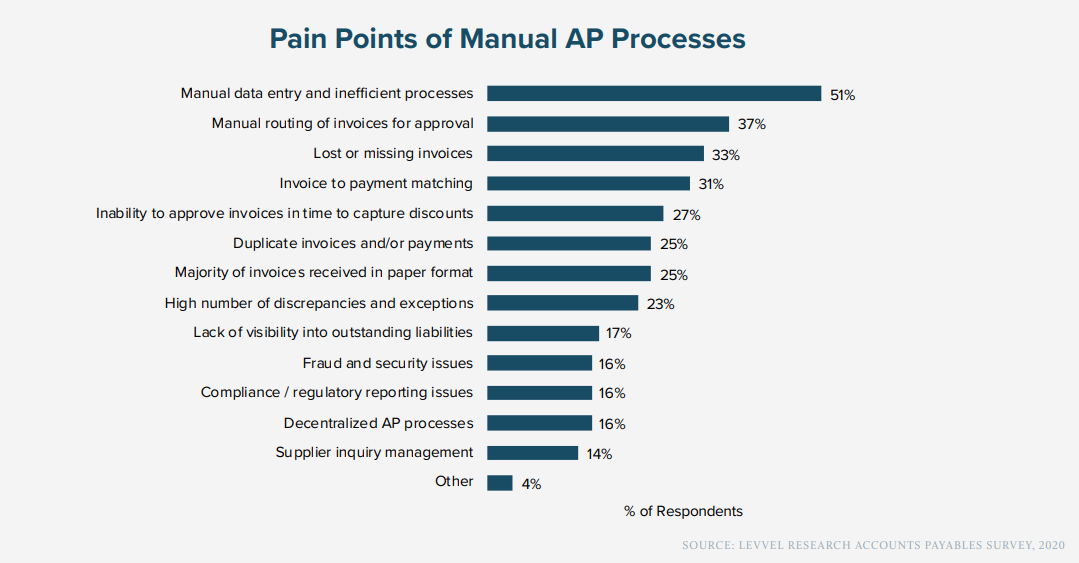 But the good news is that those problems are easily solved if good procurement software is near at hand.
Let's review some of the challenges and see how you can fix them.
Manual Data Entry
It takes a lot of time to process invoices manually.
Depending on the number of bills, your team can easily spend hours on data entry alone and end up overpaying or underpaying them.
In fact, 38% of small business employees admit that data entry is their most time-consuming task, and 27.5% of companies manually input incorrect data into their systems, causing tax and accounting mistakes.
The solution:
Companies can leave the manual steps behind by using automated invoice processing software to manage the data extraction and validation processes.
For example, by using Precoro, you can reduce manual data entry by 80%.
With Xero, NetSuite, Quickbooks, and custom integrations, all your invoice information is automatically transferred to your accounting system, letting you focus on more productive tasks.
Missing Invoices
It's easy to lose or forget about invoices when they are moving around the business in paper or email form.
The bill might be missing because it was addressed to the wrong department or person, caught in spam filters, accidentally deleted, etc., preventing it from being tracked down and paid.
Lost invoices can cause serious problems with vendors and hurt your cash flow or even force you to start the invoice processing over again.
The solution:
Invoicing system not only automatically emails or sends bills directly to the right person for taking action but also alerts you when the bill has been approved, sent for revision, canceled, if it's ready for payment, etc.
Make sure the correct email is associated with each supplier's account and that you regularly check for "unviewed" invoices.
Using Precoro invoicing solution, you always have all the important information available in the system.
You can track bills by their status and use real-time reporting to ensure that no invoice was lost.
Manual Approval Routing
50% of companies spend an average of 10 to 25 days approving invoices manually.
The process can take even longer if multiple approvers are involved, and it isn't clear who is responsible for the approval or at which stage of the accounts payable workflow the invoice is currently in.
The solution:
With invoice processing automation software, such as Precoro, you can create a workflow that automatically routes invoices to the right approver.
Precoro customers get 2,5x faster approvals and save up to 95% of their time.
Users can approve or reject invoices anytime and anywhere through the specific Invoice page, Preview, or email.
You can add as many approval steps as needed, get smart notifications, and create custom workflows that will suit your business needs.
Read more about invoice approval workflows in our next blog post.
Invoice to Payment Matching
In 2-way matching, the PO and invoice information is verified to match within your tolerances.
When doing it manually, invoice-to-payment matching can be extremely time-consuming.
But it's still an important step for your business as it eliminates discrepancies in the purchasing process, reduces payment fraud, and ensures compliance.
The solution:
With Precoro invoice approval software, you can integrate your workflow with your accounting systems and perform this matching automatically.
It ensures that you only pay what you owe, no more and no less.
Slow Processing
Each pair of hands that handles the paperwork increases the risk of an error or loss of the document and slows the processing time.
Manual processing often results in invoices being delayed and dissatisfied suppliers persistently asking about their payment status.
Payment delays can cause a chain reaction of negative consequences, such as commissions for late payment and delayed shipment of goods.
Slow payments can also affect your business's credit rating, further reducing the ability to obtain favorable terms from suppliers and creditors.
The solution:
Eliminating piles of paper invoices and manual data entry can drastically reduce processing time and error rates.
Automation can speed up the processing cycle by 73%, allowing you to focus on more strategic tasks.
How does it work:
You don't have to re-enter the invoice data into your ERP or accounting system. Procurement software automatically transfers it.
There is no need to send emails or wait for the team meeting to approve documents.
3-way matching is automated and takes a couple of minutes.
You always have access to the current status of your bills.
Fewer errors — less time spent fixing them.
Benefits of Automated Invoice Processing
We've already discussed some of the advantages of AP automation in the last section.
But let's dive deeper into how your company can benefit from it.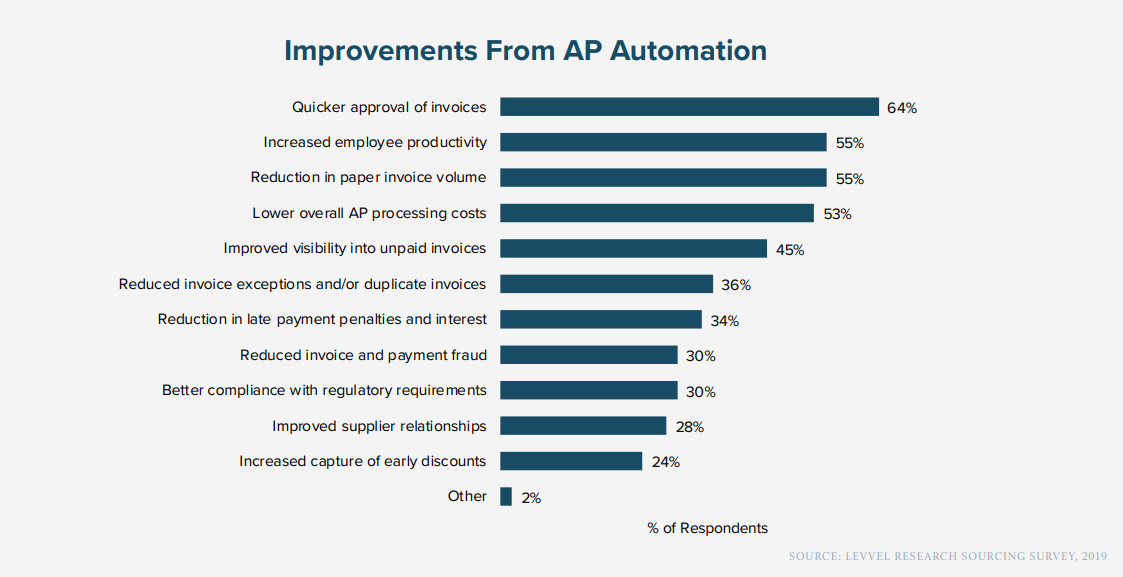 Lower AP Processing Costs
By switching to e-invoicing, you can reduce labor expenditures, printing and mailing overhead, and interest and late fees.
According to Levvel Research, AP automation helps save $13 on average for each invoice processed.
For companies that process 500 invoices per month, that leads to an annual savings of $78,000.
Time Savings
The accounts payable process can take 30 to 90 days per invoice.
With an ap automation solution, you can approve an invoice and do a three-way matching in minutes without human intervention.
Improved Accuracy
When working with bills manually, you can expect various errors, such as entering an incorrect price, sending out the wrong invoice, duplicating it, and more.
But with invoice automation, however, you can streamline business processes and cut down on these costly errors.
According to a survey by the Shared Services Outsourcing Network, companies that automate their accounts payable processes can expect to reduce costs and errors by 70– 85% during primary invoice processing tasks.
Better Relationships with Suppliers
Automated invoice processing helps your business make timely or even early payments and improve supplier relationships.
This is beneficial because:
You can reduce the number of suppliers needed and thus simplify the buying and budgeting processes, creating significant potential savings.
If any order issues arise, the strong relationship between the organization and supplier will make it simpler to solve them.
Effective feedback between the two parties will improve operations and streamline the supply chain.
It reduces issues with availability, quality, and delays in supply.
Increased Productivity
Invoice automation solutions increase your employees' productivity by boosting accuracy and reducing the time spent processing invoices.
Since the process is optimized, they can focus on more important tasks.
Better employee productivity also contributes to lower overheads and higher revenue. In short, automating the invoicing process is a great way to boost your bottom line.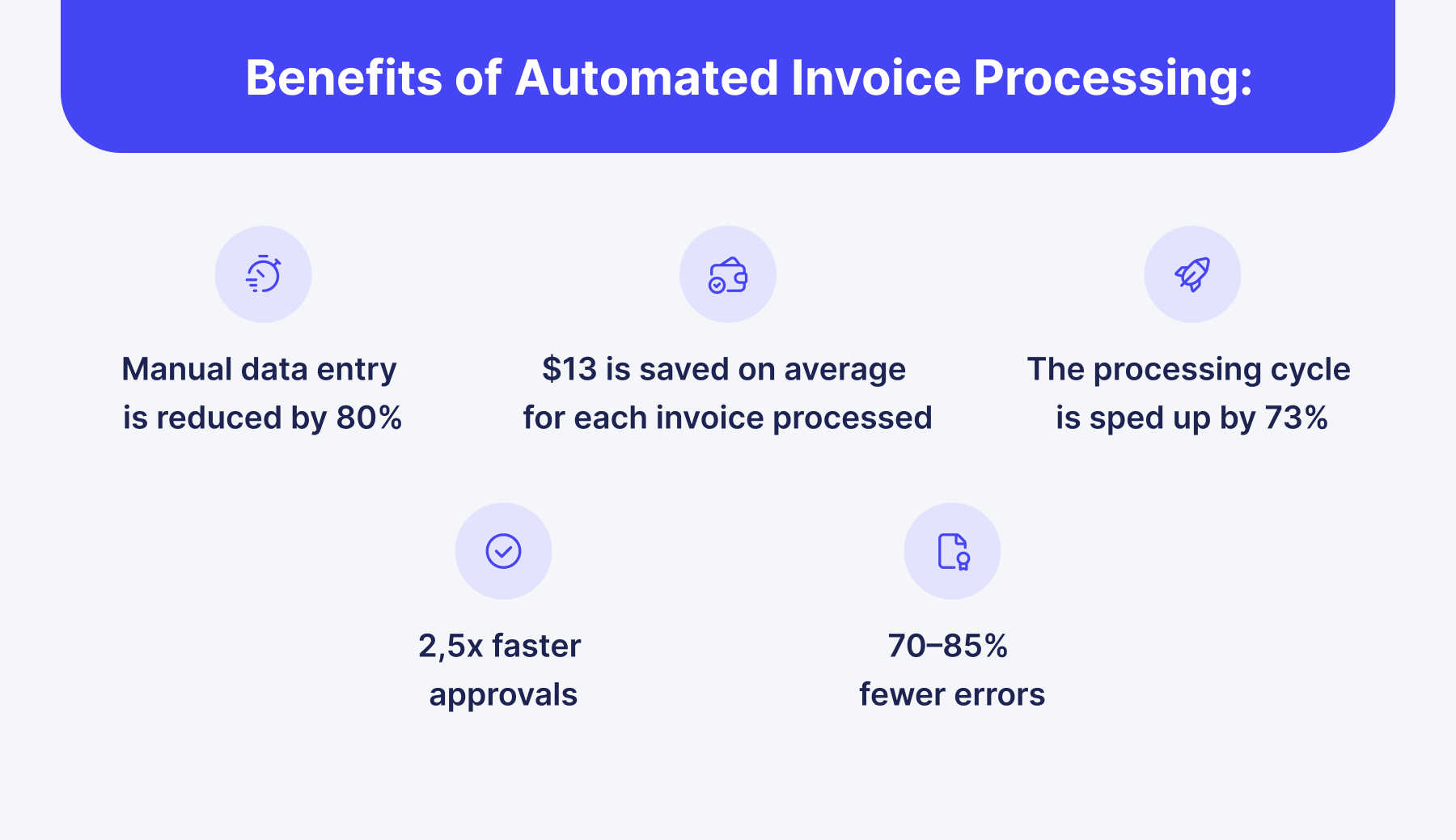 How Precoro Invoice Automation Features Can Help Your Business
Easy Invoice Creation
Create invoices from scratch or generate them from an existing purchase order just in a few clicks.
Use the Precoro catalog to add items to the invoice without the need to enter them manually.
Items catalog help ensure that your POs and invoices are fulfilled with the correct item names and SKU numbers, so you have no misunderstandings with suppliers.
Add attachments to your invoices and see them in related purchase orders if there are any.
You can also add notes and comments for easy collaboration with your team.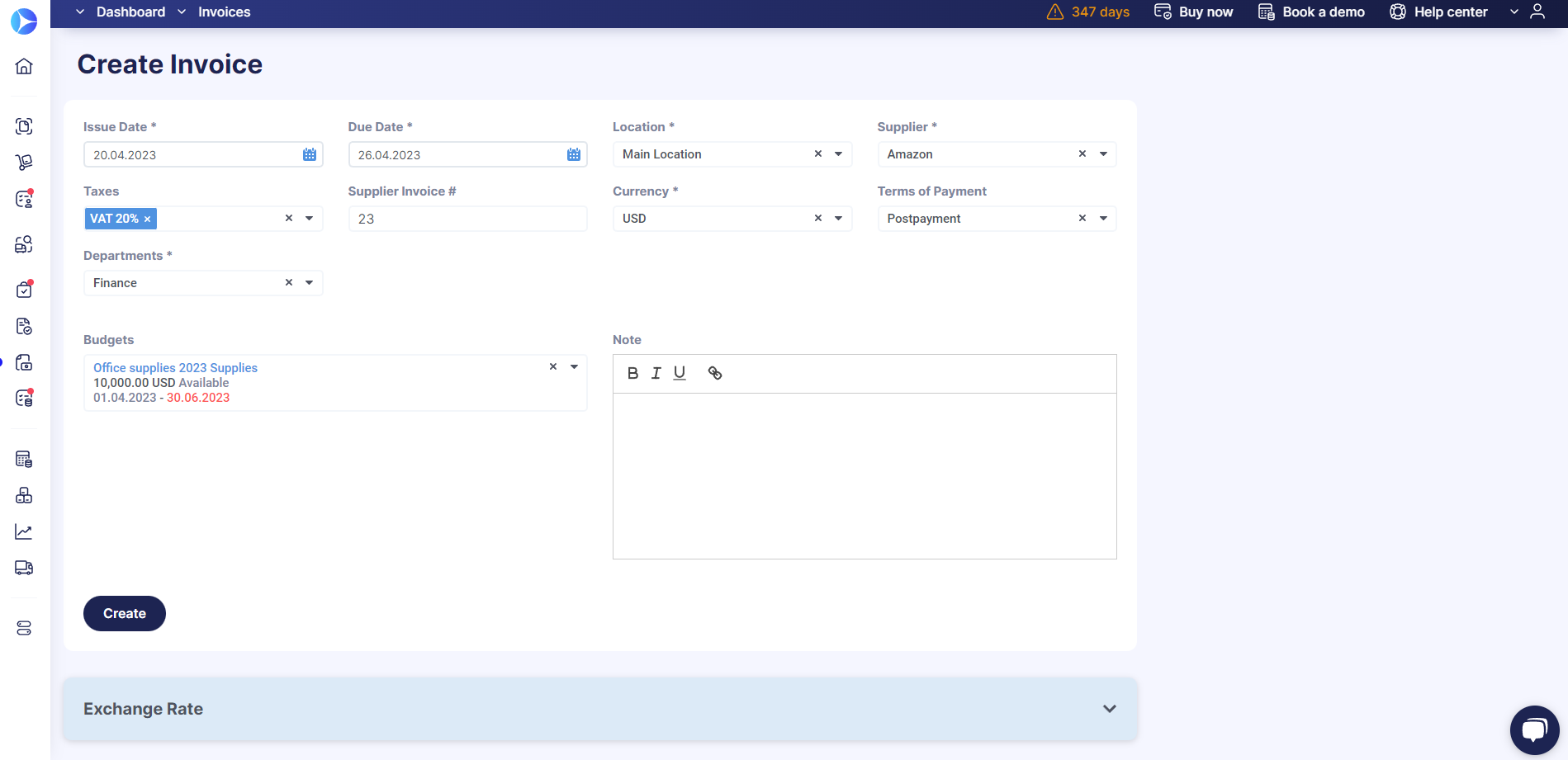 Recurring Invoice
Suppose you bought a monthly $100 subscription for new software, and it's an annual contract.
What are the chances that you forget about the monthly payment and end up delaying it?
Precoro customers don't need to remember to send invoices, the system does it for them.
If you want to automate the process, you can create a monthly recurring invoice for one year, and Precoro will reserve $1,200 in the budget.
After payment processing, $100 will move from the section "Reserved" to "Used."
Precoro will automatically create an Invoice and send it for approval on the date you set up the Recurring Invoice.
No more manual routine, late payments, and lost invoices, just set it and forget it.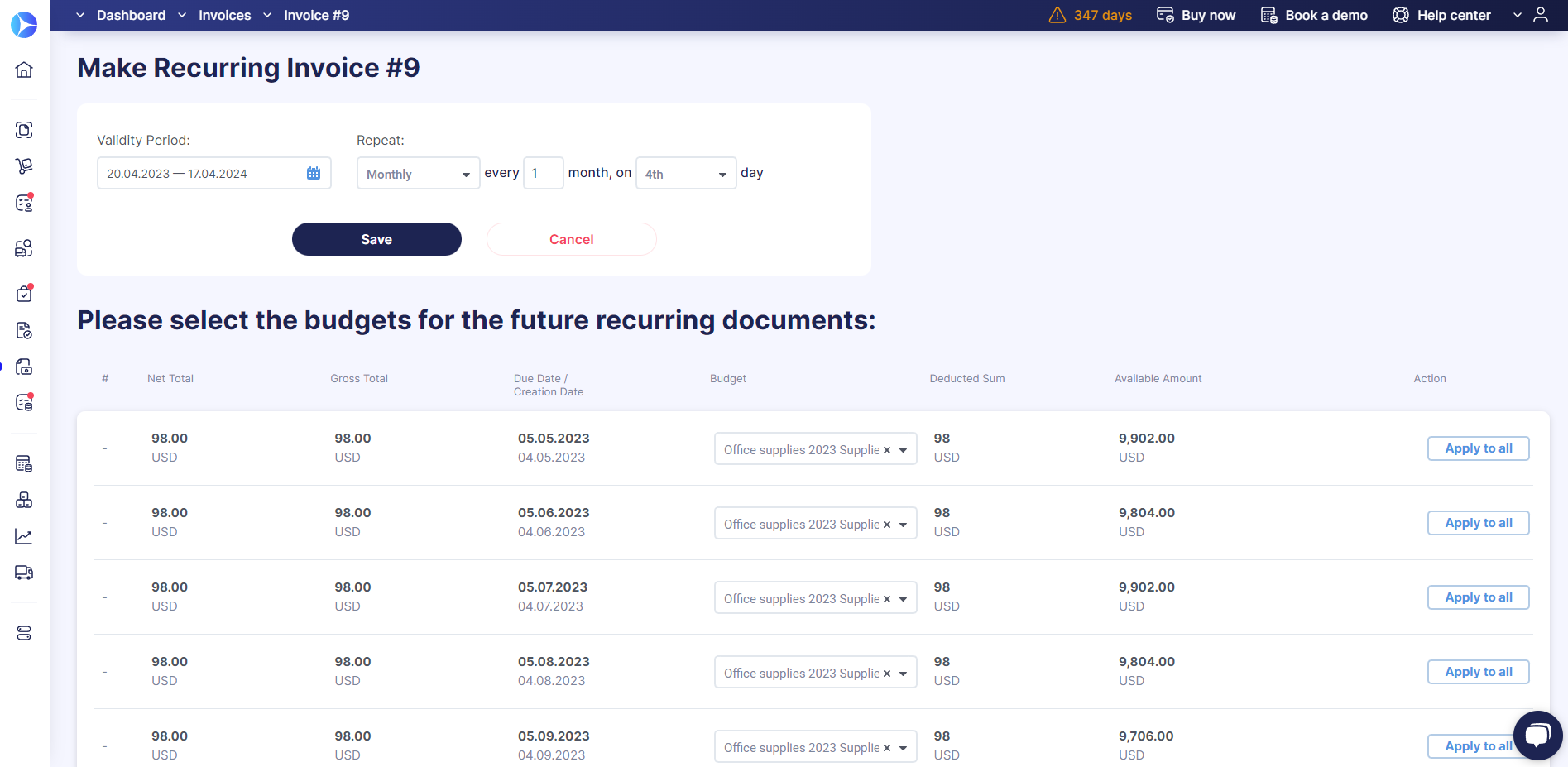 Invoice Approval
With the Precoro invoice management system, you approve bills 2,5x faster and save 95% of your time.
To see what invoices need to be approved, you can open the Dashboard or Invoices tab and filter results by the Approve indicator.
You can approve or reject bills anytime and anywhere through the specific Invoice page, Preview, or email without even opening them.
If you're going on a vacation, you can set up a backup approver for each document you are responsible for and enjoy your time off.
Add as many steps as needed to your approval process, get smart notifications, and create custom workflows.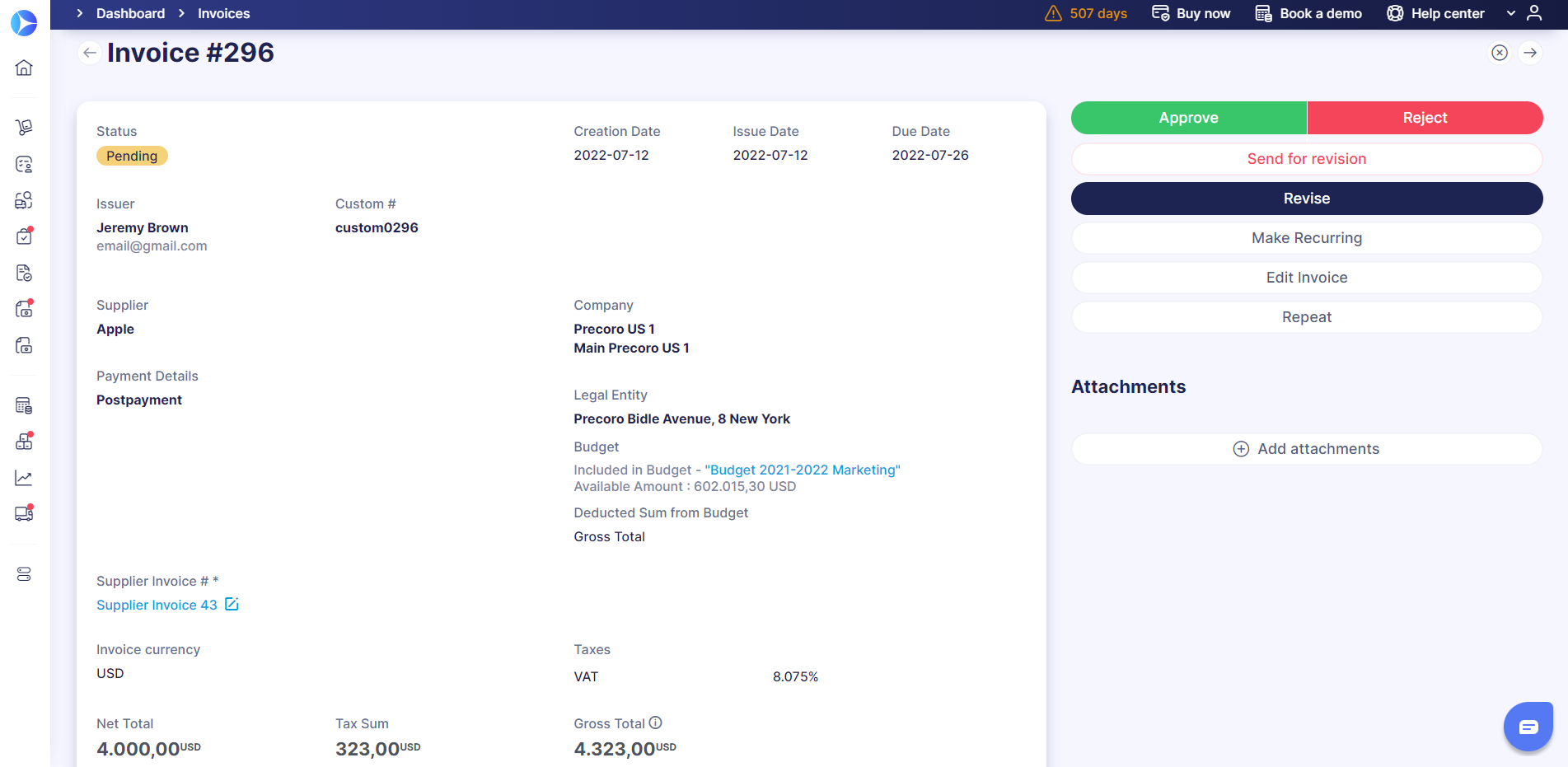 3-Way Match
Although a 3-way match is labor-intensive when doing it manually, it's still a vital business practice to prevent duplication, fraud, and inaccurate information.
But with Precoro software, you not only free yourself from the tedious process of 3-way matching but also take all the benefits from it.
No human intervention, just pure automation.
Have your Purchase Order, Receipt, and Invoice all matched in real-time, and the tolerance rate will help you see if there are any discrepancies.
If the Invoice to PO difference % is greater than the allowed Tolerance rate, the PO initiator will receive an email notification regarding required approval changes.
Reporting
Precoro real-time reporting tools give you an idea of the current status of your invoices, so you know exactly what, when, and where an invoice was generated.
By using the Dashboard or Invoice module page, you can see what actions are required from you and what's your invoice's progress, for example:
In revision;
Approve;
To be paid;
Overdue etc.
You can also filter invoice reports by status, date, requester, location, budget, and more.
In addition, you can build the Invoice Custom Report, which will generate any data set describing all invoices you have access to.
You can download it in XLSX format and have a detailed overview of all bills.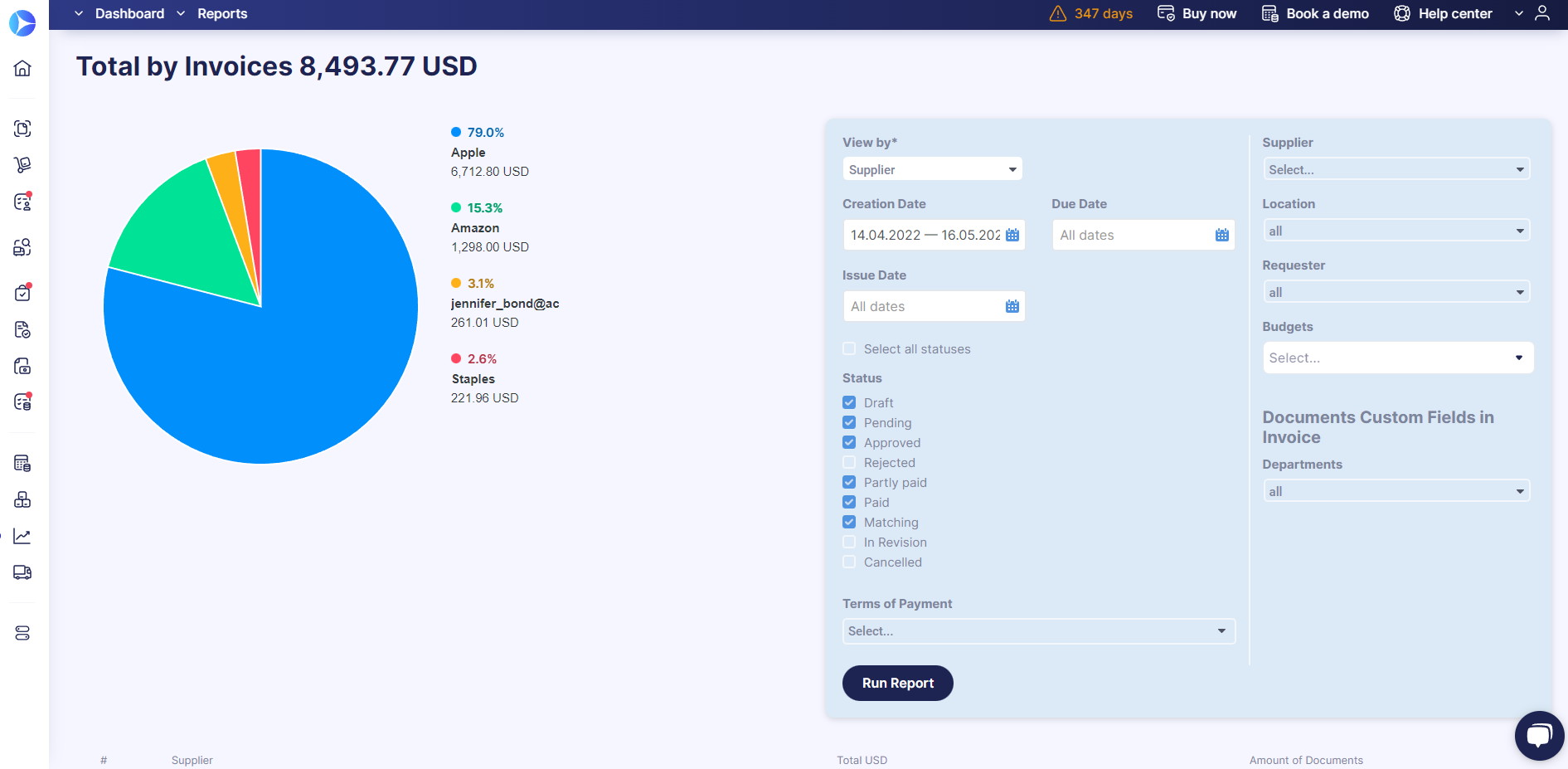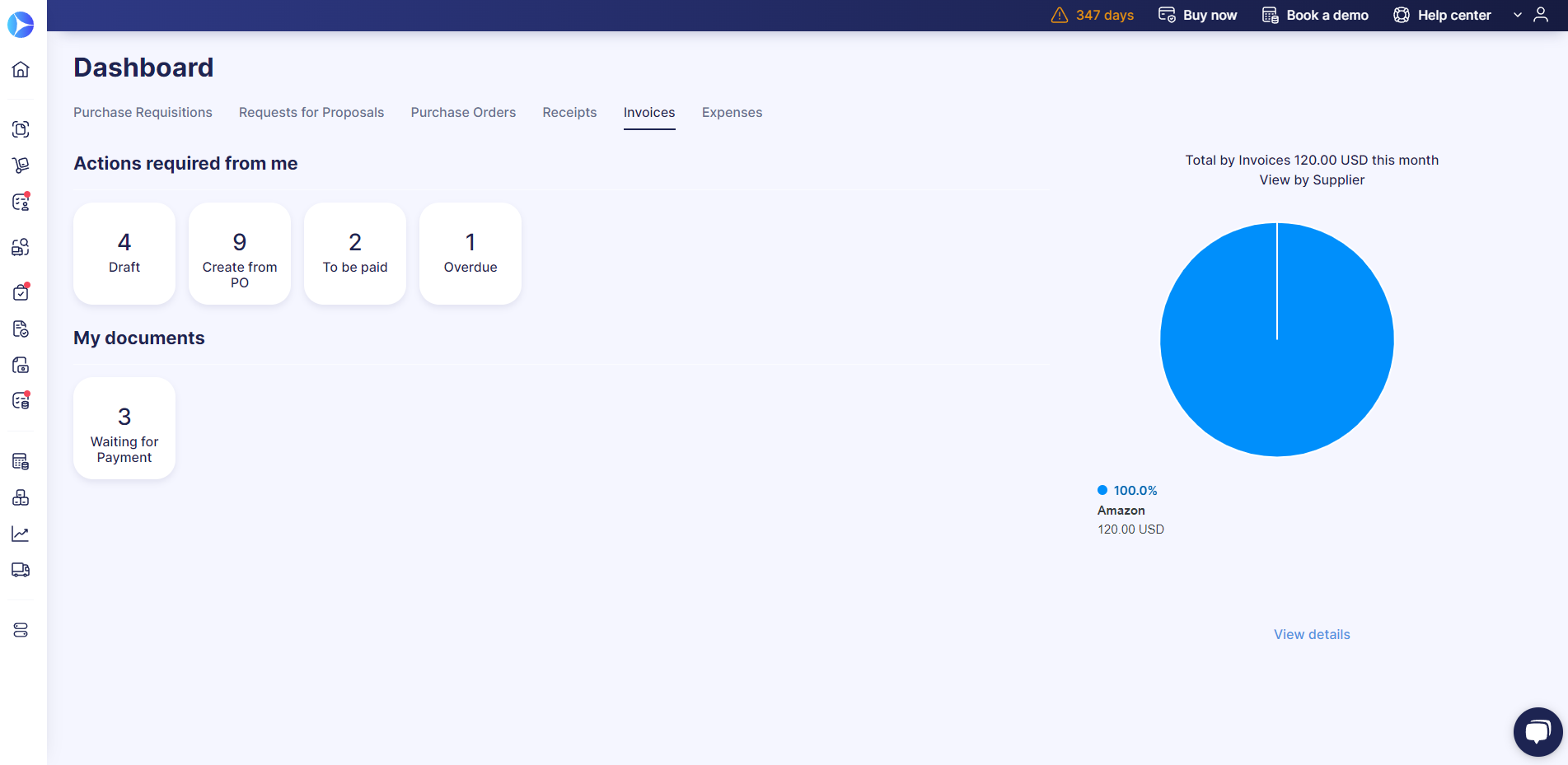 Integration
Integration tools help reduce the double-entry of data, improve communication between procurement and accounting teams, and optimize business processes.
With Precoro, you can integrate your invoice processing workflows with any accounting software or ERP, such as QuickBooks, Xero, or NetSuite.
It will allow you to reduce manual entry of invoices, synchronize supplier data, and speed up month-end.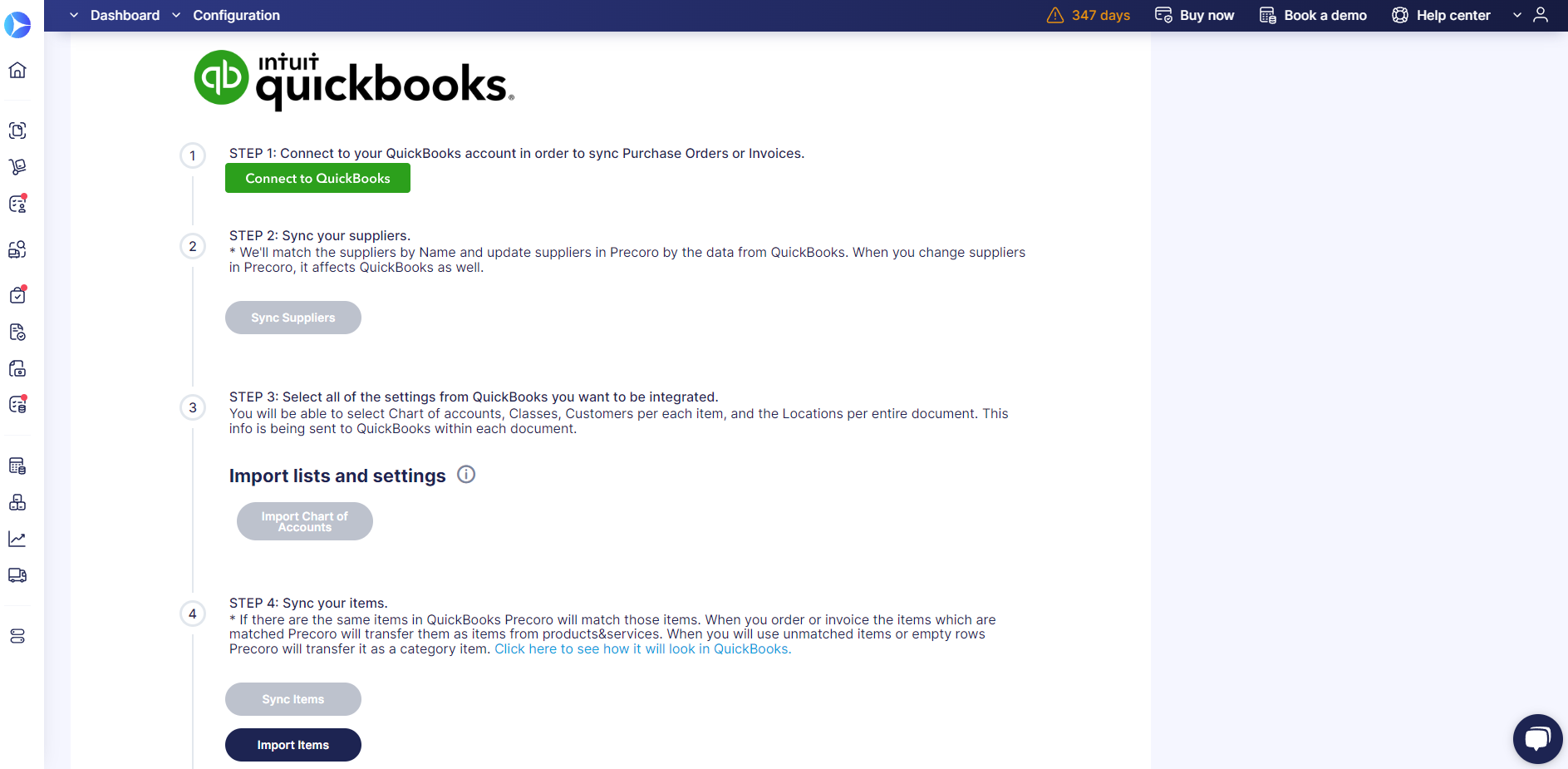 A Few Tips to Consider Before Switching to AP Automation Software
We have already discussed how automation helps cope with common accounts payable pain points, its advantages, and what features the best process automation solutions have.
Let's also see how you can get the most out of your automated invoice processing implementation.
Analyze Your Current Invoicing Process
Before moving to your company's better future, you should also review what went wrong in the past.
Analyze your invoice handling process, and see where inconsistencies, errors, or bottlenecks occurred.
It may also help to answer these questions:
Who receives bills, and how they're verified?
In what form do they come in (electronic or paper invoices)?
How long does it take to process invoices, and who is responsible for that?
Did you have delays in the invoice payment process? Why did that happen?
Make sure to get a complete picture of your payable process so that you can find the right tool for your business needs.
Centralize and Standardize Invoice Management
Ask your suppliers to send invoices to one central location or electronic address.
Also, ensure to capture the invoice data and index bills as soon as they are received.
Then try to develop clear policies on bill handling:
What are the matching criteria and tolerances?
When do you want to take and not take early payment discounts?
Who may approve invoices within the company, and what is the approvers' hierarchy?
What happens when the discrepancies between incoming invoices and corresponding purchases occur, and what's the resolution workflow?
Knowing exactly how bills should be processed within your company will help you outline processes that the accounts payable automation solution will then automate and streamline.
FAQ
How much does it cost to process an invoice?
The answer depends on whether you automate invoice processing or not.
Most companies that operate with manual processes spend around 12$ per bill. While with workflow automation, the cost is $5 or less.
How to choose the best automated invoice processing software?
In order to choose the best platform, you must first determine the needs of your business and outline your processes.
You can also read product reviews, take advantage of the free trial, or book a demo.
The best decision would be to look for a cloud-based platform that provides a transparent pricing policy, regular updates, security features, and excellent customer support.
Conclusion
Automated invoice processing involves a platform scanning, extracting, matching, and validating relevant invoice data and inputting it into your ERP or accounts payable system.
By automating the invoicing process, you eliminate inefficient processes, strengthen regulatory compliance, and significantly reduce the burden on the accounts payable and the finance department.
To see all the workflow automation for yourself, start Precoro's 14-day free trial.
No commitment, no hidden fees, no credit card required. Just a chance to see why Precoro is so loved by our customers.
---