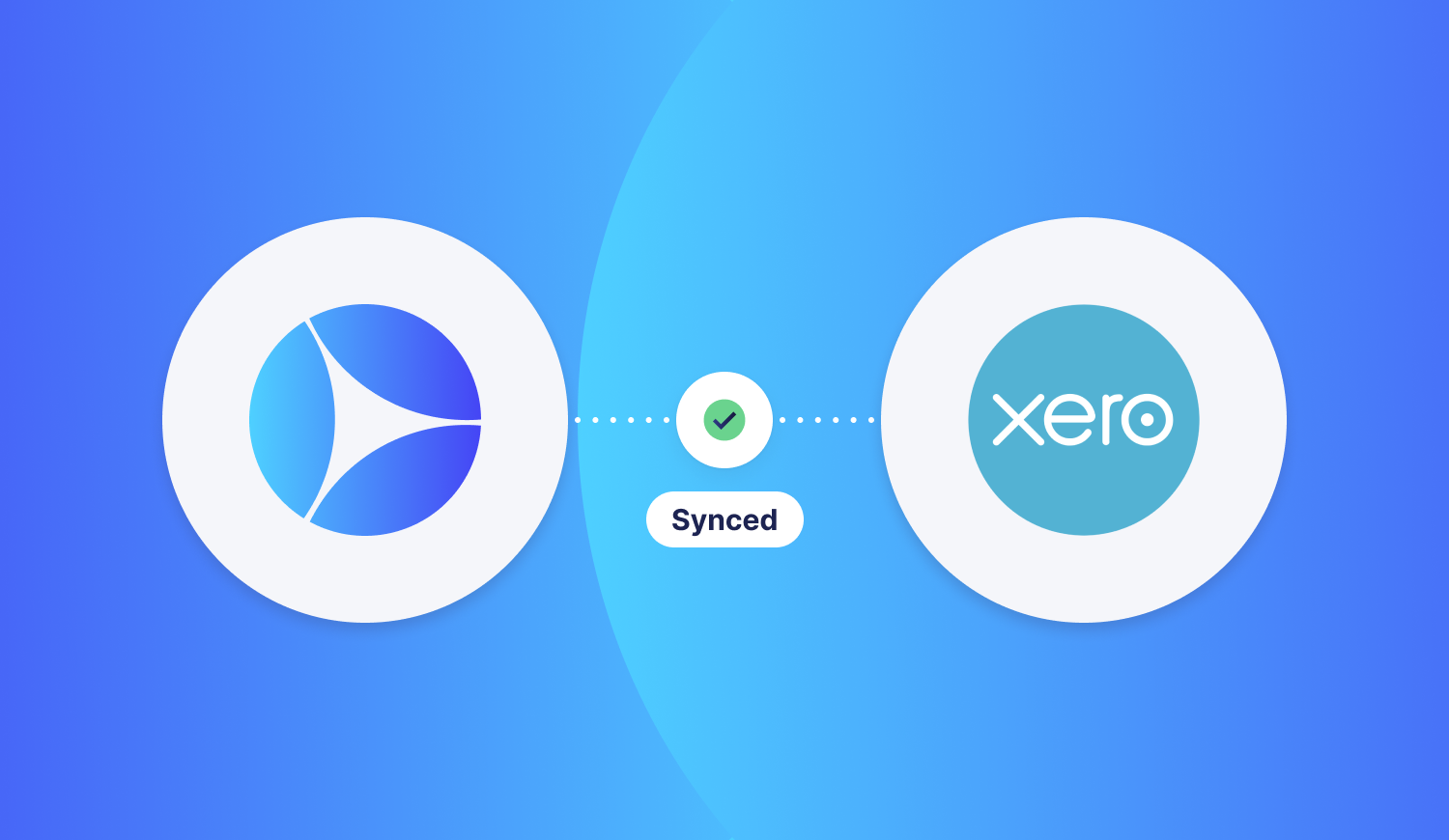 3 min read
Direct Precoro Integration with Xero: Sync Your Procurement and Accounting Operations In a Few Easy Steps
We are delighted to announce our new two-way integration with Xero! Enjoy even more enhanced purchasing operations with direct sync between procurement and accounting departments.
The procurement and finance teams are usually responsible for different objectives and operations. However, there are some aspects in which their processes might overlap.
Accounting departments plan budgets and analyze corporate spending. Meanwhile, the procurement department creates a purchasing strategy aligned with those budgets and ensures suppliers are paid on time.
Precoro integration with Xero paves the way for better communication between these departments, simplifies your purchasing workflow, and eliminates error-prone manual data entry.
In this article, learn how to best implement this integration.
How Precoro and Xero Integration Works
Direct Precoro and Xero integration allows you to sync financial and purchasing data. With this connection, you'll get customizable approval workflows, transparent spending management, and real-time reporting.
With Precoro and Xero integration, you can import the following data:
Chart of accounts
Tracking categories
Suppliers
Items
Tax rates

The workflow happens in the following way:  
Transfer essential data from your Xero account to Precoro —> Select what documents you want to send to your Xero account —> Create purchase orders or invoices (pushed to Xero as bills to pay) —> Get financial documents in Xero immediately after their approval.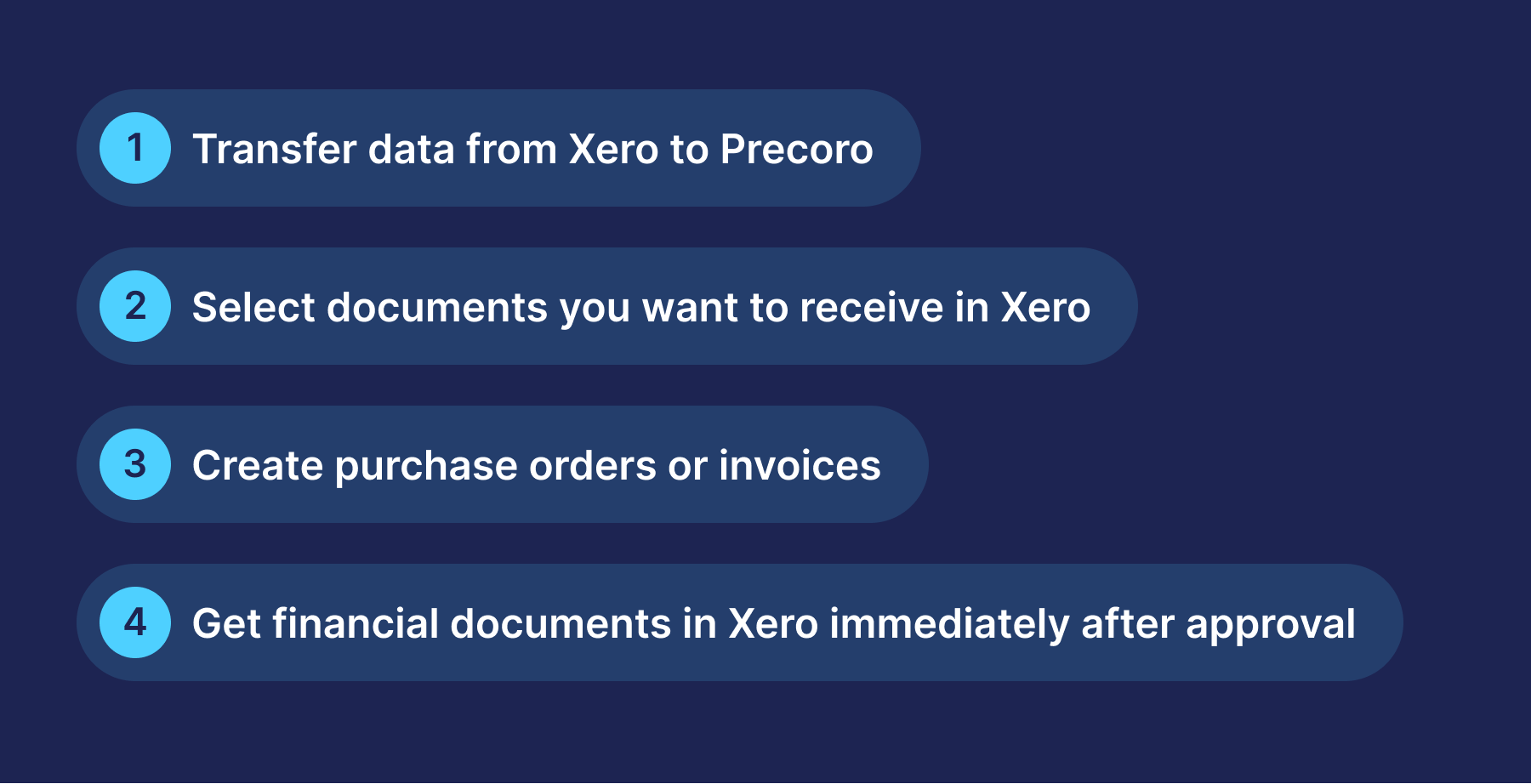 All purchase orders and bills to pay will be automatically moved to Xero, including attachments and notes.
When you modify or cancel documents in Precoro, all changes are immediately reflected in your Xero account.
Precoro and Xero Integration Benefits
Efficient communication between departments
Precoro's integration with Xero helps your procurement and accounting departments to work in sync, thereby increasing business efficiency and achieving ideal outcomes.
It's a beneficial integration for all parties. Purchasing managers won't have to duplicate the same documents in different tools. Meanwhile, bookkeepers get financial documents on time and can easily track the company's budget.
Optimized purchasing workflow
Precoro integration with Xero lets you create a customizable approval workflow. You can choose what access level each employee should have and attach vital documents at each stage. This will help reduce ​​bottlenecks in the purchasing process and improve transparency.
By syncing suppliers, charts of accounts, POs, and more, it's possible to decrease manual data entry by 80% on average. Moreover, you can eliminate redundancy when creating purchase orders or invoices (pushed to Xero as bills to pay).
Better spend control
Financial transactions need to be monitored constantly to keep budgets under control. Precoro and Xero integration gives you better spending visibility in order to do so.
Two-way synchronization allows you to more easily manage all bills, track business expenses, and reduce maverick spending.
Ability to conveniently use Precoro via Xero login
To experience the benefits of Precoro without extra hassle, you can sign in or sign up via your existing Xero account.
Even if you don't have a Precoro profile yet, the system will automatically create a trial account once you sign up with your Xero login. If you already have a Precoro account, you will be redirected to it after signing in with Xero.
All of this saves time – you won't go through an additional registration process or enter a bunch of data. Instead, start using Precoro with the click of a button. This feature is made particularly secure with two-step authentication and anomalous login detection.
How to Integrate Precoro with Xero
Integrating Precoro and Xero takes less than 5 minutes. There's no need for third-party tools or specific technical skills.
Go to the integration page or click the "Sign in with Xero" button.

Press the "Connect to Xero" button.

Fill in your Xero login credentials.

When prompted, allow Precoro to access your data from your Xero account. Precoro ensures total security by providing SSO and 2-factor authentication.

Import the required lists. You can choose separate fields that need to be transferred manually or click "select all."

Select what documents you want to send to your Xero account after approval.

Get purchase orders or bills payable in Xero immediately after their creation in Precoro.
All purchase orders and bills to pay will be visible in your Xero account after their approval. You'll be able to see document information and history in the integration log.
What does Precoro and Xero integration look like?
Precoro and Xero integration is a direct connection for better synergy between procurement and accounting teams. Check out the video below to see if it's a good choice for your company.
Sign up for a 14-day free trial or book a demo on our website to see Precoro and Xero integration in action.
---