4 min read
How to do a purchase order in Xero
Learn more about the purchase order and purchase overview modules in Xero. Follow our step-by-step guide to create the required financial documents easily.
Accounting is an essential part of every business, regardless of its size or industry. It implies a lot of operations such as paying bills, tracking corporate expenses, managing payrolls, and more.
But handling complex bookkeeping processes manually can be a bit challenging. And here is when accounting software such as Xero comes in handy.
Using this cloud-based platform, SMBs from all over the world simplify their day-to-day operations related to payments, project tracking, bank reconciliations, inventory management, financial document creation, etc.
When it comes to financial documents, Xero allows creating expenses, bills, invoices, and purchase orders in a few clicks. In this article, we'll explain how to use the purchase orders module in Xero.
What is a purchase order in Xero?
A purchase order (PO) is the document the buyer sends to the seller to order the needed goods or services. In simple terms, it's a list with detailed information on the necessary stuff for the buyer. It includes:
Purchase order ID
Overall seller and buyer information (company's name, address, and additional contacts)
Purchase and delivery dates
Order description, including the required number of items and their price
Payment terms and conditions
How to create a purchase order in Xero?
1. Open the "Business" tab in the header and select the "Purchase orders" module.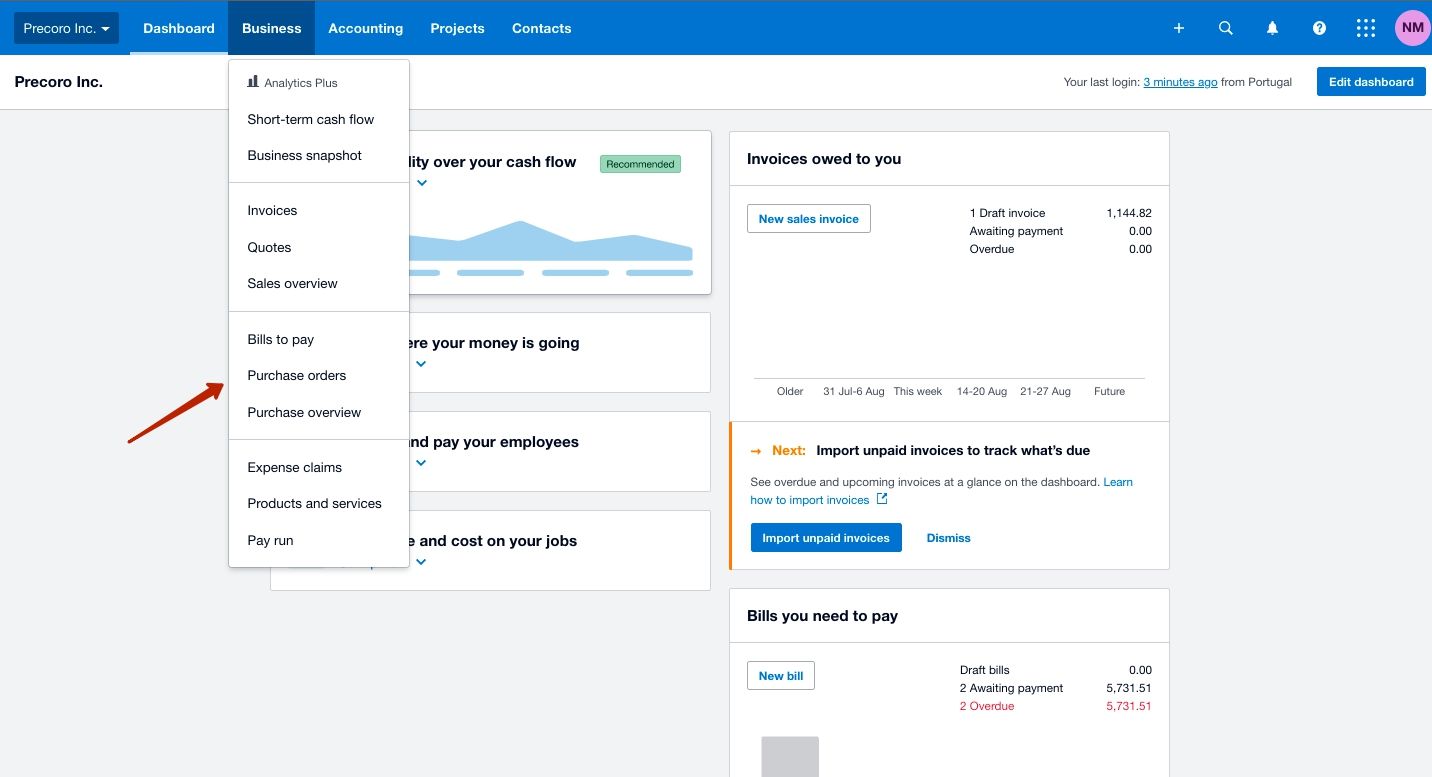 2. Click the "New purchase order" button.
3. Type the correct recipient in the "Contact" field. You can select an existing contact or create a new one (the system will automatically save it for further usage).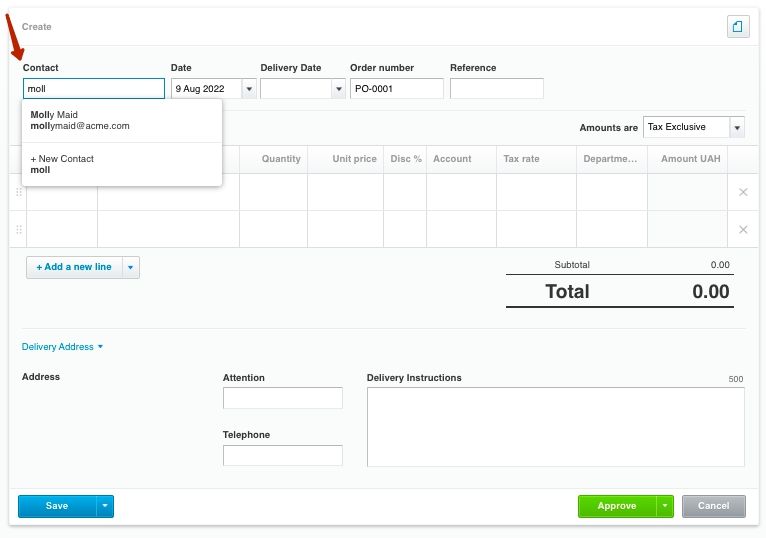 4. Fill in all the required details. As with the contact, you can select items from the list or include additional ones. You can add as many items and lines as you want.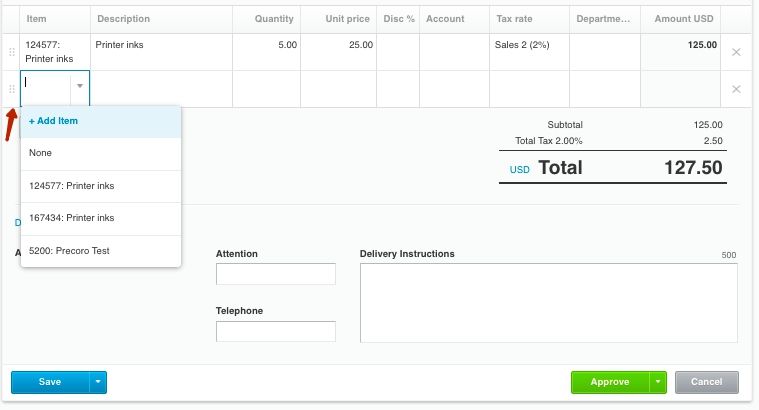 5. Provide appropriate delivery details. While creating purchase orders in Xero, you can select a new address, search for the right one from the contact list, and fill in additional delivery instructions.

6. Attach additional documents or provide specific details in notes.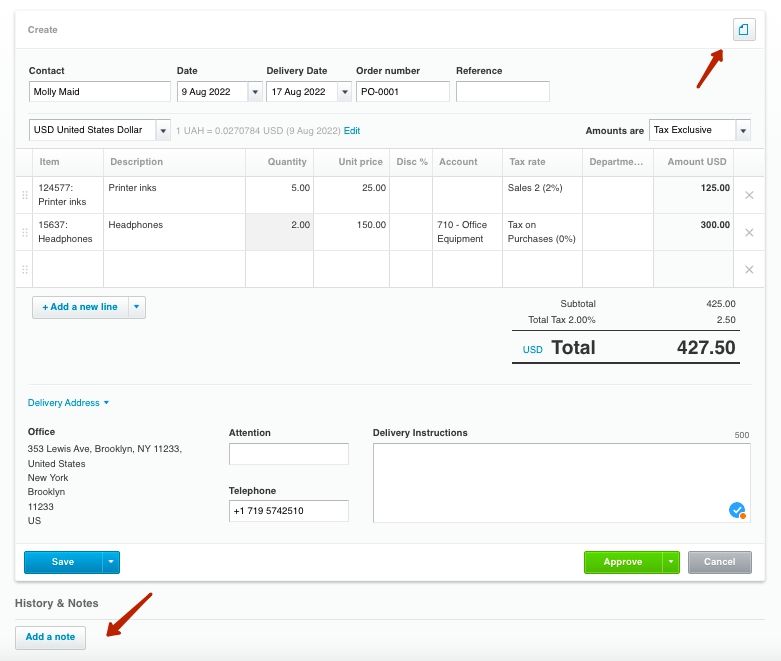 7. Select how you want to save the created invoice.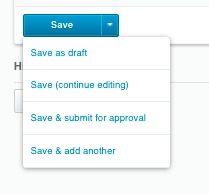 Please note that you can approve it immediately without saving. Just click the "Approve" button and select the suitable variant.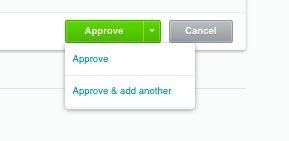 8. To see the full list of your purchase orders, click the "Purchase orders" button again in the header. You'll always be able to track how many documents you have as a draft; how many of them are needed to be approved or billed.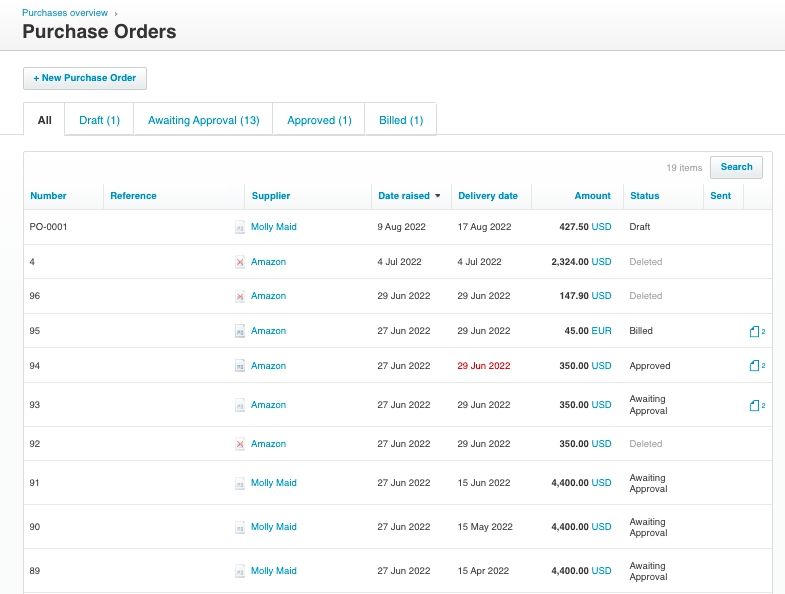 How to use Purchases Overview in Xero?
Besides creating purchase orders, you can track them afterward in the "Purchase Overview" module. In the graph, you'll be able to see all previous or upcoming bills and understand the overall picture of your spending.
To access this module in Xero, go to the "Business" tab and click the "Purchase Overview" module. Blue charts represent unpaid bills with specified due dates. The green one indicates already paid bills or those that should be paid that exact day.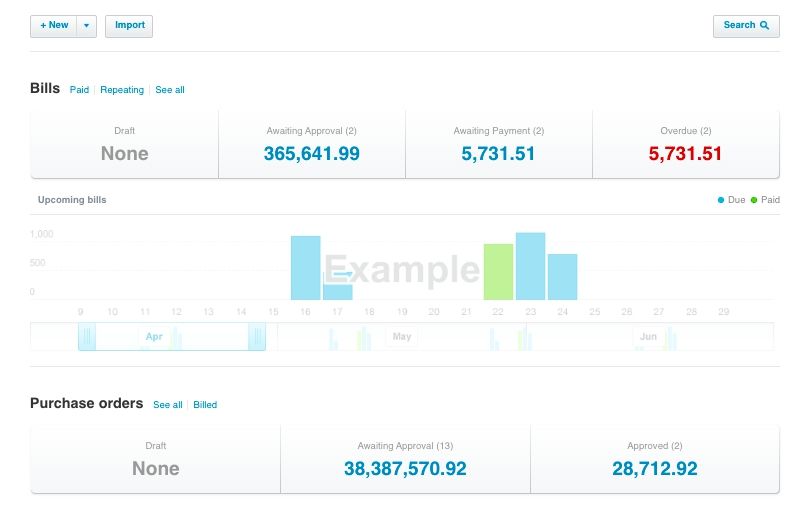 Apart from charts, with the "Purchase overview" module, you can see a list of your bills with their status.

Direct Precoro integration with Xero
If you're interested in an even more enhanced purchasing process, Precoro integration with Xero will solve this inquiry.
This integration is designed to sync your procurement and finance operations, eliminate manual data entry, and optimize your purchasing workflow.
With it, you'll be able to import essential data such as charts of accounts, items, tax rates, etc. Besides, you can create purchase orders or invoices in Precoro and immediately get them in your Xero account. All actions related to these documents will be visible in your Xero account.
Want to learn more about direct Precoro integration with Xero? Follow this link or contact your dedicated customer success manager for more information.
---