Precoro helps companies spend smarter
Request. Approve. Order. Control. Bring transparency and predictability to your company's spending workflows.
What Precoro does
Precoro is a core solution to these problems:
Messy and untimely approvals
Error-prone manual processes
Chaotic, unclear workflows
Poorly maintained records
Lack of reporting and visibility
How Precoro does it
Precoro improves spending workflow automation
For minor company expenses, you might utilize a spend management solution or track everything in spreadsheets. For everything more, you'll need Precoro. We help companies achieve procurement excellence and budget efficiency by building transparent, predictable, automated spending workflows.
Functionality
Process before features
Precoro is process-oriented, giving you agency to gather and process requests, build custom approval logic, manage purchasing documents, and gain complete control over company spending.
Request
Easily create, collect, and manage any request in real time. Precoro gives voice to employees, peace of mind to approvers, and acts as a source of truth, unifying your purchasing activities in one place.
Purchase requisition

Request for proposal

Warehouse request

Invoice Payment request

Reimbursement request

New vendor request
Visit Product Page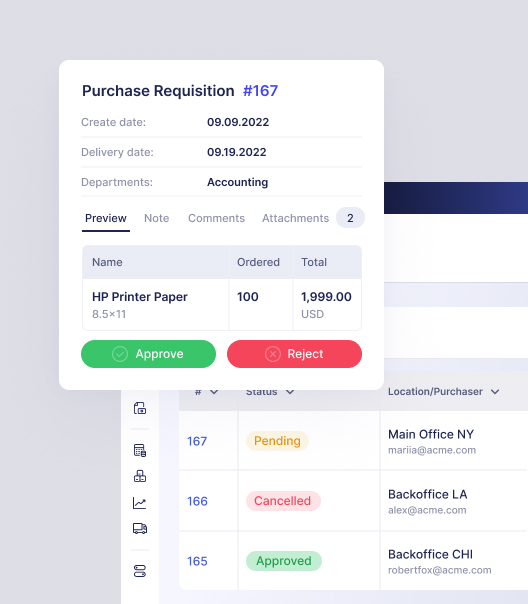 1 of 4
Flexibility
It's never one-size-fits-all
Precoro is designed to adapt to your purchasing approach, industry, and company size. Enable only the modules you need, customize document fields, set up criteria-based approval workflows, and design your user roles. All in a day's work.
Industry-specific use cases
Explore how easily Precoro adapts to the workflows of different industries. No matter what you are ordering or how many departments you manage, Precoro is here to assist you.
Precoro gave us visibility and control over the multi-branch spending of our organization.
Barend Liebenberg, Procurement Manager
Bolloré
Precoro gave us visibility and control over the multi-branch spending of our organization.
Barend Liebenberg, Procurement Manager
Bolloré
1 of 3
Scalability
Custom ≠ Complex
On average, it takes about 2 weeks to implement Precoro and less if you want to scale your pre-existing Precoro account. What's more, you don't require technical knowledge or rigorous training to make the best of the system, so adoption and onboarding are a breeze.
Growing complexity
Our team works hard to make Precoro the procurement tool you will use for years. For example, you can start with a handful of users and simple PO - Approve processes, then add more users and features as needed. You can always: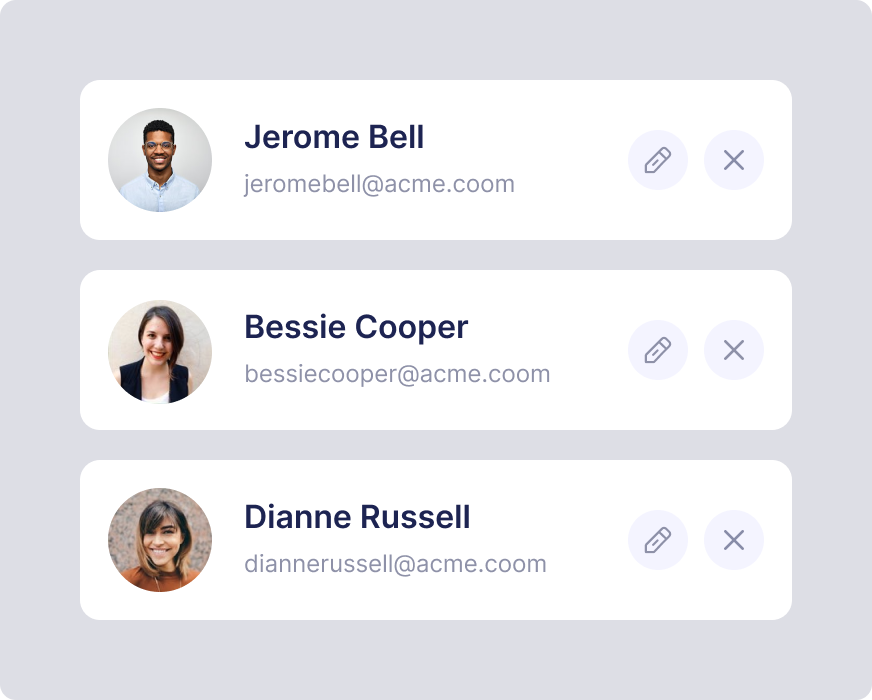 1 of 3
Connectivity
Connecting teams and tools
Procurement and spend management should be transparent, trackable, and automated for all teams involved. Precoro makes it easy for requesters, managers, finance, and procurement teams to collaborate internally and with suppliers.
Requesters
It's not enough to implement a purchasing policy. It should be straightforward and convenient for people to follow. Here is how Precoro can help you speed up procurement policy adoption and give employees an easy way to track the status of their requests in real time.
Limit modules and features by user roles, so employees will only see parts of Precoro they would actually use. No confusing options or complicated interfaces that take forever to learn.

Create custom rules and scenarios and automatically route requests to the right decision-maker. Your employees will never have to wonder whom to address their request to.

Precoro will automatically update document statuses and send notifications and reminders via email or Slack, so employees will always be informed about the progress of each request.
1 of 5
Proven track record
Don't take our word for it
Loved by SMBs and enterprises alike
Want to see Precoro in action? Easy. Here's how: