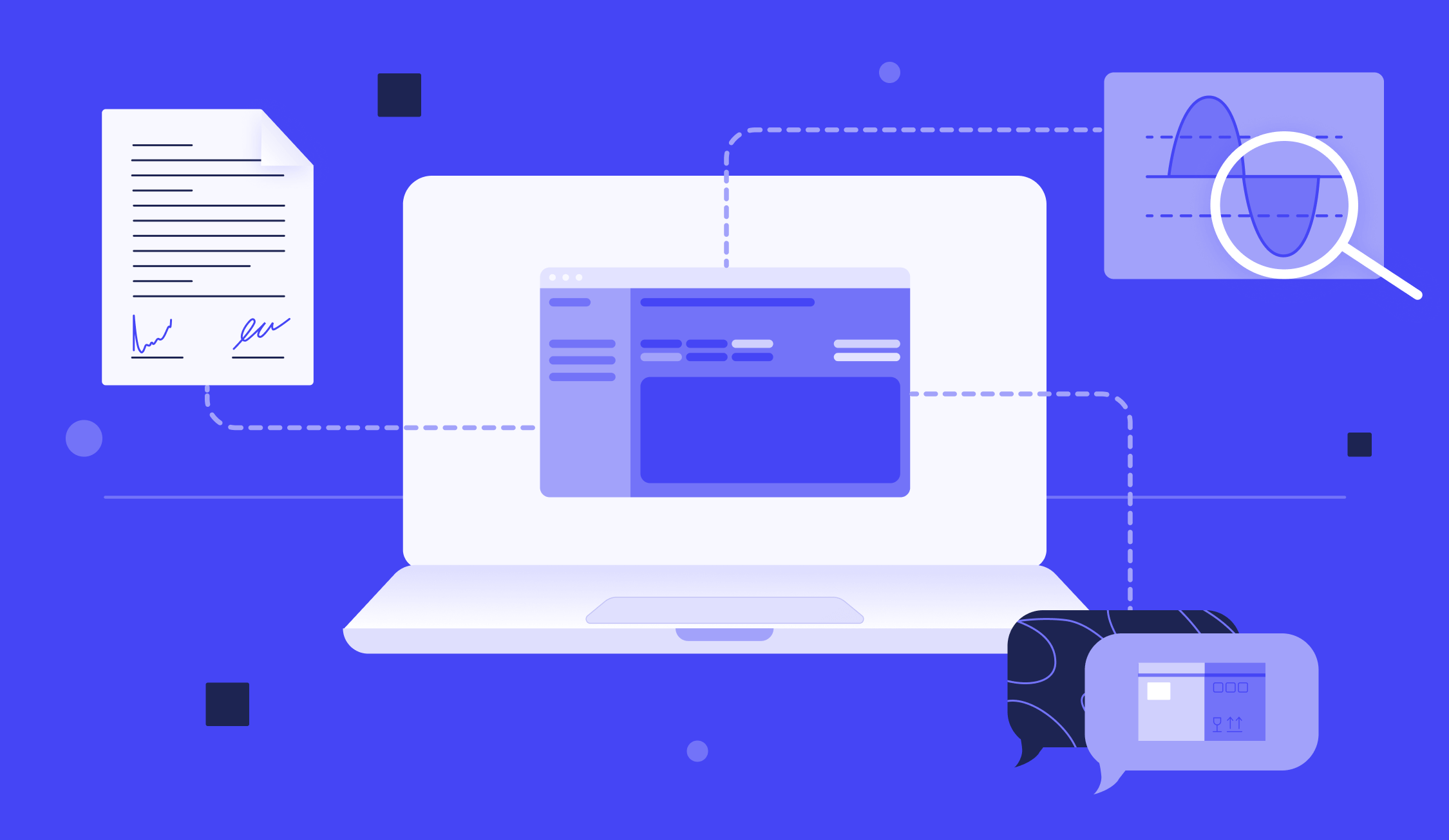 9 min read
IT Procurement: How to Purchase IT Products and Services Effectively
Discover how to establish a successful IT procurement process and make informed decisions when acquiring new hardware and software.
In today's fast-paced corporate world, it's difficult to overstate the significant role that technology plays in the success of many organizations. Strong companies depend on a range of hardware and software solutions to support key business processes like customer service, financial management, and supply chain operations. Moreover, information technology enables remote work and open communication between different departments.
That's why more and more organizations are recognizing the importance of a dedicated process for acquiring the hardware, software, and professional services necessary to run smoothly. This process, known as IT procurement, requires comprehensive steps with clear objectives and vendor selection criteria to ensure that technology investments align with business goals and yield a return on investment (ROI).
This article encompasses the best practices for planning and executing successful IT procurement strategies. Whether you're the CPO, COO, CTO, IT manager, or a procurement specialist, understanding the selection process for procurement IT is crucial for ensuring that your company has the technical resources it needs to remain competitive and satisfy evolving customer demands.
What is IT procurement?
Information technology procurement focuses on obtaining the IT products and services needed to support business operations. This includes hardware, software, and professional services such as consulting, implementation, and maintenance. The IT procurement process encompasses a range of steps, from establishing IT requirements all the way to negotiating contracts with vendors.
Gartner anticipates a 5.5% growth in global IT spending from 2022. Many organizations are investing more in digital technology to gain a competitive advantage through automation, improved client interactions, boosted productivity, and strong value propositions. In fact, spending on software will see double-digit growth in 2023, emphasizing its importance in driving business success as well as stability in the midst of economic turbulence.
Therefore, IT procurement is a crucial part of an overall procurement strategy. It plays a vital role in managing an organization's inventory of IT assets, reducing redundancy, and lowering the risk of downtime or service interruptions. Additionally, a well-executed process can help organizations achieve cost savings while avoiding implementation risks. Effective IT procurement entails a carefully thought-out approach that guarantees the organization obtains the right technology resources, at the right cost, and with the right level of support to accomplish its business objectives.
IT procurement tips and tricks
Companies can obtain the needed information technology in a timely manner and successfully reduce risks by adhering to these steps of the IT procurement process.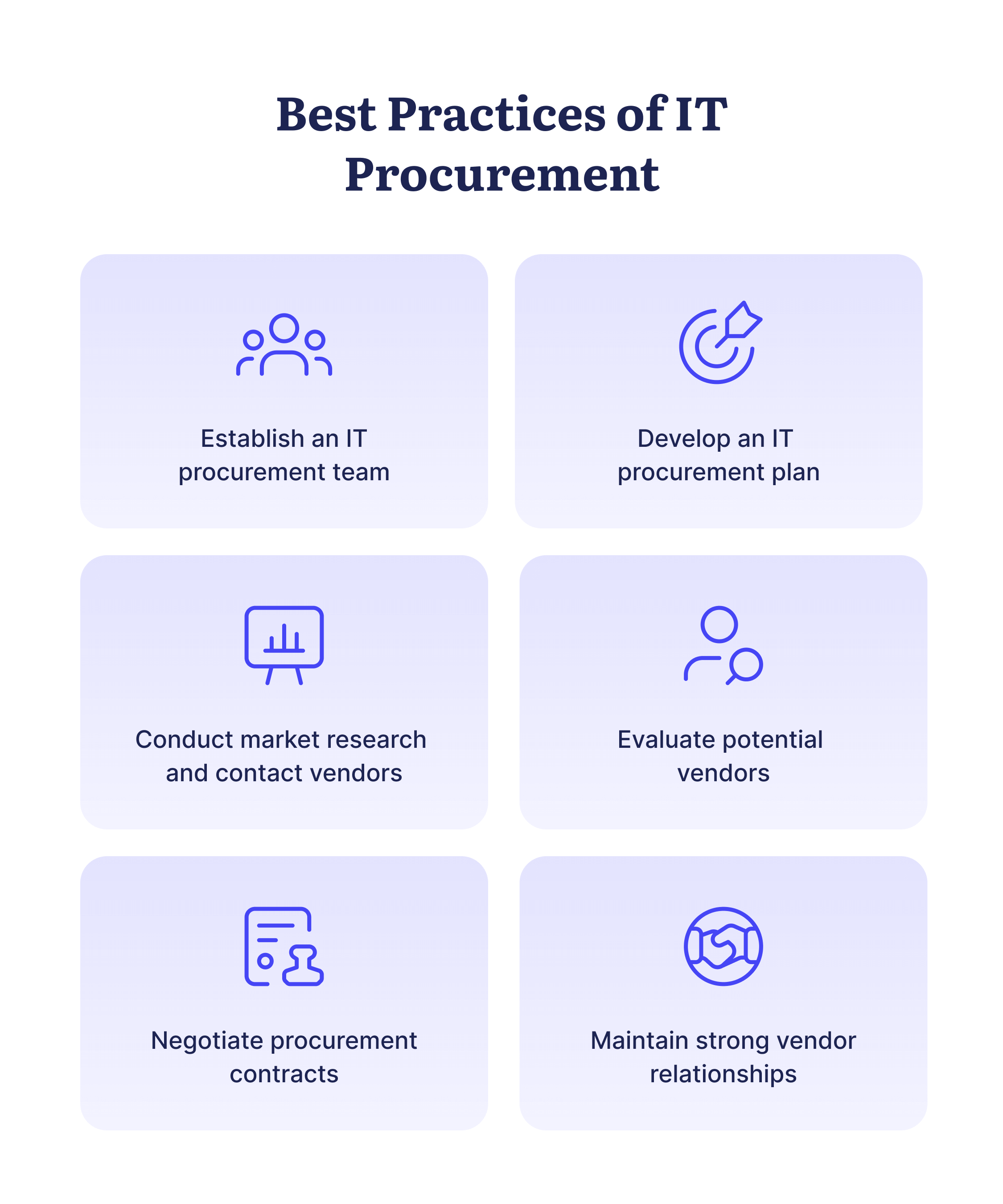 Establish an IT procurement team
Employees of IT and procurement departments make up the foundation of a strong IT procurement team. IT team members are aware of the requirements necessary for a technology to function properly, whereas procurement professionals are skilled at contract sourcing and negotiation. Together, they can ensure that new hardware and software meet the organization's needs.
While searching for a tool to address a specific issue, it's crucial for the IT procurement team to work closely with relevant stakeholders such as heads or members of other departments, such as HR, sales, or marketing. It should be simple for other teams to speak with IT and procurement managers about issues they encounter and potential solutions for them. Then, IT managers can assess the state of the tech stack to see if the available tools can meet the demand. If so, the organization will save time and money. However, the IT procurement process will need to continue if the team determines that the issue cannot be solved by the existing tool.
To achieve the best results, the IT procurement team promotes an atmosphere of open communication and makes sure that everyone is on the same page and expectations are aligned. This can be accomplished through internal surveys, group meetings, and one-on-one consultations with department heads and end users. These procedures will help the IT procurement team take into account the unique needs of each department and make sure that the technology investments are in line with business objectives.
Develop an IT procurement plan
An IT procurement plan is a set of steps for purchasing the hardware, software, and expert services required to support an organization's operations. Typically in the form of a document, it entails formulating defined objectives, determining vendor selection criteria, choosing a budget, and establishing a timeframe for execution.
In order to create it, the IT procurement team will have to determine the requirements for a suitable solution such as exact features, cost, scalability, and compatibility with existing systems. The company can also include any relevant standards that need to be met, such as sustainability certifications or performance benchmarks.
Additionally, it's important to consider organizational constraints that may affect the procurement process. Budget restrictions, for instance, can force the IT procurement team to look for more affordable options that still fulfill the organization's goals. Similarly, time constraints may motivate the IT procurement team to consider vendors that have a history of providing fast implementation times. One more example of a possible organizational constraint is limited staff expertise. In such cases, the procurement team may need to seek solutions with intuitive interfaces that require less training. It's important to consider such factors, as they help to specify the list of requirements, making finding a solution more straightforward.
Once these factors have been identified, it is important to document them in a clear and concise manner and share this information with all stakeholders, including budget holders. Later on, we'll go over other specifications that simplify the creation of the Request for Proposal (RFP) and vendor evaluation.
Conduct market research and contact vendors
Market research is a critical step for identifying appropriate suppliers. Members of the IT procurement team may visit industry websites and forums to find information about vendors and their products. Companies can also ask for recommendations from their industry peers and colleagues as well as attend trade shows, conferences, webinars, and other industry events to network with potential vendors.
Once the IT procurement team identifies some potential vendors, the company can either send a Request for Proposal (RFP) or a Request for Quote (RFQ), or it can immediately engage in direct negotiations. An organization's decision on how to approach prospective vendors will depend on its unique needs and circumstances. Let's go over these now.
Sending an RFP is generally recommended when an organization hasn't determined what exactly it needs and wants more information about a product or service before making a decision; on the other hand, an RFQ is typically used when an organization knows exactly what it wants and only needs more information about the price. Direct negotiations with vendors may be appropriate in situations where the organization has an established relationship with a vendor and is seeking to renew or expand that relationship, or when the organization has a unique need that requires a custom solution that cannot be easily defined in an RFP.
Evaluate potential vendors
After receiving the relevant documents and/or having initial meetings with potential suppliers, companies must establish a set of criteria and choose a provider that best meets these requirements. These criteria should be laid out as part of the IT procurement plan. Simply choosing whichever vendor is the lowest bidder is not a good way to decide. Instead, the more important factors to consider are functionality, price, delivery/implementation time, supplier reputation, and past performance.
IT specialists may prioritize and assess technical features and integrations while procurement professionals may compare pricing structures, terms of implementation, and review information about customer support.
A company may also request additional documents to make sure that a service is reliable. These may include business licenses, security certifications, regulatory compliance regulations, sustainable sourcing reports, and more. Additionally, in order to make sure that the tool is suitable for the company's size and industry, the IT procurement team may conduct evaluations of the performance by reviewing potential vendors' case studies or other forms of customer success story documentation.
If, after the comparison between potential suppliers, the IT procurement team finds an appropriate hardware or software provider, they can move on to signing a contract. If there are still uncertainties, it may be a good idea to request additional presentations or demos to make the final decision. Additionally, some software solutions provide free trials, which are ideal for determining whether the tool will be a good fit in practice.
Negotiate procurement contracts
To make sure that both parties clearly understand the expectations of the working relationship and are ready to live up to them, it's critical to negotiate and sign a contract. The document should specify all the important terms and conditions such as the exact pricing and payment terms, delivery or implementation terms, quality standards, confidentiality, data security, and penalties for non-compliance.
During the negotiation process, it is important to maintain an open and collaborative dialogue with the vendor. Be transparent about your organization's needs and concerns, but also be prepared to listen to the vendor's perspective. Once a contract has been signed, the IT procurement team may issue a purchase order (PO) to finally request the agreed-upon specific goods or services under the corresponding terms and conditions.
Companies sometimes choose to skip the PO creation and go straight to invoicing after signing the contract. We wouldn't necessarily advise doing this, as a PO helps with budget management and financial tracking by providing a clear record of the planned expenditure.
Maintain strong vendor relationships
Signing a contract and issuing a purchase order is just the beginning of your long-term partnership with a selected vendor. Information technology procurement involves maintaining a good vendor relationship in order to establish the trust and transparency needed for effective collaboration. Naturally, communication is key to any successful relationship. Thus, ensure that you are regularly communicating with your vendors long after implementing their product, especially for those that receive ongoing maintenance or updates.
Measuring vendor performance is critical to productive vendor management. The IT procurement team can develop a set of performance metrics or KPIs that align with the contract terms, and use these metrics to track the vendor's progress. For instance, a company may consider the quality of service which can be measured by factors such as the number of incidents or issues raised by the organization, the time taken to resolve these incidents, and the level of customer satisfaction with the vendor's services
A company may use such metrics as a basis for fruitful discussion and feedback for vendors. Additionally, regular check-ins can help an organization identify and address any issues before they become major problems. By taking a proactive approach to managing supplier relationships, the IT procurement team can build long-term relationships with vendors based on mutual trust and respect.
Pro tip: In order to quickly access and easily manage contracts, RFPs, purchase orders, invoices, receipts, and other procurement documents, consider storing them in a centralized system – for instance, purchasing software like Precoro. This kind of tool keeps records organized, allowing companies to easily track purchases and supplier info. Services like Precoro also let users make customizable reports, which can be used to analyze budgets, expenses, and orders. Precoro specifically also offers a supplier module and a portal for suppliers, which lets companies communicate with vendors directly in the system. You can check out how Precoro can simplify the IT procurement process with a free 14-day trial.
Frequently Asked Questions
What is IT procurement?
IT procurement is the process of selecting, purchasing and implementing hardware, software, and related professional services necessary for improving an organization's operational efficiency.
What is the role of IT procurement?
IT procurement helps companies align technology investments with their long-term goals and objectives. It enhances competitiveness and improves risk mitigation while ensuring that organizations have all the necessary IT tools.
What is an IT procurement plan?
An IT procurement plan is a set of requirements, expectations, and concrete steps for selecting and purchasing hardware and software. The plan may outline a number of things, including a company's technology needs, evaluation of prospective vendors, available budget, the supposed timeline for the procurement process, and a system for monitoring vendor performance.
How should a decision be made on a vendor?
When choosing a vendor for software and hardware, companies should engage in thorough market research and compare products based on various criteria (such as functionality, reliability, and scalability) according to their needs. It's always a good idea to evaluate the vendor's reputation, past performance, support services, pricing, and compatibility with existing systems.
Putting it all together
The process of purchasing an IT product or service is referred to as IT procurement. By acquiring information technology with a well-executed strategy, companies can effectively manage their inventory of IT assets, cut down on duplication, and minimize the chance of service interruptions. Additionally, IT procurement benefits include increasing return on investment and enhancing market competitiveness as organizations ensure they have the necessary technological resources at their disposal.
An effective IT procurement strategy includes the following best practices:
Establishing an IT procurement team, mainly from members of IT and procurement departments so they can pool their skills and experiences to select the right solutions
Creating an IT procurement plan with clearly defined IT requirements, evaluation criteria, timelines, and budget
Conducting market research and sending RFPs/RFQs or initiating direct negotiations with prospective vendors
Evaluating functionality, price, delivery/implementation time, reputation, and past performance of the specific suppliers
Negotiating and signing a contract with a vetted vendor
Fostering open communication and measuring vendor performance to enhance partnerships with vendors
---