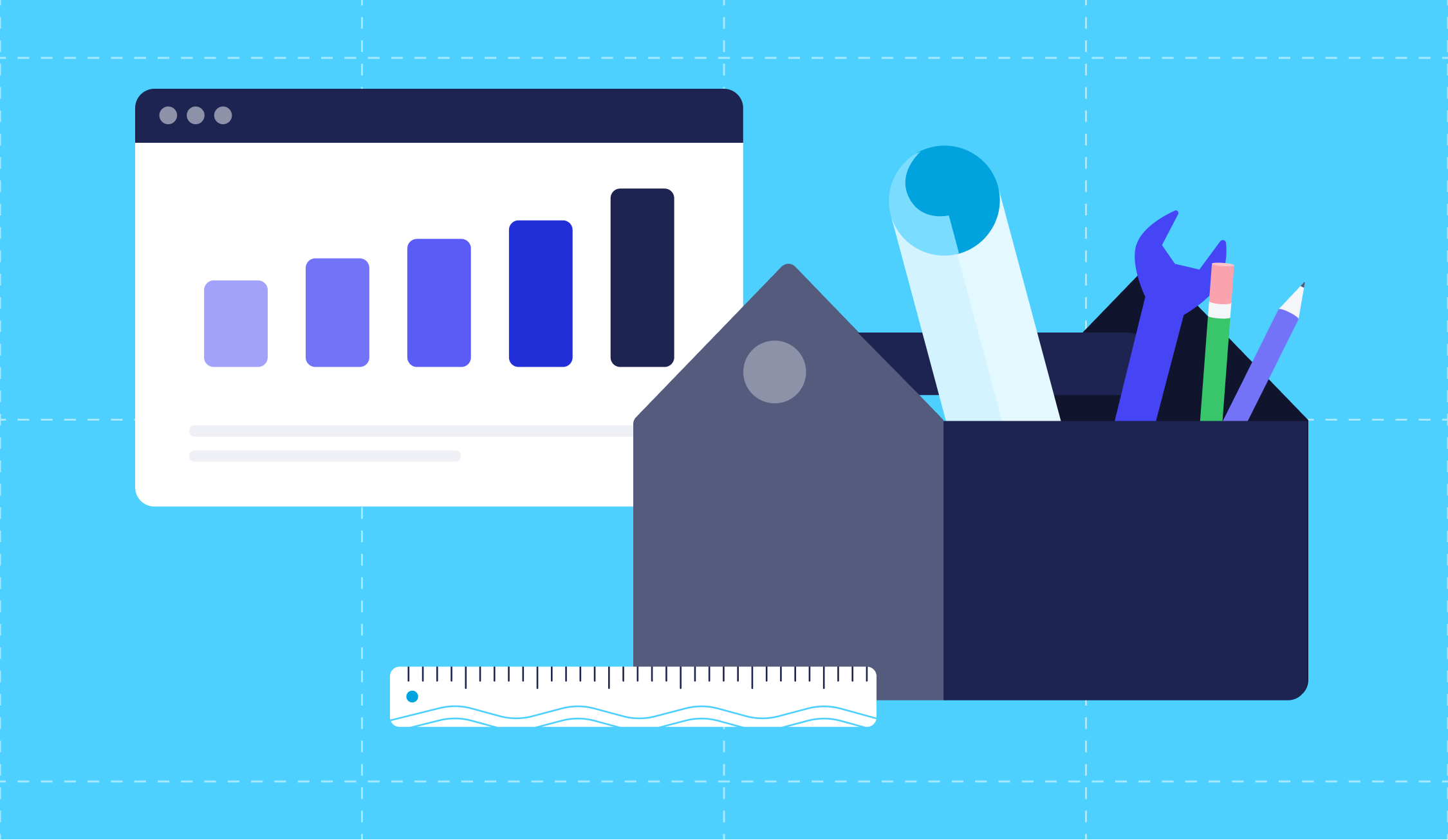 9 min read
Why a Procurement Management Tool is a Must for Efficient Purchasing
Procurement managers aim to deliver results while optimizing expenses.
Procurement is a complex and dynamic process involving strategic planning and several stages of execution, from sourcing to paying and reporting. Supply chain management, purchase requisitions and orders, budget management, and three-way matching – all these processes are integral to procurement as a whole.
Managers utilize numerous dedicated tools to ensure the efficiency and simplicity of the procurement cycle and get real-time insights. The right software stack plays a crucial role in making informed decisions and maintaining control each step of the way.
Dedicated tools are software solutions that tackle the inefficiencies of manual procurement management by automating some processes.
Let's discuss:
How manual procurement management can hold you back
How procurement management tools can come to the rescue
Things to look for in a procurement management tool
How procurement management tools benefit companies
How to compose the procurement management software stack
How Manual Procurement Management Can Hold You Back
Manual procurement management relies mostly on spreadsheets, physical printed documents and e-mails (or other means of communication). It is the most traditional approach and a road still taken by a significant portion of companies, but it has substantial disadvantages and risks.
Repetitive and Monotonous Tasks
When procurement is managed manually, employees are forced to repeat the same tasks over and over on a daily basis. This is not only a waste of company time that can be better spent on other tasks – it can also be soul-crushing for those involved.
Fortunately, this can be avoided with presets, templates, and automation.
Delays and Bottlenecks
Manual activities are a lot slower, as people can only do so many things in a given period of time. When procurement is managed manually and driven solely by human effort, there's a risk of errors and delays due to processing and approval bottlenecks.
Lack of Transparency
Manual procurement management mostly happens via e-mails and spreadsheets and generates a lot of paperwork that is difficult to standardize and keep track of.
The resulting lack of transparency causes miscommunications between procurement professionals, stakeholders, and employees across the company. It also makes companies more vulnerable to possible fraud or intentional misconduct.
Low-Quality Documentation
Purchase requisitions and orders, receipts, invoices, and other documents must each contain specific information, often legally binding.
When managing procurement manually, documents are more likely to deviate from company standards, contain errors, or lack some crucial information. Any of these things might lead to serious procurement cycle failures.
Delays and Inaccuracies in Reporting
Manual data entry for the purpose of generating analytics is a time-consuming and cumbersome process which can result in dirty data.
Automation speeds things up, reduces any risk to data, and makes it possible to access real-time analytics. Meanwhile, employees no longer have to extract data, clean it, format it, or analyze it themselves.
Various procurement management tools are available to help with data as well as automate other important procurement activities. Let's go over some of these next.
How Procurement Management Tools Can Come to the Rescue
To overcome the challenges of manual operations, streamline procurement workflow, and improve overall efficiency, progressive managers opt for automation tools. They can be anything from task management software to complex procurement solutions.
There are so-called pure procurement tools that deal exclusively with procurement agendas and are helpful for dedicated procurement teams or businesses with complex processes in place – for example, Precoro.
Some tools incorporate procurement functions as a part of other business processes. Such solutions suit companies that don't require a dedicated procurement team. For instance, QuickBooks accounting software supports purchase order creation but doesn't primarily deal with complex procurement agendas.
Each tool provides a different set of features. Managers should select tools based on the company's size, structure, needs, and market specifics.
Managers can bring a lot of value to the procurement cycle by making sure that their chosen solution meets purchasing requirements and aligns with the overall business strategy.
Things to Look for in a Procurement Management Tool
There are some key functionalities to look for when picking a procurement solution. These should be considered regardless of your company's size or industry.
Automation
By automating core processes, businesses can see a radical improvement in various KPIs, such as procure-to-pay cycle time, purchase order approval time, contract closure time, etc.
Also, an automated solution helps qualitatively improve the procurement cycle by minimizing employees' intervention as well as human errors. In short, processes become quicker and simpler.
Document Creation, Management, and Matching
Logistical activities like creating PRs and POs or issuing and matching receipts and invoices are at the core of procurement.
Procurement management tools should let companies streamline document creation, editing, and matching to easily arrive at the final stages of the purchasing cycle.
Approval Workflows
Approval workflows define what has to go through the manager and what can be purchased immediately. By clarifying the rules and the spending caps, managers ensure employees' autonomy in some cases but deal with those requiring attention.
With automated approval processes, manager approvals don't happen over emails like they do with manual processes. Dedicated tool allows tracking manager approvals instantly from anywhere. Automated notifications and alerts help speed through pending approvals and avoid delays.
Supplier and Vendor Management
Since suppliers and vendors are critical business partners who provide required goods and services, relationships with them should be perceived as partnerships – equal and dynamic with clear guidelines.
A procurement management tool can be used as a platform to manage supplier relationships, define clear cooperation terms that everyone aligns with, and enable prompt reactions to any changes.
Inventory Control
Procurement managers need to have an accurate overview of the goods currently in stock in order to purchase in a timely and accurate manner.
Warehouse management is key to determining the best time for placing a purchase order and avoiding unnecessary spending. Dedicated tools help track inventory status and notify users when stock is low and when it's time to initiate the next purchase.
Budget and Spend Control
Another important procurement software feature is budget planning and tracking. Senior management creates departmental budgets as a part of a general business strategy, and mindful budgeting helps stay within determined limits.
A spend management platform, such as an e-procurement tool, helps determine if purchases are made within the organization's financial limits and highlights opportunities for cost savings.
Reporting
Businesses rely on accurate information in order to run profitably. A procurement management tool is a trustworthy source of data for spend analysis and performance evaluation.
The right tool will have accurate data available for extraction at any time in the form of reports. Management depends on these reports to control operations and strategize for the future.
Integrations
Seamless integrations and API connectivity are vital for building flexible, cross-departmental systems. Exchanging information with other software solutions allows procurement to fall in line with general business goals and operations.
Real-Time Collaboration and Communication
It's important that purchasing specialists, managers, financial teams, stakeholders, and other parties involved in the procurement process stay aligned and in the loop regarding purchase statuses.
Within a procurement solution, transaction details are visible in real time according to the user's role and permissions.
User Friendliness and Maintenance
Introducing a new tool should be simple and painless. The more user-friendly and intuitive it is, the faster employees will adopt and learn to use it.
Also, consider the deployment environment – a cloud-based solution would probably be the best choice, as it offers remote accessibility to the employees and easy scalability to the managers.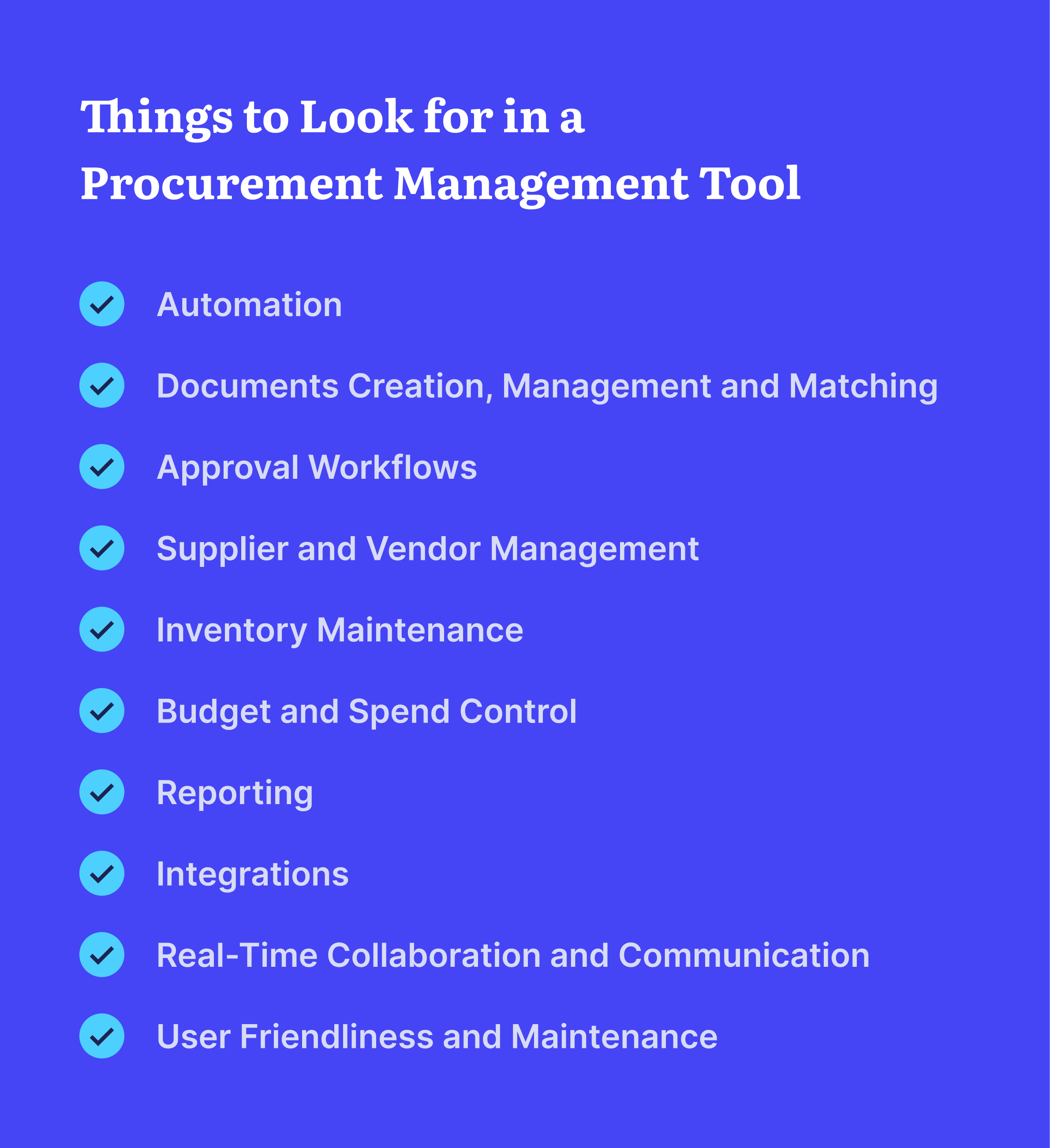 How Procurement Management Tools Benefit Companies
Managers constantly look for ways to streamline workflows and exercise control over sourcing and purchasing steps. Let's see how procurement management tools positively influence the big picture processes.
Centralized Information
Procurement is quite complex and includes multiple tasks completed, often simultaneously, by different employees or departments. Information is often coming in from all directions. Procurement management tools take in and store such information in one system, via which it can be easily accessed.
Optimized Performance
By taking advantage of customized, automated process sequences set up by the manager, employees are saved from numerous repetitive activities that they would otherwise do manually. They can then invest work hours into high-value, productive tasks.
Standardized Procurement Policies
A successful business is built through constant analysis, evaluation, and improvement of processes and policies. Dedicated tools help uncover bottlenecks and inefficiencies and find ways to avoid them.
Standard procurement policies are developed by building tailored workflows, assigning approval roles to the users, and maximizing automation leads. This leads to clear procedures for vendor and supplier selection, onboarding, contracting, document processing, and payments.
Enhanced Accuracy and Consistency
Procurement management tools minimize the need for human intervention, thereby reducing the possibility of errors and mistakes and improving information accuracy, consistency, and audit suitability.
Strategic Sourcing
Procurement professionals should consider numerous factors while sourcing goods, the main being availability and price, vendor reliability and flexibility, and delivery and storage logistics.
By handling vendors and suppliers via the dedicated tool, procurement professionals can access their history, compare with other options, and find the best one.
Comprehensive procurement software also allows for insights into warehousing capacities for evaluating logistic options.
Mobile Work
Manual procurement processes mean some activities will be restricted to certain locations where paperwork is stored, inventory checks are conducted, or purchase orders are signed and filled. Meanwhile, the employees there can only do so many tasks in one day, so these activities are hardly scalable.
However, incorporating a procurement management solution means work can happen anytime, anywhere. Procurement professionals become truly mobile and more able to handle any changes or immediate issues coming their way.
Custom Software Stack
Let's not forget that procurement isn't a completely separate agenda, but is closely connected with other departments. To ensure that all the puzzle pieces fit well, organizations typically choose procurement software that supports integrations with other solutions, depending on what else has already been in use.
This might be, for example, ERP software, an accounting system, or a business intelligence solution.
The right selections will save employees hours or work that would otherwise be spent re-entering the information into different systems; helpful tools also minimize the chance of human error and improve overall business performance.
How to Compose the Procurement Management Software Stack
Every procurement manager should carefully consider which tools will help them meet the company's operational needs. Are you looking to take care of one aspect of purchasing or optimize the procurement department as a whole?
Collaboration tools such as Excel and Google sheets can be great for basic housekeeping and purchases tracking. However, these tools don't offer a high level of accountability, as it's difficult to track updates.
Task management solutions like Jira, Asana, and Trello offer a great level of accountability and flexibility in terms of assigning responsible users and tracking progress.
However, they are not adapted to specific procurement needs and thus lack some key procurement functionality such as budget planning, supplier management, three-way-matching, etc.
Some companies choose to implement complex ERP systems, such as Oracle NetSuite or SAP. Depending on the company's needs, size, and structural complexity, they might be sustainable options.
However, deploying an ERP system is quite a time-consuming process, requiring significant investment and staff training.
Procurement managers should therefore consider stakeholders and consult with them on whether an ERP system fits the company's digitalization and business development goals.
Another option is a specialized procurement software that specifically covers the needs of the procurement team. Such software offers functional modules to automate, streamline, and centralize procurement operations.
At the same time, modern procurement solutions support API integrations for easy and secure connectivity with accounting software, ERPs, marketplaces, etc., making the procurement system both flexible and scalable.
For procurement specific solutions, managers can typically start with crucial functionality relevant specifically to their business and add modules or integrations later.
Try This
Let's see how the latter option would work using Precoro as an example. The software offers the following functionalities:
Purchase Requisition
Purchase Orders
Invoices and Expenses
Three-Way-Matching
Inventory
Supplier Management
Budget Management
Reporting
In addition, it supports the following integrations for a smoother procurement experience: Amazon Business Punch-In, QuickBooks, NetSuite, and PowerBI.
Seamless integration with Amazon Business lets employees take advantage of Amazon's personalized and familiar shopping experience while staying in line with their own organization's internal policies and approval workflows.
Once a purchase has been requested, confirmed, and ordered within the procurement software, it's essential that accurate records are kept for the financial department.
QuickBooks and NetSuite integration both let users sync suppliers and items; they also enable automatic forwarding of purchase orders and invoices to accounting.
A useful feature is that information regarding items selected, requested, ordered, purchased, and paid for is aligned at every stage.
By utilizing Precoro custom PowerBI Connector, data can be extracted to build comprehensive analytics. Precoro, of course, offers a number of preset reports and supports the creation of custom ones, so you can learn whatever you need to know about the company's procurement.
However, to make procurement numbers really impactful to the big picture of company performance and revenue, a business intelligence tool that enhances reporting capabilities is key.
With data exported to PowerBI, analysts can build virtually any report, providing managers with invaluable insights into current procurement practices and how they align with business goals.
By implementing dedicated procurement management software and setting up the relevant integrations, managers create a comprehensive ecosystem for successful procurement.
In the End...
Every company is different, and there's no universal set of tools that would suffice for every business out there. But it's definitely worth checking out solutions that would make procurement easier.
For procurement managers who want to implement the best purchasing practices and optimize expenses, the road to success lies in minimizing manual operations and introducing the right set of customized tools business needs.
Responsible individuals should select a procurement tool that automates key operations and supports integrations with accounting and analytical software, all while being intuitive and easy to implement.
Procurement is a critical business function that is never isolated from the rest of the company's agenda. It's important to view it systematically and integrate it with relevant departments to ensure a smooth and swift information exchange.
---