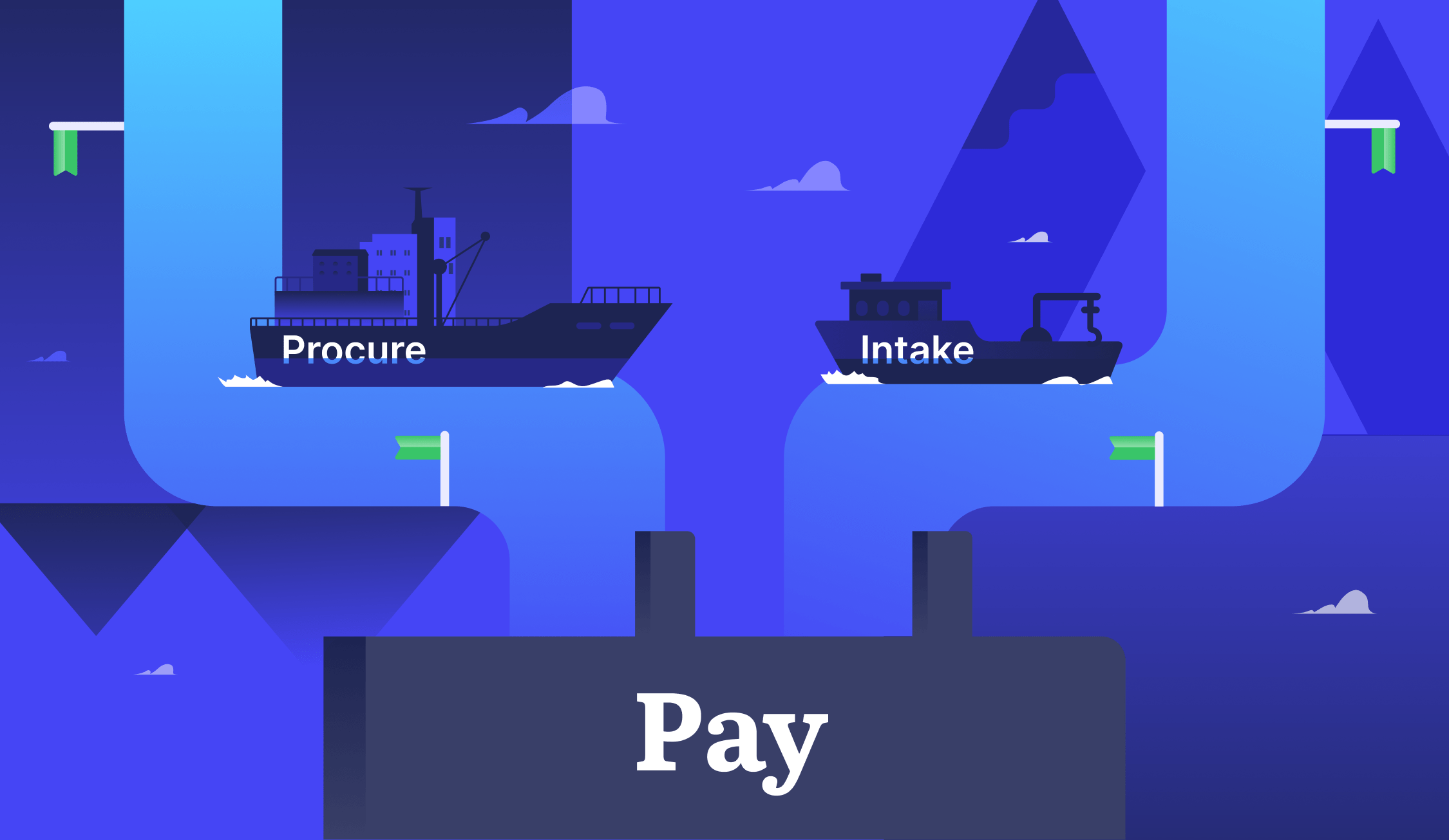 13 min read
Procure-to-Pay vs. Intake-to-Pay: What You Need to Know
Recently, intake-to-pay software has emerged as an alternative to procure-to-pay systems. Let's compare the two and see how they differ in practice.
The procurement landscape is ever changing, and recently, in contrast to the traditional procure-to-pay platforms, we have seen the emergence of a new type of software, intake-to-pay, which is marketed as a more comprehensive solution. Now, companies can handle the pre-PO procurement processes, identify purchasing needs, order and approve purchases, receive invoices, and pay for goods all in one system.
But hold on: are we sure that wasn't all possible with procure-to-pay, anyway? Let's compare the functionality of I2P and P2P software solutions and see which approach is the best option for a company's procurement process.
What is procure-to-pay?
Procure-to-pay (P2P) software is a tool that streamlines the process of acquiring goods or services from suppliers, including all the steps from the initial procurement request to the final payment. Implementing a P2P platform helps companies ensure that all purchases are authorized, received goods and services are of the required quality and quantity, and payments are made on time.
The importance of procure-to-pay process automation is evident in many reports and surveys. For example, according to the 2023 Global Chief Procurement Officer (CPO) Survey, "It's imperative to continue the ruthless automation of P2P and supply chain execution supporting an autonomous 'driverless organization' (e.g., a driverless car). Procurement simply can't scale and focus on strategic activities while mired in transactional processes."
Additionally, as was stated in the 2022 PwC Global Digital Procurement Survey, the digitalization of the P2P process is not too cumbersome and provides visible short-term ROI. As the procurement cycle involves many documents and constant back-and-forth communication, automation is here to minimize human errors, streamline document creation, improve spend control, and increase visibility for requesters and approvers.
Let's see how exactly companies perform procurement operations with procure-to-pay solutions:
1. Requesting a purchase
An employee starts by defining their needs and issuing a purchase requisition (PR), an internal document that acts as a formal request for specific goods or services. The PR should contain information about the required items and, if necessitated by company policy, justification for the purchase.
2. Approving the purchase
The requester submits the PR for approval – usually to the team leads, department heads, inventory managers, procurement officers, and/or upper management. An approval workflow can involve one or multiple steps, which can be sequential or parallel. If the PR meets all formal requirements, fits into the budget, and aligns with business needs, it's approved.
3. Sending RFP/RFQ
Once the approver gives the green light to the PR, the requester or a procurement manager issues a request for proposal (RFP) or request for quote (RFQ) to potential suppliers. After receiving their responses, the organization evaluates and compares the proposals from different vendors to determine which best meets its needs.
This step can be skipped if a company has signed contracts with preferred vendors and/or negotiated discounts with a specific supplier. Instead, employees can find the necessary item in their catalogs.
4. Placing the order with a vendor or supplier
After the purchase is approved and the vendor is chosen, the requestor, department head, or purchasing officer can create a purchase order (PO). This document contains key information about the order: a list of items, their prices, quantity, the total amount due, delivery terms and address, and details about the buying and selling companies. Purchase orders can also be submitted for internal approval before suppliers receive them.
5. Receiving goods or services and creating a receipt
When the ordered goods or services arrive, the company verifies that their quality and quantity match the purchase order. If the order isn't delivered in full or is damaged, the receiving party records the issues, and the supplier adjusts the invoice or delivers missing or damaged goods. After discrepancies have been resolved, the company creates a final receipt.
6. Receiving the invoice and conducting 3-way matching
Once the correct items have been received, the vendor issues an invoice. After receiving the invoice, the company performs three-way matching to cross-reference the purchase order, receipt, and invoice to ensure there are no discrepancies.
If there are any, the purchasing company returns the invoice to the vendor with an explanation and a request for correction. When three-way matching is successful, the invoice goes through the relevant approval workflow (if any is set within the organization).
7. Issuing the payment
When the invoice is approved, the company processes the payment to the vendor. However, this step can come earlier: the company may also have agreed to issue a complete or partial prepayment before receiving the goods or services.
8. Record keeping
All purchase orders, invoices, receipts, and payment records are maintained for auditing and accounting purposes.
The exact steps of the procure-to-pay process vary across organizations and depend on their internal procedures and industries. For instance, some companies may skip the creation of a purchase requisition and go straight for a purchase order to shorten the procure-to-pay cycle. Additionally, organizations may not use RFPs and simply choose the items from the catalogs of their preferred vendors.
Thus, not all software solutions have ideal modules that address all of the above-mentioned steps. Usually, organizations determine what their procurement workflow will look like and then find a tool that has the appropriate features.
However, even if the purchasing lifecycle of a company is short and simple, it's better to choose a flexible comprehensive solution that can cover the whole P2P process. That way, when the organization scales its operations, the procurement solution can scale with them.
Comprehensive tools that include all of the mentioned procurement steps bring the most value to companies, The Hackett Value Matrix states that top-performing P2P software solutions are incredibly valuable to their clients and offer benefits that include:
40%-60% improvement in spend visibility and spend management
29% reduction in requisition-to-purchase order transaction cost, with 92% purchase order adoption for greater spend control
28% improvement in invoice processing productivity
We'll delve into the functionality of procure-to-pay solutions further in the article.
What is intake-to-pay?
Intake-to-pay (I2P) software takes a new approach to managing the procurement process. It adds the integrated intake-to-procure process to the P2P cycle. Intake-to-procure encompasses the information-gathering and approval process that occurs before the creation of purchase requisitions and purchase orders. Thus, the I2P software includes additional steps pertaining to vendor onboarding, vendor information and contract storage, and risk and relationship management.
The intake-to-pay process usually looks as follows:
1. Vendor set up (if the vendor is new)
Intake-to-pay software allows companies to onboard new vendors and store their data in the system. It also enables organizations to conduct vendor risk assessments through third-party risk checks, score and flag responses, and rank vendors by risk.
2. Requesting a purchase
This step is the same as in the regular procure-to-pay software.
3. Approving the purchase
This step is the same as in the regular procure-to-pay software.
4. Placing the order with a vendor or supplier
This step is the same as in the regular procure-to-pay software.
5. Receiving goods or services
The company receives goods and services but creates a receipt outside the tool.
6. Receiving the invoice and conducting 2-way matching
This step is the same as in the regular procure-to-pay software solutions but with 2-way matching instead of 3-way.
7. Issuing the payment
This step is the same as in the regular procure-to-pay software.
8. Record keeping
This step is the same as in the regular procure-to-pay software solutions.
Intake-to-pay software is considered by some to be an innovative, comprehensive, and intuitive alternative to P2P. But is I2P really better than procure-to-pay software? Let's discover which one of these approaches is more convenient for corporate procurement.
How do P2P and I2P differ in practice?
Below, we compare the key features available in a standard intake-to-pay system to the functionality of Precoro, an example of a procure-to-pay solution.
*Note that some modules and features work differently in I2P and P2P software. You can find the details below the table.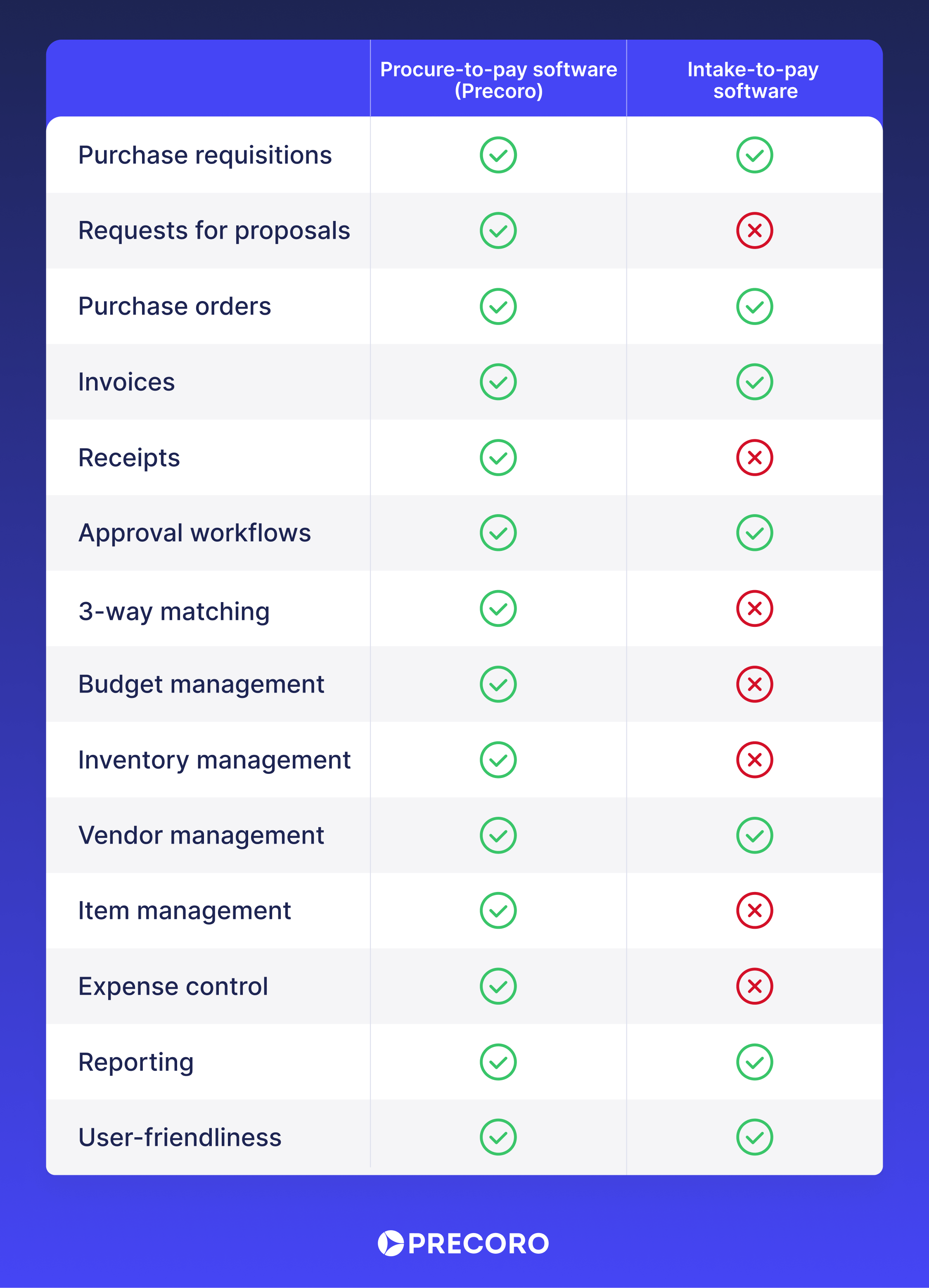 The comparison table provides a short summary of available functionality in each type of software. But how do each of these features look in an I2P system versus in a P2P one?
Purchase requisitions
Procure-to-pay software: Users can create and approve purchase requisitions in the system.
Intake-to-pay software: Users can request a purchase, request to hire an agency, and request to hire a contractor in the system.
Requests for proposals
Procure-to-pay software: Users can create RFPs from scratch or from purchase requisitions. RFPs can be sent directly to suppliers, who will receive an invitation email with a web link via which they can submit their proposals. Users can review supplier bids in the system and then create a purchase order out of the chosen proposal.
Intake-to-pay software: An RFP module is not typically available.
Purchase orders
Procure-to-pay software: Users can create purchase orders from scratch or from purchase requisitions and send them for approval.
Intake-to-pay software: Users can create purchase orders and send them for approval.
Invoices
Procure-to-pay software: With Precoro's OCR capabilities, companies can digitize data from both invoice images or PDF attachments. Users can upload vendor invoices through email or directly to the "OCR inbox" page. They can also create invoices from scratch.
Intake-to-pay software: The standard I2P solution has OCR data capture to extract invoice data, but users can't create invoices from scratch.
Receipts
Procure-to-pay software: The software enables users to create receipts. The related PO, invoice, and receipt all point to each other in the system so users can monitor the order fulfillment process.
Intake-to-pay software: The receipts module is not typically available.
Approval management
Procure-to-pay software: Users can create multi-level approval workflows for warehouse requests, purchase requests, purchase orders, invoices, receipts, budgets, expenses, and suppliers. The system promptly informs the requesters of updates while approvers receive notifications regarding pending documents awaiting their decision.
Intake-to-pay software: Usually, the software allows users to build multi-level approval workflows for purchase requests, contractor onboarding, or NDA signature. The system automatically notifies users about the updates on their requests.
3-way matching
Procure-to-pay software: Both 2-way and 3-way matching are available.
Intake-to-pay software: The standard I2P system provides users with automatic 2-way matching. However, the absence of a receipt module makes it impossible for users to conveniently match a PO and invoice against a receipt.
Budget management
Procure-to-pay software: Users can create budgets for different departments, periods, locations, and projects while tracking each of them in real time. Thus, requesters and approvers have real-time visibility into budget limits and can spend smarter.
Intake-to-pay software: I2P software usually doesn't offer budget management.
Inventory management
Procure-to-pay software: The inventory module allows users to monitor inventory levels and see what items are available before making a new purchase. It's also possible to transfer items between warehouses and from the warehouse to the entity/office.
Intake-to-pay software: Inventory control is not typically available.
Vendor management
Procure-to-pay software: Companies can onboard new suppliers, store relevant info and contracts, and communicate with vendors through comments and attachments.
Intake-to-pay software: Usually, the software allows users to store vendor information and contracts, communicate with suppliers, onboard them, and conduct supplier risk assessments. The system can also cover the payment process through vendor cards with cross-border fees to pay for purchases in the software.
Item management
Procure-to-pay software: The software allows companies to integrate electronic PunchOut product catalogs from their suppliers and efficiently import items from Excel documents. Therefore, users create PRs and POs more quickly without manually inputting item information all over again for each new order.
Intake-to-pay software: Usually, I2P software doesn't offer item catalogs.
Expense control
Procure-to-pay software: The Expenses module allows users to create requests for reimbursement of spent money and corporate expenses.
Intake-to-pay software: The expense module isn't usually available.
Reporting
Procure-to-pay software: Users can generate real-time reports to facilitate spend analysis, identify cost-saving opportunities, and optimize budget allocation for improved financial management. With Precoro, users can do so with the help of 20 selectable filters and 120+ custom fields.
Intake-to-pay software: The standard system can create reports on the full lifecycle of spend, cycle times, and savings. However, there are no custom reports.
User-friendliness
Procure-to-pay software: Precoro is known as a user-friendly software with an intuitive interface, easy-to-use procurement document templates, and a high level of customization for user roles, budgets, reports, approval workflows, and more.
Intake-to-pay software: Intake-to-pay software is praised for its ease of use, clear document templates, and no-code workflow configuration. It also doesn't require users to go through training to understand how the program works.
Intake-to-pay or procure-to-pay — what is better for the business?
In short, which one is better depends on what features companies see as crucial for their procurement process to run smoothly. Intake-to-pay software is presented as an intuitive, user-friendly, and comprehensive tool compared to feature-laden and rigid procure-to-pay solutions. However, the reality is far more nuanced. Procure-to-pay systems vary widely: there are heavyweight solutions designed for intricate processes of large corporations, flexible, customizable alternatives tailored for midsize and small businesses, and options in between.
It's nice that intake-to-pay software is easy to use and strives to simplify the P2P process and cover activities that go beyond the P2P cycle, such as vendor onboarding and risk assessments. But, while promising, it isn't a revolutionary technology. In fact, existing intake-to-pay solutions fall short of the important features found in P2P systems; they typically lack requests for proposals, receipt management, budget tracking, inventory control, and item catalogs.
The complications that come with new software are not surprising. The Deloitte Global Chief Procurement Officer Survey 2019 states: "For all the value of new technologies able to reduce complexity and improve performance, the technologies themselves can add additional complexity through fragmented applications, higher integration costs, degraded data quality, and more vendors to manage." This statement also proves true in the case of I2P software, as its limitations pose additional challenges for end users.
For example, how can requesters or approvers ensure the required purchase doesn't exceed the budget limit when they can't view available funds while creating and approving purchase requests or orders? How can they make informed supplier choices without the ability to send out requests for proposals to compare offers? How can procurement teams verify the necessity of purchases without visibility into inventory levels?
This doesn't mean that intake-to-pay is a poor choice, but it does highlight the importance of carefully studying a system's capabilities before making a decision. While intake-to-pay is labeled as an all-in-one procurement solution, its current limitations require procurement teams to use additional software or spreadsheets for functions like budget, receipts, inventory tracking, or custom reports.
P2P solutions vary greatly in terms of their modules and interfaces, and each comes with its own limitations – however, they can also be very comprehensive when used correctly.  As the Hackett Group Director Richard Gardner said, "...the best P2P solutions providers excel in several other areas. They have dramatically streamlined the onboarding process for suppliers, integrating third-party solutions that pre-validate supplier data."
When choosing a procurement solution, it's better to look past marketing claims and examine the system's true capabilities. You can do so by checking reviews and taking advantage of free trials. Ultimately, the best choice is software that aligns with the designated budget and can cover the company's procurement needs. In addition to the features mentioned earlier in this article, you should also consider whether your potential software choice has the following:
Extensive integrations that enable the system to seamlessly meld with your existing workflows and tools.
Reliable customer support that can assist with software implementation, promptly address your inquiries, and swiftly resolve any issues.
Regular updates that incorporate user feedback to continually enhance the software's functionality.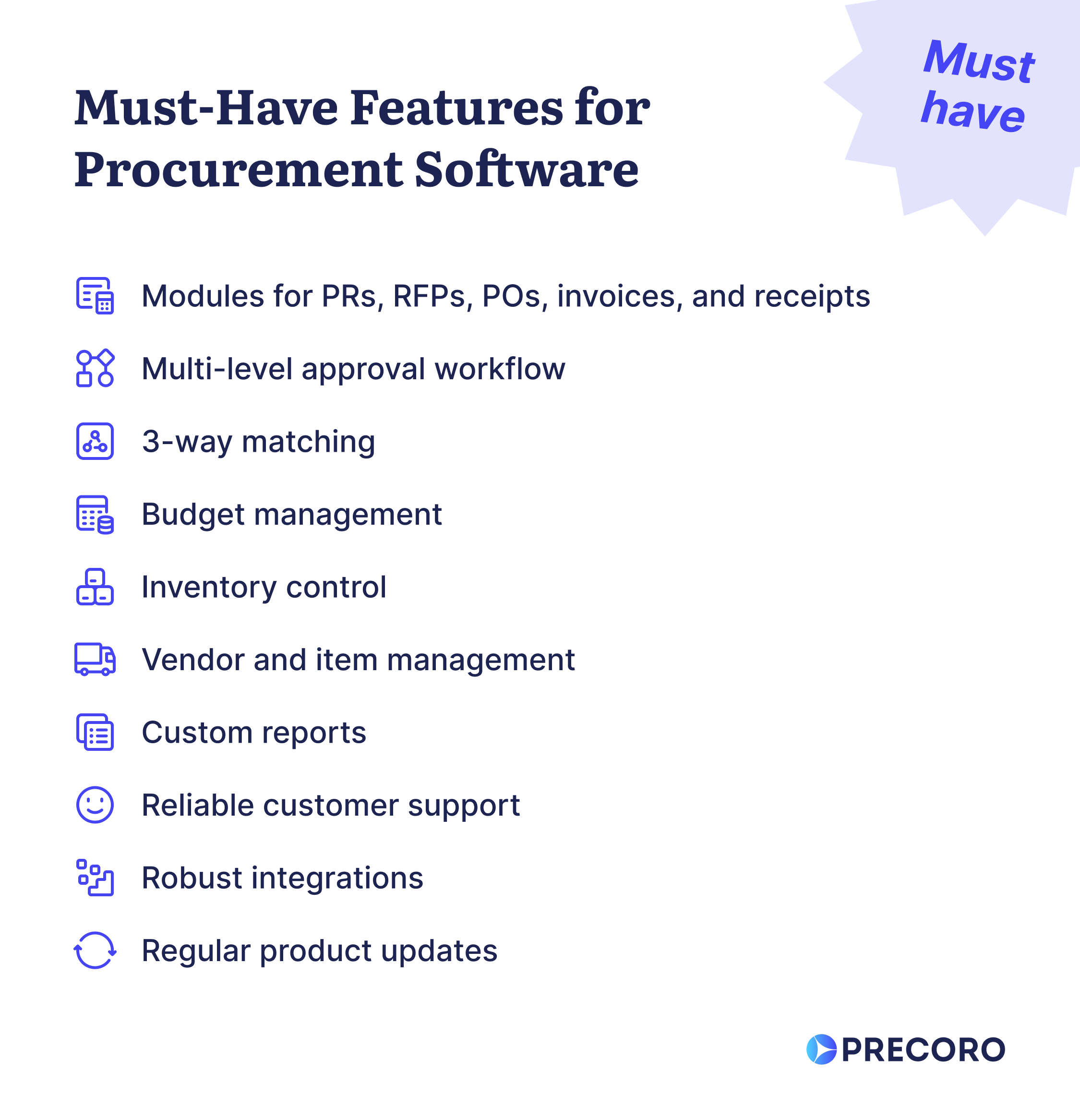 Frequently Asked Questions
What is intake-to-pay?
Intake-to-pay is an approach to procurement that incorporates an intuitive, centralized software with capabilities to onboard vendors, perform risk assessments, request goods and services, create and approve PRs and POs, and collaborate on the purchasing process.
What is P2P in simple words?
P2P, or procure-to-pay, is the business process of acquiring goods and services in a comprehensive and logical manner, starting with identifying a need and concluding with issuing payment.
How can companies improve their procure-to-pay cycle?
To improve the procure-to-pay cycle in your company, consider the following strategies:
Develop a policy specifying who can request or approve new purchases and how so that the process is clear for all stakeholders.
Automate the P2P process to manage the budgets, requests, approvals, and expenses in a unified system that stores all relevant data and generates valuable reports.
Perform 3-way matching to eliminate fraudulent invoices and unauthorized purchases.
Enhance supplier management by monitoring supplier performance and tracking expenditures with each supplier. This data can be leveraged to negotiate favorable deals or secure discounts.
How does procure-to-pay work?
Typically, a procure-to-pay solution streamlines procurement processes with its modules for creating a purchase request, sending requests for proposals to suppliers, generating a purchase order, creating a receipt after obtaining goods or services, processing an invoice, and making payments.
Focus on what's important: functionality
There are a lot of tools out there to choose from. Fans of intake-to-pay and vendors offering this service might paint the software as easier to use than P2P programs. And, sure, some P2P software can be complex and loaded with modules. However, such solutions are typically aimed at large corporations with complicated procurement processes. If your business is small or midsize, you can use the adaptable procure-to-pay solution like Precoro. It's both comprehensive and flexible, and can be simplified by turning off modules that are unnecessary for your procurement process.
Although intake-to-pay is a fresh buzzword in procurement, its features don't surpass those of the well-established procure-to-pay programs. Furthermore, due to the novelty of this software category, intake-to-pay often lacks modules that are important for smooth procurement operations. Thus, companies that choose I2P software have to stack it with other tools or continue to rely on spreadsheets.
Choosing the wrong tool is a costly mistake that can be easily avoided. Before signing up, establish criteria for the software based on what features your company needs for its procurement functions. For example, organizations often look for a solution that can provide instruments for supplier management, invoice automation, contract management, complete visibility into business spend, and valuable insights into the peculiarities of their procurement process.
Once a procurement manager has identified the essential features for their company's purchasing cycle, they should take the time to analyze the capabilities of various software options against their needs. Simplicity is often an important criterion, but it shouldn't come at the expense of necessary modules. Remember, there's no perfect solution. Each one has some shortcomings, but ensure that the limitations of your selected system are minor and won't affect the key steps of your procurement process.
---