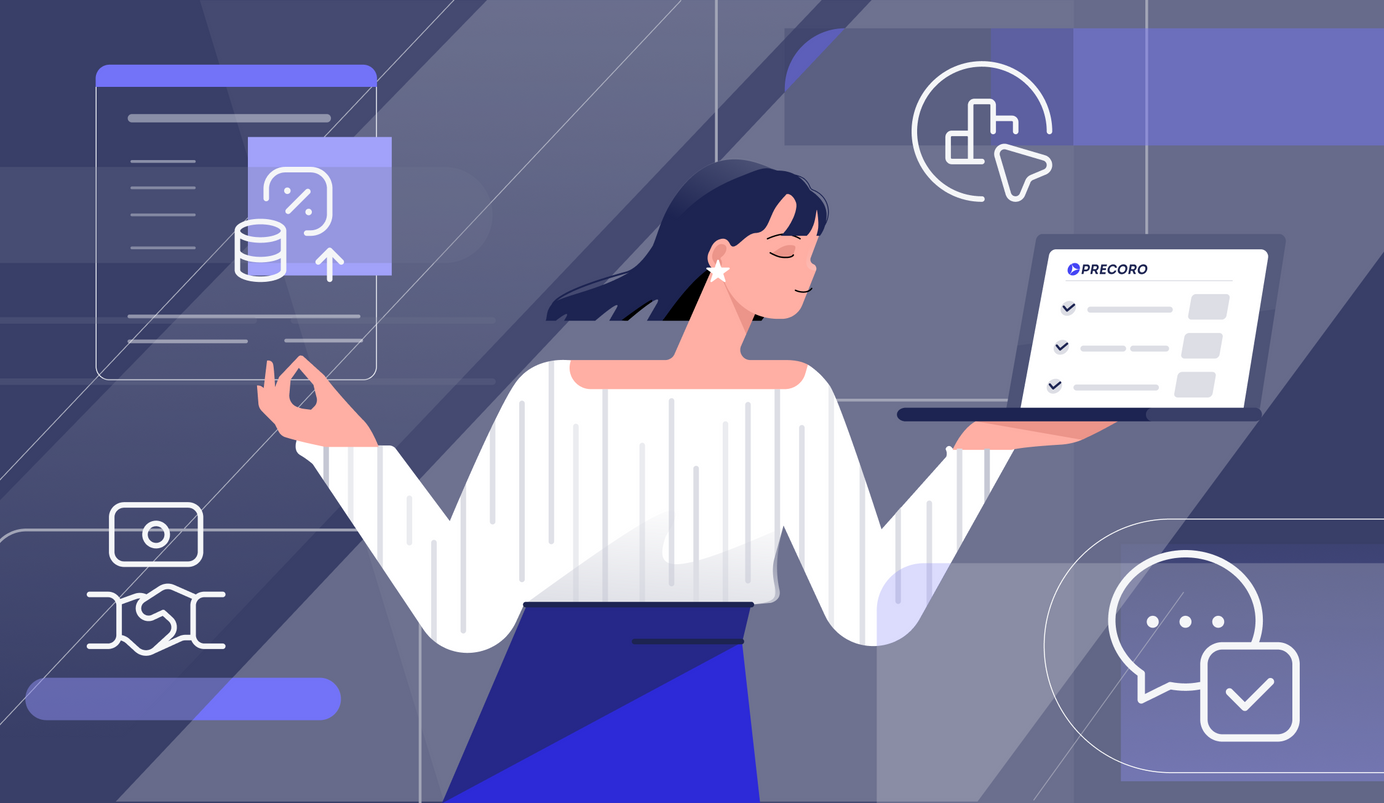 8 min read
The Top 5 Skills Every Procurement Manager Needs
Explore the most important skills for procurement managers. Plus, read about common challenges for a purchasing manager and how to solve them.
More and more companies are acknowledging the importance of centralizing and optimizing their procurement operations. One of the ways to accomplish this is to establish a procurement team to streamline ordering by centralizing purchases and improving supplier relations. According to KPMG, a global network of professional firms providing audit, tax, and advisory services, building a dedicated procurement team helps companies achieve substantial cost savings through effective vendor and category management.
However, small and midsize companies that are not ready to hire an entire procurement team can start by hiring a purchasing manager, who can eventually help build a procurement team when the company has grown. Whether hiring for this role or aiming to be promoted into it, it's important to identify the most necessary skills for the profession.
Read on to learn about them.
Note: In this article, we use the terms "procurement manager" and "purchasing manager" interchangeably; for the most part, these positions involve the same skills and responsibilities. Nevertheless, there are differences between the terms "procurement" and "purchasing," which we covered in one of our previous articles.
What are the duties of a procurement manager?
Procurement managers, also called purchasing managers, ensure the smooth acquisition of materials and services necessary for a company's successful operations. Beyond just obtaining essential items, their responsibilities extend to vendor selection, contract negotiation, cost reduction, supply chain disruption mitigation, and more.
People can follow different paths to become a purchasing manager. For instance, a buyer at the company may eventually take up procurement manager responsibilities after gaining practical experience and finishing specialized courses. Or a person may apply for the job after getting a bachelor's degree in procurement management or a related field, such as business administration, supply chain management, or logistics. Some businesses may also require certifications like Certified Professional in Supply Management (CPSM) or Certified Professional Public Buyer (CPPB).
Large companies usually have separate procurement departments, which consist of procurement assistants or associates (entry-level), procurement managers (mid-level), and a Chief Procurement Officer or CPO (senior-level). In small and midsize businesses, a procurement manager is usually a standalone role, and, in that case, they report to the Chief Operations Officer (COO), Chief Finance Officer (CFO), or Chief Executive Officer (CEO).
Procurement managers don't just handle direct spending, such as raw materials or goods and services directly associated with manufacturing the company's final product. They also oversee indirect purchases that facilitate daily operations, such as office supplies, furniture, utilities, and more.
Generally speaking, procurement manager responsibilities involve the following:
understanding procurement needs across the organization;
establishing a centralized procurement policy for unified ordering;
incorporating specialized software to facilitate procurement;
evaluating and strategically sourcing potential suppliers/vendors;
negotiating contracts;
approving purchase orders;
performing risk assessments;
preventing overspending;
ensuring stock optimization;
overseeing vendor management;
handling spend management;
conducting spend analysis and preparing reports based on procurement data.
The list of responsibilities may vary depending on the organization.
What are the top 5 skills every procurement manager needs?
Procurement managers play a crucial role in formulating the company's procurement strategy. Thus, the profession requires a comprehensive skill set. We want to highlight the following top five skills for a procurement manager (in no particular order):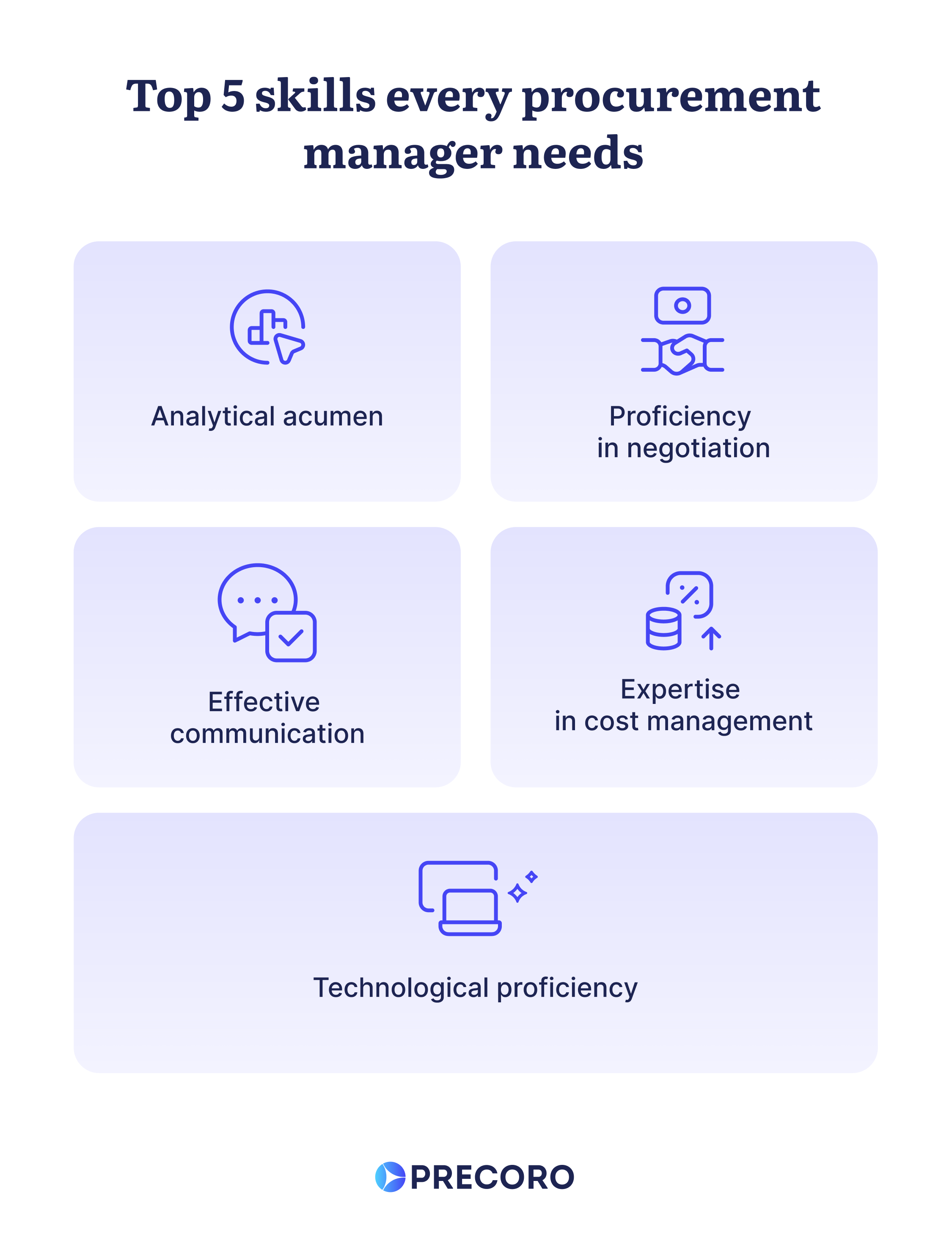 Analytical acumen
One skill that procurement managers should prioritize is analytical acumen. Procurement managers must be able to analyze vast amounts of data, such as the company's ordering patterns, categories of purchases, spending across departments, supplier performance, market trends, and more. Being able to analyze also means being able to research; usually, purchase managers also have to gather and clean the corresponding data themselves.  This is particularly true for small companies where the procurement manager personally handles the overall process.
Thorough analysis enables procurement managers to identify potential cost-saving opportunities, favorable suppliers/vendors, and optimization prospects. Additionally, this skill empowers purchasing managers to anticipate potential issues in adhering to corporate policy, managing the supply chain, or overspending and helps to resolve them timely.
Proficiency in negotiation
As procurement managers navigate the intricacies of supplier interactions, their strong negotiation skills play a pivotal role in obtaining the right products and services at the right price, time, and location. An effective purchasing manager understands that negotiations go beyond mere price considerations and should consider various factors, including quality standards, product delivery, and credit terms.
Interestingly, analysis and negotiating go hand in hand: Abraham Chaves mentions that one of his customers was able to achieve a 30% part cost reduction through re-quoting, and another one reduced part costs by 80% through routing change. This was achieved as a result of fact-based negotiation, which starts with "a complete breakdown of information, such as material costs, labor costs, overhead costs, tooling investments, manufacturing process costs, etc."
Each contract negotiation is unique, requiring flexibility and a deep understanding of the supplier's needs, objectives, and operational dynamics. Being tenacious in pursuing goals is essential, but equally important is the ability to read people and discern the right moments to compromise or push one's agenda based on this comprehension. This holistic approach to negotiation nurtures an environment for securing favorable deals.
Effective communication
Communication skills are vital for procurement managers as they establish connections with all internal departments and stakeholders. Usually, they have to identify the procurement needs of each department, navigate challenging conversations (especially when changing procurement policy or introducing software), and gain the trust of each stakeholder. In fact, 204 procurement professionals globally said that communication is a critical business skill requested from procurement managers.
To succeed, procurement managers must establish clear communication channels with all stakeholders and foster open communication in individual and group discussions. Interestingly, CPOs surveyed by Deloitte reported that procurement departments have the strongest relationships with IT, finance, and operations. These teams not only request items but also help procurement managers implement specialized software (IT), plan budgets (finance), and manage inventory (operations). Diplomacy is pivotal in relationships with internal departments, enabling procurement managers to align diverse groups within the company toward shared goals.
Expertise in cost management
As cost management directly impacts the bottom line and organizational success, it remains one of the top needed skills for a procurement manager. By diligently monitoring and analyzing project costs, procurement managers ensure that costs are in line with the budget forecast and can, as a result, prevent overspending.
Procurement managers should learn how to implement various cost management techniques, especially those related to realizing cost savings. Ardent Partners predicted that cost savings would be more important in 2023 than at any other time in the last decade. Thus, procurement managers are required to:
negotiate extensions for contracts;
consolidate similar purchases across departments to choose a preferred vendor and get volume discounts;
optimize inventory management to prevent overstocking and overspending;
explore alternative sources for products when costs from the current vendor rise excessively.
Technological proficiency
A procurement manager's technological skills become paramount in the rapidly evolving digital landscape. Different types of purchasing software focus on various aspects of procurement, such as electronic sourcing, supply chain management, contract management, invoicing, or budgeting. There are also all-in-one solutions designed to help companies manage all stages of the procurement process. We would advise purchasing managers to focus on the latter option so that they could monitor the whole workflow in one system.
By leveraging software solutions, procurement managers can quickly access crucial data, generate reports, and retrieve contracts from the repository. Proficiency in purchasing software also helps streamline approvals for purchase requisitions and purchase orders, allowing staff to get their orders more quickly.
How can a purchasing manager solve common challenges of the profession?
The above skills are essential for addressing the various challenges that arise during procurement activities. An experienced professional can overcome hurdles more quickly and capably than someone who hasn't built the appropriate skillset. To see this in action, let's take a look at three common challenges and how a procurement manager would approach them.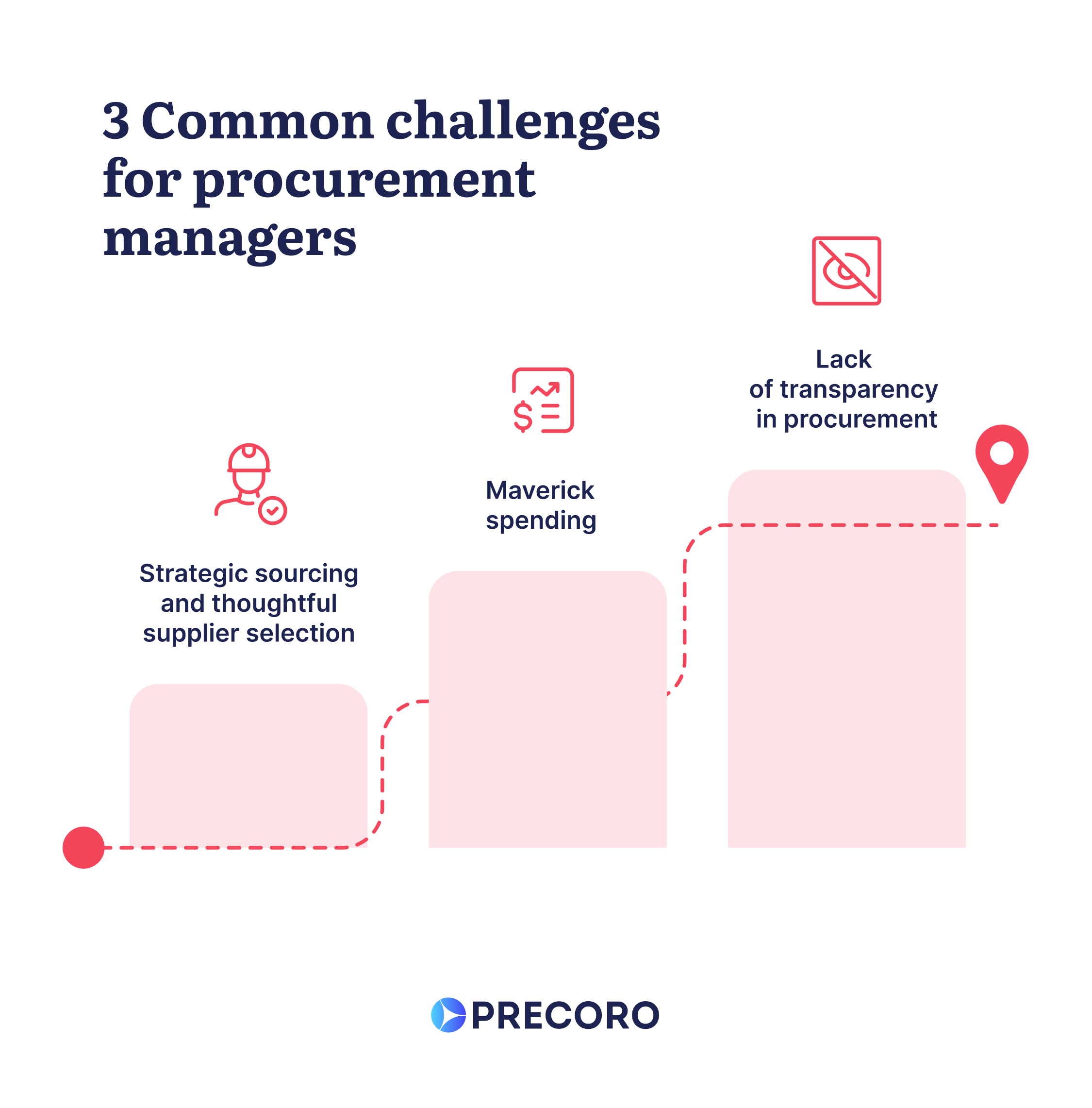 Strategic sourcing and thoughtful supplier selection
Challenge: Procurement managers face the complex task of selecting suitable suppliers from a myriad of available options. This cumbersome process takes up a lot of time and resources as it requires particularly thoughtful market research  and a profound understanding of the organization's specific requirements.
Solution: To address supplier selection challenges, procurement managers communicate with relevant departments to understand specific needs and specifications for the items. They also consult the finance team to determine the allocated budget and financial constraints. Moreover, they can analyze how much is spent on specific suppliers to negotiate discounts for volume or recurring orders. Technological skills also play a significant role in streamlining the supplier selection process. Using software like Precoro, procurement managers can quickly create and send Requests for Proposals (RFPs) and store suppliers' responses centrally in the system. Then, procurement managers evaluate proposals using analytical skills and create purchase orders based on the best bid.
Maverick spending
Challenge: Sometimes employees purchase outside of the established procurement procedures for the sake of convenience or due to lack of awareness. Such maverick spending leads to different departments and individuals purchasing from various suppliers for similar products or services, known as supplier fragmentation. This leaves no opportunity for procurement managers to build strong supplier relations, take advantage of volume discounts, negotiate favorable terms, or even compare options at all.
Solution: Procurement managers must clearly communicate purchasing procedures to members of all departments and explain the importance of adhering to established processes. Implementing a user-friendly procurement system provides easy access to approved suppliers, enforces the approval process for orders, and minimizes the opportunities for off-contract purchases.
Lack of transparency in procurement
Challenge: Communication between product requesters, approvers, and other stakeholders frequently moves back and forth through various means such as calls, emails, and oral discussions. This fragmented communication can lead to a lack of transparency, inefficiencies, delays, and potential misunderstandings. When it's hard to keep track of conversations, requesters and other stakeholders face uncertainty about the status of the purchase orders, corresponding invoices, and deliveries. As a result, companies suffer from lengthy approvals and delayed receipt of needed goods.
Solution: The purchasing manager can leverage their technological skills to select a user-friendly purchasing software that keeps all communication in one place. For instance, Precoro offers a comprehensive solution with seamless communication directly in the software through document comments; as a result, all discussions about orders are preserved in the centralized system in a transparent manner. Meanwhile, users with corresponding roles can access real-time updates on the status of their purchase orders, invoices, and deliveries. Requesters and approvers can also track their budget limits and expenses, meaning there is clarity and direct control over expenditures. All communication and updates are documented within the system, so purchasing activities are transparent for all participants.
Frequently Asked Questions
What does a procurement manager do?
A procurement manager ensures timely and cost-effective procurement of goods and services to meet the organization's needs. Their responsibilities include strategic sourcing, approving purchase requisitions and purchase orders, negotiating contracts, managing supplier relationships, and finding ways to drive savings.
How does someone become a procurement manager?
You can get a degree in procurement management or related fields like business administration, supply chain management, or logistics. It's also possible to be promoted from a buyer into a procurement manager by gaining experience and finishing specialized courses. Some companies may also require certifications like Certified Professional in Supply Management (CPSM) or Certified Professional Public Buyer (CPPB).
Who are the 5 key stakeholders in procurement?
Internal departments
Suppliers
The procurement team or purchasing managers
Finance department
Senior management
What are hard skills in procurement?
Hard skills in procurement include data analysis, market research, risk management, supplier evaluation and selection, cost management, supply chain management, and proficiency in procurement software.
What are soft skills in procurement?
Soft skills in procurement include negotiation abilities, communication for building relationships with suppliers and internal teams, problem-solving, adaptability, time management, and conflict resolution.
Putting it all together
In the dynamic realm of procurement, the role of a procurement manager demands a multifaceted skill set to accomplish business objectives. Among the indispensable proficiencies are analytical skills, which come into play during market analysis, when developing risk mitigation strategies, when evaluating vendor performance, and more. Negotiation skills are equally vital, as they help secure favorable contracts with preferred vendors and close cost-effective deals.
Furthermore, purchasing managers who are good written and verbal communicators can more easily build trust and foster collaboration with internal stakeholders. Navigating the complexities of vendor relationships also relies on adept communication. Additionally, individuals in this position should be proficient in cost management in order to discover opportunities for cost savings and contribute to their organization's financial health.
Embracing technology is another crucial part of a procurement manager's toolkit. This means they should be able to select and implement purchasing software in order to simplify the ordering process and provide better visibility to requesters, approvers, and other stakeholders.
---