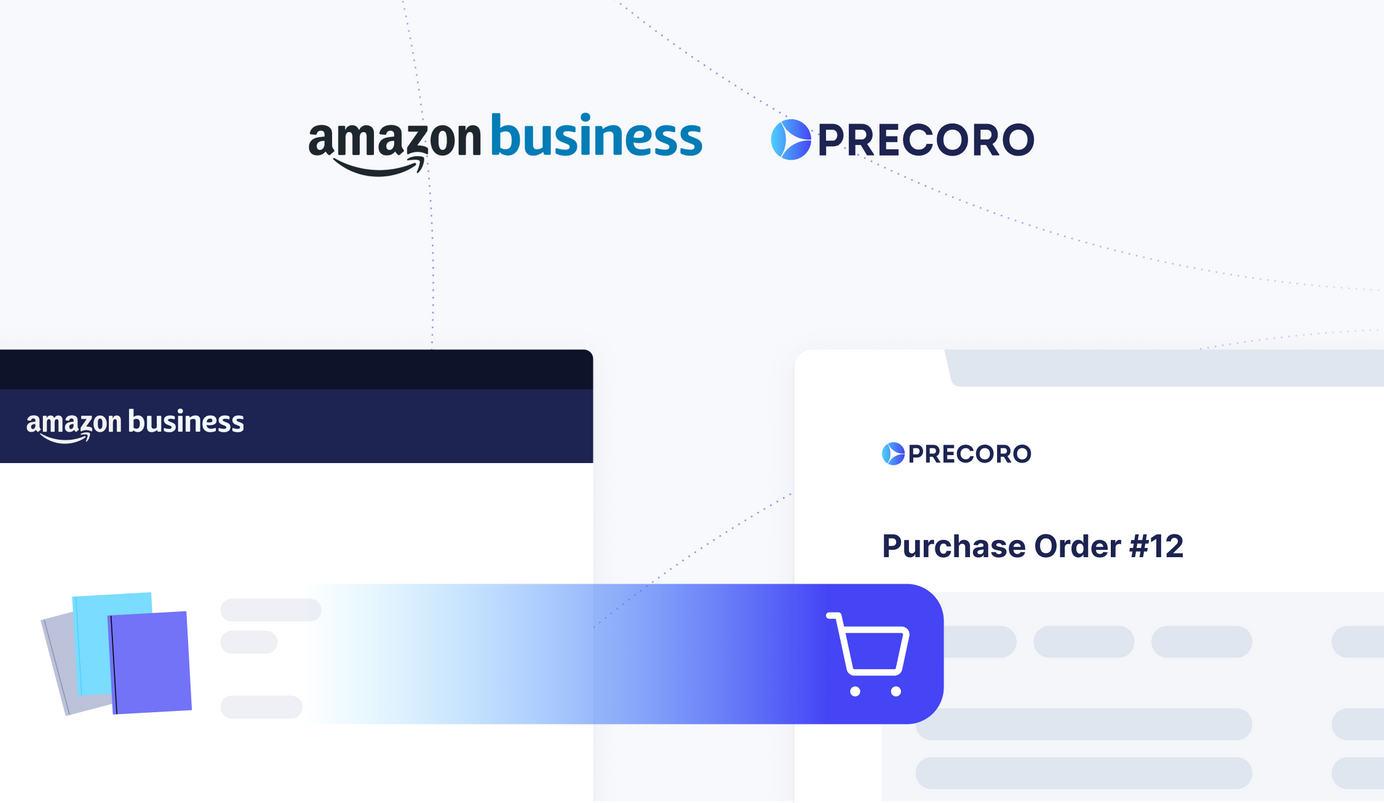 3 min read
Introducing Punch-In: Precoro and Amazon Business New Integration
We're happy to announce Precoro's new game-changing integration with Amazon Business Punch-in. Enjoy shopping directly on Amazon Business and then easily transfer your orders to Precoro.
Our Precoro team is excited about collaborating with Amazon Business as an early adopter of the new Punch-in integration!
We're proud to be among the first to bring you a simplified and familiar buying experience on Amazon Business that helps you comply with your internal purchasing policies reflected in Precoro.
Scroll down to learn more about this emerging technology and watch a short demo of how it works with Precoro.
What is Amazon Business Punch-in?
Punch-in is an easy-to-setup connection between your Amazon Business and Precoro accounts.
It combines a personalized shopping experience on Amazon Business with your organization's internal purchasing policies.
With Punch-in, your employees can start purchasing directly on Amazon Business, utilizing the familiar user interface, while Precoro ensures that no purchase goes through unapproved and spends are accounted for.

How is Punch-in Different from Punch-out?
When you use Punch-out, the workflow begins with a Purchase Requisition in your procure-to-pay (P2P) system, which then redirects you to the Amazon Business online store.
A user adds items from the catalog to a Purchase Request. Once the request is approved, a PO will be auto-generated, and the items will be purchased immediately and sent by Amazon.
Punch-in allows your employees to start ordering right from Amazon Business' wide selection of items and skip the Purchase Requisition step if doing so complies with your organization's purchasing policy.
All the items they want to purchase seamlessly transform into a Purchase Order in mere seconds, which we estimate saves them 75% time and effort compared to using the usual item catalogs.
Precoro and Amazon Business Punch-in Benefits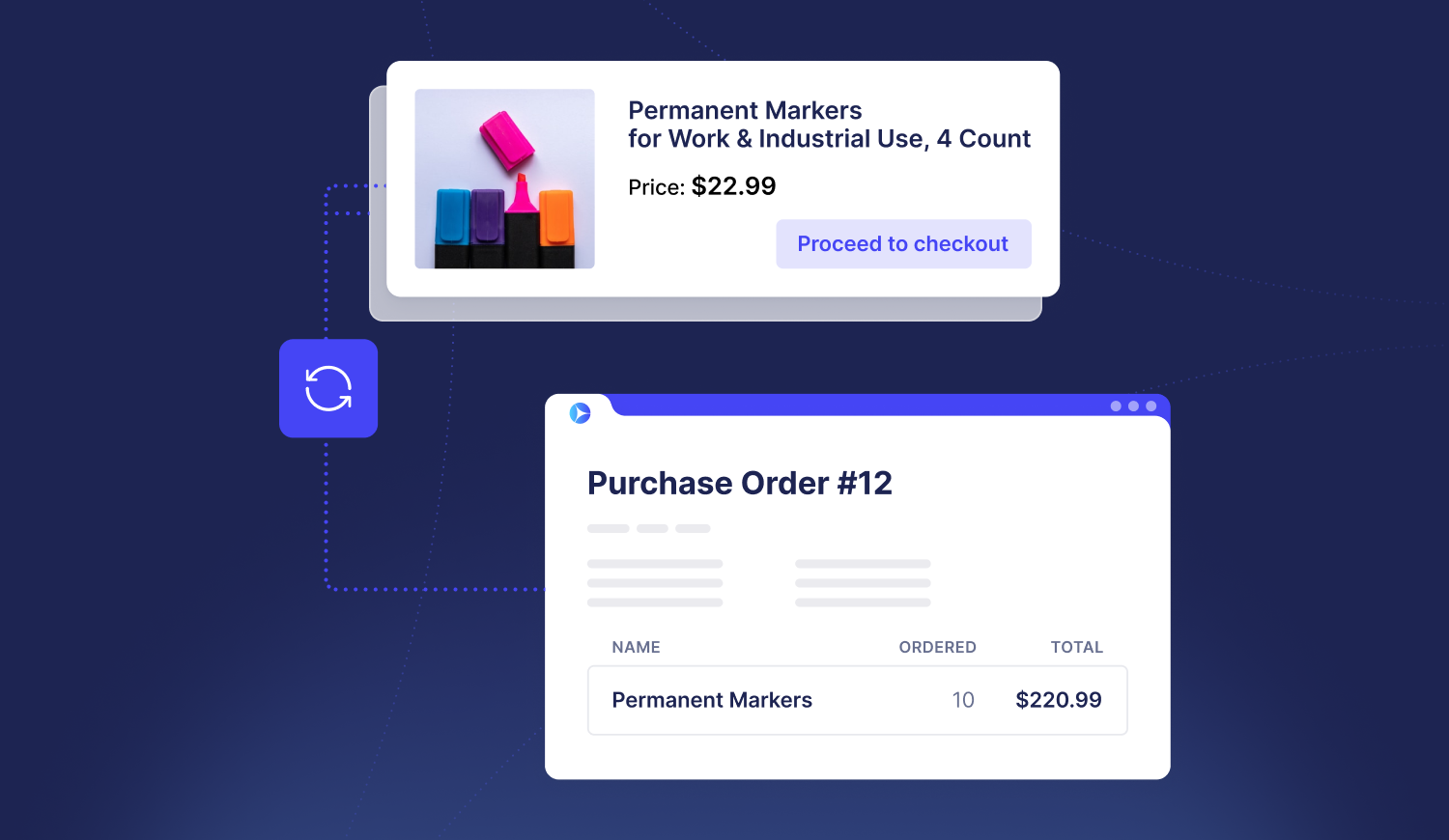 Compliant Purchasing
Punch-in helps eliminate uncontrolled purchases and discrepancies in your documents thanks to Precoro's integrated approval workflow and 3-way matching.
With an Amazon Business account connected to Precoro, the order number in Amazon Business corresponds with the PO number in Precoro.
Efficient Spend Control
It's not uncommon for finance teams to settle bills by default, as long as the sum doesn't exceed a specific threshold, which may create room for rogue purchases and disrupt actionable analytics.
With Punch-in, orders follow the policies and controls set forth by your organization, and therefore document reconciliation becomes worry-free.
Personalized Shopping Experience
As employees use their Amazon Business accounts, they benefit from fast and relevant search results, reminders about previously viewed items, and customized selection messaging based on their organization's purchasing policies, if applicable.
A company's account administrator can prefer or restrict certain items, e.g., non-standard furniture for the office, and set various policies for different office locations.
Typical item catalogs don't differentiate between users and slow down the purchasing process compared to Punch-in.
Minimal Learning Curve
With Punch-in, the requestors begin the purchasing workflow directly from Amazon Business by adding goods to the Amazon Business cart, similar to their personal day-to-day purchasing experience.
Then, they seamlessly switch from product research and comparison to submitting a PO for approval.
What does Precoro and Amazon Business Punch-in Integration Look Like?
In a short demo video below, you can see for yourself how fast the Punch-in workflow goes from adding items to the Amazon Business cart to confirming the order in Precoro.
Depending on the purchase volume, the whole process shouldn't take more than a few minutes of your time:
Here's a quick recap of perks Amazon Business Punch-in and Precoro collaboration can offer you:
Combine Amazon Business's familiar shopping interface and Precoro's compliant purchasing process in one intuitive and easy-to-setup workflow;
Don't disrupt your processes by separating item research and comparison on Amazon Business from managing orders in Precoro;
Use Punch-in on mobile or switch from the Amazon Business mobile app to Precoro's desktop version whenever you feel like it;
Increase adoption among casual buyers who aren't used to purchasing from controlled channels;
Get started with little to no training effort;
Automate reconciliation management;
Reduce rogue spending.
Contact your Customer Success Manager or our Sales team at [email protected] to get this feature enabled, or book a demo to learn more!
---