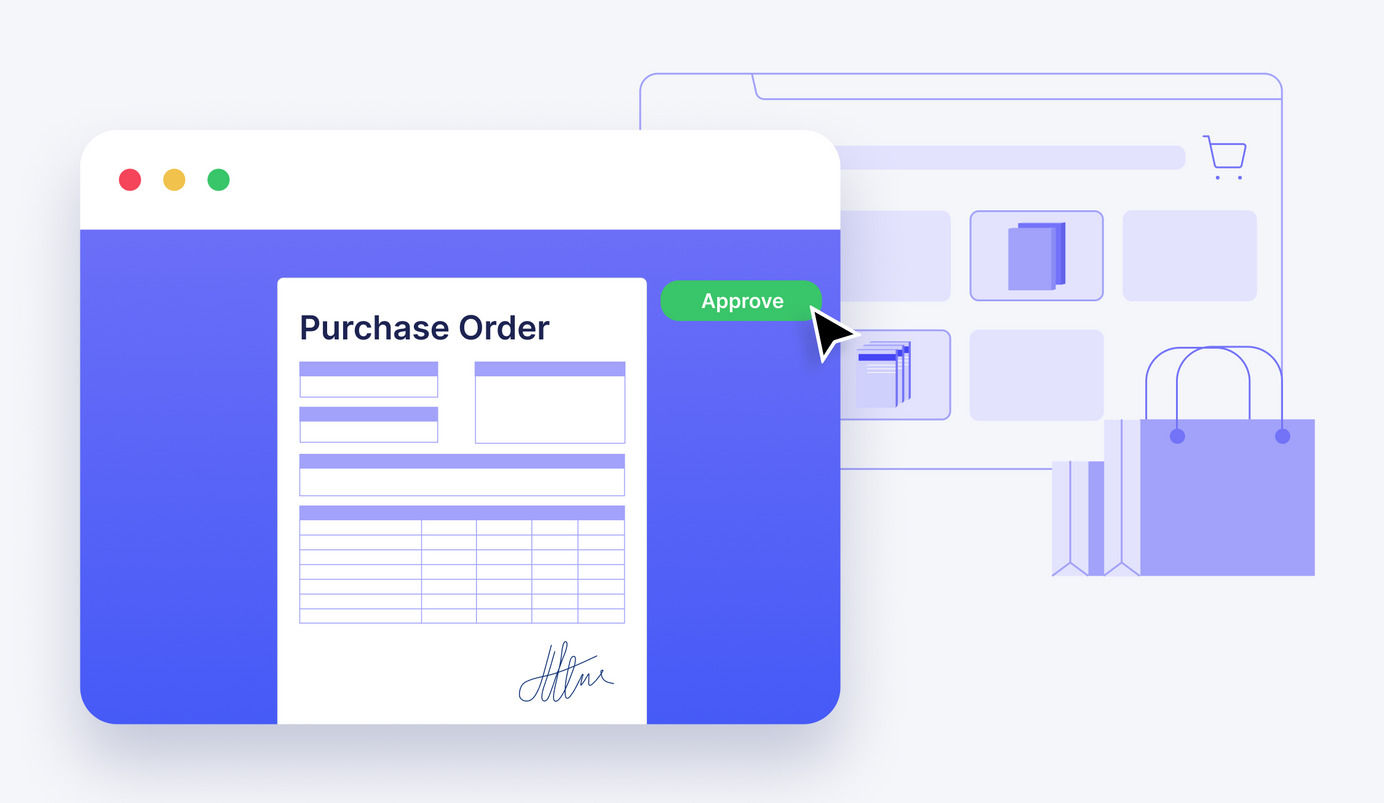 6 min read
The Ins and Outs of PunchOut Catalogs: How Do They Work and Why Use Them?
Learn everything about PunchOut catalogs: Definition, benefits, how they differ from hosted catalogs, and whether there is a better alternative.
B2B eCommerce is growing tremendously, with sales estimated to reach $2 trillion by 2023.
By the end of 2021 alone, eCommerce was worth $1.7 trillion, accounting for 16% of total US B2B sales.
One of the solutions that helps improve the B2B eCommerce purchasing experience is PunchOut technology, which combines eCommerce with procurement in one single system.
In this article, we'll explore the ins and outs of B2B PunchOut catalogs and learn:
What is PunchOut, and how does it work?
What are the two levels of PunchOut catalogs?
How does a Hosted catalog differ from a PunchOut catalog?
What are the buyer benefits of PunchOut catalogs in B2B eCommerce?
Is there a better alternative to B2B PunchOut?
What is a PunchOut Catalog?
PunchOut is a term that describes the process of a buyer accessing a supplier's eCommerce store through their ERP or e-procurement system.
After logging into the procurement platform, the buyer searches for items and selects the supplier they want to purchase from. Then the system launches the supplier's website, and the buyer logs into the supplier catalog, also known as the PunchOut catalog.
PunchOut catalogs work on the protocol of Open Catalog Interface (OCI), a format used by Supplier Relationship Management (SAP) systems, and Commerce Extensible Markup Language (cXML), a protocol used by non-SAP users.
The catalogs allow customers to easily search for items from their preferred suppliers, view discounts, and add items to a shopping cart, all within the eProcurement platform that they use.
In short, PunchOut technology offers a competitive advantage for both customers and vendors by providing an efficient digital trading experience and automation of processes.
PunchOut Process Overview
From the buyer's perspective, the PunchOut process typically looks as follows:
Logging into the procurement system
The buyer accesses the eProcurement platform and selects the supplier they want to purchase from or searches for items they wish to procure.
Logging in to the supplier's eCommerce website
While remaining in the procurement system, the buyer is able to log in to and view the supplier's eCommerce store, product offerings, prices, and inventory levels.
Shopping
Through the procurement application, the buyer browses the supplier's store and adds items to the cart.
Cart data transfer
When they finish shopping, the order data is automatically transferred from the supplier's eCommerce website into the buyer's eProcurement platform.
Purchase Requisition
The procurement system creates a Purchase Requisition with the transferred order data and routes it for approvals according to the buyer's procurement policies and approval workflows.
Purchase Order
When the requisition is approved, a purchase order is issued to the supplier to fulfill the order.
Level 1 vs. Level 2 PunchOut Catalog
The fundamental difference between level 1 and level 2 PunchOut catalogs lies in the search functionality and overall shopping experience they provide to their users.
Suppose you're connected to 5 suppliers via PunchOut integration. Your organization needs office supplies, but you don't know which product catalog to search in.
With the level 1 PunchOut catalog, you'll need to browse through 5 catalogs separately to view the products and compare prices. Level 2 PunchOut, on the other hand, displays the product link along with the name of the supplier catalog on your procurement system's search results page.
When using level 2 PunchOut catalogs, the procurement process starts directly in the procurement system, while with level 1, buyers have to first access PunchOut and then start searching for the products.
How Do Hosted Catalogs Differ From PunchOut Catalogs?
Hosted catalogs – also known as CIF catalogs – are a listing of goods offered by a supplier in which buyers can find basic product information such as name, description, and pricing.
Unlike PunchOut catalogs, Hosted catalogs don't offer direct access to the supplier's eCommerce platform with real-time product data.
Instead, the catalog must be manually uploaded into the buyer's eProcurement system and updated by the supplier.
This means that every time buyers look at product offerings, there's a chance that product, inventory, and pricing information is no longer relevant, as the supplier has not yet updated it.
Additionally, a static catalog does not show new and extended ranges of products or dynamic proposals, e.g., equivalent offerings at lower prices or associated products such as accessories.
Lack of real-time data on stock levels and delivery times also contributes to poor buying decisions and often forces customers to manually look up prices through external searches, which is time-consuming.
On the other hand, PunchOut catalogs allow buyers to see real-time information on the inventory, stock levels, and delivery dates since they are connected to the supplier site.
They also provide access to almost limitless technical documentation and feature enhanced customer service via faster order fulfillment and a high-tech user experience.
In a nutshell, the main differences between Hosted and PunchOut catalogs include the following: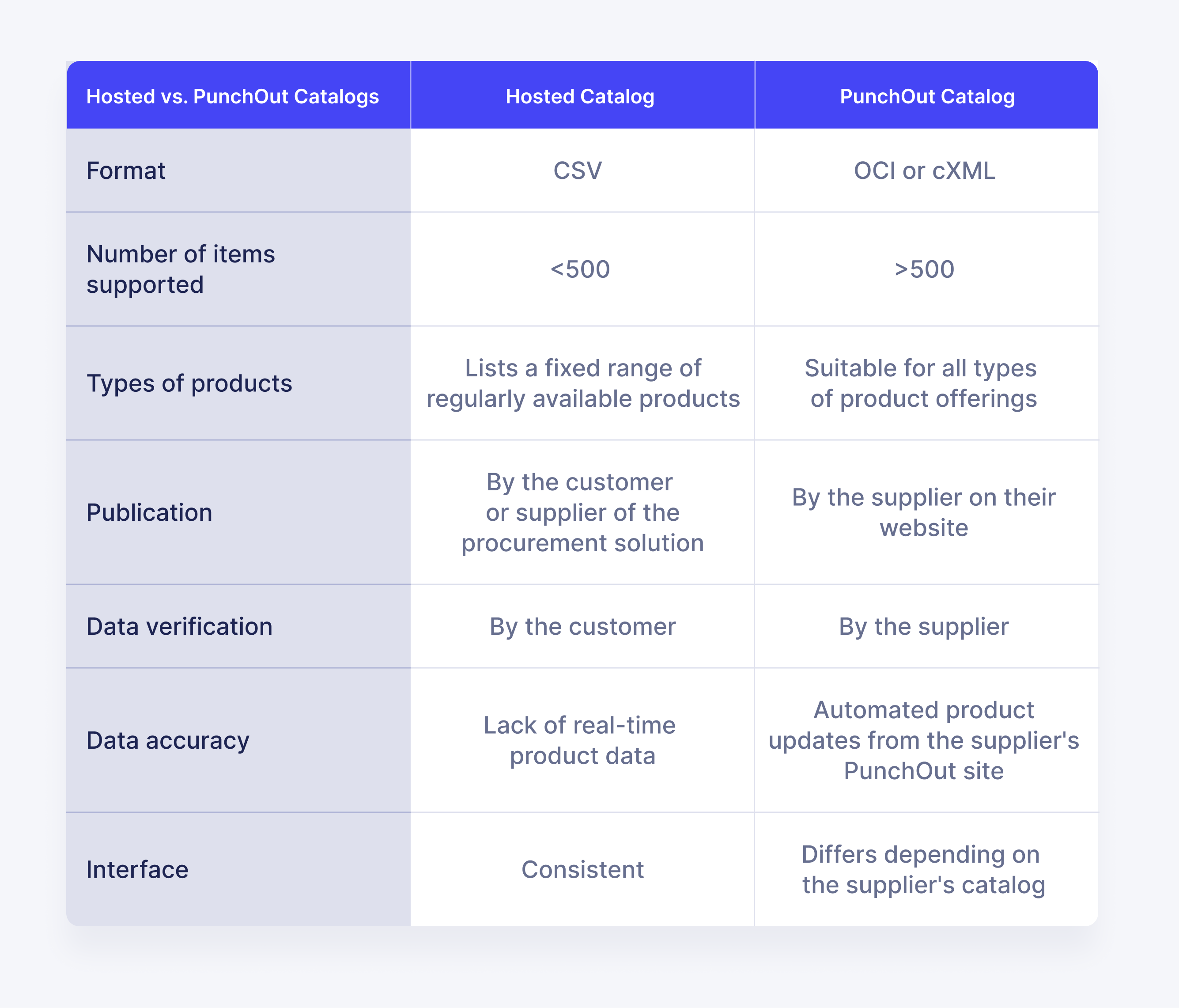 Buyer Benefits of PunchOut Catalogs in B2B eCommerce
PunchOut catalogs enable suppliers to make their product catalogs more convenient for buyers' procurement processes and to establish better communication through the ordering process.
Here are 5 common reasons why more and more organizations are turning to PunchOut catalogs:
Reduced Costs
In terms of cost savings, PunchOut integration is beneficial for several reasons:
It provides spend visibility and better control over the purchasing process.
Buyers can view personalized discounts and buy products at pre-negotiated rates from approved vendors.
Reduced labor costs due to purchasing process automation.
Increased PO accuracy and fewer unintentional purchases.
Zero Maintenance
PunchOut catalogs are published and maintained solely by vendors; thus, no time or money has to be spent on the buyer's side.
Suppliers also ensure that the catalog's information is correct and up to date. They typically update information like product availability, pricing, current discounts, and shipping costs in real time.
Increased Order Accuracy
Organizations can reduce expensive errors associated with manual order processing such as duplicate orders, mistakes in pricing, quantity, and delivery schedules, misconfigured products, and more.
PunchOut catalogs automate many would-be sources of error and ensure that accurate data is available to buyers and sellers.
Centralized and Simplified Purchasing
All supplier catalogs are easily accessible from within the buyer's e-procurement system. This means there's no need to go back and forth from one website to another to use the familiar interface of the vendor's catalog. Customers can quickly and comfortably find the items they're looking for.
Such a process promotes efficient purchasing consolidation, better spend management, and improved visibility.
Better Productivity
Procurement software comes with features for process automation, and this, along with PunchOut integration, increases employee productivity and optimizes the purchasing cycle.
Procurement staff don't have to waste their time on low-value tasks like manual data entry and can focus on more important strategic ones.
Additionally, PunchOut catalogs provide quicker turnaround times from an approved requisition to an issued purchase order and make purchasing easier for end users because less information is required to complete orders.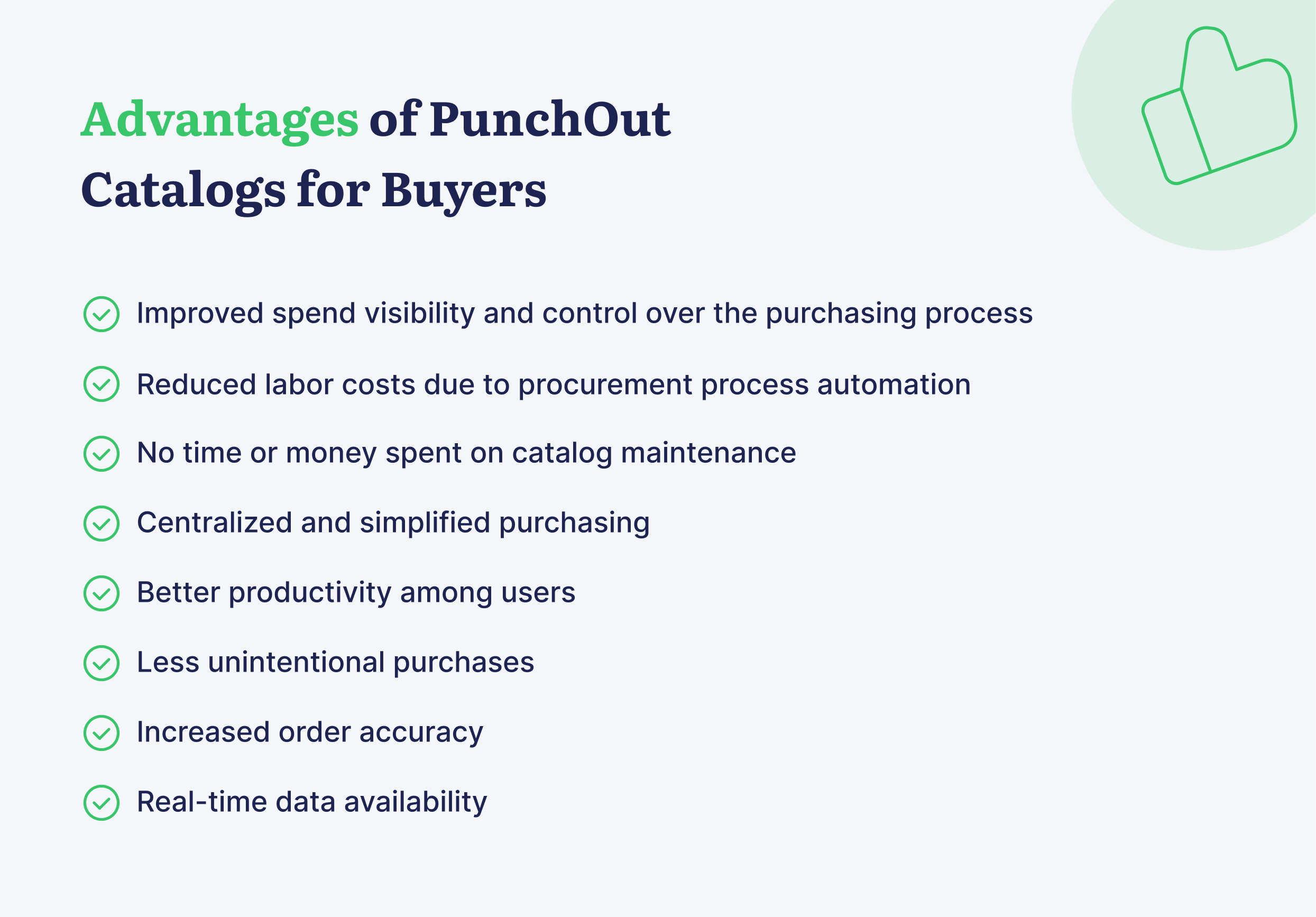 What's a Better Alternative to PunchOut Catalogs? Introducing Precoro and Amazon Business Punch-in
Punch-in is an easy-to-set-up connection between Amazon Business and Precoro accounts.
It allows organizations to combine the familiar Amazon Business buying experience with their internal purchasing policies reflected in Precoro.
Unlike in Amazon Business PunchOut integrations, PunchIn enables buyers to skip the Purchase Requisition step and start the purchasing process directly on Amazon Business. Meanwhile, Purchase Order generation, the approval process, and reconciliation all take place within Precoro.
This workflow is easy to adopt and requires little or no learning for casual buyers.
Let's see how your organization can benefit from Precoro-Amazon integration:
Eliminate discrepancies and uncontrolled purchases with Precoro's integrated approval workflow and 3-way matching.
Apply customized thresholds and follow purchasing protocols with ease.
Restrict certain items from purchasing and set policies for different office locations.
Combine Amazon Business's familiar shopping interface and Precoro's compliant purchasing process in one intuitive and easy-to-set-up workflow.
Automate reconciliation management.
Start with little or no learning curve.
Learn more about Amazon Business Punch-in integration with Precoro and what benefits to organizations it brings here.
If you have any questions about procurement process optimization or Punch-In integration, don't hesitate to contact us, and we'll gladly answer them all.
FAQ
What is eProcurement?
eProcurement, also known as electronic procurement or supplier exchange, is a process that involves using the internet to buy and sell goods and services.
It connects the supplier and buyer, helping them to streamline business-to-business (B2B) or business-to-consumer (B2C) processes like bids, invoices, and purchase orders.
What is a PunchOut Setup Request (PSR)?
A PunchOut Setup Request is a signal sent from the buyer's procurement application to a PunchOut gateway that validates the user credentials and logs them in to the seller's PunchOut website.
Final Words
PunchOut catalog is a B2B e-procurement solution that grants customers easy access to the supplier's website through their ERP or e-procurement system.
It allows customers to search for items from their approved suppliers, view personalized discounts, and add items to a shopping cart, while the procurement application automates and optimizes procurement processes like creating purchase orders and invoicing.
With the help of PunchOut catalog integration, buyers can reduce costs, increase order accuracy, simplify purchasing, achieve better productivity, and build strategic supplier relationships.
---