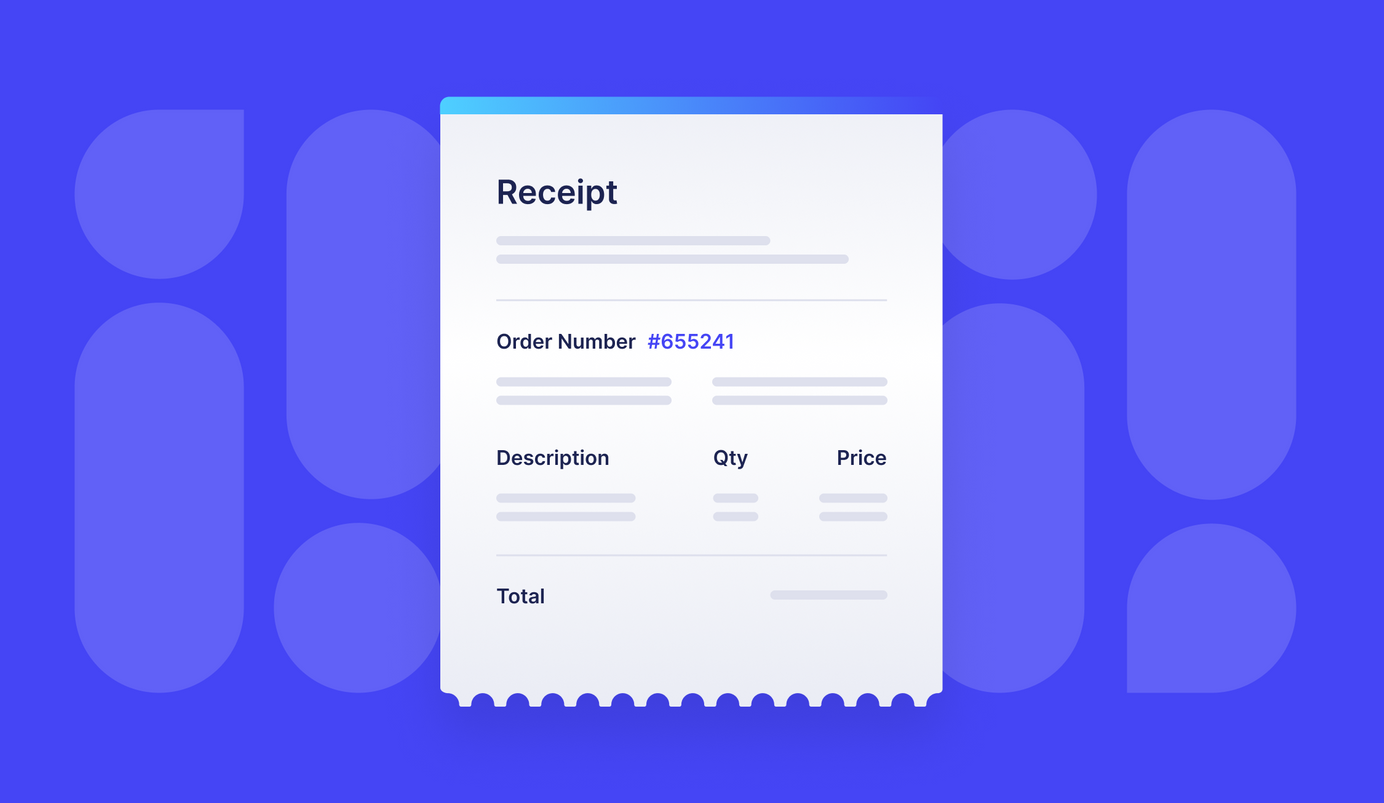 3 min read
What is a Sales Receipt in QuickBooks Online
QBO is an online tool for automating accounting processes. It's mostly used by small and middle businesses, allowing them to control company spending better.
We at Precoro have introduced direct integration with QuickBooks Online, and in a series of integration tips, we share brief manuals on utilizing key features of QBO.
What is a Sales Receipt
A Sales receipt is a document with a record of a completed sale. The seller issues the Sales receipt and gives it to the buyer as proof of payment to confirm that the customer paid for the goods or services.
A Sales receipt is a confirmation of the fully completed transaction – meaning that goods have been transferred or services rendered and paid in full.
It's a recording of the revenue immediately after receiving payment for the goods or services. Since the transaction is closed, money goes into accounting as an income.
The Sales receipt is also used as official proof of the transaction in case of returns or refunds.
Partial Sales Receipts
The seller can issue the partial Sales receipt if the goods or services are paid in installments. For example, when the buyer pays for an expensive item, they can opt to split the sum into several payments. Such receipts usually indicate the amount paid, the total to be paid, and the remaining balance.
What Should Sales Receipt Include
There's no universal form when it comes to the Sales receipt. Standards differ from industry to industry and also depend on the character of the transaction: B2B or B2C. However, some information is a must-have, such as seller's and buyer's information, items, and cost information.
Therefore, some common fields are:
Seller's information: name and contact details (address, phone, e-mail, URL, taxpayer id, etc.)
Buyer's information (if available),
List of items (goods or services),
Price of every item,
Quantity of each item,
Total amount due before tax,
Tax information: type, rate and amount,
Total amount due, including tax,
Payment method.
It's also possible to add marketing and branding information to the Sales Receipt, such as logos, coupons, etc.
Sales Receipt vs. Invoice
Another type of document with details of the sale is an Invoice. However, the Invoice isn't yet a confirmation of the completed sale. The invoice records a partial transaction. It's usually issued after the goods or services have been delivered, but before payment.
The invoice itself is an incentive to pay, a call-to-action.
Invoice is also recorded in accounting differently. Invoices are accounts receivable and are marked for further processing, that is, for paying.
Sales Receipts in QuickBooks Online
With QuickBooks Online, you can create Sales receipts from any device with internet connectivity and send them instantly. For some businesses, that means creating the Sales receipts while in the field, allowing for flexibility and timely sales closures.
The Sales receipt template in QuickBooks Online can be customized to fit your company's branding and marketing strategy – add a logo, select color palettes, and fonts.
To create a Sales receipt in QuickBooks Online, go to + New and find Sales receipt under the Customers.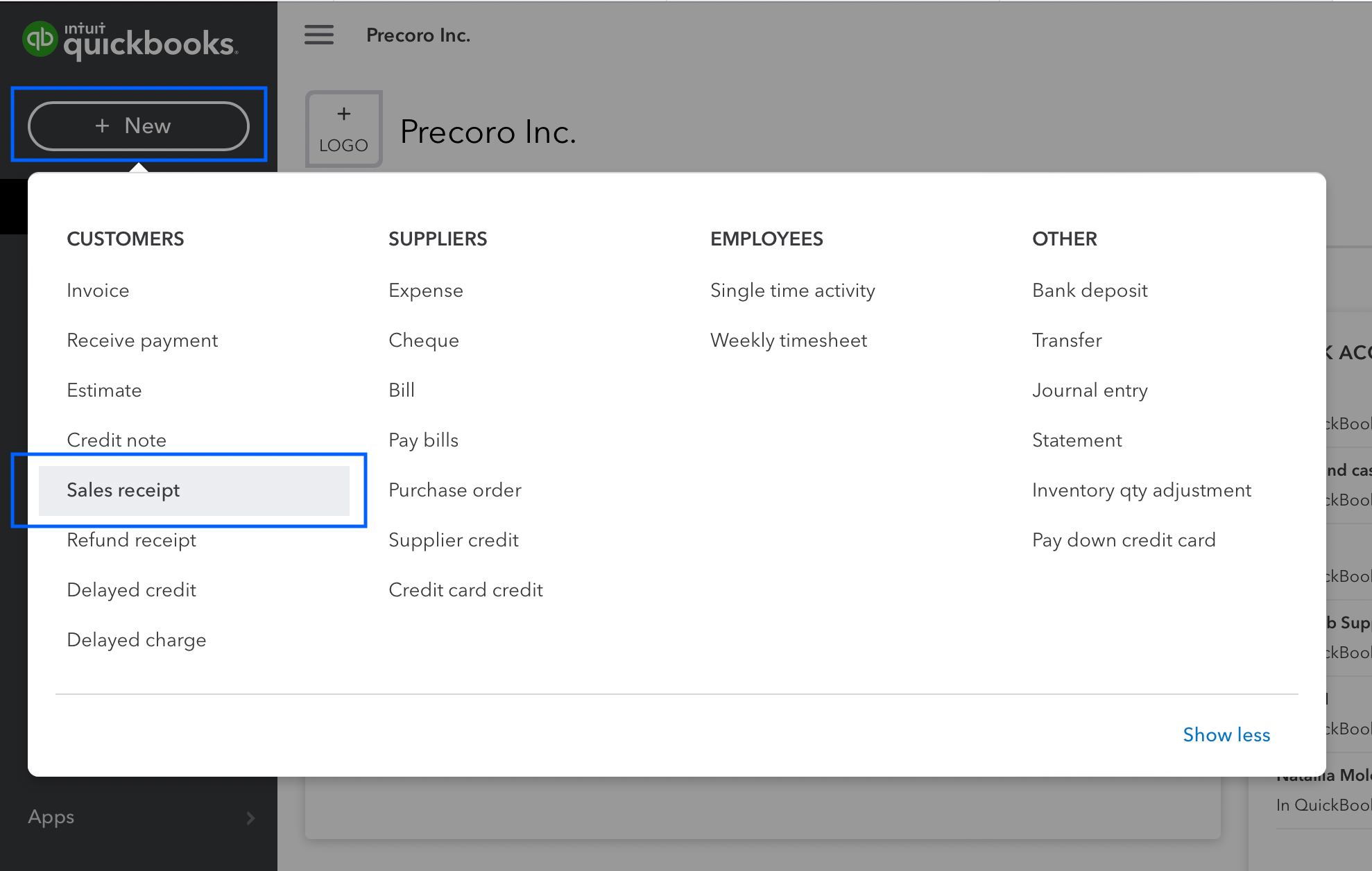 Fill in all the required information.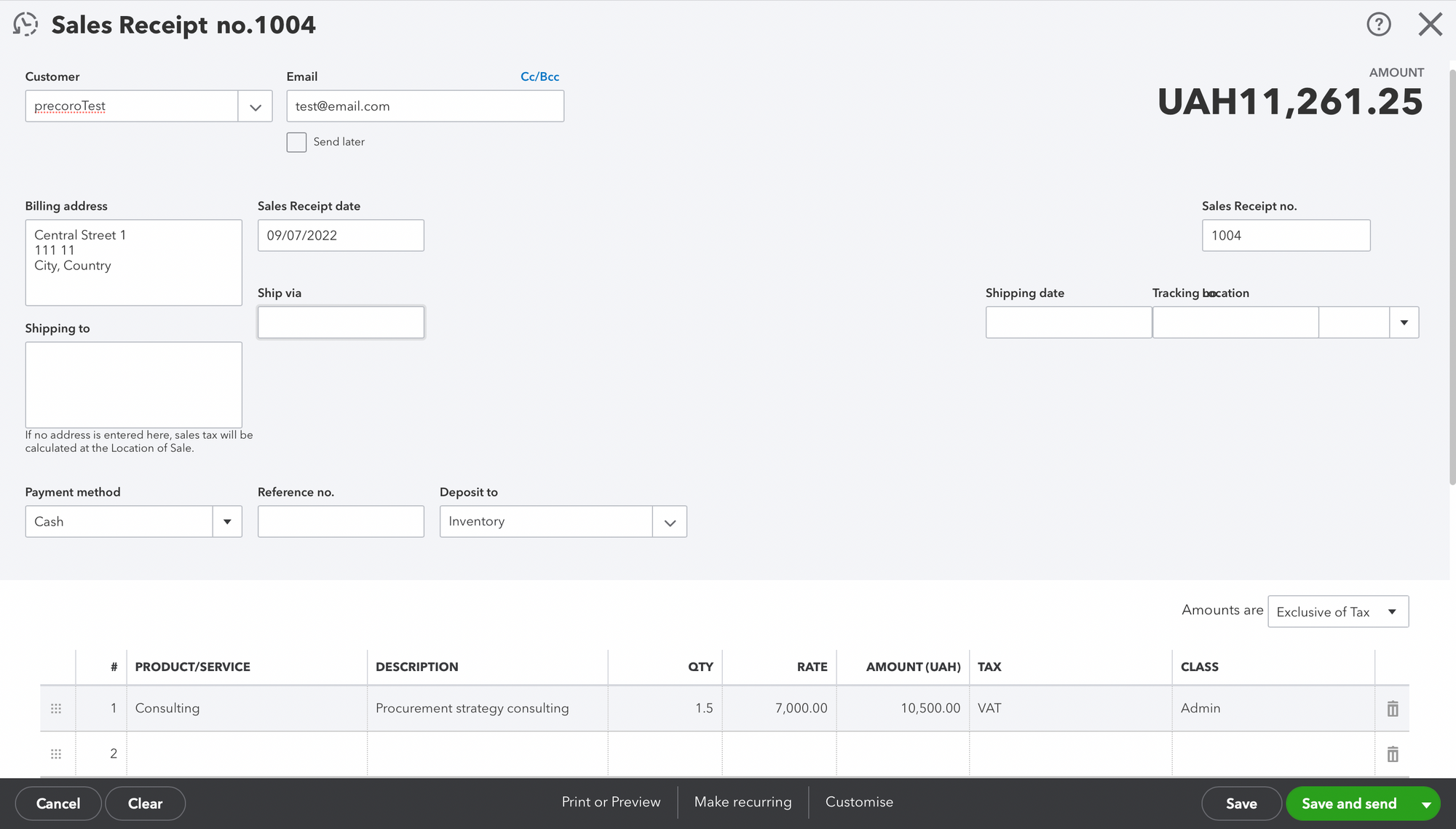 Save the Sales receipt in a required way: just save and close, save and send, or also save and start creating a new one.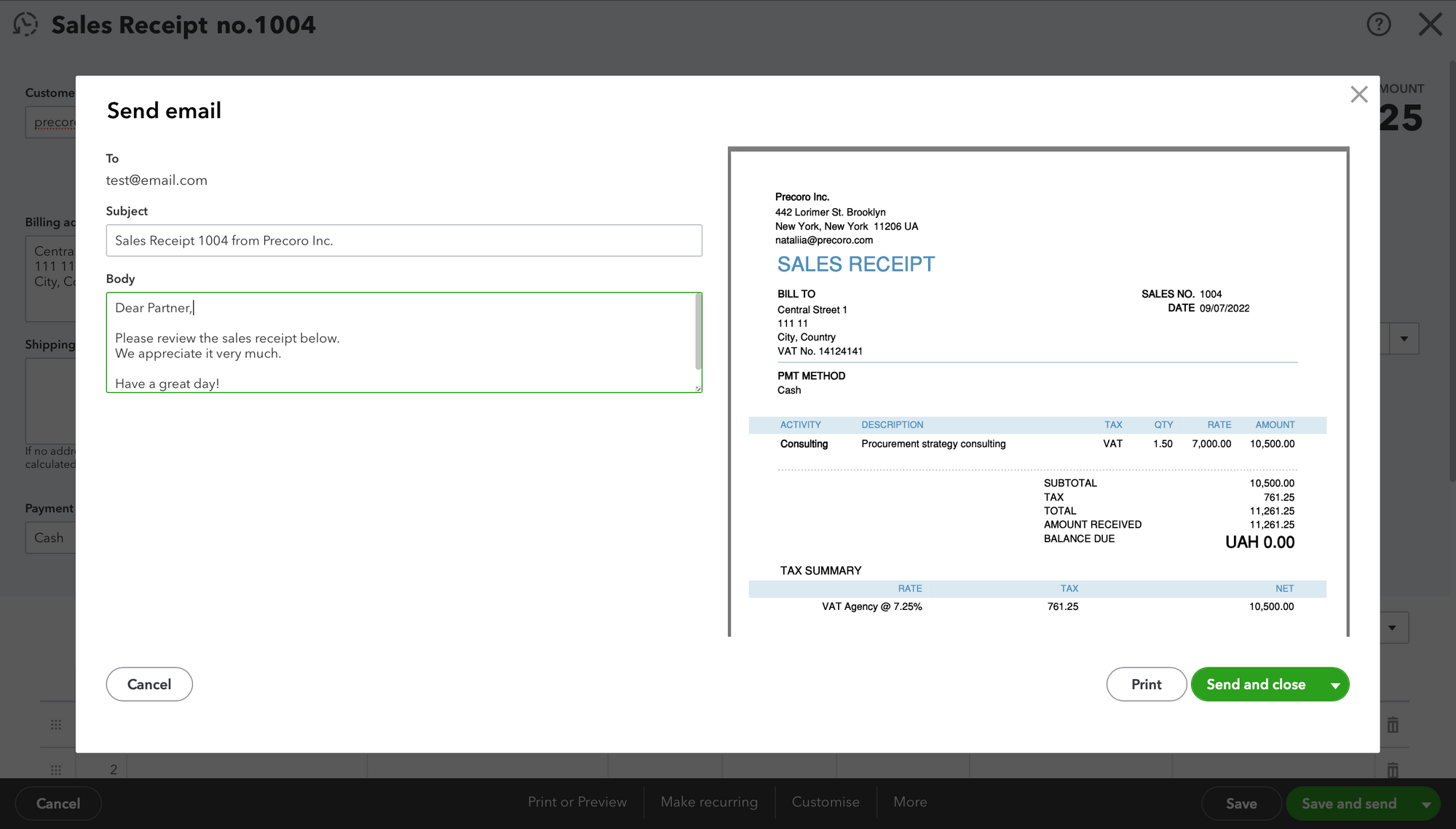 Streamline Selling and Buying with Software Solutions
QuickBooks Online is a comprehensive accounting tool that is designed to manage company's income and expenses. Whether it's issuing a Sales receipt, or registering a Purchase invoice – QBO functionality covers various cases.
For smoother purchases management and expenses tracking, we've introduced Precoro to QuickBooks Online integration. Check it out to streamline your company's internal processes – to reduce manual entries and eliminate duplicated efforts, speed up documents processing, and minimize human errors.
---