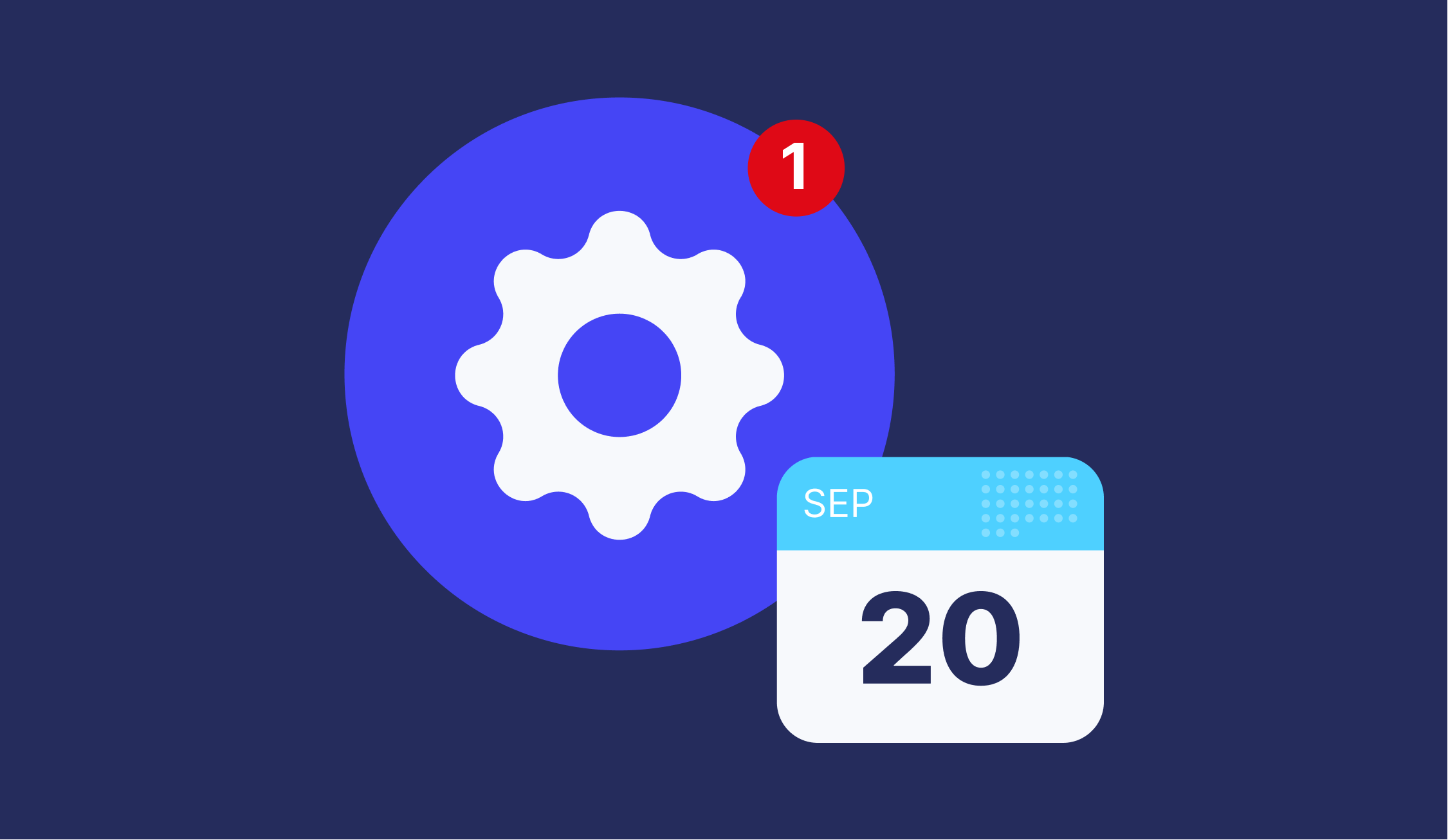 5 min read
Product Update, September 2021
New filters and sorting for better navigation through documents, upgraded attachments, downloads, approval workflow, editing, and the list goes on!
Major Approval Workflow Improvement
This month, we had a significant update in the Approval Workflow functionality.
We ensured that your experience with the approval process is more flexible and can be easily adapted to various scenarios.
Before, you could only create additional approval stages in chain order.
Now, you can add Approval steps anywhere within the Approval Workflow by simply clicking the "+" button.
You don't have to go through a complex process anymore and establish the workflow anew just to add one more step.
Take a look at how easy you can make changes to your Approval Workflow from now on: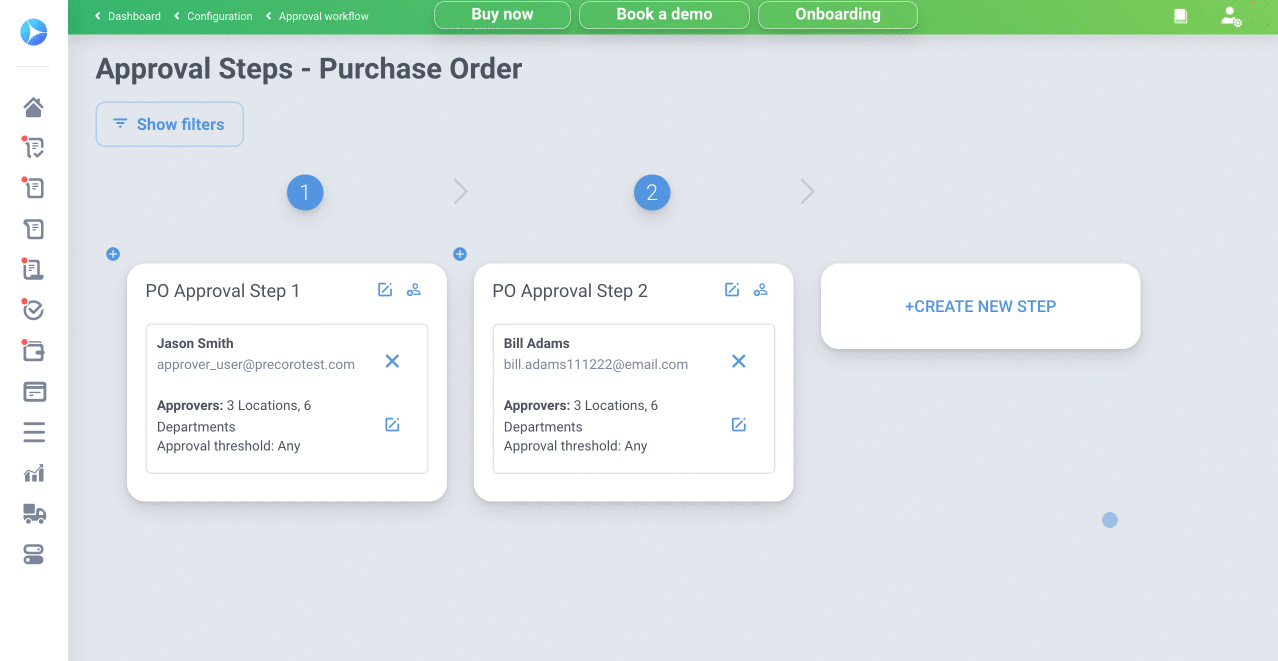 Faster Editing of Invoices, Purchase Orders, and Receipts
As mentioned in the previous update,  the document's pages improvements are underway. This time, we changed editing pages for Invoices and Purchase Orders.
How it works: When you click the Edit button, a pop-up window will open instead of a new tab. In it, you'll be able to edit your document faster and easier: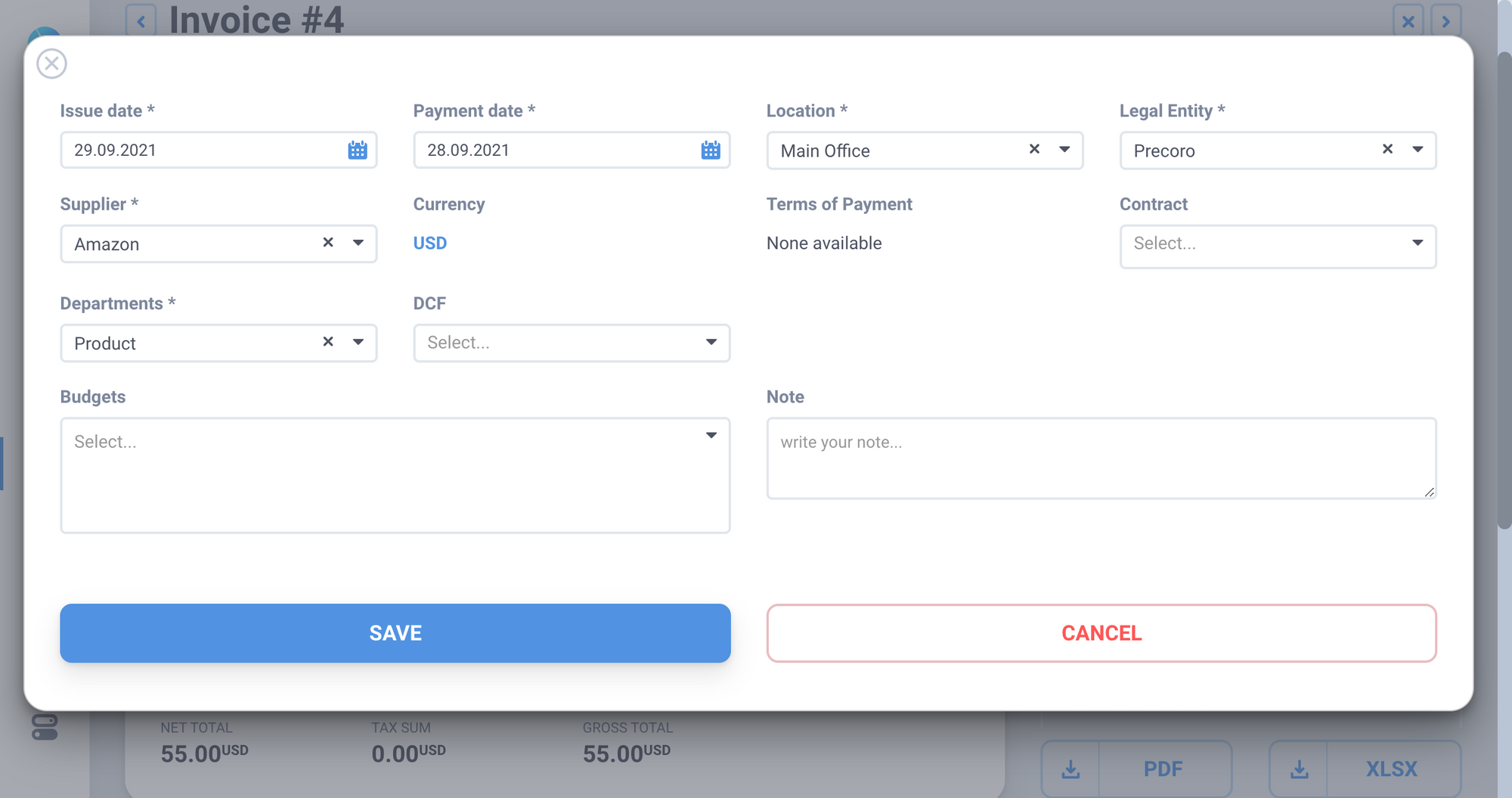 We also added a similar editing page for Receipts. Just click the Edit Receipt button and make changes as required:
Synergy between Products Custom Fields and Respective Budgets
While adding items to a document, the user will be able to select only those Products Custom Fields (e.g, COA, Ledger Accounts) options included in the chosen Budget.
Note that this feature only works with Budgets that include Products Custom Fields.
By way of example: We have a budget named "September 2021" with the following budget lines:
Office Expenses. Includes such Products Custom Fields options as Meals, Office Supplies, and Rent;
Subscriptions. This budget line comprises only one Products Custom Fields option — Subscriptions;
Purchases & Travel. The available Products Custom Fields options for this budget line are Travel and Purchases.
Then we create a PO selecting the "September 2021 Office Expenses" budget.
We'll find that only Meals, Office Supplies, and Rent Products Custom Field options are available for selection when we add items to this PO.
Custom Reports Updates
Custom reports in Precoro are now much more user-friendly. We made a lot of changes to fulfil all your requests and make the report creation more accessible.
Here are some examples:
New sections (Suppliers Data and Company Data) were added to the Credit Note Custom report;
The abbreviations in columns names were removed;
About 20 new columns were added.
Ability to Complete Purchase Requisitions without POs
Our clients use Purchase Requisitions for different purposes, some of which don't involve Purchase Orders at all.
Starting from September 2021, you no longer need to create Purchase Orders to complete PRs.
It is now possible to complete a Purchase Requisition with just one click.
Here's how it works: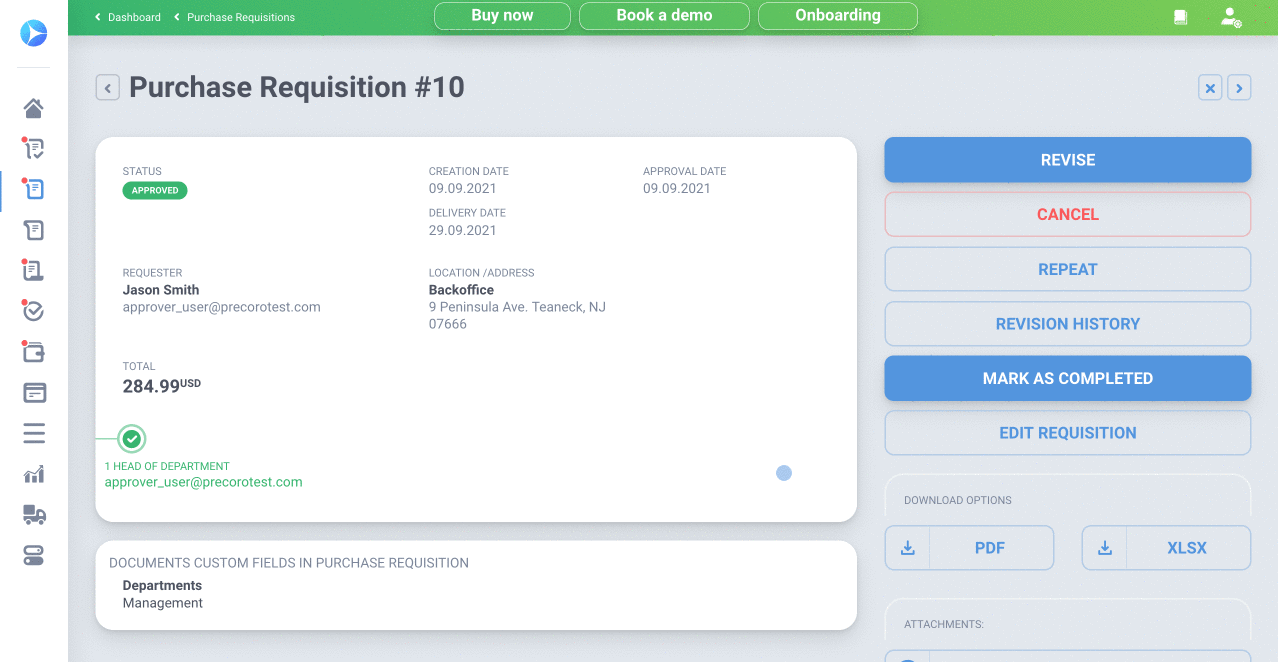 To learn more about this new feature, please check out this article in our Help Center: How to Complete Purchase Requisition without Purchase Order.
Sorting of Custom Fields and Document Fields
Another new function we added is sorting Products Custom Fields and Documents Custom Fields options.
You can now sort your Accounts, Departments, Classes, Projects, or any other Custom Fields.
To initiate the sorting, go to your Custom Field and select a parameter that best suits your needs.
You can sort options by:
Name — in alphabetical order;
Code — in ascending or descending order.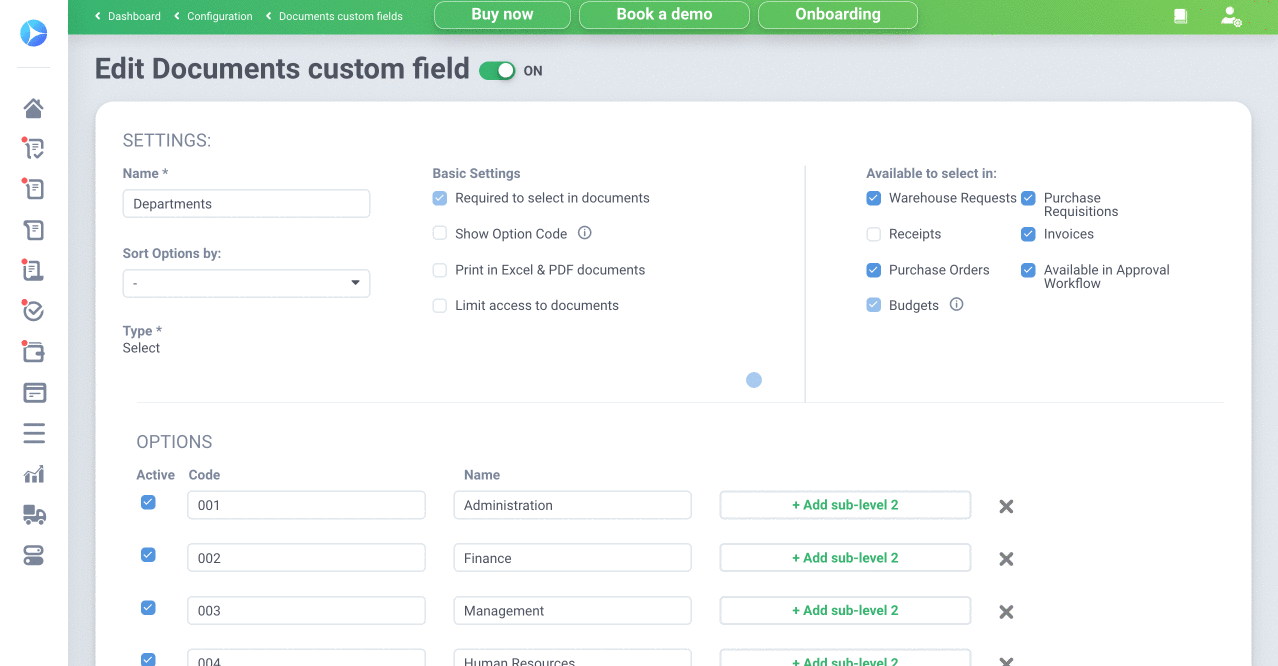 The sorting will apply to all modules (Documents, Budgets, Catalog, Filters, etc.) except the User creation/editing page and Profile Settings page.
Sending Purchase Order and Invoice Attachments to QuickBooks Online
Now, all attachments from Purchase Orders and Invoices will be sent to QBO if you have the integration in place.
You can find the documents in the Attachments field in QuickBooks:

A minor spoiler: it works with the NetSuite integration as well 😉
Changes in the Purchase Orders List
So that you can more easily navigate through the list of documents, the Type column was added to the Purchase Orders list page.
Now you can see the document type right from the Purchase Orders list: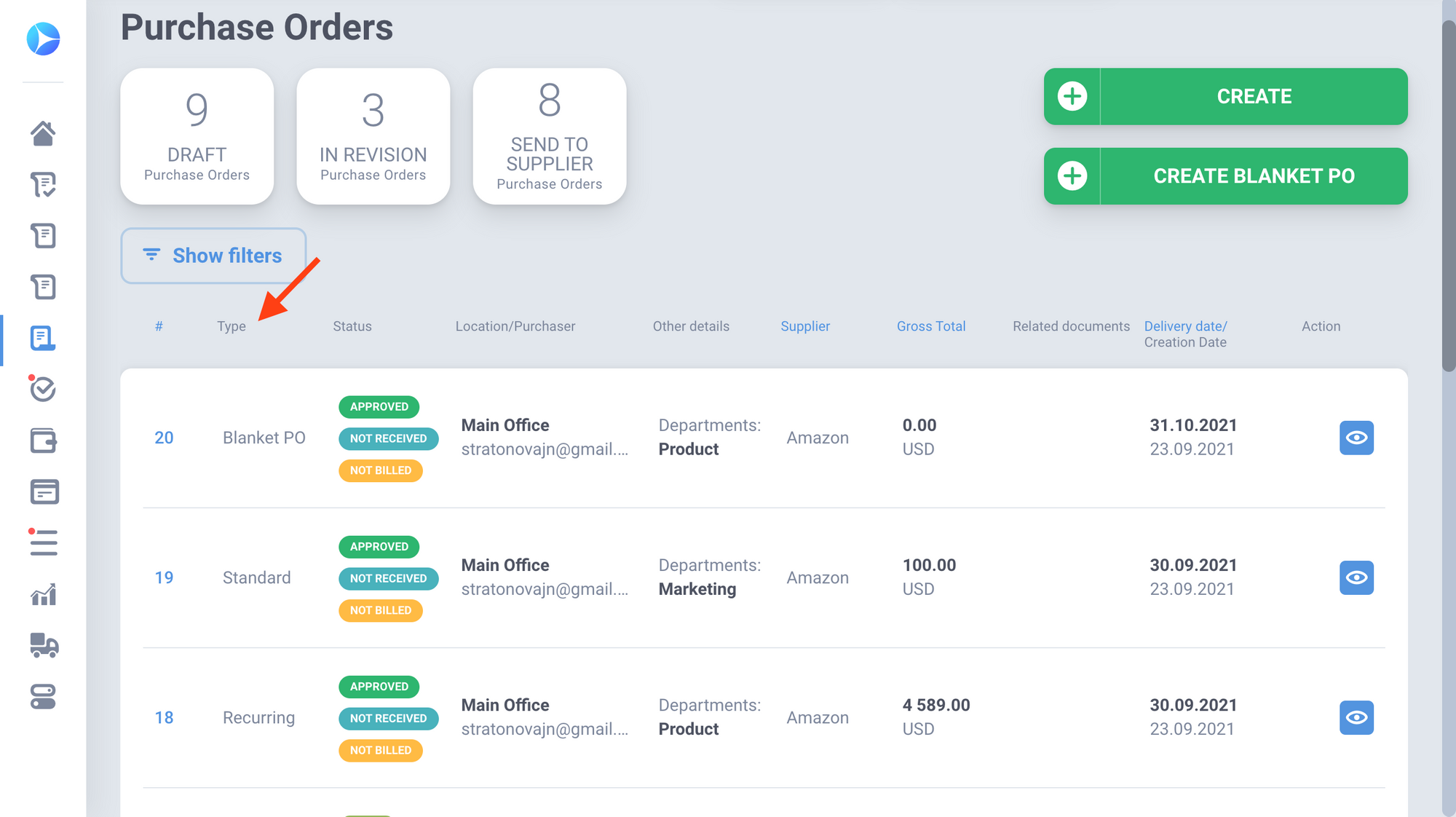 We also added this column on the Select a PO for the new Invoice page: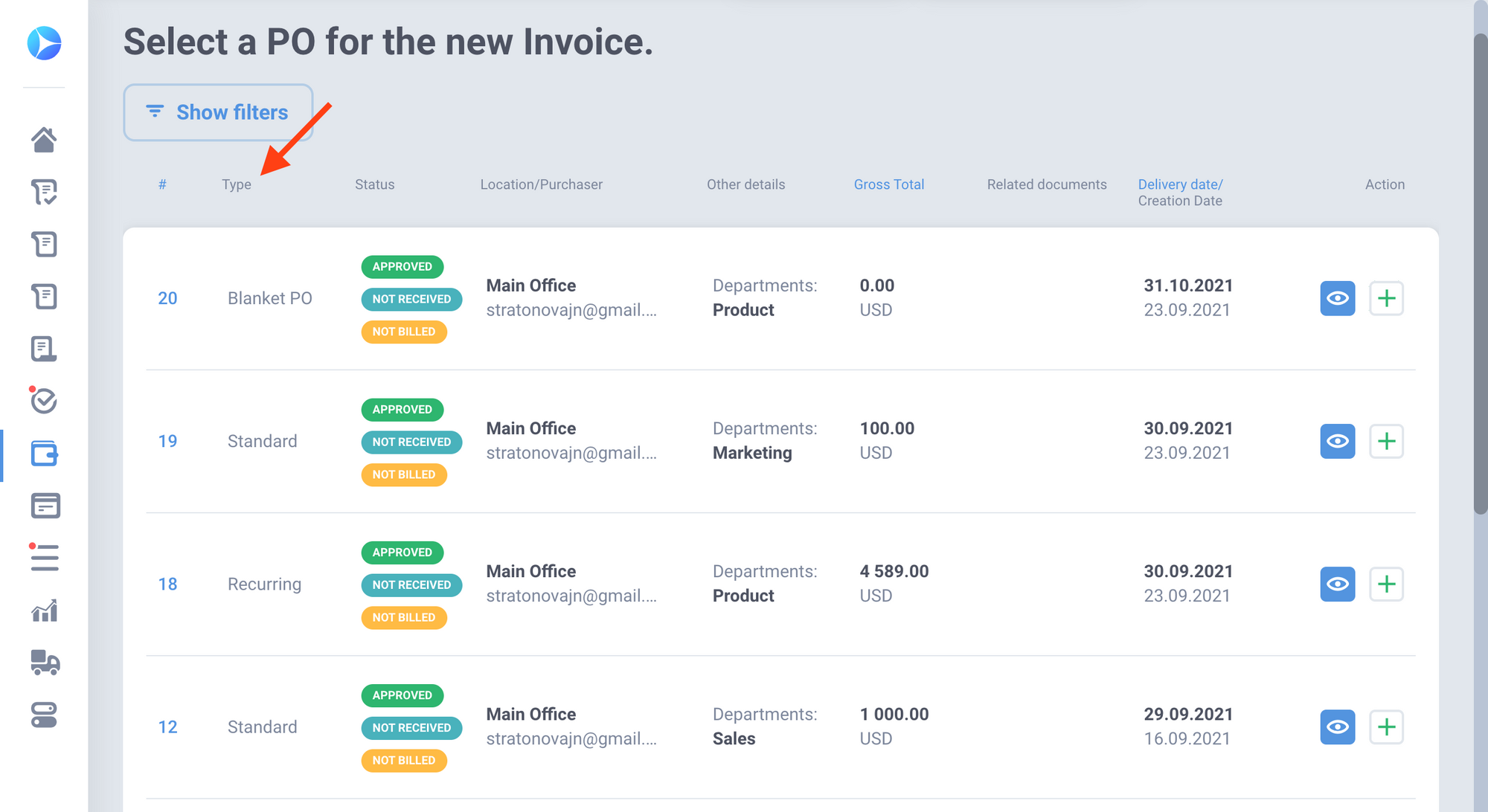 New Download Options for Stock Transfers and Blanket Purchase Orders
Stock Transfers are now available for download in PDF and XLSX formats.
Just go to the page of a Stock Transfer and click on the corresponding button in the Download Options section: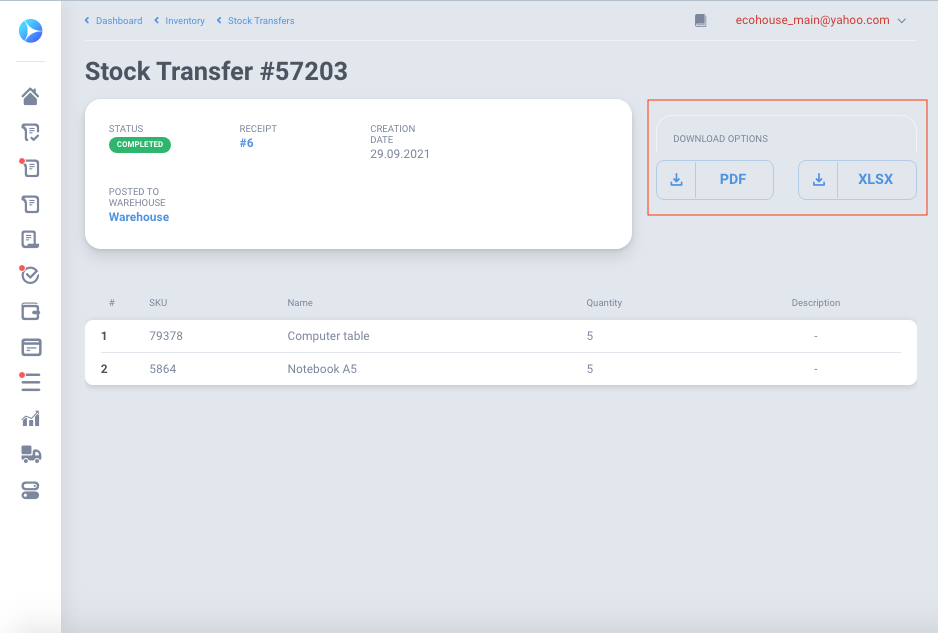 There's also the opportunity to download Blanket Purchase Order per Total even if there are no items: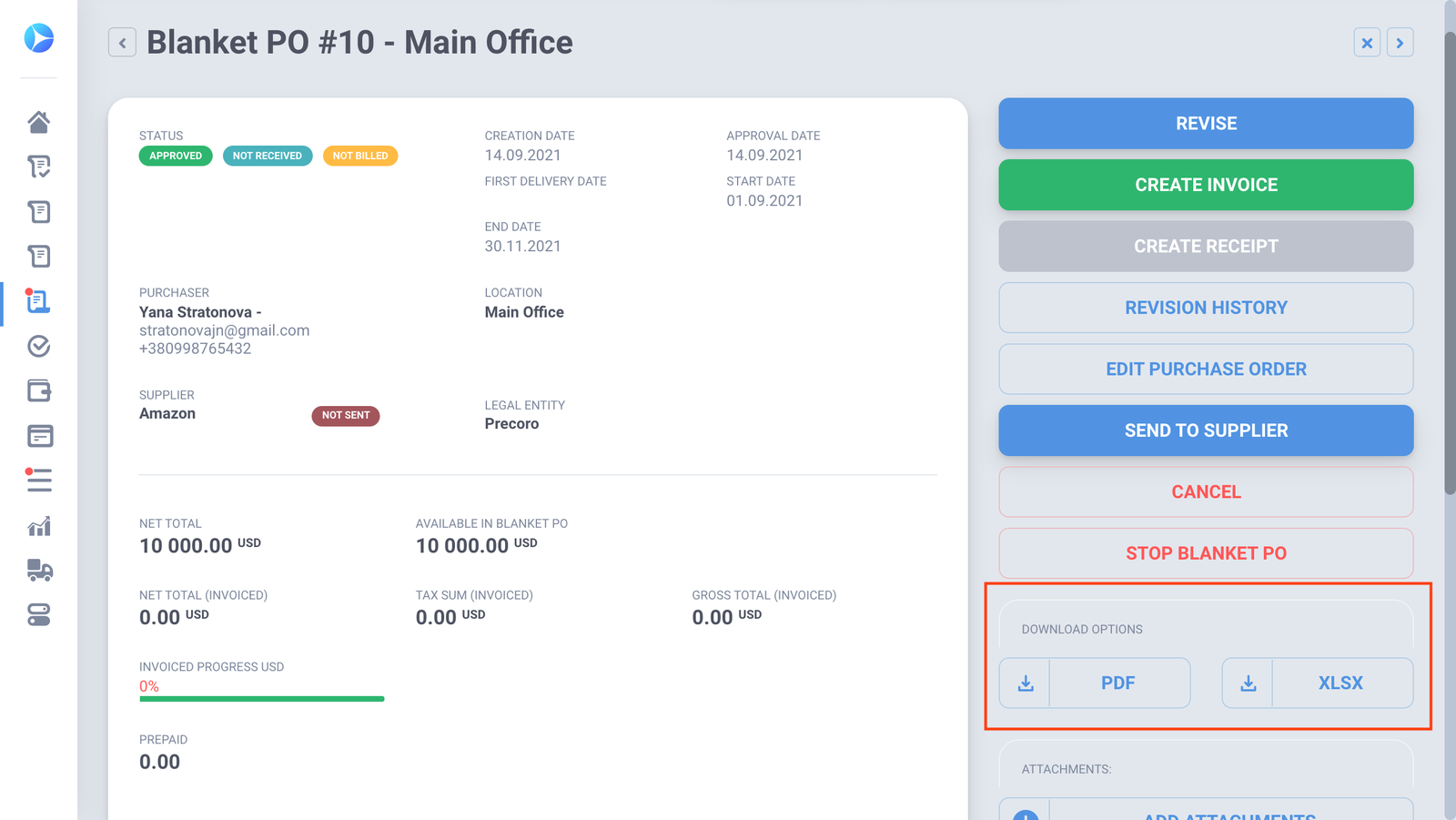 New Filters for Purchase Requisitions and Products
A new "Waiting for PO creation" filter in the PRs list
A new filter has been added to assist your analysis: you can now monitor if any Purchase Requisitions haven't been converted into Purchase Orders.
To do this, apply the filter either in the PRs list or PRs reports:
"Yes" indicates that the Requisition is available for Purchase Order creation;
"No"  means that all the items have been either added to the Purchase Order or rejected.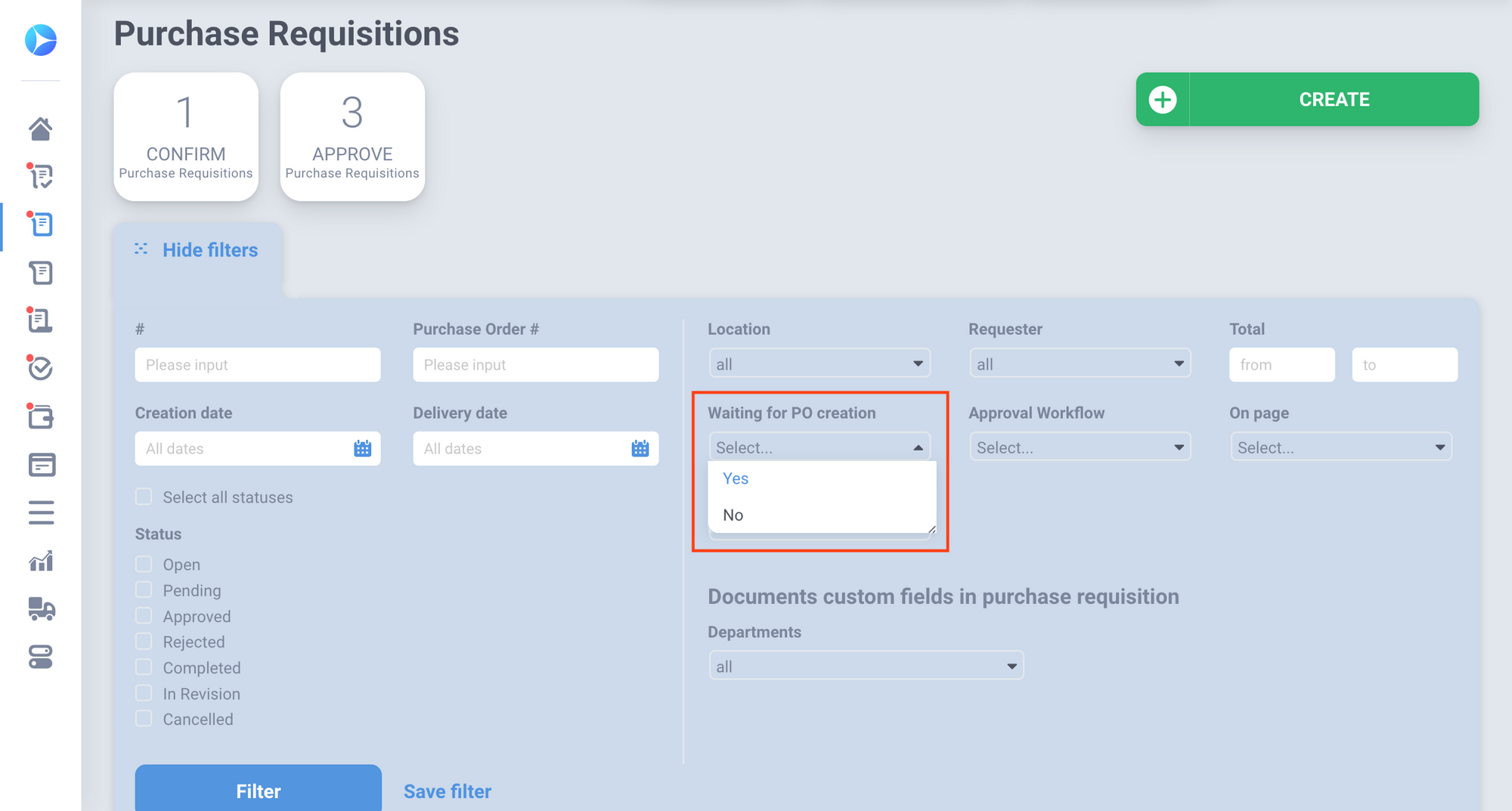 "Product Type" Filter in the Catalog
This update should help you search items more efficiently because now you can filter items by Product type in the catalog: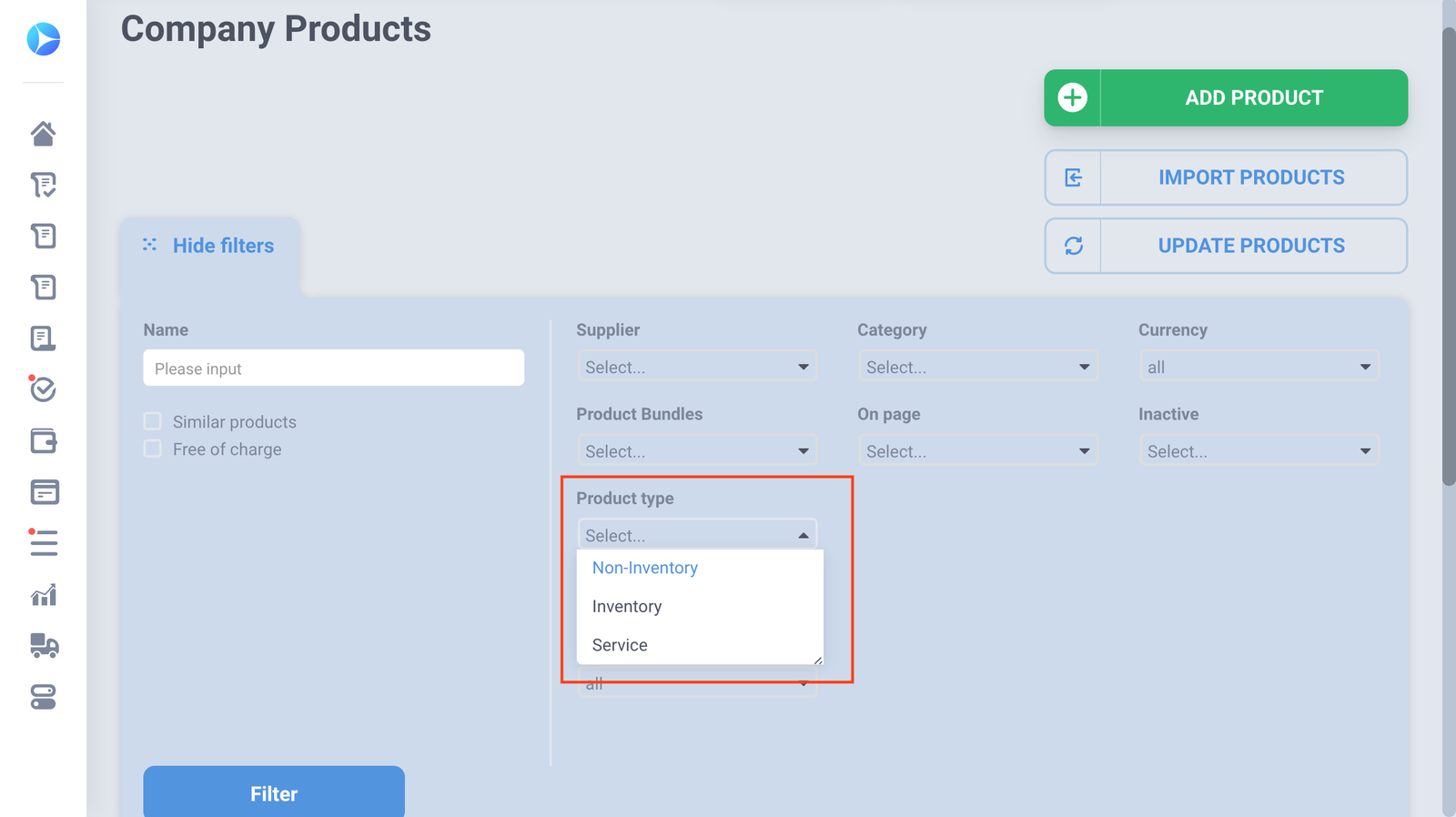 We also added this filter to the screen for selecting items in documents (Purchase Requisitions, Requests for Proposals, Purchase Orders, Invoices):

All these advancements wouldn't be possible without our customers' requests and suggestions. Your honest feedback is our team's plentiful source of inspiration 💙
---