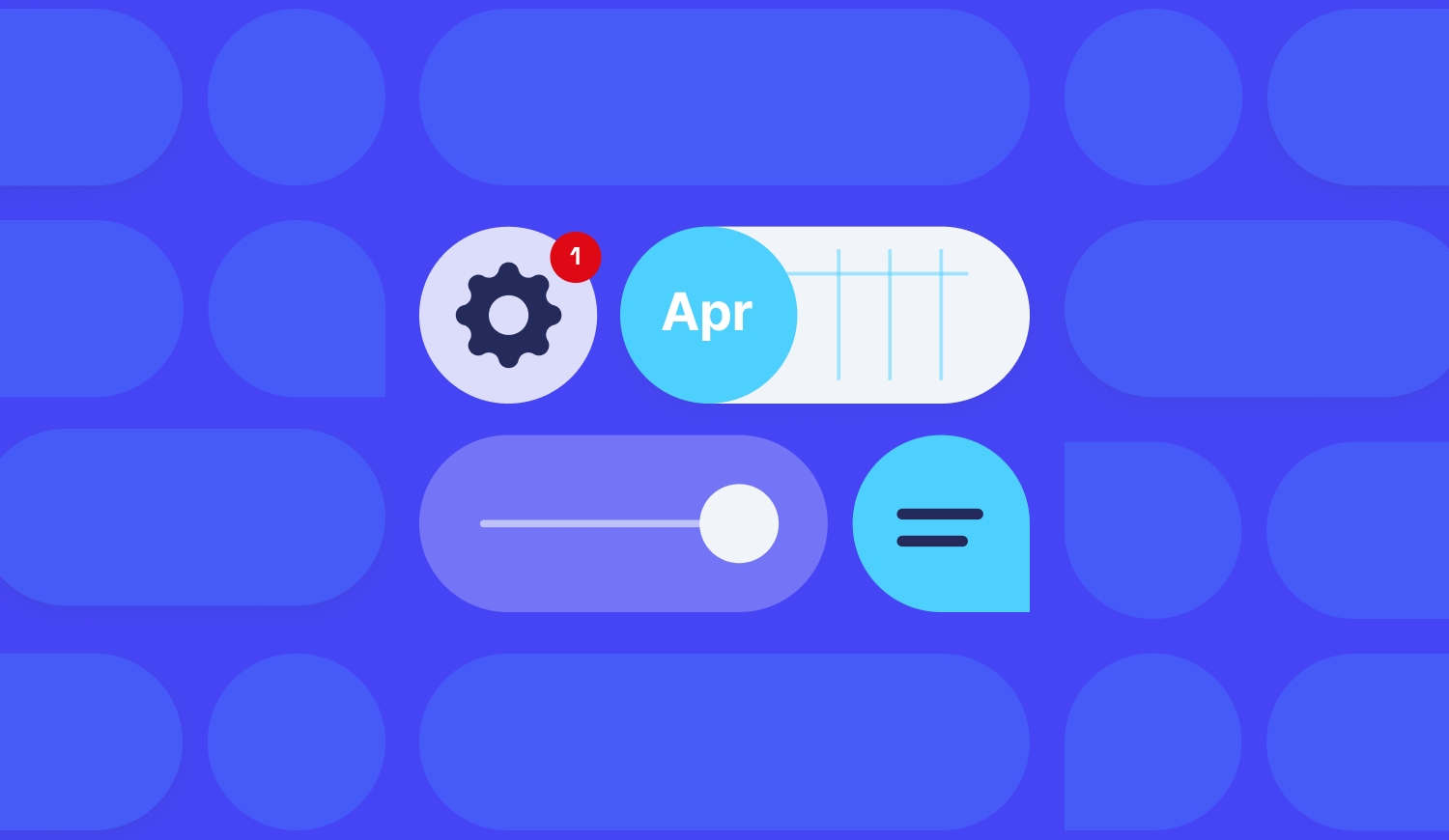 5 min read
Product Update, April 2022
From brand-new exciting integration to managing vacation days, and more flexible sorting and filtering – read how Precoro became even better in April 22.
Integration with Slack
We now offer smooth integration with Slack for managing approvals instantly! Precoro users can now view, approve and reject documents straight from Slack.
This is how the Precoro app looks in the Slack workspace: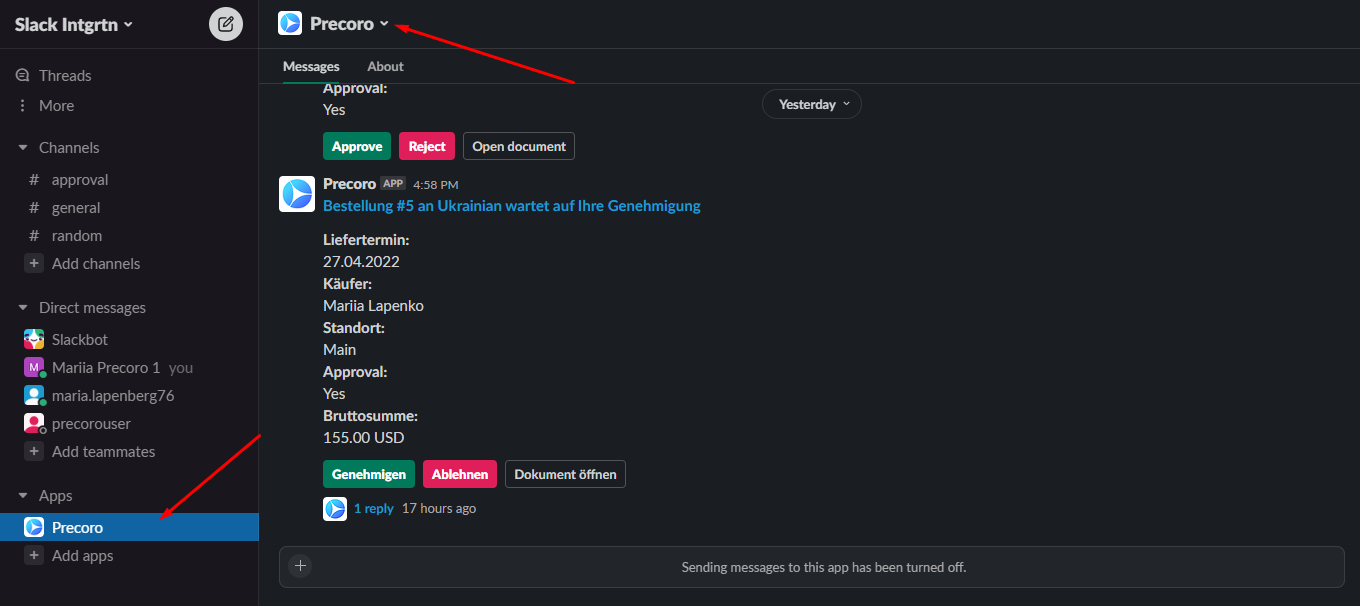 It is another convenient way to process documents in the status "waiting for your approval." See details on how to connect Precoro to your Slack workplace in our help center.
Periodic and Automated Updates in NetSuite Integrated Companies
We keep improving Precoro-NetSuite integration and enabled regular auto-update for:
Suppliers
Departments
Chart of Accounts
Classes
Customers/Projects
There is no need to turn on this feature, as it'll be activated on our end. Automatic updates will happen once a week on Monday. You just relax and enjoy how whatever happens in your NetSuite database – we will make sure to keep up.
Every week, we automatically update all:
Option names
Option Codes (if there are any)
Statuses (active/inactive)
For the supplier companies, we'd also update:
Names
IDs
Other integrated data
If the supplier has been removed from the NetSuite, we would automatically deactivate them in Precoro.
Switch on Vacation Mode and Assign a Backup Approver to Take Your Place
We have introduced Vacation Mode – you can now go hiking or sunbathing by the ocean and have no worries that something will go unnoticed at work.
There is now a Vacation Mode tab in the User's profile settings, where you can switch on the Vacation Mode and set dates when you're away.
On vacation days, your status will be changed to "away" and displayed as such:
In filters
On the documents list
On the document show page
On the document's edit page
In comments
In the Approval Workflow
On the budgets list page — for a budget holder
In the users' list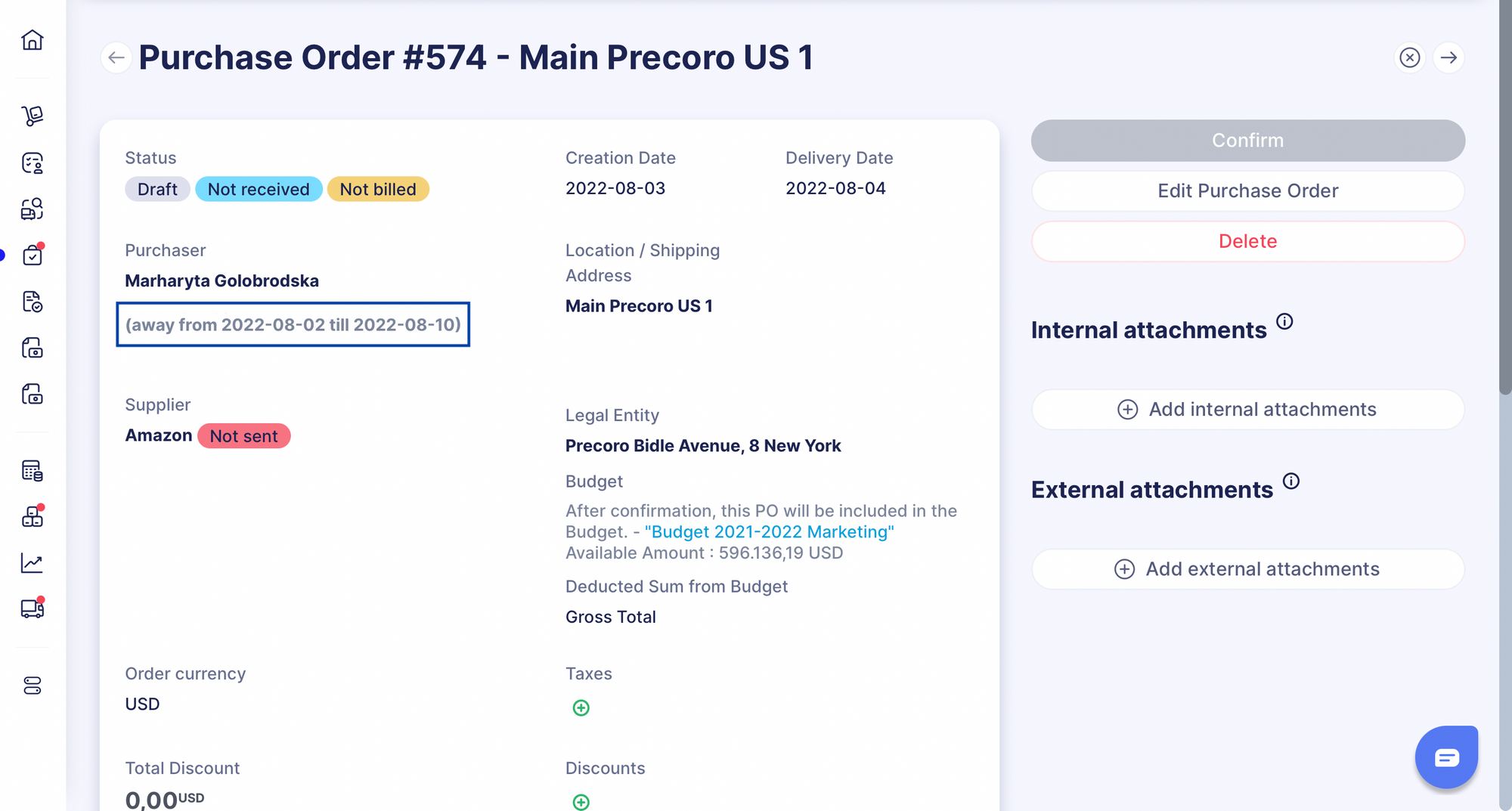 And to make sure that no approval flow is stalled while you're away, we've introduced the possibility of assigning a Backup Approver.
You can opt for the Backup Approver right under the Vacation Mode settings: turn on the switch and select Approvers for each type of document you are the approver of.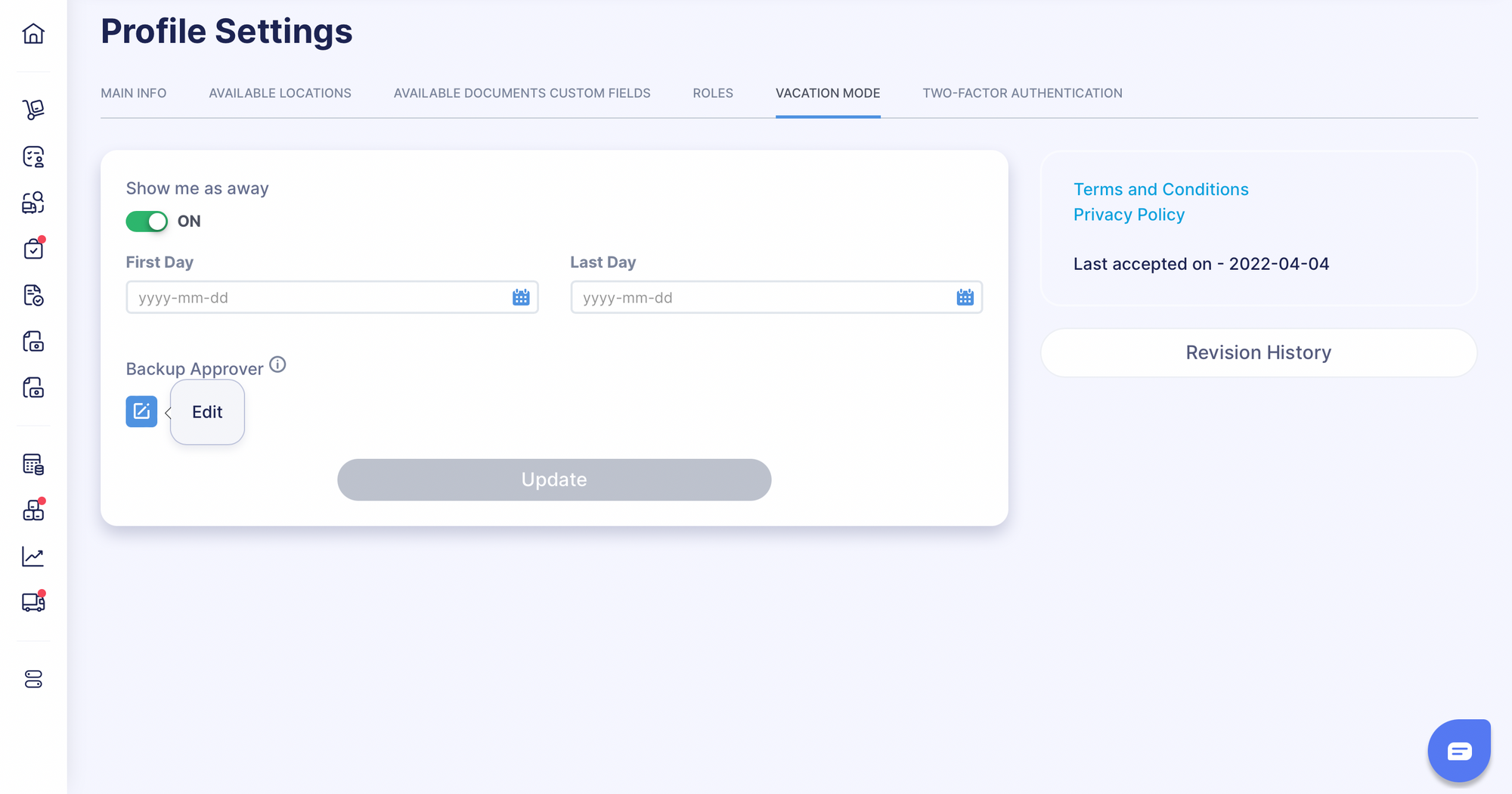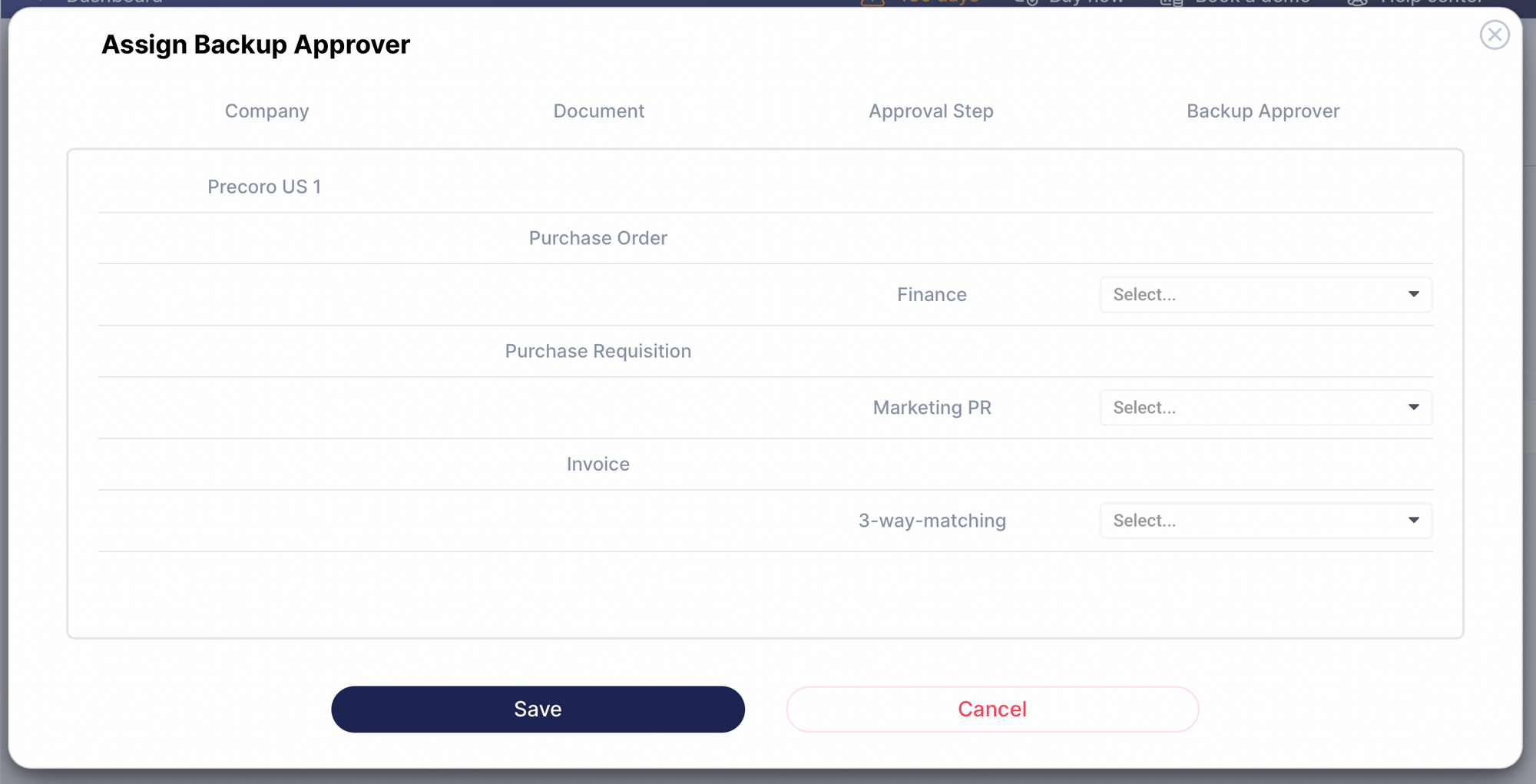 The backup approver will:
Get approval emails;
Be displayed in documents and approval workflow;
Be displayed on the Company Users page.
Further Changes in the Re-approval after the Documents' Revision
Earlier in March, we started improving re-approval flow after Purchase Order revision. We've also done so for Invoices, Purchase Requests, Warehouse Requests, Receipts, and Expenses.
For all of the above, Precoro won't trigger the re-approval if there are no changes made. Then there are specific cases when re-approval won't be needed.
For Invoices and Expenses – when:
Changing Items Custom Fields if the Budget or Budget Line remains the same;
Changing Items Custom Fields if the document's budget does not include any Items Custom Fields.
For PRs and WRs – when changes were made to the Items Custom Fields only.
For Receipts – when there were changes of Items Custom Fields only.
Active/Inactive Column Removed from Suppliers and Items Imports
Imports have become even simpler after we've removed the Active [0=Inactive 1=Active] column. This column was required for Suppliers and Items imports.

Now, all Suppliers and Items are imported as active by default.
The Description Field Added to Items in all Documents
The description field is now displayed in the following documents:
Purchase Request
Purchase Order
Receipt
Invoice
Request For Proposal
Warehouse Request
Stock Transfer
This field can be edited and adjusted as needed for the particular Document – even if the item was added from the Catalog with a predefined description.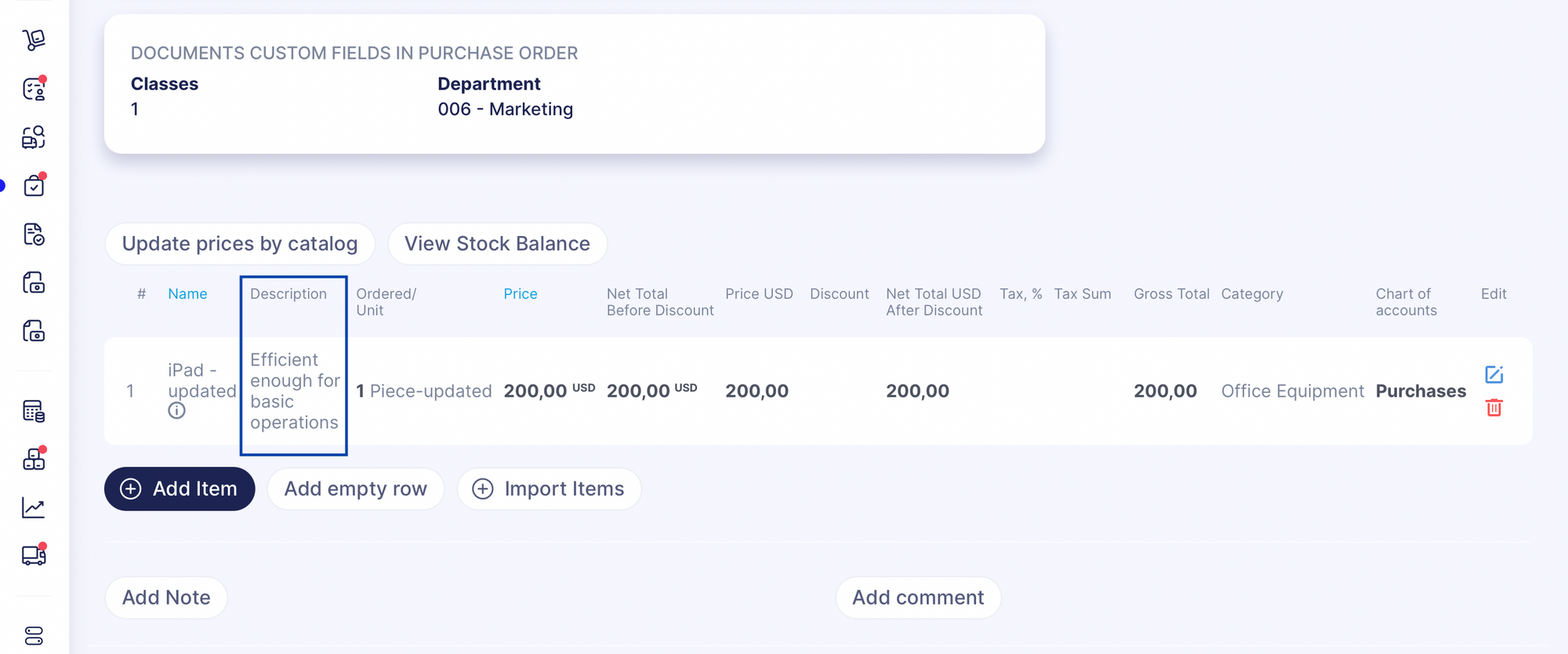 The description has also been added to the PO and PR PDF/XLSX documents.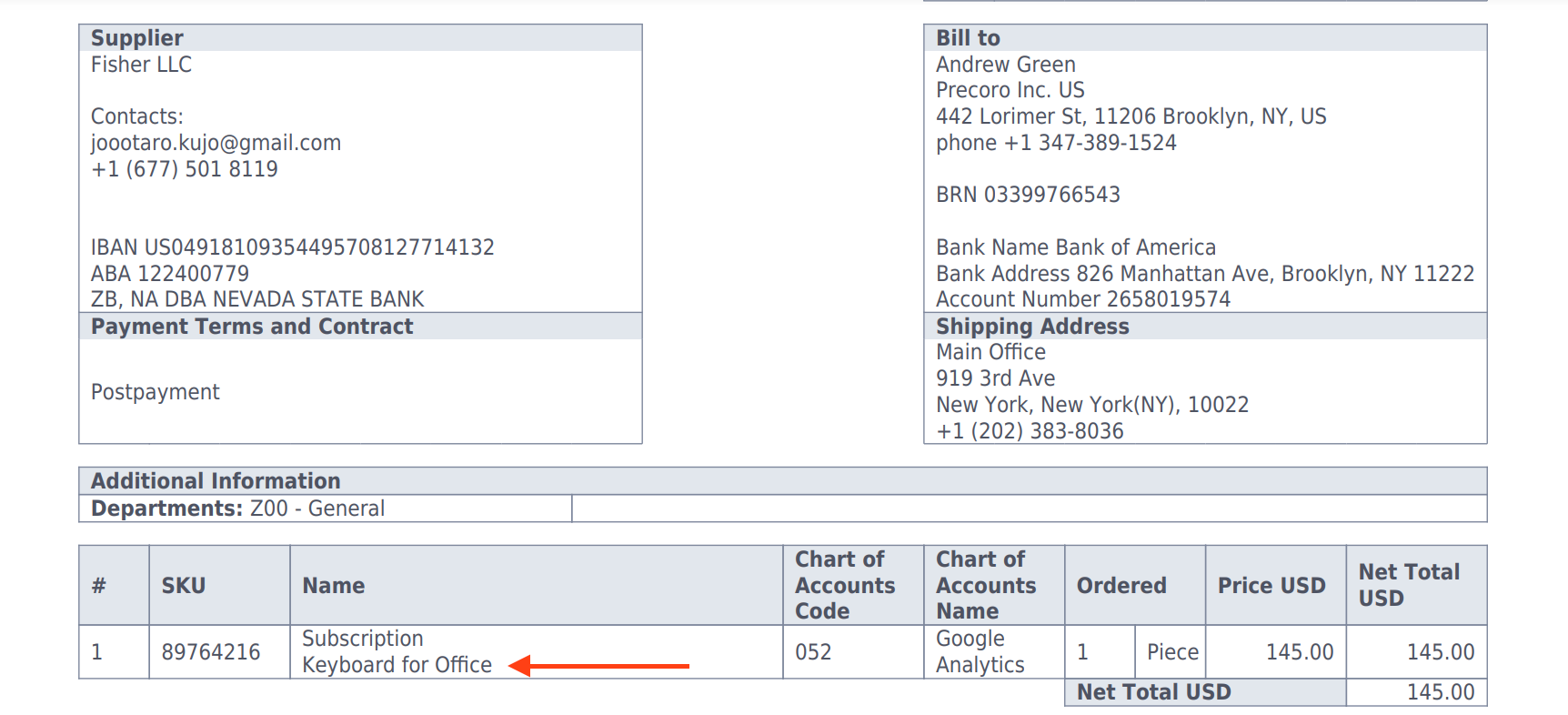 Create Transfer Without Warehouse Request
It's now possible to manually create transfers (inventory consumption) without creating WR. The process is similar to Manual PO creation.
Go to Inventory and select "Create Inventory Consumption." The form consists of:
Transfer date
Location
Post to warehouse
After filling out the form, you'll be redirected to the same page as basic Stock Transfer creation (except with no DCFs). On this transfer page, you'll be able to add products from the Item Management.
Please note: only inventory items can be added.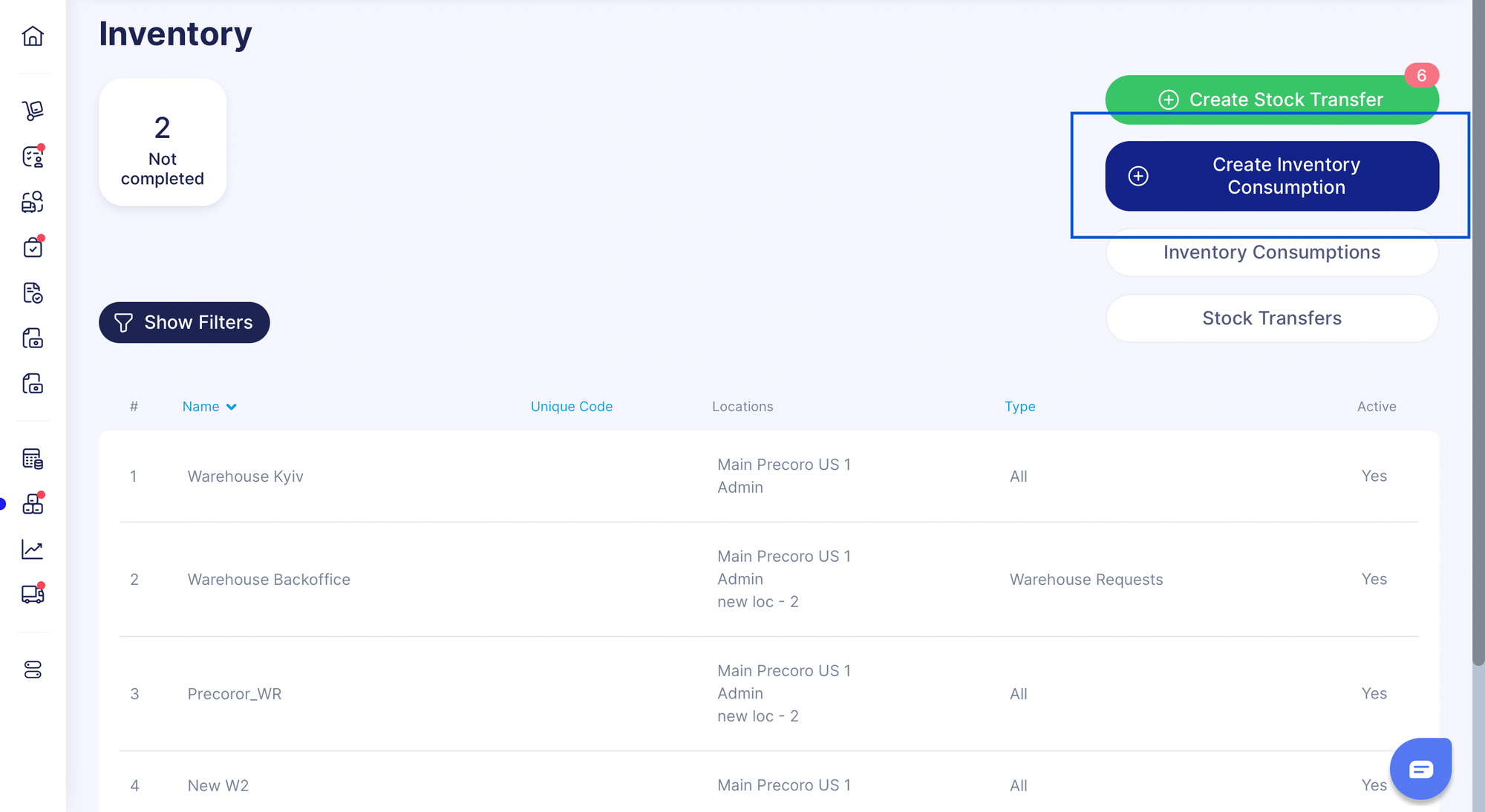 After this feature is activated in the admin, the PO number will be hidden until the document is approved. This way numbering sequence becomes more transparent, including only POs accepted for further processing.
If the feature is turned on:
The "###" will be shown in the list of documents instead of the PO number.
The [Generated after approval] text will be displayed on the document page instead of the custom number and in the document title.
The document number will be hidden on the preview page, emails and reports.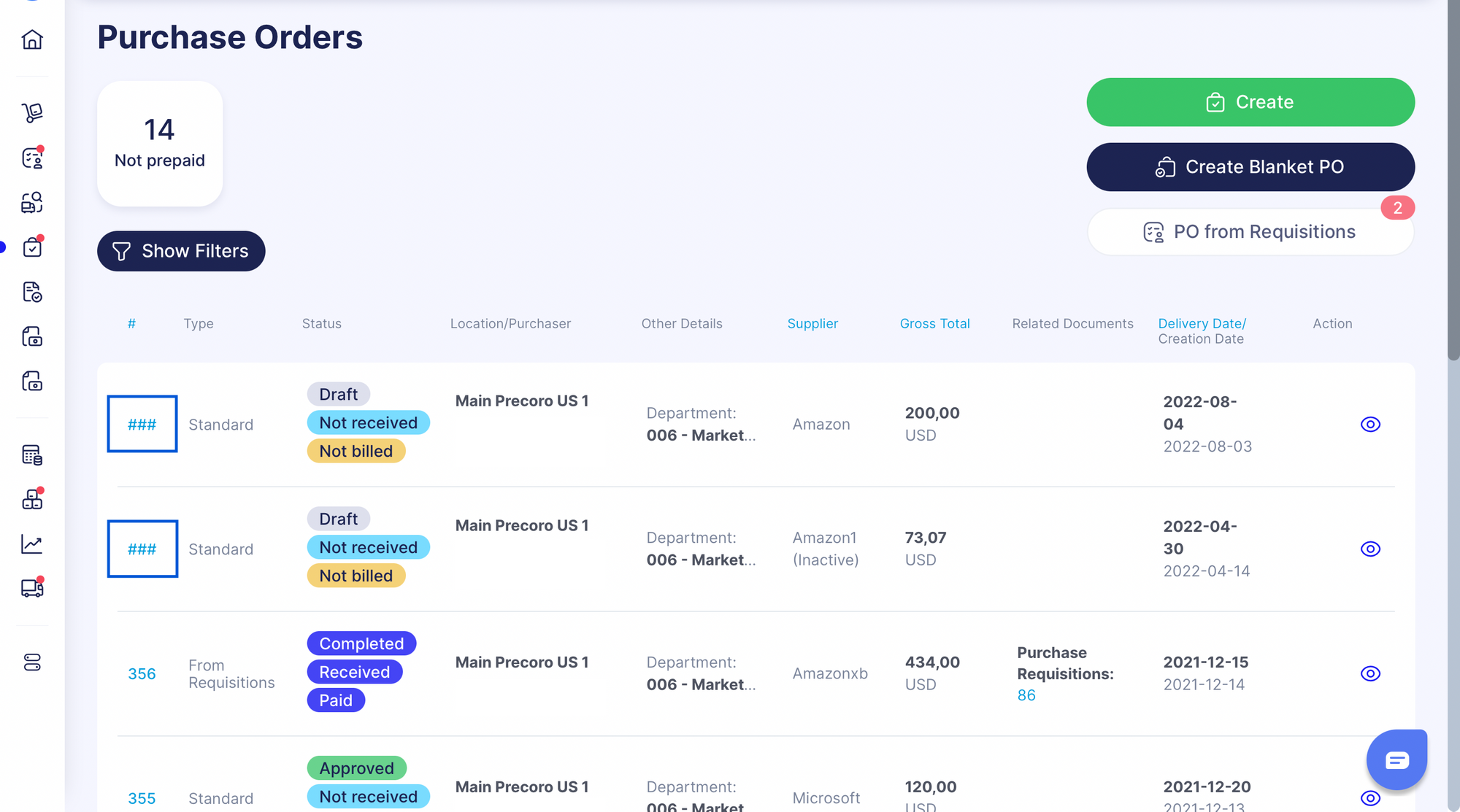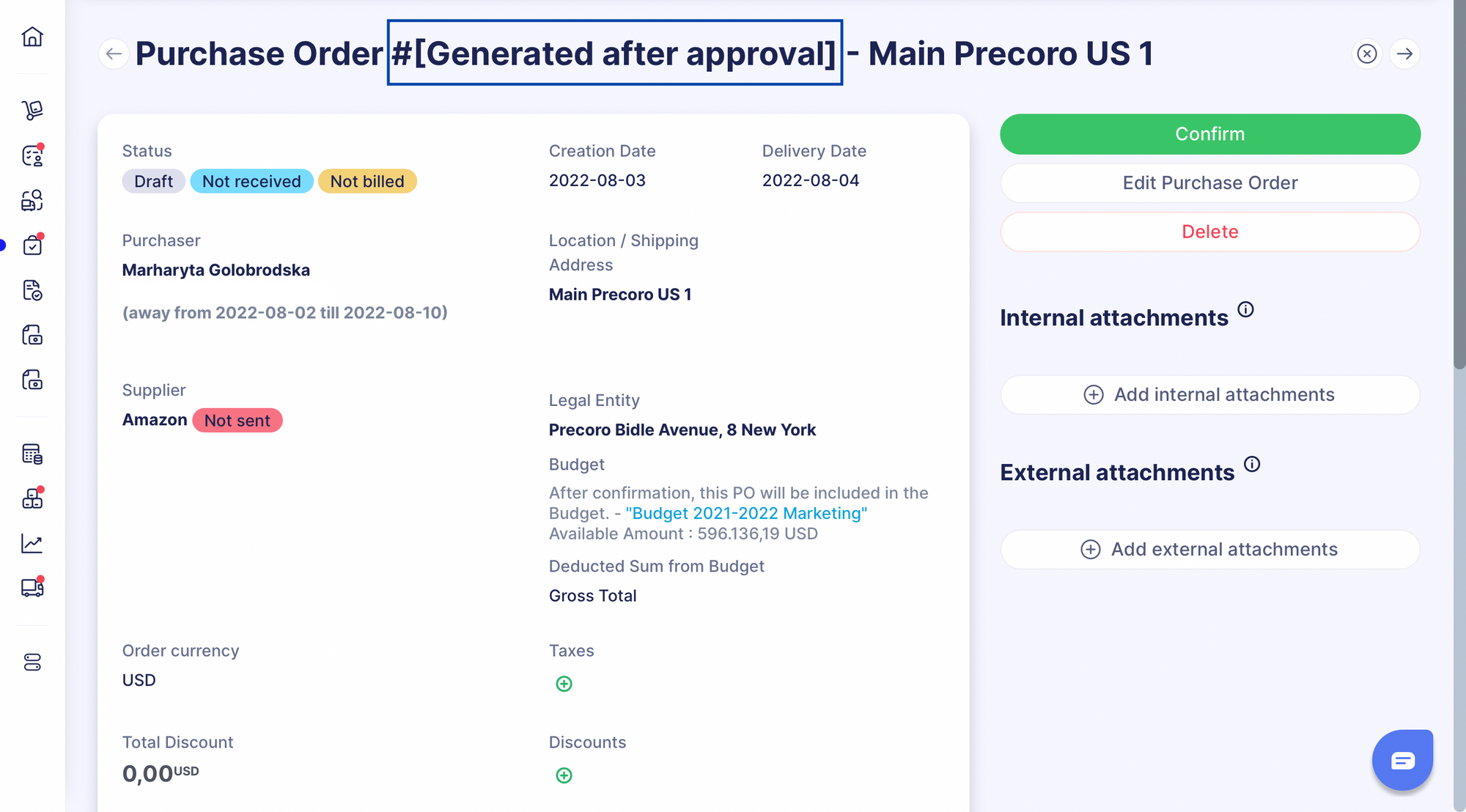 Updates for Even Better Browsing and Navigation
Even when integrations and massive tasks are in development, we make sure to invest in a user-friendly and meaningful interface. This month, we've focused on sorting and filtering in several places across the system, where our customers have suggested it'd be helpful.
You can sort Items by Items Custom Fields on the Item Management page.
You can now sort Users in alphabetical order:
By e-mail address
By Full Name
You can also filter Users by available or unavailable Documents Custom Fields and Locations.
And a nice bonus for your e-mails
When an e-mail is sent from Precoro, your company's name is displayed at the beginning of the subject. We want to make sure that whichever supplier an e-mail goes to, they know to open it promptly ;-)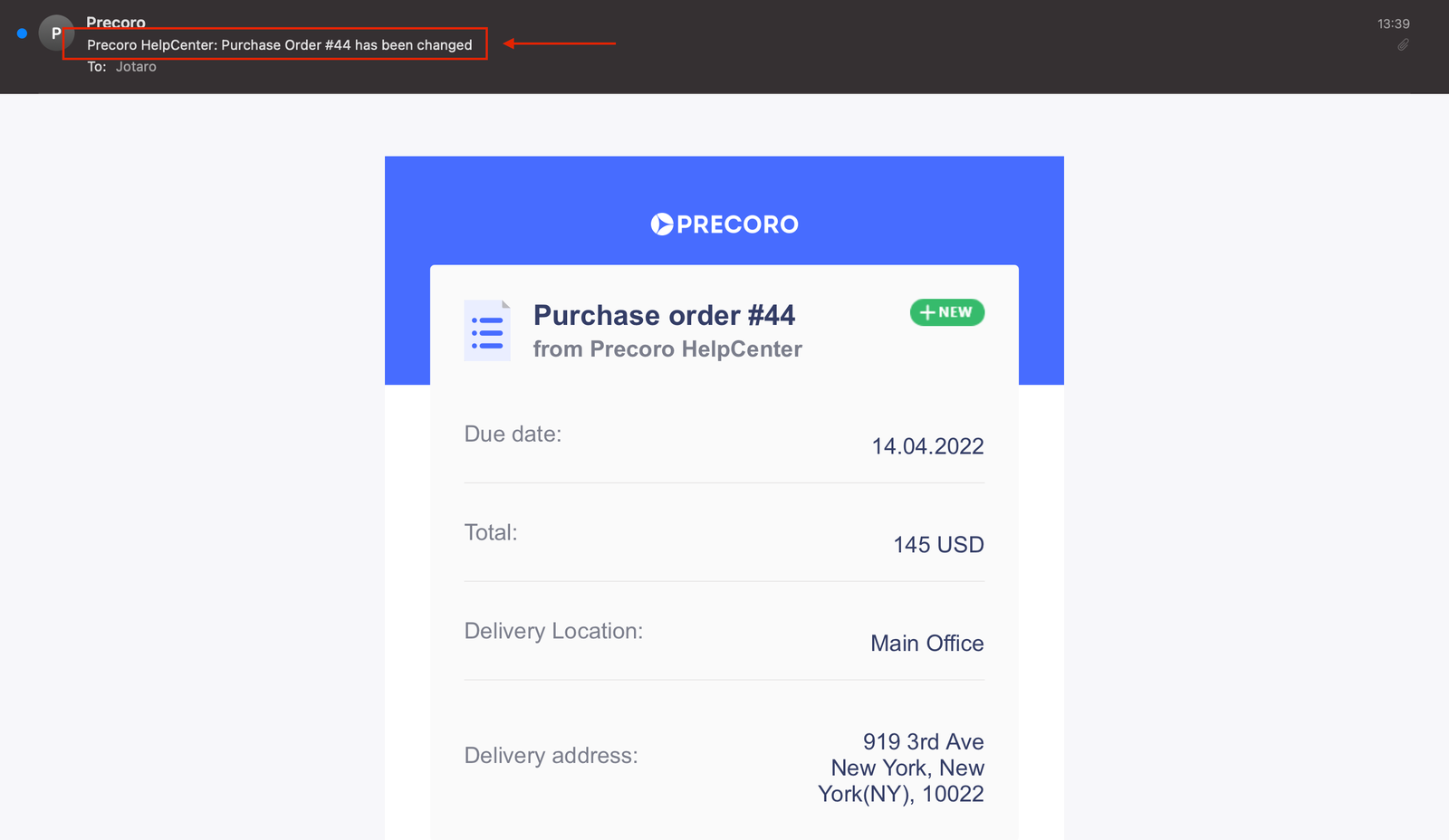 ---