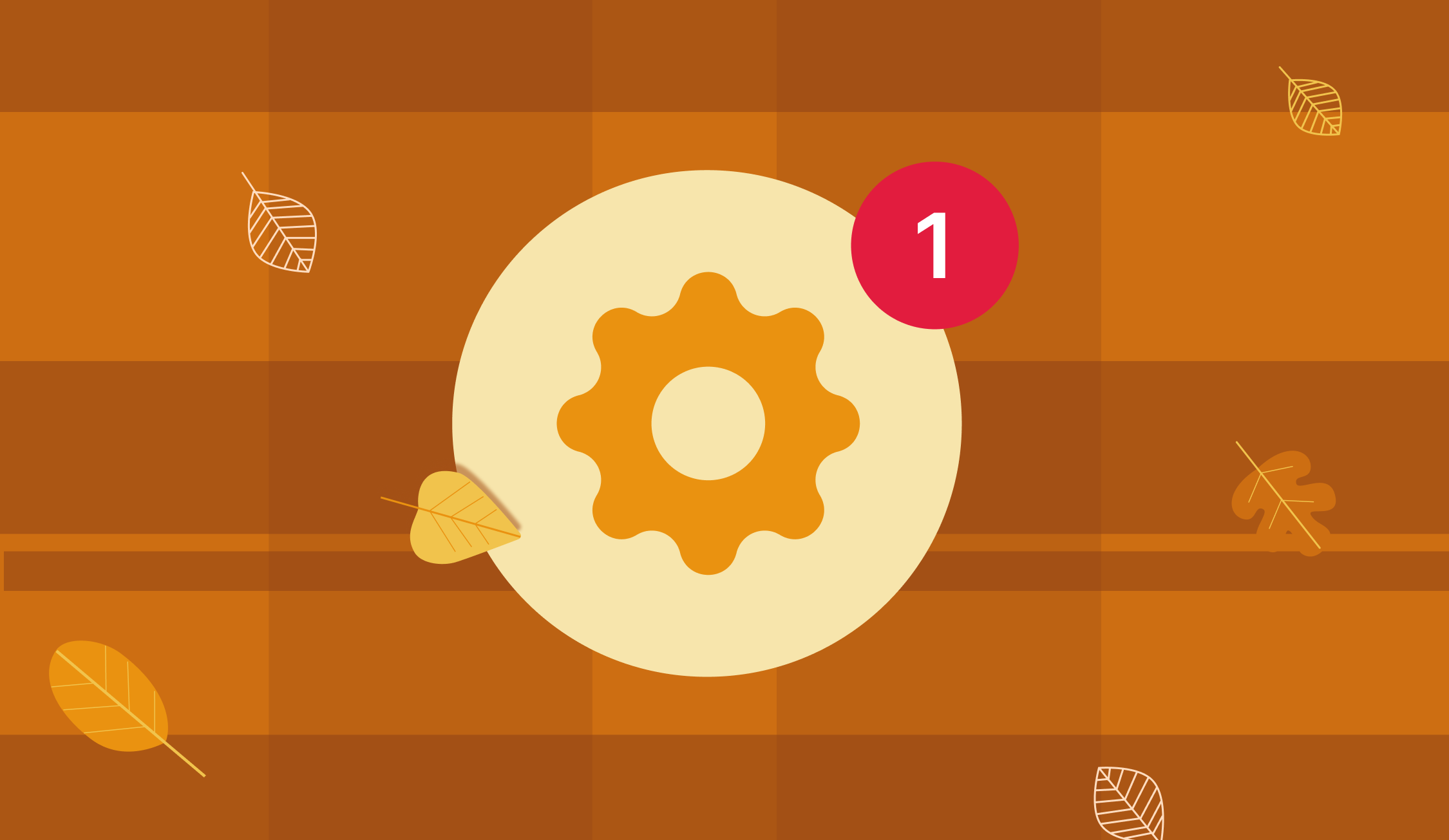 8 min read
Product Update, August 2023
Elevate workflows with Precoro's latest features: introducing the substitute user role, new info cards for overdue orders, improved integrations, and more.
New substitute user role
Ensure workflow continuity even when team members are away. You can now designate a substitute for users in Vacation Mode. The Substitute User can revise and match documents that have Pending, Matching, or In Revision status.
To set up a Substitute User:
Open Profile Settings and click on the Vacation Mode tab;
Activate the Show me as away toggle and press the edit button to assign a Substitute User;
Press the Update button below.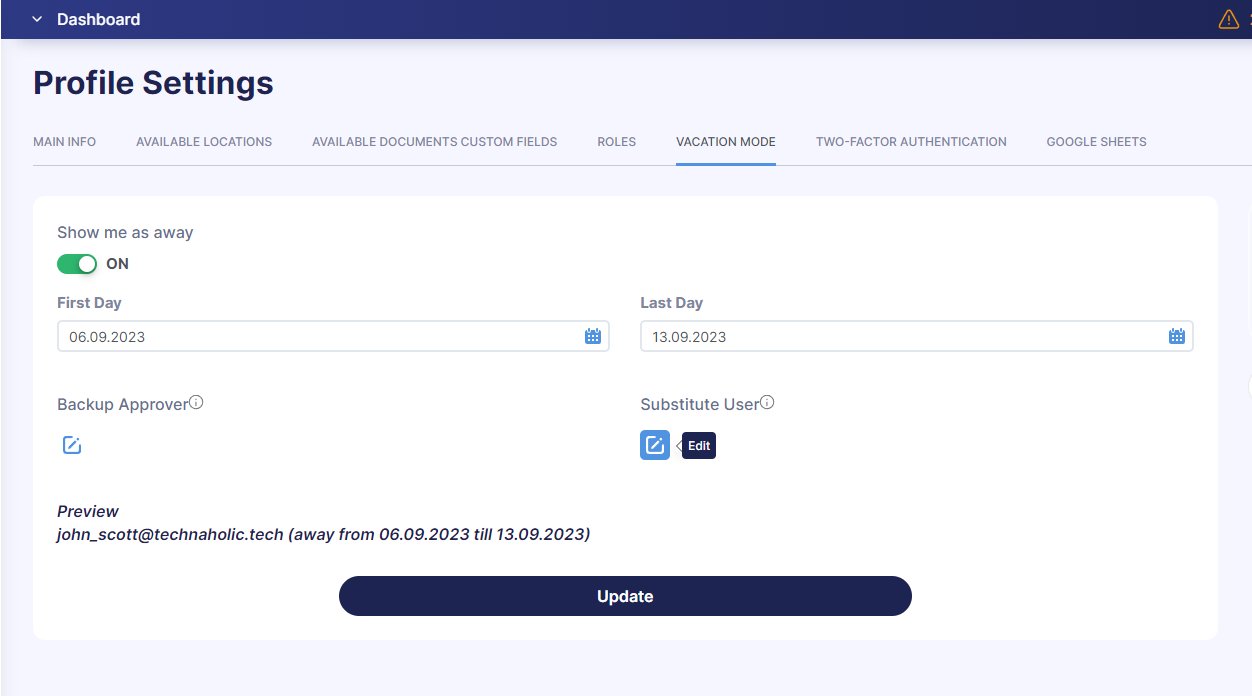 📖 To learn more about Vacation Mode in Precoro, check out this article.
The ability to block invoice confirmation without a receipt
You now have the option to prevent the confirmation of an invoice without a corresponding receipt. Once a receipt is generated, the invoice will automatically advance to the next step in your workflow.
To set up this feature, please follow the steps below:
Go to Configurations → Basic Settings → Documents Setup → Invoices;
Activate the Block Invoice Confirmation without Receipt checkbox.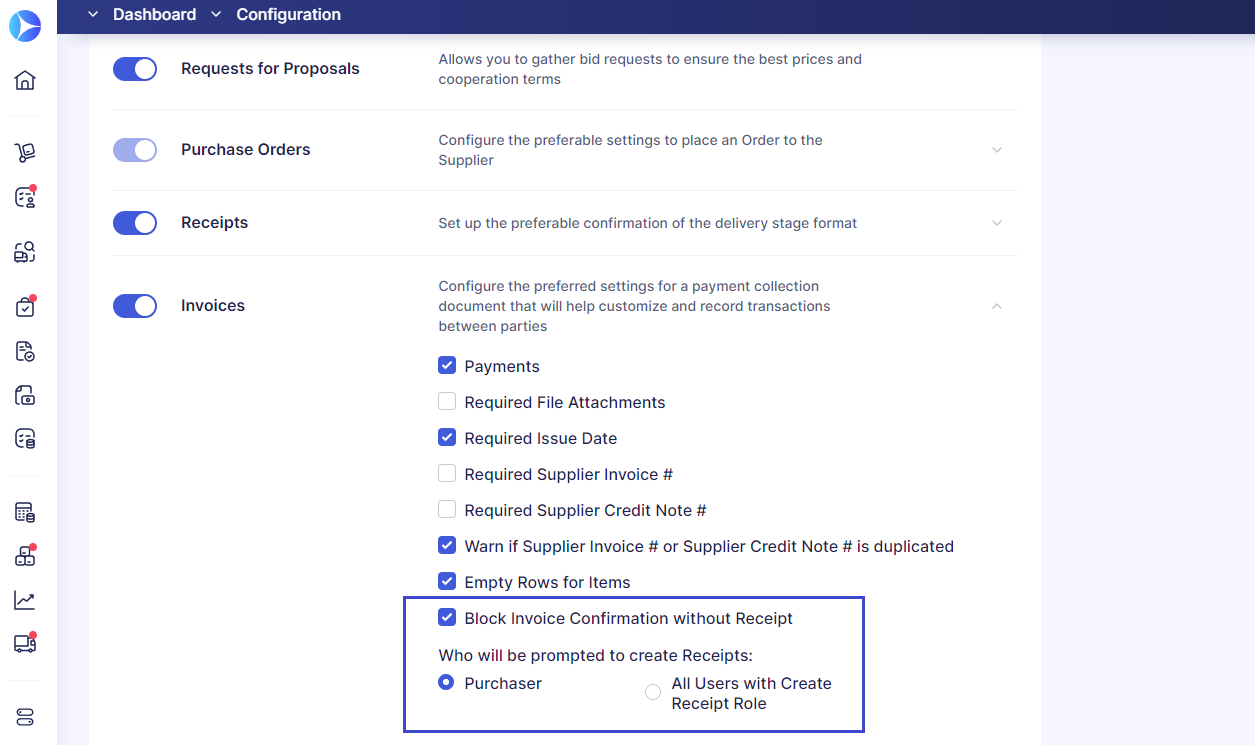 You can choose whether to prompt only the purchaser or all users with the Create Receipt role to generate receipts. Each designated individual will receive an email notification.
📖 To learn more about how this feature works, please follow the link to our Knowledge Base.
New info cards for overdue orders and pending receipts
Last month we rolled out new info cards on the Receipts and Purchase Orders pages. The cards are specifically designed to highlight overdue orders due to:
Delivery Date that has already passed;
Document status marked as Approved but Not Received.
By clicking on the Overdue info card on the Receipts page, you'll be directed to select overdue purchase orders to generate new receipts. You can further refine your selection using the available filters, and even mass-select overdue orders for convenience.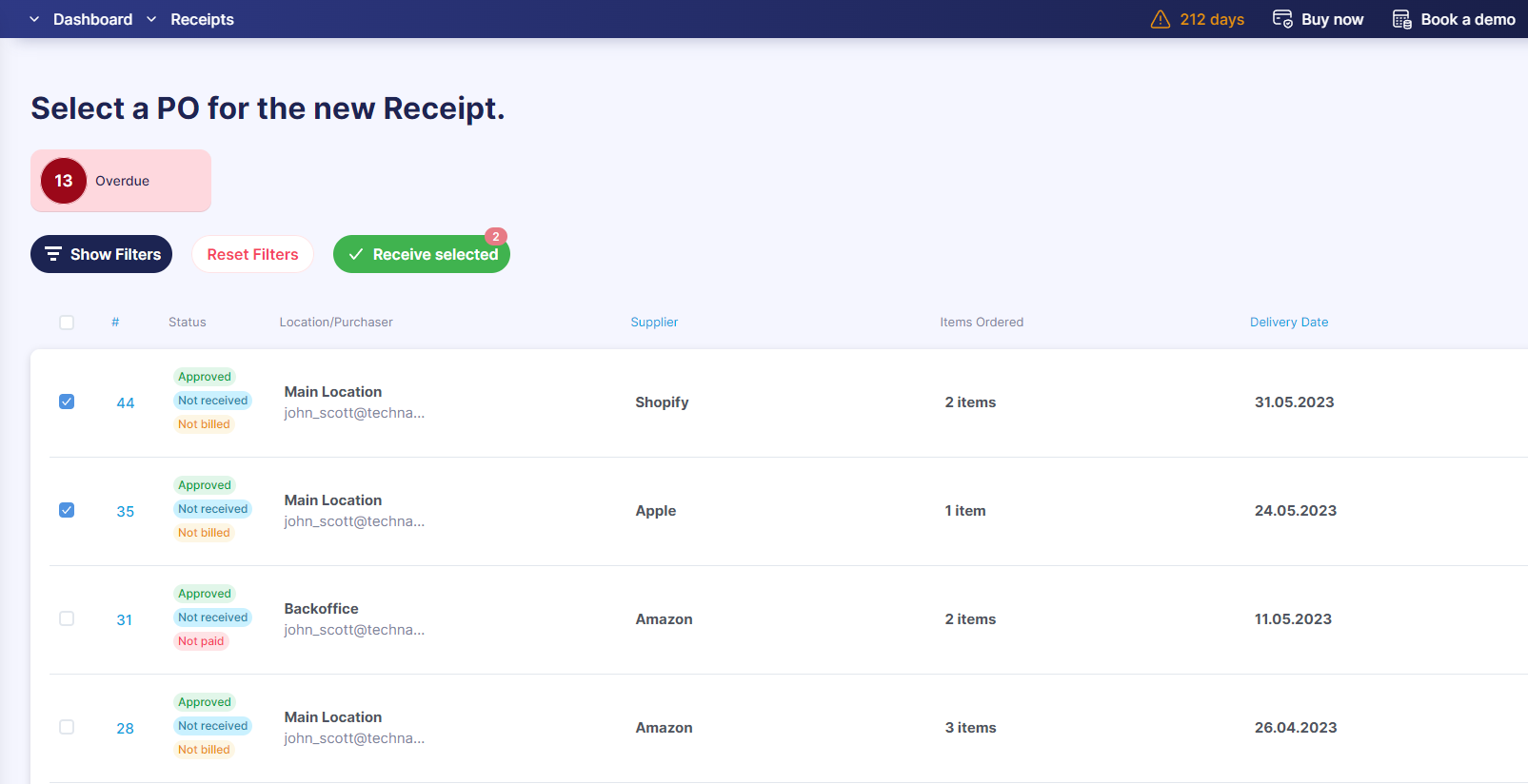 We've also added a new info card for Pending receipts that is available on the Purchase Orders and Receipts pages.
Mass delete action in item management
It's now easy to delete multiple items simultaneously on the Item Management page. This feature is accessible to all users that have the Suppliers and Items role activated.
To delete items, follow these steps:
Navigate to the Item Management page;
Click on Delete items located in the right action panel;
Check the boxes next to the items you wish to remove;
Hit the Delete selected button to remove multiple items at once.
💡 Please note that items currently used in inventory cannot be deleted.
New in integrations
The option to deactivate contact mapping in NetSuite
By default, whenever users connect their NetSuite account, Precoro automatically maps all accounting contacts from NetSuite with purchasing contacts in Precoro.
For greater flexibility, we've introduced an option that lets you disable this feature. Just activate the Disable contacts for mapping checkbox on the Integrations page to do so.
💡 By disabling this feature, changes in Precoro will not affect synced suppliers in NetSuite and vice versa.
The ability to import custom segments from NetSuite
Now you can import Custom Segments from NetSuite. This feature provides an advanced layer of customization for your documents and reports, ensuring they align seamlessly with your specific business operations.
📖 To learn more about NetSuite Custom Segment integration, check out this comprehensive guide on our Knowledge Base.
Enhanced Xero integration with additional account types
We've expanded our integration capabilities with Xero. You can now seamlessly import the following chart of account types from Xero into Precoro: Overhead, Other Income, Non-Current Liability, and Current Liability.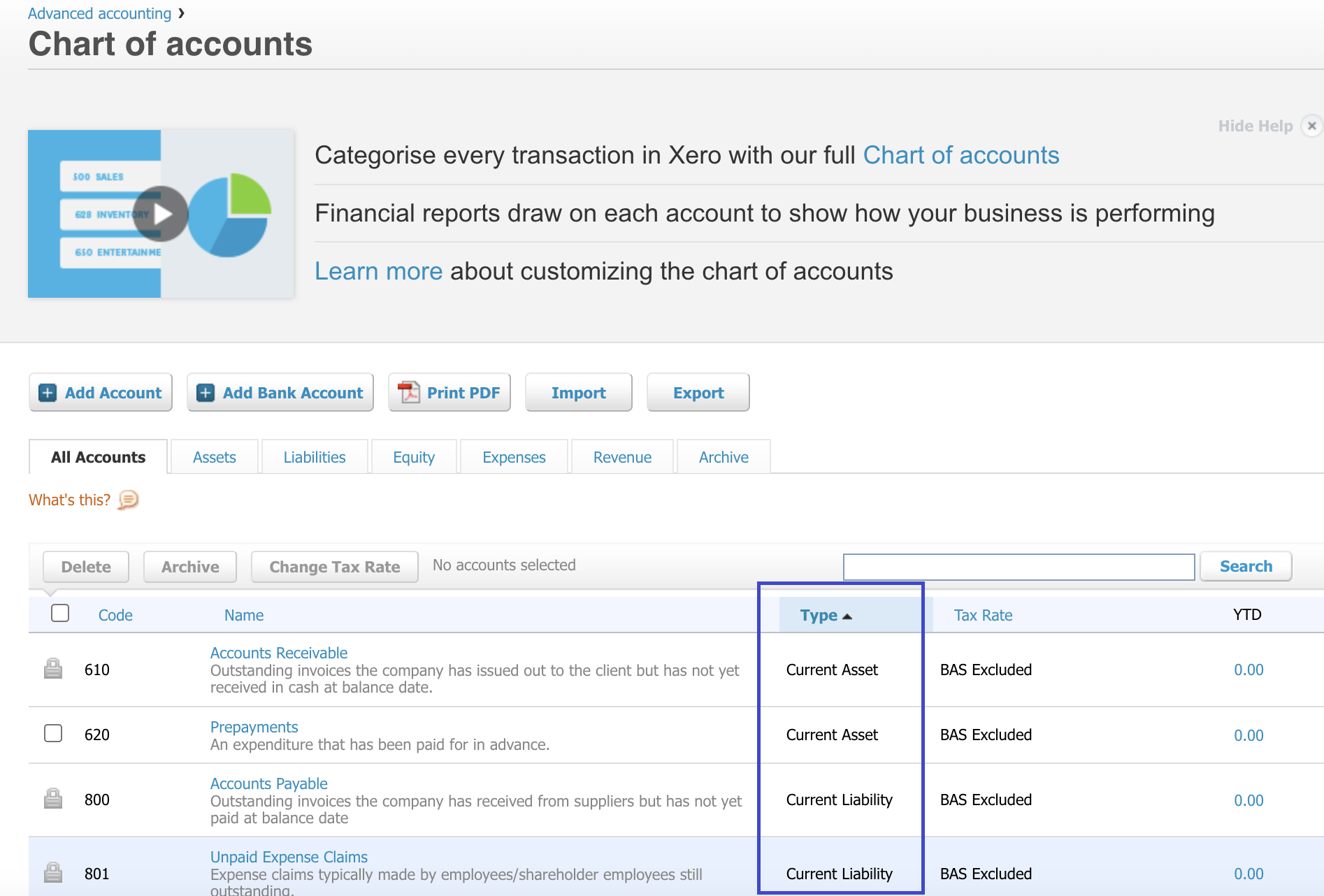 The option to send pending documents to QuickBooks and NetSuite
You can now forward purchase orders and invoices in the Pending status directly to QuickBooks or NetSuite. Users with the following roles can perform this action:
Create and Approve roles for invoices;
Create and Approve roles for purchase orders.
To activate this feature, please contact our support team, who will be glad to assist you.
New features for managing suppliers
Simplified invoice entry for new suppliers
Now, whenever you add a new supplier — be it manually, through an import, or via an invitation form — the Enter Invoice as one line setting will be automatically enabled for them.
The invoice will be entered into Precoro as a single line reflecting the total invoice amount. If a purchase order is available for invoice creation, the invoice will be linked to the first item in that purchase order.
The ability to edit suppliers in requests for proposals
We've introduced a more flexible way to manage your supplier list within the request for proposal process. Now, you have the option to remove specific suppliers from the list of RFP recipients. Suppliers who are removed will receive a notification in their inbox regarding this action.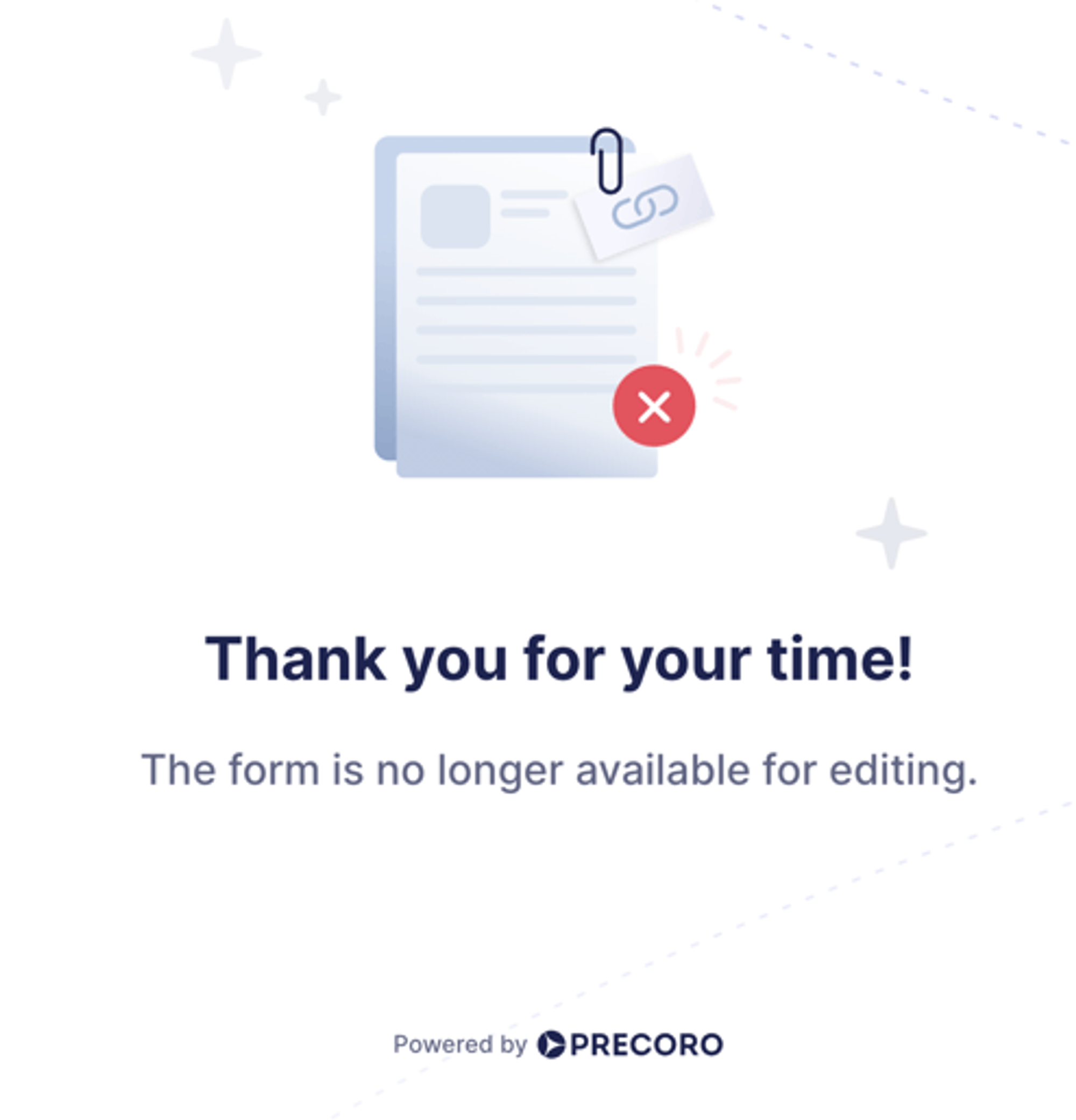 Additionally, you can effortlessly edit supplier details, such as currency and email address, and then re-add them to your RFP recipient list.
Improved workflow of the supplier registration form
Now, even if the Supplier Registration form is pending approval, it won't hinder your document approval process and you will be able to approve documents with that supplier.
Enhanced visibility for default options in supplier revision history
We've upgraded the supplier Revision History feature, allowing you to track alterations made to the Default Options.
To review these changes:
Navigate to the Supplier Management page;
Click on the Revision History button in the right action panel;
Mark two revisions and press the Compare Revisions button at the bottom.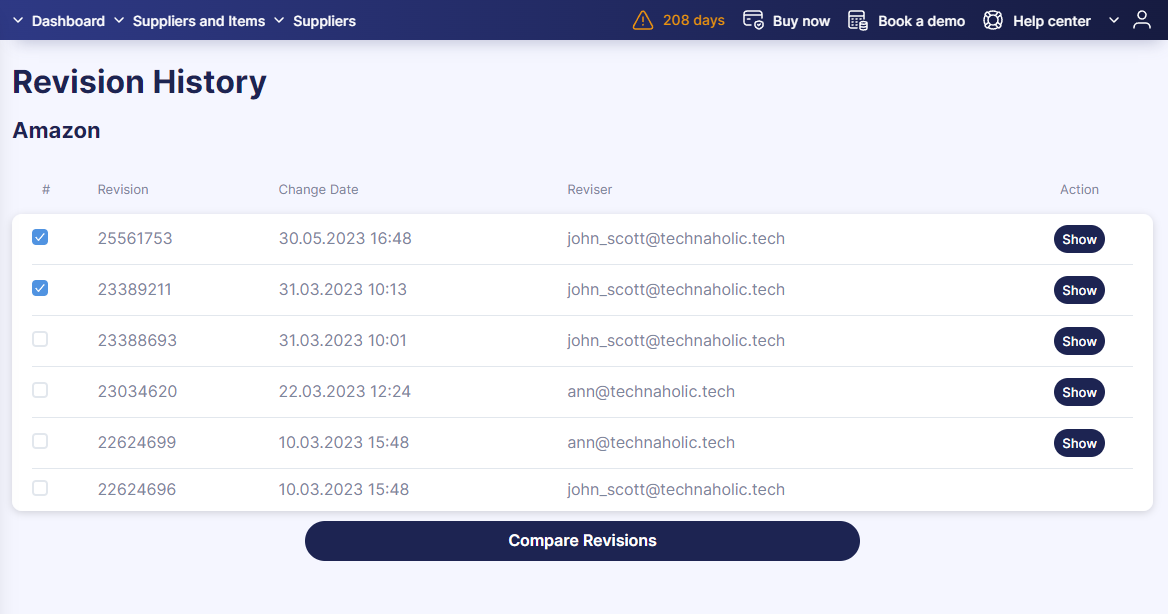 📖 For a guide on configuring supplier Default Options, follow the link to our Knowledge Base.
New email notification for the Supplier Portal
There's no need to continually monitor the status of supplier invitations anymore. With Precoro's new feature, you'll receive an email notification whenever a supplier registers in the Supplier Portal.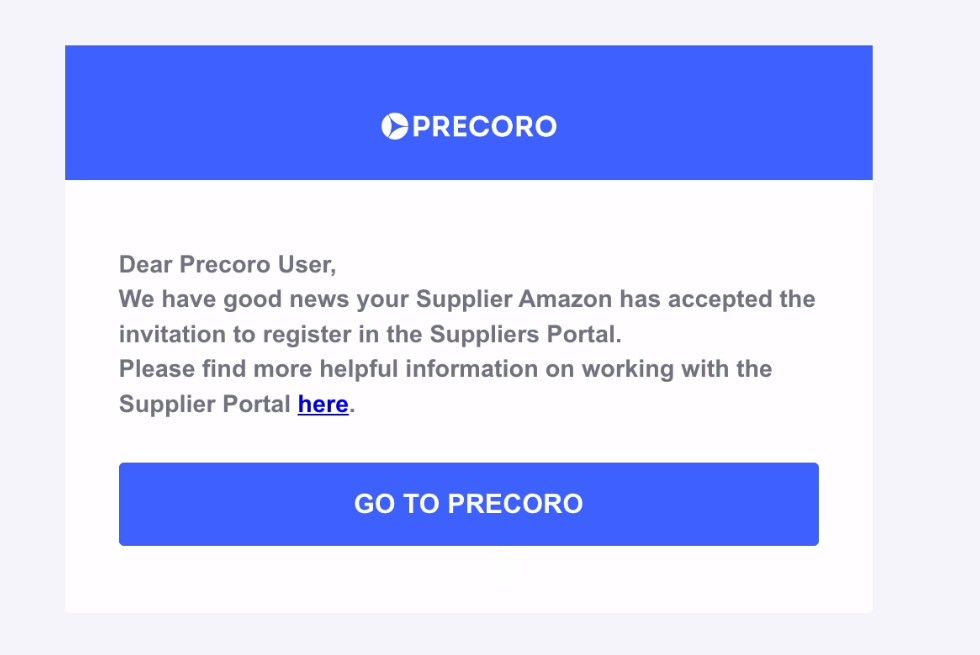 New in filtering
Refined search by number
Now you can search using Document # /Custom # or Item # in both fast and advanced filters — even partial matches will yield results. This functionality is available for purchase requisitions, expenses, invoices, purchase orders, receipts, requests for proposals, and warehouse requests.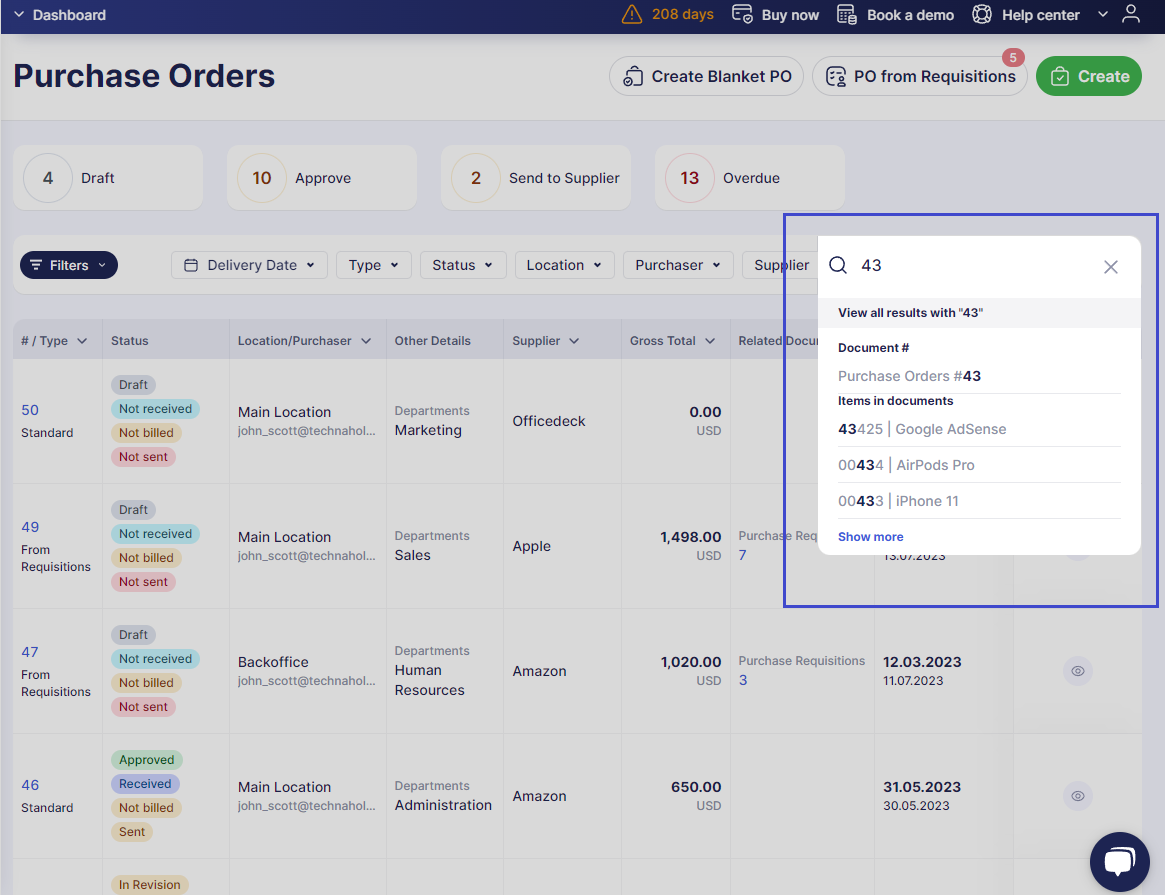 We have also added the Supplier Receipt # and Supplier Invoice # fields to the fast filters on the corresponding document pages.
New filtering options
Last month, we also added new filters so you can find what you need quickly. Here are the new filtering options we have for you:
Payment Date filter: Located on the invoice management page, this advanced filter allows you to choose a specific payment date range.
Payer filter: On the payment management page, you can select payers from a drop-down list. It's possible to add multiple individuals to the filter simultaneously.
Inactive custom fields identifier: You can now quickly identify inactive custom fields for items and documents by their statuses. The deactivated options will always be displayed at the bottom of the filter.
Budget filters: See budget filters for expense documents located in both the advanced and fast filter sets.💡 Please note that budget filters will become visible only if the Budgets option has been enabled in the Expenses module under Basic Settings.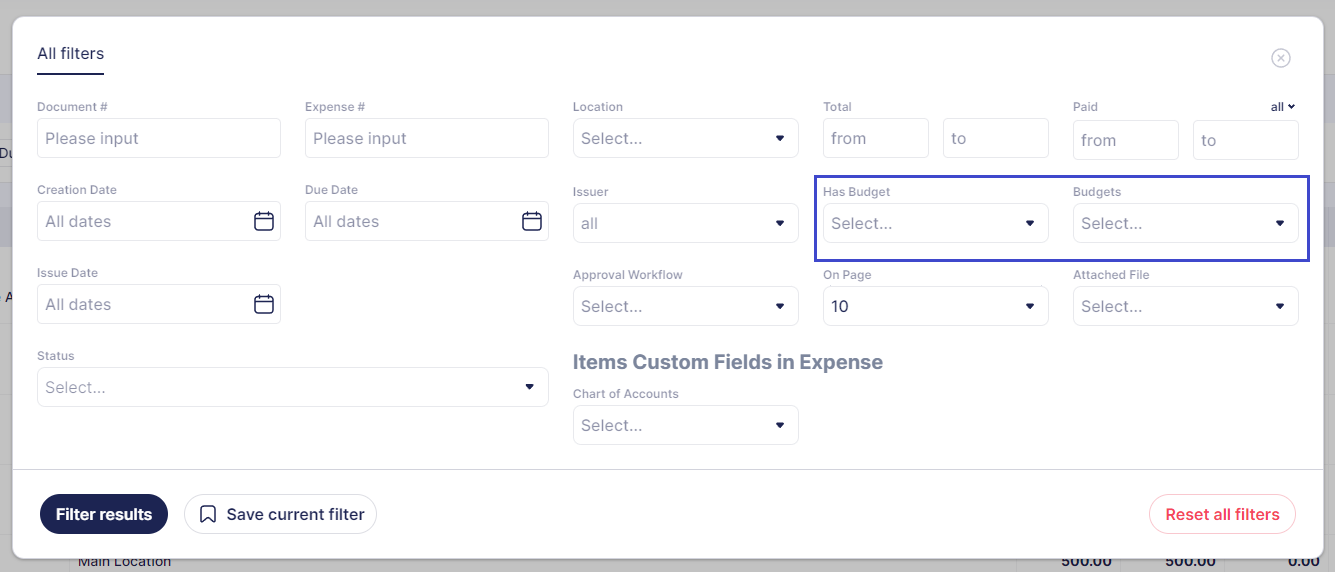 The ability to confirm search with the enter key
We've standardized the search process in Precoro. By pressing Enter, users can initiate searches across all documents. The Filter results button remains operational for this purpose as well.
💡 However, the Enter key can't be used for adding multi-select options anymore. To add them, simply click the desired options using your mouse or touchpad.
Other Upgrades
Units of measurement in warehouse requests
In warehouse requests, you can now specify the units of measurement. Choose from options already available in Unit Management or directly input new units. Please note that any units added directly to the document won't be saved within Unit Management.
Furthermore, the selected unit will be reflected in the associated purchase order and purchase requisition originating from the warehouse request.
The option to pay for POs with a credit note balance
Last month we added the option to pay for purchase orders with the credit note balance. You can perform this action directly on the Purchase Orders page in the same way as you do on the Invoices page when you need to pay an invoice. To do so, select Credit Note in the Payment Type field, and you will see system-generated information on the current supplier credit balance. Then, enter the sum and click Pay to proceed.

📖 Check out this article to learn more about how credit notes work in Precoro.
Automated tax and discount removal
Now, whenever you delete all the taxes and discounts from an item line in a document, the system will automatically clear those values from the main document body. Thus, no more repetitive steps.
💡 This feature is available in purchase orders, invoices, and expenses.
Improved process for user deactivation and rights revocation
Deactivating users involved in your company's approval workflow has been made more efficient. Now, the deactivation toggle remains active for all users, irrespective of their involvement in the approval process.
Additionally, if you revoke the rights and accesses from the last approver in the approval workflow, the document will now automatically transition to the Approved status.
📖 If you wish to learn more about how to deactivate a user that is part of approval workflows, please follow this link.
New email notifications for purchase requisition requesters
Purchase requisition requesters will now receive an email notification when a receipt for their requested items is generated.
Important to note:
If a user generates a receipt that combines items from multiple PRs, all corresponding PR requesters will receive email notifications.
If any item from a PR is received or partially received, requesters will be notified whenever subsequent receipts are generated for those items.
Enhanced warehouse request editing
Now when editing warehouse requests, you can view and modify information within the Post to Warehouse field.
💡 The Post to Warehouse field can only be edited when the document has either Draft or In Revision status. When the document is approved, the field will not be available for editing.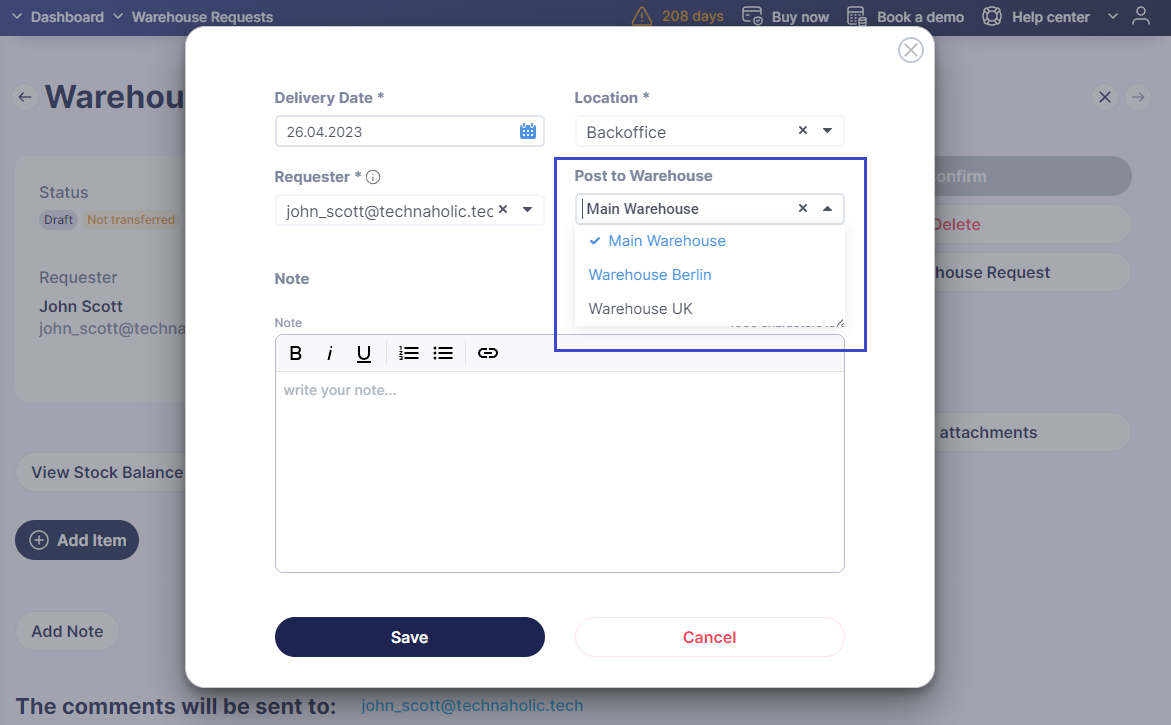 Better control over report access types
Last month we introduced the ability to define the access level for the custom reports. You can now select between Shared and Private access types during report creation.
💡 Please note: By default, all pre-existing reports will be set to Shared access, which is available to all users holding an active Reports role. On the other hand,  Private access is exclusive to the report creator. To utilize this option, you must be the individual who initially created the report.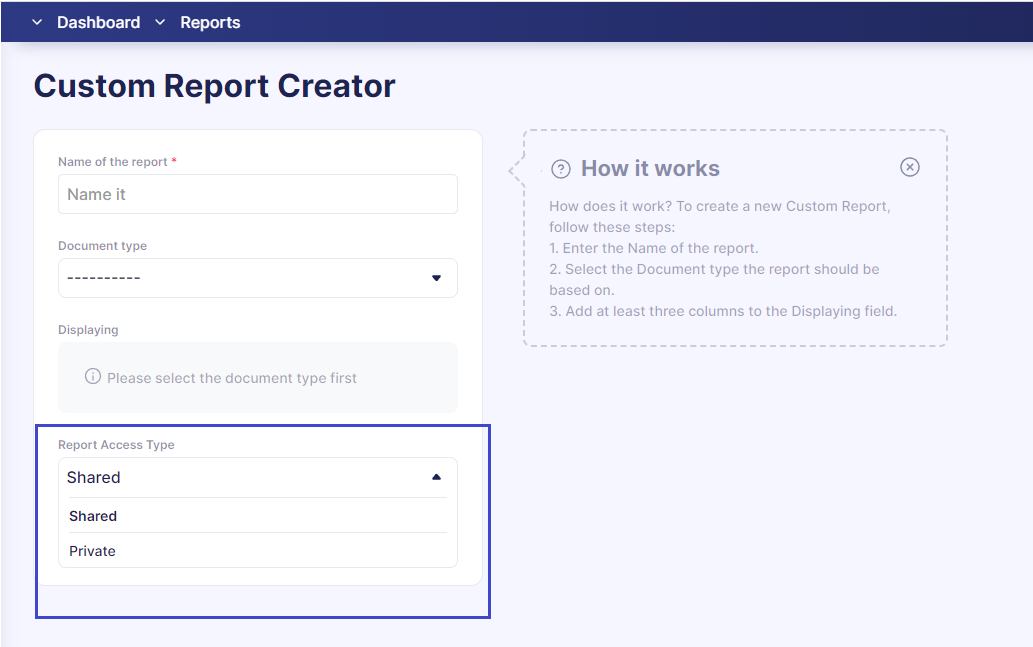 While this update marks a milestone, it's just another step in our ongoing commitment to improvement 🚀. Keep an eye out for future releases.
---