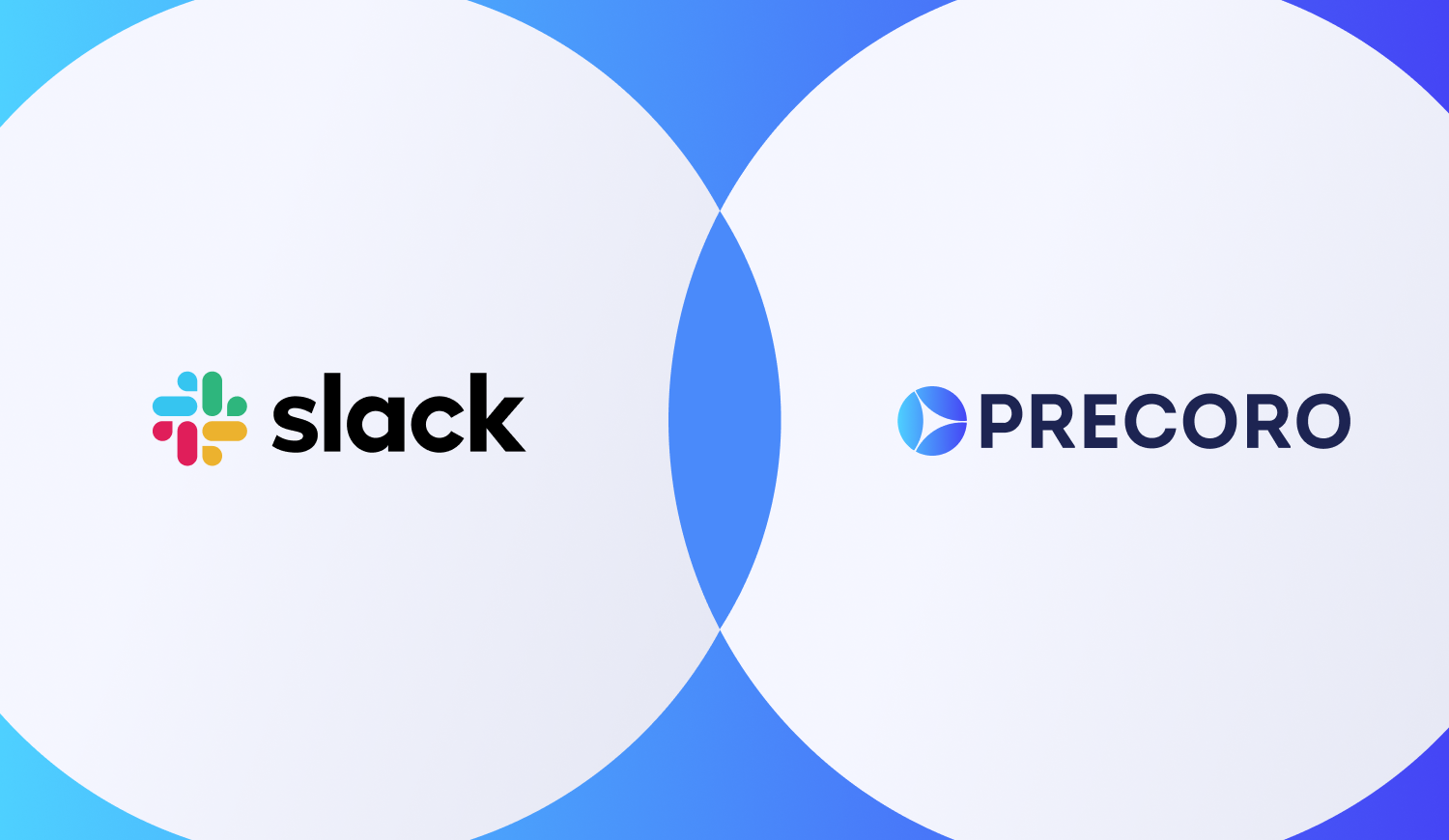 3 min read
Precoro and Slack: Seamless connection for the most convenient approval workflow
New Precoro integration with Slack completely transforms the document approval process. Now you can manage colleagues' requests directly in your Slack workspace.
We're happy to reveal Precoro's integration with Slack — the messaging program that 85% of users considered the best way to increase communication efficiency.
With this connection, you can get Precoro notifications directly in Slack, improve your collaboration with the team, and save time by automating time-consuming operations.
"Is it possible to enhance quite a streamlined process even further"? — you may wonder. Actually, this is what we at Precoro are working on constantly. Let's figure out how this integration benefits your company's activities.
How Precoro and Slack integration works
With Precoro and Slack integration, you gain a more convenient approval process and well-organized workflow.
Having everything in one space, you stay focused and don't get distracted by switching between several apps.
Slack and Precoro connection enables you to centralize notifications. Your colleagues create a request in Precoro and send it to you for approval. Right after this, Slack notifies you about pending documents.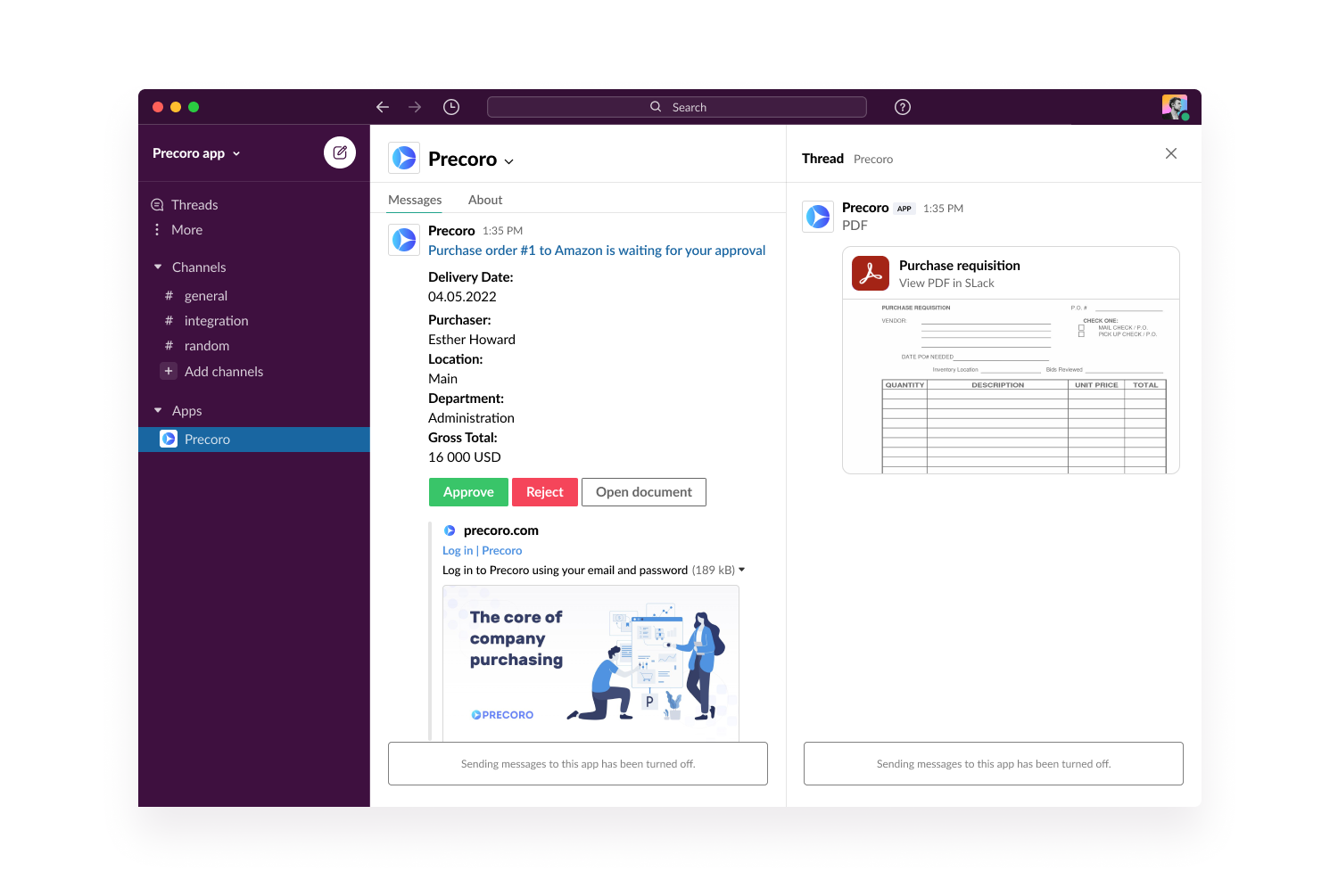 Precoro notifications in Slack contain all necessary financial document information, such as purchaser details, delivery dates, location, department, and the total request amount. Besides, you can look through additional attachments provided in the thread.
You have several options for making a decision on pending documents. You can "approve" or "reject" them, as well as click the "open document" button to check details once more.
What you get with Precoro and Slack integration
Optimized approval workflow
Precoro and Slack integration enable you to resolve crucial financial operations in just a few clicks.
You don't need to switch from your Precoro account to email services. You can review essential financial documents and make a decision with a click of a button in Slack.
This kind of automated approval process allows you to spend less time managing inquiries. Thus, you can devote yourself to strategically essential issues, such as supplier researching, contract negotiating, budget planning, or financial data analysis.
Efficient time management
Precoro's integration with Slack allows you to arrange your work accordingly to your daily responsibilities and planned tasks. When you get a Precoro notification but can't take action immediately, you can set a reminder for later.
For example, you have a crucial meeting or an urgent task on your agenda. Suddenly, you get a Precoro notification of your colleague's purchase request.
Just select the appropriate time for getting the same message later, and make sure you'll resolve the issue on schedule.
Easy setup
Connecting Precoro and Slack doesn't require special skills. You can link your accounts in a matter of a minute. All you need is to have a Configuration role in your Precoro account.
How to set up Precoro and Slack integration
Precoro connects with your Slack workspace in several easy steps:
Step 1. Follow the link.
Step 2. Click the "Add Precoro to Slack" button.
Step 3. Allow Precoro to access your Slack workspace.
Step 4. Synchronize users in Precoro with your colleagues in the Slack workspace by clicking the "Map users" button (please note that you can map only matching emails).
Step 5. Enjoy a simplified approval process.
Conclusion
Slack and Precoro integration is a great way to speed up the purchasing process, coordinate requests in your workspace, and eliminate possible delays.
With the ability to take actions related to financial documents in Slack, you won't miss colleagues' inquiries and streamline procurement operations.
In a world where everything changes at the speed of light, every minute counts. When time-consuming operations become automated, new opportunities for strategic planning appear.
That's why we build Precoro in such a way, so you can simplify your processes and focus on large-scale goals.
---