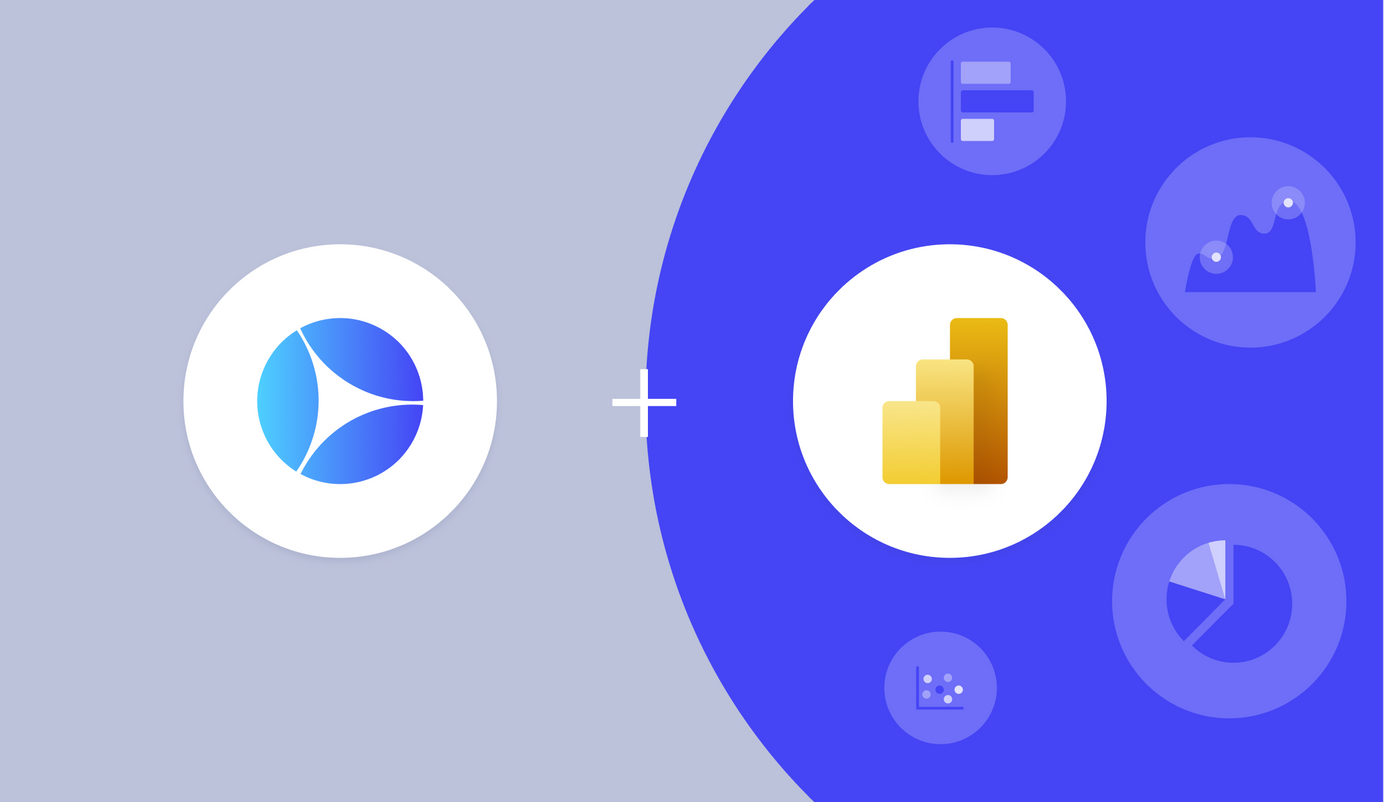 3 min read
Precoro and Power BI integration: Analyze all company indicators in one place
Precoro integration with Power BI completely transforms your data analysis experience. Transfer procurement data directly from Precoro to your Power BI account in a matter of minutes and receive real-time reports whenever you want. Check out the benefits and learn how the integration works below.
All business operations are accompanied by data. Data isn't just a set of indicators for tracking crucial activities or the state of things in each department. It can also help companies make more strategic decisions for the future and improve overall company efficiency.
To make your data analysis process even more convenient, we've launched direct integration with Power BI — a software developed by Microsoft for data visualization and aggregation from different sources.
In this case, Precoro connects to your Power BI account and aggregates procurement data with information from other sources. With Precoro and Power BI integration, you'll have no need to use numerous spreadsheets and link purchasing indicators with data from other sources manually.
This connection aims to make your life easier as it centralizes your data and provides you with automatic real-time reports whenever you need them. Scroll down to learn more about how Precoro and Power BI integration works and what benefits it brings your company.
How to use Precoro with Power BI
Data is the greatest power of any company. And Precoro is a bridge over which all procurement "power" (information) moves and connects with data from other sources in your Power BI account. Thus, you always keep an eye on essential business indicators and have the ability to react to any changes faster than you would without these tools.
In simple terms, Precoro and Power BI integration is your best friend when it comes to any issues related to data analysis.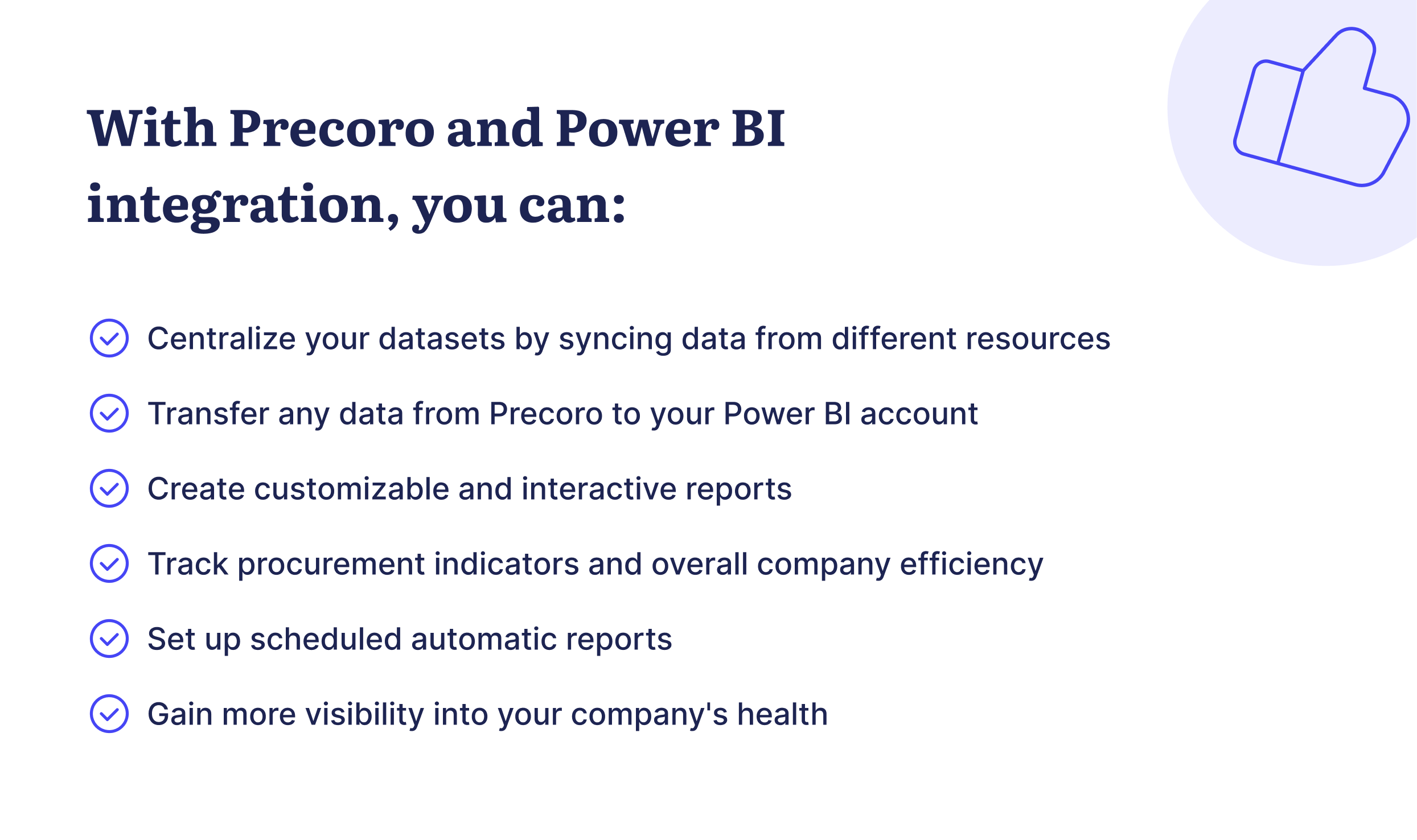 Integrating Power BI with your Precoro account is simple. You are only five steps away from feeling all these benefits firsthand:

Step 1: Install the Precoro Connector.
Please, note: To receive the Precoro Connector for Power BI, contact your dedicated customer success manager.
Step 2: Log in to the Connector.

Step 3: Sync Precoro and Power BI accounts.
Step 4: Import the needed data from Precoro.
Step 5: Set up data refresh.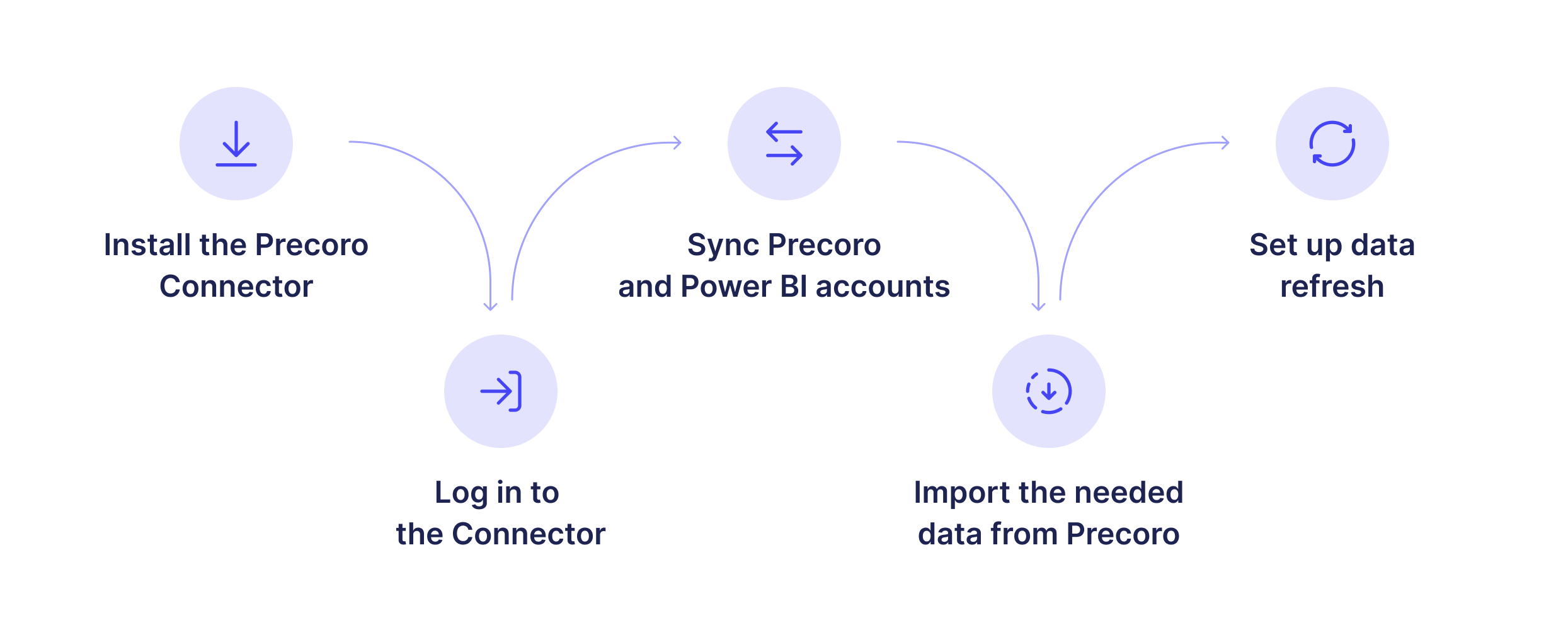 Benefits of Precoro and Power BI Integration
All data in one place
Precoro and Power BI integration allows you to gather and store all procurement information and key business indicators in one place. This connection fully eliminates the need to take manual actions for transferring purchasing data to your Power BI account.
You can sync all the needed data with your Power BI accounts such as budgets, inventory, invoices, POs, receipts, requests for proposals, suppliers, and more with a click of a button.
By keeping all data in one platform, you won't need to switch between different business tools during your daily operations. Moreover, this provides more transparency for your stakeholders and other employees, as they always will be able to access relevant company data without the need to disturb you.
Customizable reports
Along with the ability to centralize your datasets by aggregating procurement indicators with data from other sources, you can transform all this information into customizable reports of any type. Precoro and Power BI integration enables you to build an unlimited number of interactive reports based on your procurement data.
On your Precoro dashboard in Power BI, you'll be able to create as many pages for data analysis as you want (such as a budgets page, POs, invoices, and more) and divide all indicators into suitable categories.
This integration allows you to visualize data in a way that's convenient for you and apply different filters so that you can track everything you need, from budget spending dynamics to purchase order allocation by departments. Having key insights and the full picture of the state of your organization, you'll be able to make data-driven decisions that will significantly affect your overall performance.
Automatic dashboard updates
We've already mentioned all of the time you'll save with this integration, but here's one more feature to demonstrate just how: you can schedule automatic dashboard updates to receive fresh information without additional actions regularly.
You can also set up a suitable refresh rate for your reports by using different parameters such as frequency, time, categories, and more. Just create the report you need and wait for the automated updates according to your settings.
Numerous data rows in spreadsheets and long-lasting manipulations related to manual reports export/import will remain only an unpleasant memory from the past.
To Sum Up
Precoro and Power BI integration is a great way to improve your procurement efficiency and make better decisions based on real-time data without long-lasting manual operations.
With automatic data sync, data will be centralized in one place, and you'll always be able to share vital procurement indicators with stakeholders.
Replace spreadsheets, keep an eye on procurement activities with automatic dashboard updates, collaborate on reports with ease, and make data-driven decisions. All this only with Precoro and Power BI integration.
---