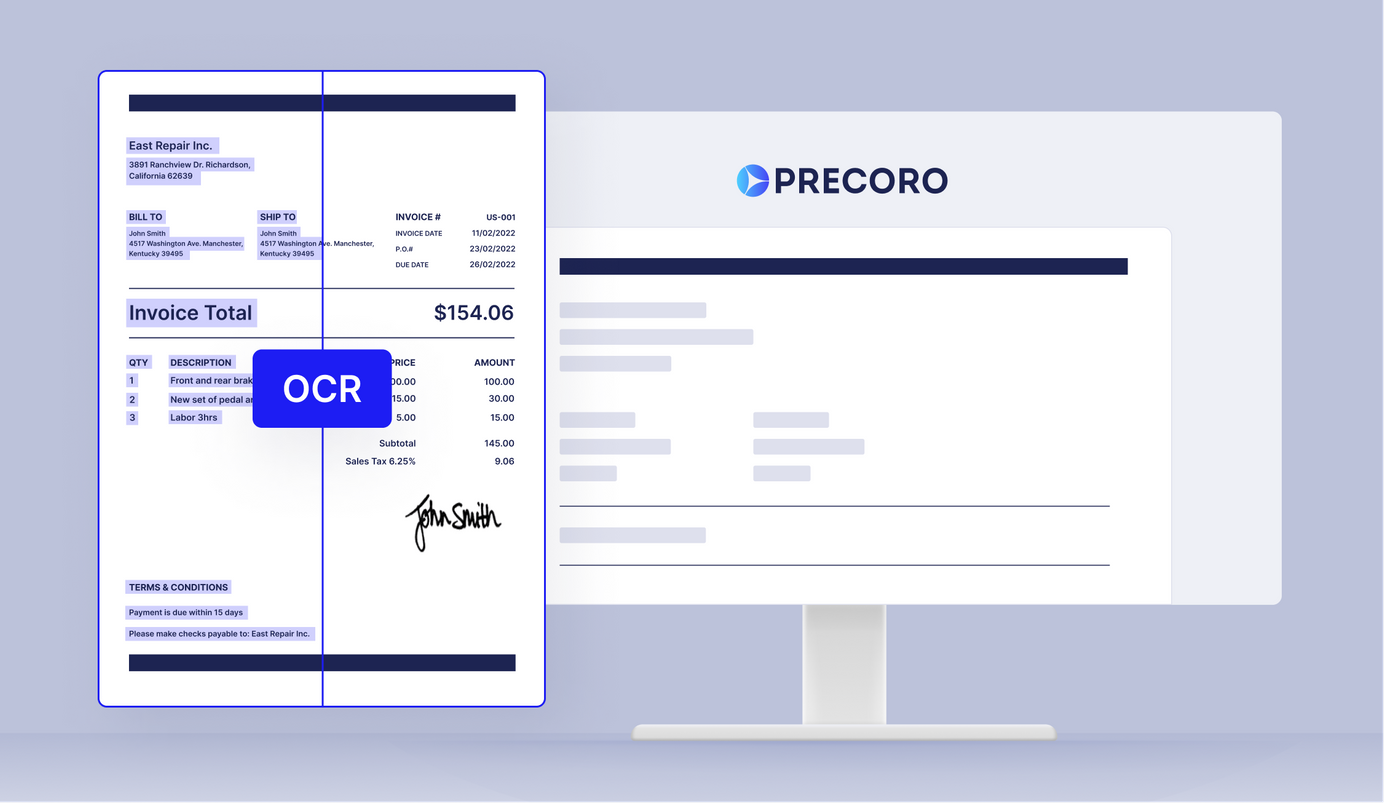 4 min read
Precoro is working on OCR for faster and improved invoice processing
[Currently in Beta] OCR technology in Precoro delivers simplicity and accuracy to your invoice management. With OCR, you'll replace manual data entry and save tons of time on document processing.
We're pleased to reveal that an early access version of optical character recognition (OCR) technology is now available on our platform. With it, you can leave exhausting manual data entry and long-lasting invoice processing in the past.  
You'll be able to focus on strategic planning while OCR in Precoro takes over labor-intensive tasks for you. This feature relays recognized mistake-free data and gives you the ability to get an automatically pre-filled invoice that you can edit later. Scroll down to learn about the OCR integration in more detail.
Please, note: This feature is currently in beta mode as we continue to work on further OCR improvements and gather more customer feedback. Contact your dedicated Customer Success Manager or Sales for early access, and we'll prioritize you on the OCR rollout waitlist list.
How OCR works in Precoro
OCR technology recognizes images as well as printed or handwritten text and digitizes existing data so that these files can be edited electronically.
In Precoro, it works the same way for the purpose of eased document processing. The only thing you need to do is upload an invoice as a photo or PDF attachment. And this is where the magic happens. Our OCR feature will process your document, extract the necessary data from it, map relevant fields, and transfer everything to Precoro.
You'll receive a near-complete invoice without needing to type in the information yourself. Just imagine how much time and energy you'll save! All that's left is to plan how you'll use all those extra hours.
As usual, your data accuracy is our top priority. To ensure your invoice information is transferred without mistakes, we implemented intelligent document processing (IDP) technology along with typical OCR. IDP is a combination of OCR and artificial intelligence that correctly identifies text elements even in non-text documents.
Using this feature in Precoro, you'll be able to send invoices for recognition and receive electronic drafts. Using IDP means that this step might take a bit longer than with typical OCR, but it ensures that fields will be accurate every time. When you use OCR technology to scan a document in Precoro, it:
Analyzes existing data;
Checks for accuracy;
Creates an electronic file of the converted physical document.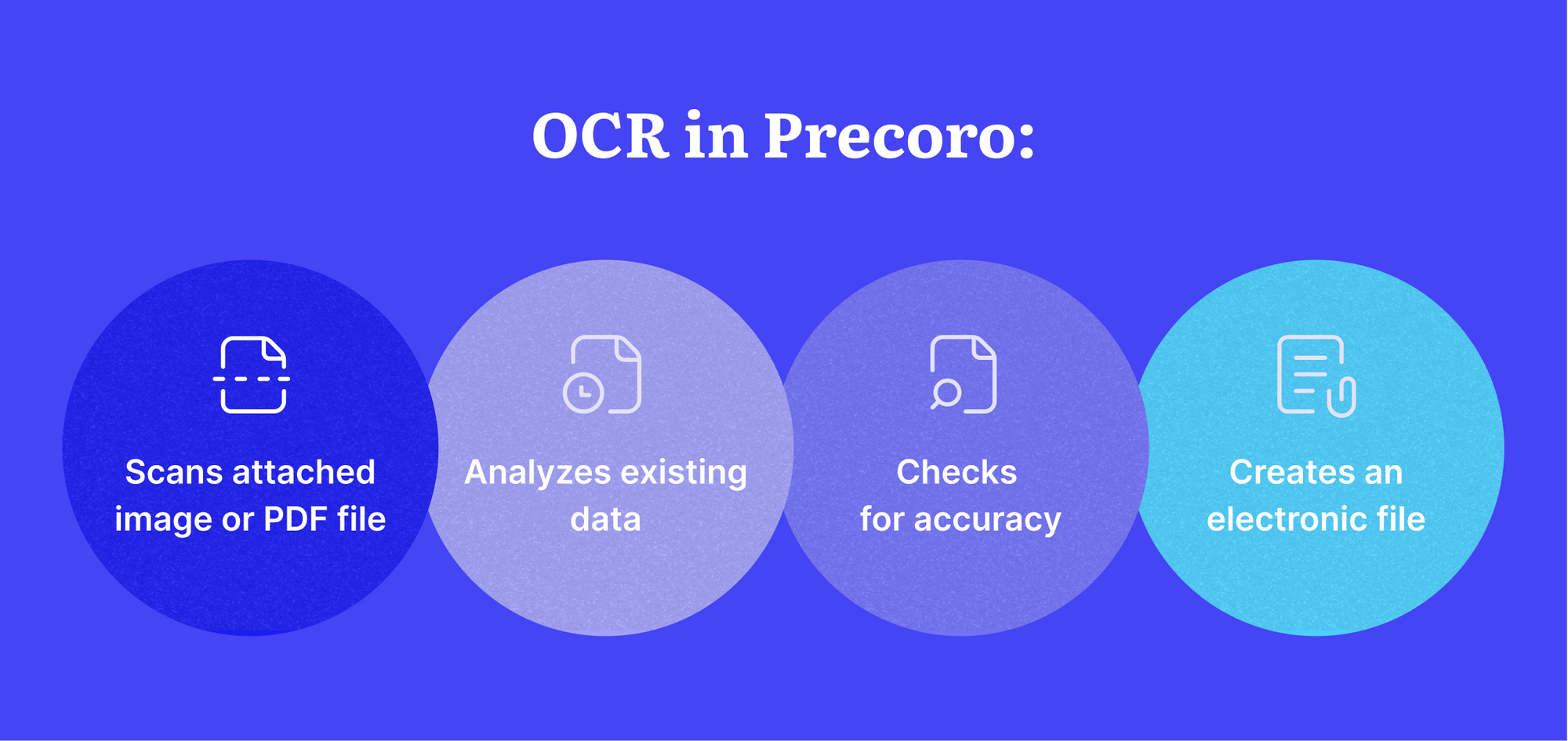 During the conversion stage, Precoro's integrated recognition will generate a pre-filled invoice containing all the necessary information about the supplier, dates, items, terms, amount, etc. The document might take some time to generate, but don't worry: Precoro will notify you when the draft is ready.
Later, you can also select a PO that corresponds to the invoice – Precoro will automatically recognize and suggest relevant POs. If you need to, you can make additional edits to the invoice before confirming it and moving to the next stages of your workflow process.
So far, we've released the first iteration of OCR technology and continue to work on its improvement. You can transfer invoice details from paper documents, photos, or scanned files into the system without typing them in by hand. Precoro will release OCR capabilities for other document types soon.
OCR benefits in Precoro
Automated process
OCR technology is a time-saving opportunity that reduces manual operations and protects you from human errors. With OCR in Precoro, you can automatically digitize many more invoices than a dedicated person can do manually.
If you've ever mis-entered information and generated an incorrect invoice, you'll know the stress it causes and the value of ruling out such a possibility.  Using OCR, your company will also benefit in the long run from reduced operating costs and reduced risk of supply hiccups.
Flexibility
OCR in Precoro can process and digitize any kind of document, even handwritten ones: it's not limited to fonts, file formats, or data type. Even forms in a table format will be correctly transferred to the right fields.
OCR does most of the work for you and provides almost ready-to-use pre-filled invoices: you just need to check documents afterward and edit the processed data if needed.
Lower invoice processing cost
The more automated a process is, the fewer resources it needs to function. Implementing OCR not only saves tons of time on invoice processing but also reduces labor expenditures required for it.
With OCR, companies can optimize their operations and let employees focus on more strategic tasks, such as budget planning, supplier contract negotiations, or financial data analysis. In addition, the feature helps procurement teams avoid discrepancies, unplanned expenses, late fees, and compliance issues.
To Sum Up
OCR integration in Precoro is not just simple document scanning. Thanks to IDP technology, it provides almost 100% data accuracy on even non-text documents and generates pre-filled invoices, including information about suppliers, dates, items, terms, amounts, etc.
Using OCR in Precoro, you'll automate your invoice management further, save time and money on document processing, and focus on what matters the most.
Our team continues to develop the OCR feature to include more capabilities for other document types such as expenses, POs, and more.
Why not make work easier? To receive access to the OCR module in Precoro, book a demo on our website or contact your dedicated Customer Success Manager.
---