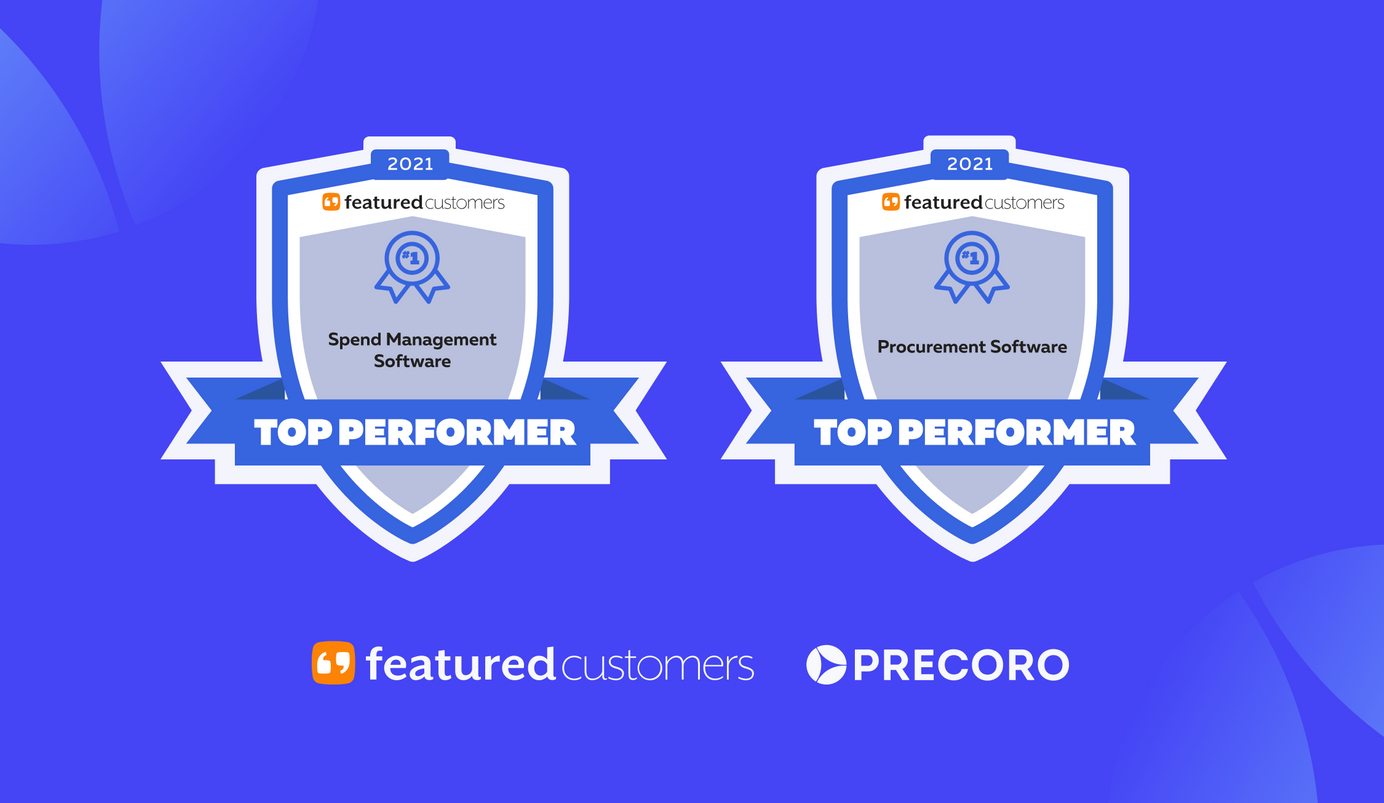 2 min read
Precoro Recognized Top Performer for Two Seasons in a Row by FeaturedCustomers
Precoro is among the highest-rated vendors according to the Summer 2021 Spend Management Software and the Fall 2021 Procurement Software Customer Success Reports.
We're happy to bring good news to our customers on a regular basis and provide assurance that they made the right choice by choosing Precoro.
This fall, we have the FeaturedCustomers platform to thank for that.
Precoro has been named a Top Performer in the Procurement Software category for the Fall 2021 Customer Success Report, and won the same award in the Summer 2021 Spend Management Software category. We could get used to this!
According to the FeaturedCustomers team:
Precoro is a team of professionals with a huge prior experience in procurement, technology, and customer service, working around the globe to create best-in-class solutions for fast-growing businesses.

They break the stereotype that purchasing software is as expensive, hard-to-implement, and user-unfriendly as most ERPs.

They're boosting Precoro to become the world's most easy-to-use, affordable, and functional product for SMBs and enterprises.
About FeaturedCustomers
FeaturedCustomers is a unique customer reference platform that goes beyond testimonials and considers real-life case studies, validated success stories, authenticated customer stories as well as videos when selecting trustworthy vendors.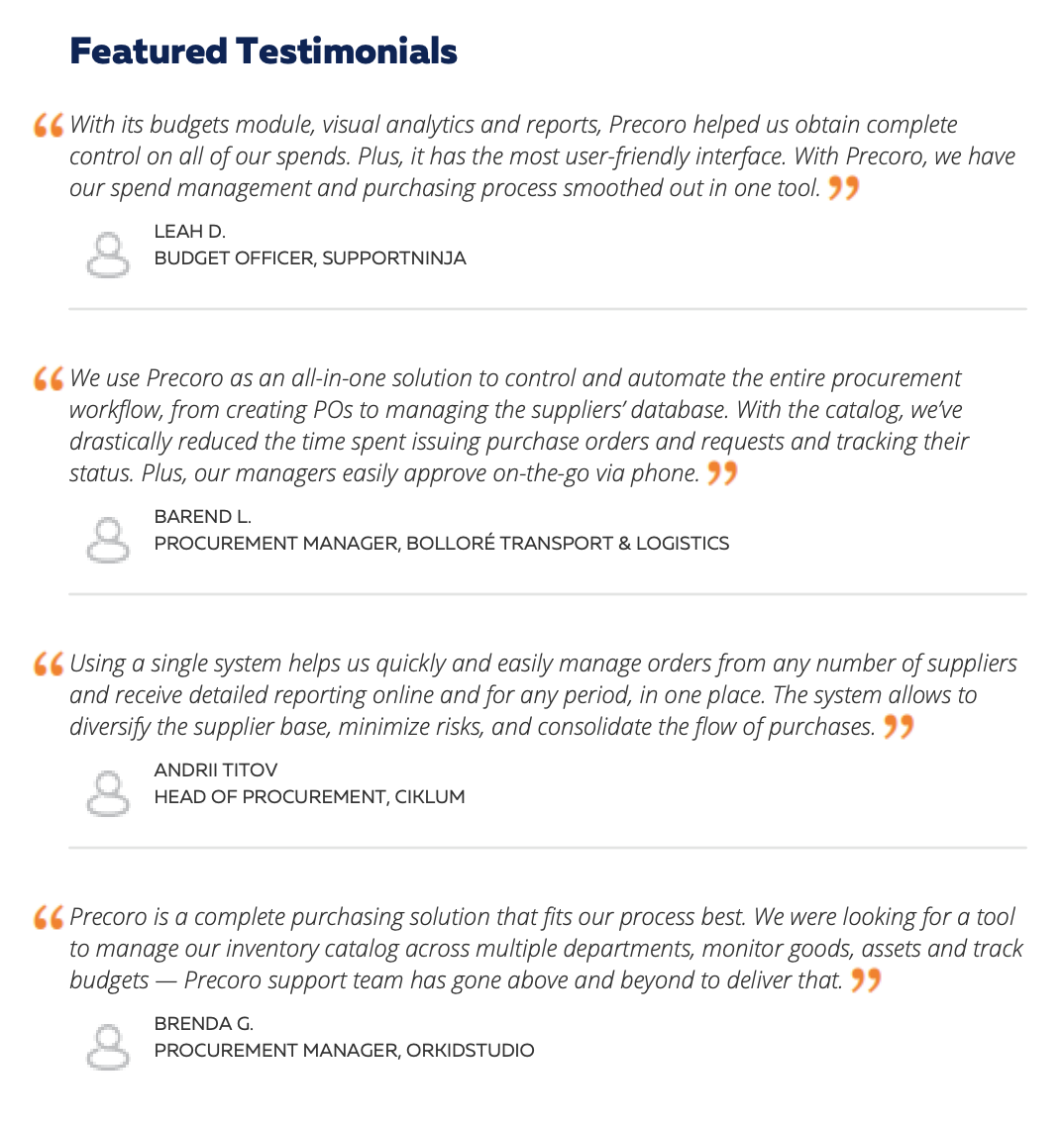 The platform tells the companies' full story through the content across the web that demonstrates real customers' experiences.
FeaturedCustomers' content-based approach helps thousands of potential B2B buyers from Fortune 500 companies to SMB's make well-informed decisions when in the market for software products and services.
It evaluates all vendors in respective categories season by season before shortlisting 25 top solutions that meet the criteria.
How FeaturedCustomers Rankings Work
Rankings depend on numerous factors, including the amount, quality, and authenticity of customer success content, social media and market presence, vendor's progress in terms of web traffic and search performance, as well as other data aggregated from online sources.
The overall Customer Success ranking is a weighted average based on 3 parts.
Content Score
Total # of vendor generated customer references (case studies,
success stories, testimonials, and customer videos)
Customer reference rating score
Year-over-year change in amount of customer references on
FeaturedCustomers platform
Total # of profile views on FeaturedCustomers platform
Total # of customer reference views on FeaturedCustomers
platform
Market Presence Score
Social media followers including LinkedIn, Twitter, & Facebook
Vendor momentum based on web traffic and search trends
Organic SEO key term rankings
Company presence including # of press mentions
Company Score
Total # of employees (based on social media and public
resources)
Year-over-year change in # of employees over past 12 months
Glassdoor ranking
Venture capital raised
The Top Performer Award
The Spend Management Software Customer Success Report and the Procurement Software Customer Success Report published by FeaturedCustomers are based on over 1,900 and 2,800 pieces of verified customer reference content respectively.
As for the award, in FeaturedCustomers' words:
The Top Performer designation is awarded to vendors with significant market presence and enough customer success content to validate their vision.

Highly rated by customers, Precoro consistently publishes high-quality customer success content and curates quality customer references from multiple third-party sites.
Top Performers' products are highly rated by their customers but have not achieved a Market Leader's customer base and scale, so here's something for our team to strive for.
The complete customer success reports, along with Precoro's profile, are available here.
---