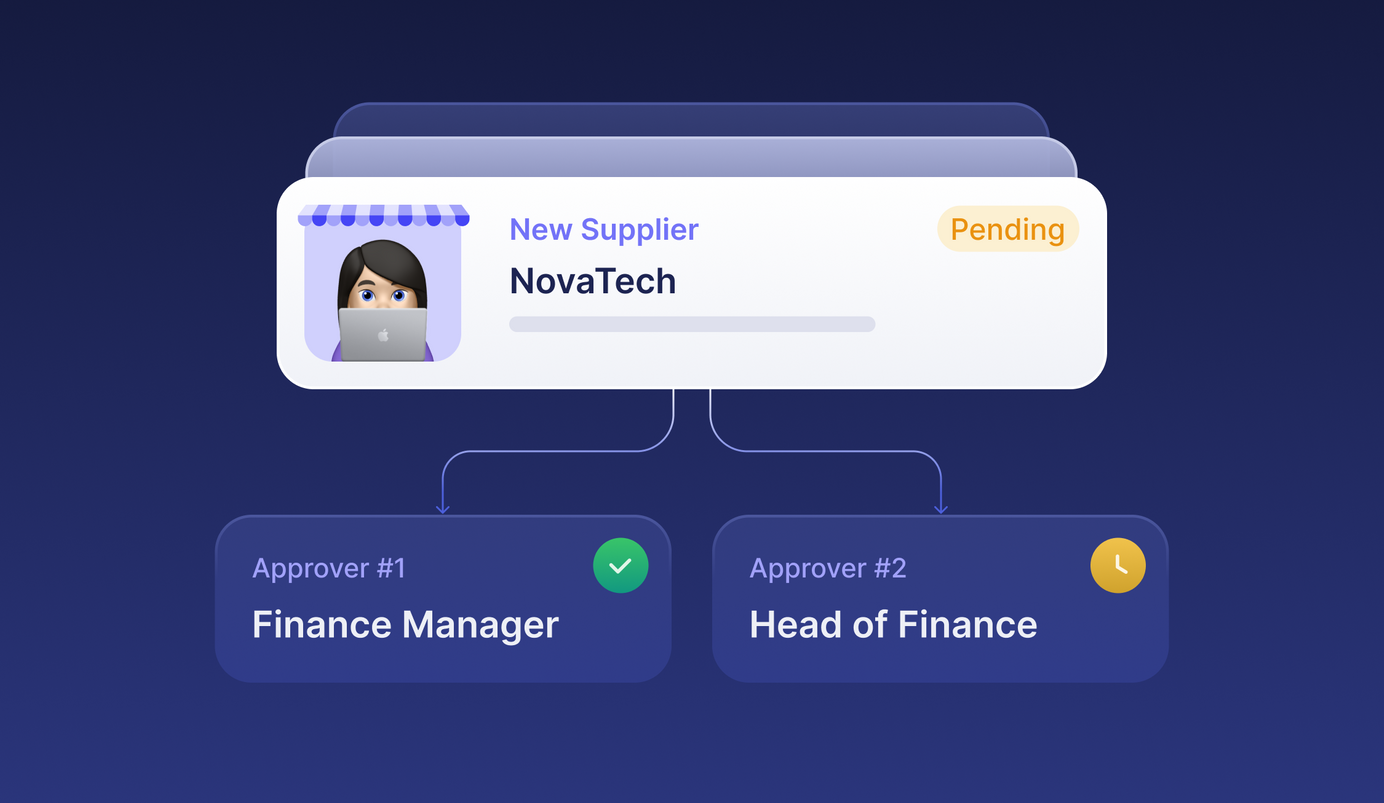 4 min read
Expanded Functionality for Vendor Management - Set Up a Precise Approval Process to Ensure Supplier Quality
The Supplier Management module in Precoro has improved with the recent addition of the Supplier Approval feature. From now on, all users will be able to submit a request to add new suppliers, and these applications will automatically be sent to employees in charge of approving.
Supplier Management is an ongoing process that starts with onboarding suppliers and continues indefinitely. You consistently need to gather required information about potential suppliers, go through a long-lasting approval process with different departments, cultivate long-term relationships with vendors, and keep track of their reliability.
With a credible ally, all of these operations can be much easier. In order to be such an ally for you, Precoro continues to improve its Supplier Management capabilities so that you can build the most convenient and profitable collaboration with vendors.
Thus, we want to announce the release of our latest feature ‒ Supplier Approval. It's designed to streamline and automate the supplier onboarding process, making it easier and faster for companies to work with vendors.
How Does Supplier Approval Work?
This brand new feature, along with the Supplier Registration Form that we launched recently, improves the process of supplier evaluation, allows you to track the ways of adding new vendors, and ensures that each of them is qualified and fully meets business requirements.
With this feature, you can create unlimited approval workflows if supplier data requires review by legal, finance, or another department.
To activate this feature in Precoro, you need to assign specific roles to your colleagues and set up a supplier approval workflow first. Once you do this, all your potential suppliers will enter the approval process. So far, this can be done in two ways.
The first scenario uses the Supplier Registration Form. After you send this form to potential vendors, receive filled applications from them, and then initially approve the applications, those suppliers are automatically created in Precoro. Following this, those suppliers go through the approval pipeline set by your company.
In the second scenario, potential suppliers enter the approval process through requests submitted by your colleagues or if the user with the Supplier Management Role adds the supplier by oneself. Any Precoro user with a Create Role will be able to request new suppliers whenever they need by creating a new document and then adding the new vendor into the supplier field. Like with the Supplier Registration Form, vendors submitted this way go through the approval process as well.
During the approval process, all approvers will receive instant notifications and be able to make a decision on the particular supplier depending on the received information.
Benefits of Supplier Approval
Streamlined Onboarding and Approval Processes
With the Supplier Approval feature, companies can quickly and easily onboard new suppliers, significantly reducing manual processes and paperwork. Immediately after a Supplier Registration Form has been approved, all provided information is automatically added to the Vendor card.
Also, by taking advantage of this feature, employees will spend less time on supplier confirmation. Instead of back-and-forth conversations with managers via email or corporate messengers, each user can just create a document (PO, Invoice, or PR) and add a new supplier. Then, their manager can review the supplier, request additional info if needed, and decide whether the supplier is reliable or not.
Better Supplier Evaluation
Supplier Approval in Precoro helps companies make better decisions about which suppliers to work with. All approvers will be able to analyze the data of potential suppliers, making it possible for any of them to conduct background checks and, ultimately, make more deliberate decisions about whom to work with.
Thus, companies can protect themselves from potential precarious collaboration and identify potential risks and opportunities related to new suppliers.
Centralized Supplier Management
Managing all operations related to collaboration with suppliers in one place saves tons of time, reduces costs, prevents possible discrepancies, and more. The Supplier Approval feature provides users with additional abilities for full-fledged supplier management in Precoro.
With the Supplier Approval feature, users can track all vendor information in one place and, after making a decision, won't need to take additional actions: all data will automatically be stored on the platform.
How to Set Up Supplier Approval
Step 1. Go to the configuration page and click on the "User Management" button. From there, assign the Supplier Approval Role to the relevant users.
Step 2. Select the "Supplier Approval Workflow" on the Approval Workflow page and set up the required steps.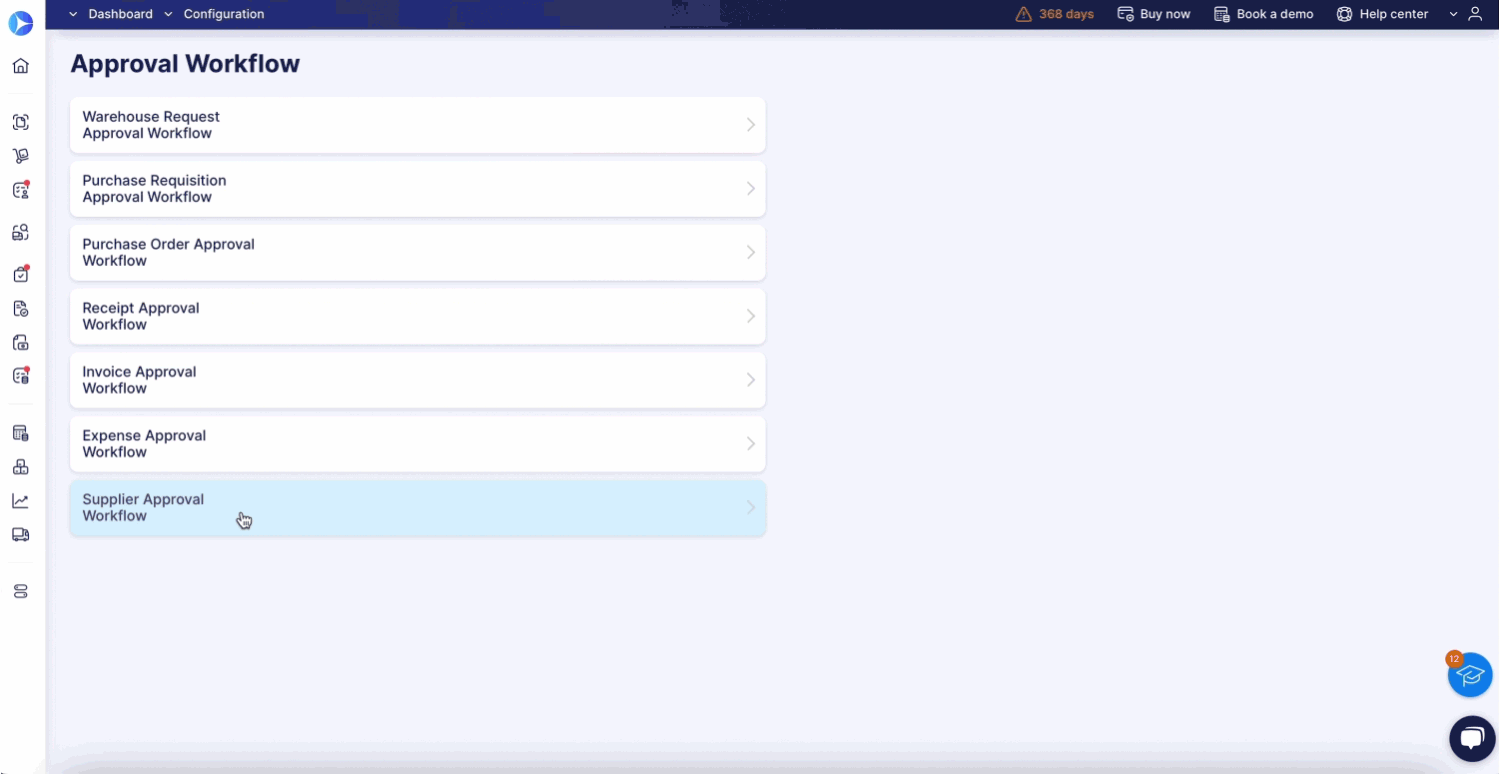 Step 3. (Optional). Allow users with the Create Role to submit a request for creating a new supplier.
How to Request New Suppliers
So far, users can do this in two ways in Precoro.
Method 1 (For users with the Supplier Management Role only)
Step 1. Go to Supplier Management.
Step 2. Click on the "Add Supplier" button.
Step 3. Add the required details.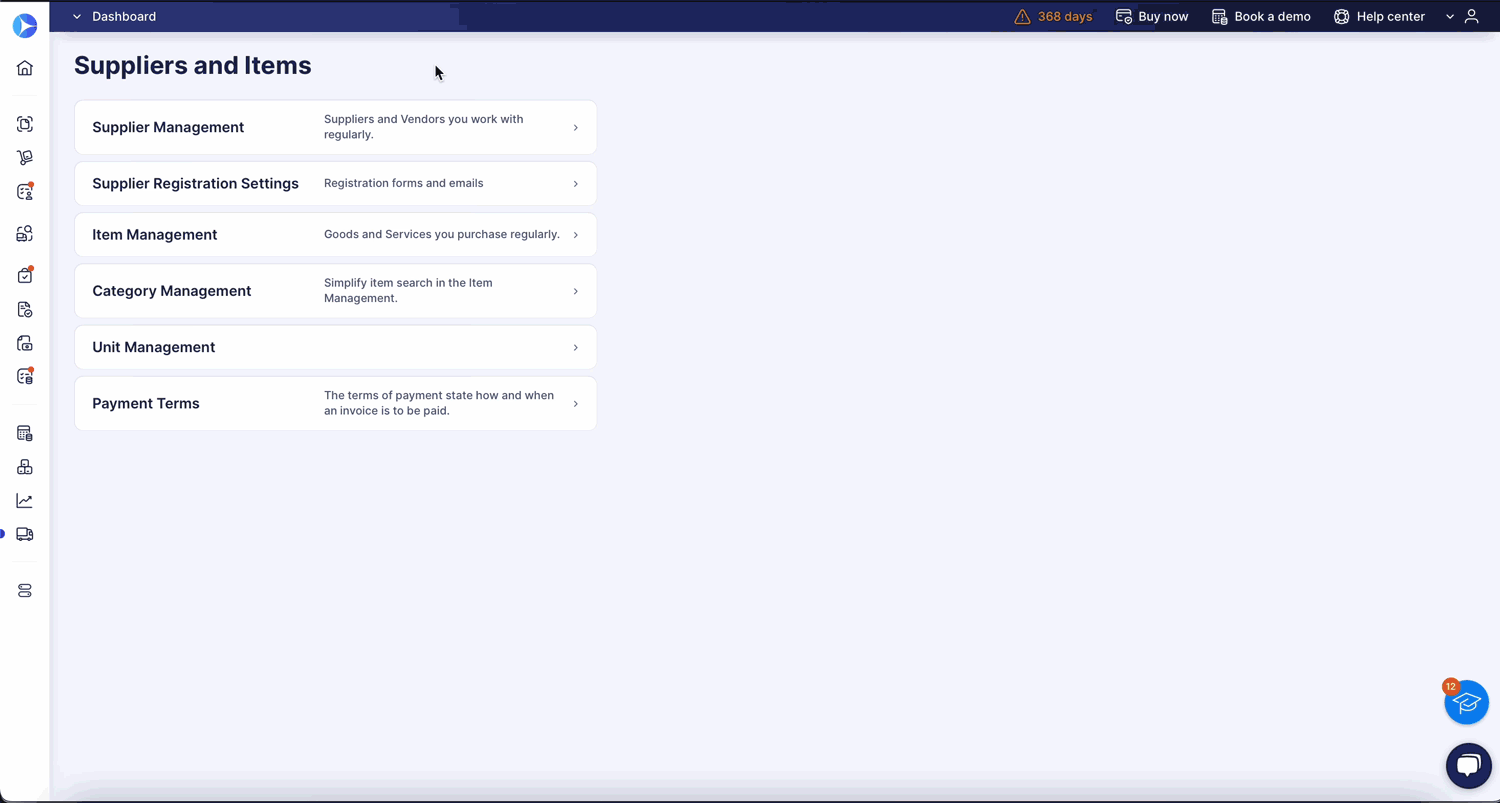 Method 2
Request a new supplier while creating the document. So far, this feature is applicable for Invoices, POs, and PRs.
Step 1. Create PO.
Step 2. Select the Supplier field.
Step 3. Click on the "Add Supplier" button.
Step 4. Add the required details.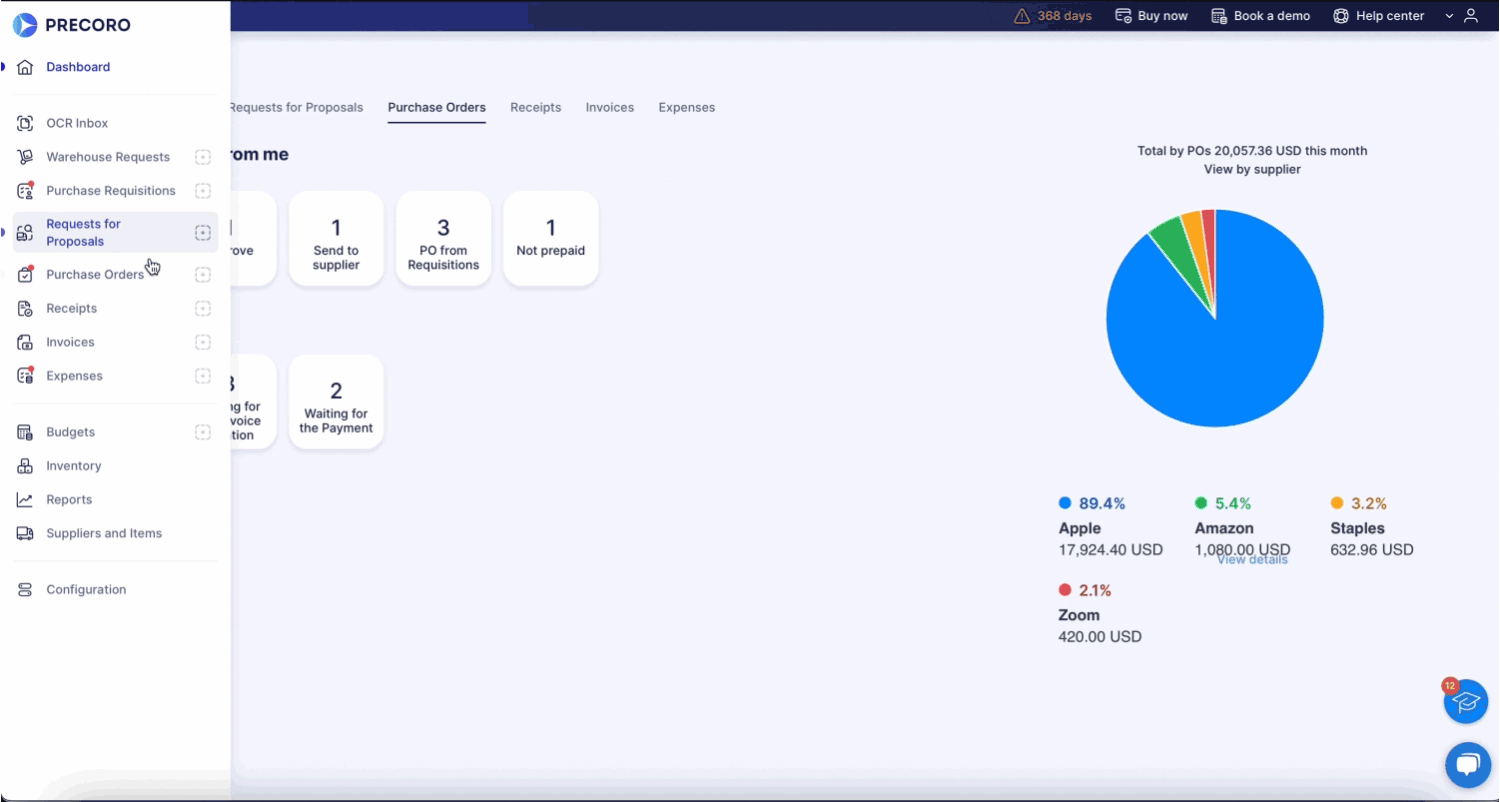 To Sum Up
Supplier Approval aims to improve your overall Supplier Management, making it faster and more convenient to onboard and evaluate new vendors.
Using this feature, you'll be able to better assess potential suppliers, improve interaction with them, build long-term relationships, and ensure each vendor is qualified to cooperate with your company.
---