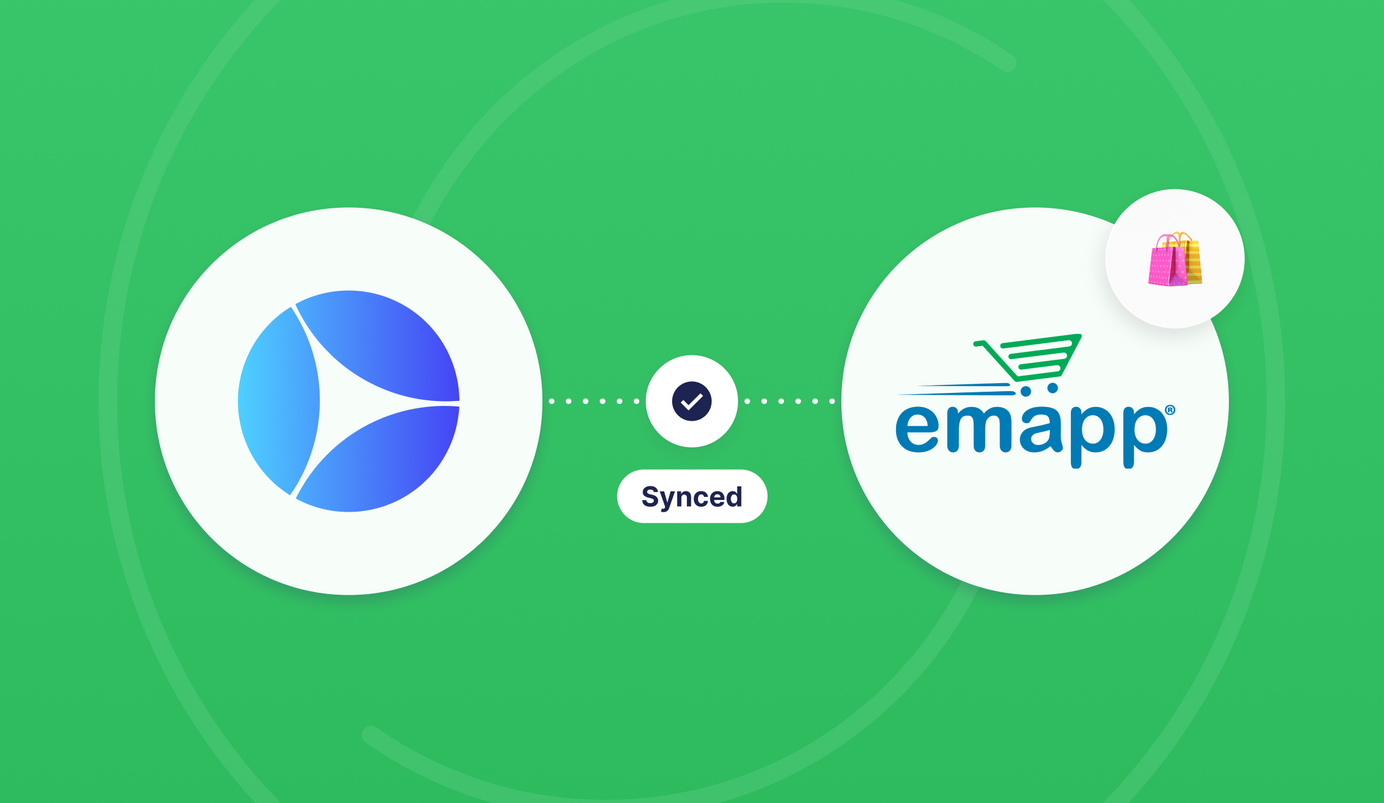 3 min read
Emapp Marketplace and Precoro: Access a Brand-New and Easy Shopping Experience
Precoro and Emapp Marketplace integration brings simplicity to your purchasing process. Browse supplier catalogs in a single marketplace, add items to your shopping cart with minimal effort, and automatically transfer your POs to Precoro.
Whether you're a business owner, CFO, procurement specialist, accounting manager, or a requester, you are involved in some part of the purchasing process. It's probably safe to assume that you don't care for long-lasting internet searches for required goods or services. Surely, too, other tasks within the purchasing process such as comparing prices, request creation, and sending POs can all become tedious.
Precoro's newest integration minimizes and even fully eliminates some of these monotonous tasks. Using our integration with Emapp Marketplace, you'll be able to browse supplier catalogs in a single marketplace and add items to your shopping cart with just a few clicks instead of switching back and forth between windows and tasks. Continue reading this article to find out more about this integration and its benefits for your company.
How Emapp Marketplace and Precoro integration works
Emapp is a marketplace with multiple Punchout catalogs, including Office Depot, Henry Schein, and Staples. By integrating Precoro with Emapp, you get access to numerous suppliers in one place, which makes it easier to compare products, create shopping carts, and generate POs.
The integration works like this: when Precoro users want to create a PR from within the Emapp Marketplace, they will be redirected to the page with Punchout catalogs. After they have selected the goods they want to buy and summarized their purchase, they will be returned to Precoro, where they will find an automatically created PO. Then the purchasing document will have to go through the approval workflow configured by your company in Precoro.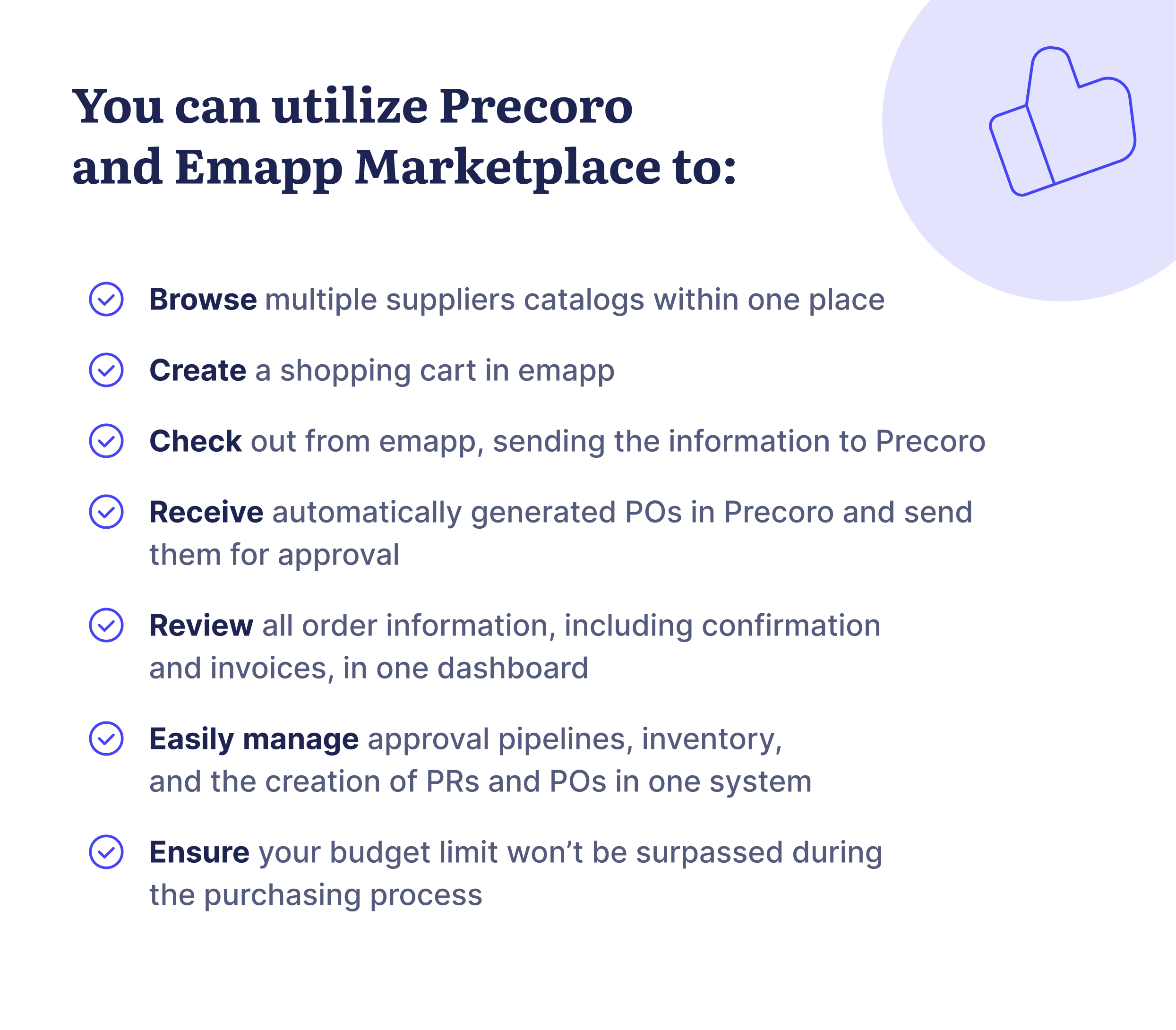 Using this integration, you'll be able to find the best deals, submit orders in a few clicks, and manage the whole procurement process in one system instead of exhausting manual items update, paper approval, and long purchase confirmation.
How to Use Emapp Marketplace and Precoro Together
Here at Precoro, we like to keep things simple; there are no complex processes. Making a purchase with Emapp Marketplace and Precoro only takes a couple of steps.
Step 1: To enable integration with Emapp, contact your dedicated Customer Success Manager or the Precoro Support Team.
Step 2: Once the integration is configured, you will be able to create a new Purchase Requisition from within Emapp Marketplace. When doing so, provide the necessary details.
Step 3: Fill your shopping cart in Emapp Marketplace.
Step 4: Receive an automatically generated PO in Precoro and send it for approval.
Step 5: Wait for the relevant individual to confirm the PO.
Step 6: Get your order.

Benefits of Precoro and Emapp Marketplace Integration
Increased purchasing efficiency
First and foremost, Precoro and Emapp Marketplace integration allows you to replace manual procurement operations with an automated process. By doing so, all people involved in the purchasing process, from requesters to approvers, will be able to make orders faster and without costly mistakes.
Requesters will have the opportunity to buy the best products directly in one place without the need to log in multiple times or re-enter their items manually into PRs or POs.
Meanwhile, purchasing managers and approvers will be able to reduce the amount of time and effort required to manage PRs and POs. Thus, they will have more time to focus on strategic tasks.
Cost-saving opportunities
Apart from better purchasing efficiency, Precoro integration with Emapp Marketplace creates opportunities to save money. With all potential suppliers in one place, you can easily browse their catalogs to compare their prices and find the best deals.
Also, the less manual intervention in your day-to-day operations you have, the better your overall process will work. By automating purchasing procedures, you'll eliminate possible risks such as overspending, order discrepancies, or duplicated payments.
Enhanced supplier management
Selecting the right supplier and building a long-term relationship are fundamental things for your procurement efficiency. For sure, such things require considerable attention and a lot of time.
By using Precoro and Emapp Marketplace integration, you can access a wide list of potential suppliers in one place, evaluate them quickly, and find the most suitable offers for your organization. In the long run, this will improve the quality of acquired goods and create stronger relationships with suppliers.
To Sum Up
Precoro and Emapp Marketplace integration is a powerful solution that helps companies streamline purchasing while simultaneously improving the process, speeding up operations, and ensuring better goods at a better price. It takes long-lasting manual processes out of the picture and prevents procurement-related issues.
If you're ready to completely transform your usual shopping experience, contact your dedicated Customer Success Manager or book a demo on our website.
---